Minted Holiday Cards 2018
This year we ordered personalized Christmas cards with Minted! You can upload your addesses into your Minted address book, plus order custom postage stamps. This post is sponsored by Minted.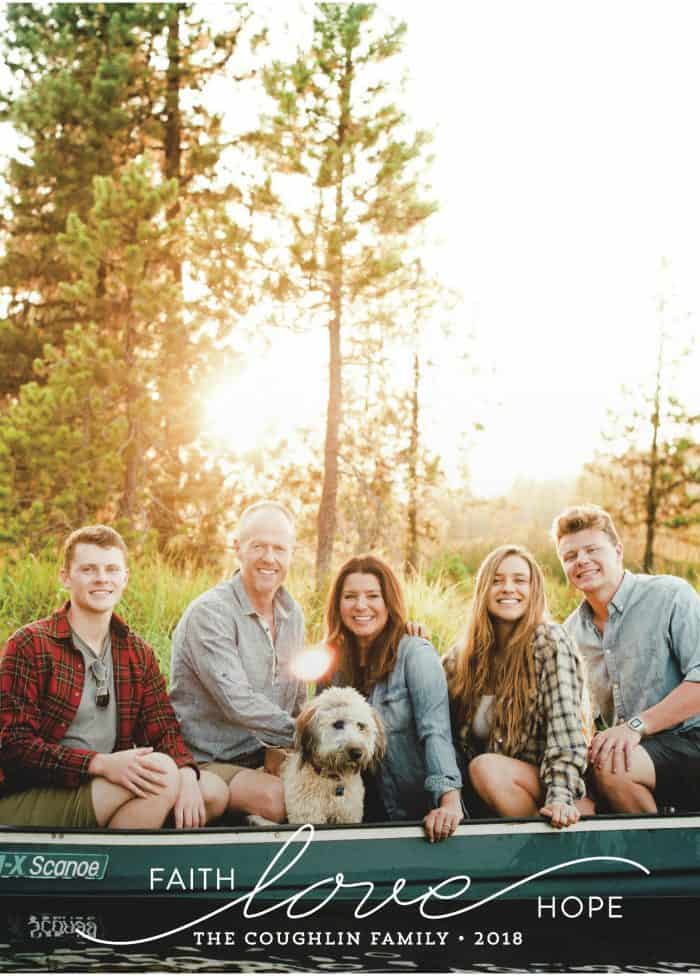 One of my favorite memories this past summer was kayaking and canoeing Hosmer Lake, here in Bend, Oregon. One of our family pictures of this special time has become our Christmas card this year!
If you're not familiar with Minted, they offer unique holiday cards from independent artists around the globe. I just love that you can find the perfect card that suits your unique style.
Minted also delivers high quality cards with premium paper, including foil press and letterpress, across a variety of formats and shapes.
The cards are completely customizable – so you can personalize your greeting, colors, fonts and more to make it your own this holiday season.
Oh, and what about Haggis?
Don't worry. Haggis is on the back of the card this year. He's so cute, but he's really not into water sports any more (being 14 years old), so he was back home, holding down the fort.
Minted Styling Service
Oh, and I want to tell you about Minted's styling service that they offer for FREE! This is how it works
Text them your photo
Text your photo to 415-915-CARD (2273), and a Minted stylist will text you back five holiday card designs, selected especially for and styled with your photo.
Isn't that so cool?
The Minted Envelope
You can also upload contacts into your Minted address book for FREE custom printed envelopes, styled to match your card design. No more handwriting 100 addresses! HA!
Custom Stamps
Lastly, this is what I love. Custom stamps. You can complete the look of your holiday card by adding a custom postage stamp to each card.
I picked these out. Super fun and festive.
Thanks for following along, friends! Minted sponsored my post today, but as always, all opinions are my own.
Hello and welcome to my home and table!
I'm Sandy—lover of food, family, cooking, THE BIG BOARD, travel, and bringing people together. Through great recipes and connection around the table, we become better, stronger, and more courageous people. Feasting on Life is real, and every time we do it, we grow a little more. Read more...