Myrtle Beach: Where to Stay and Eat
Today I'm sharing about my recent trip to "Myrtle Beach: Where to Stay and Eat" along with a Marriott Resort & Spa at Grande Dunes Hotel review.
Friends, I was recently invited on a culinary-themed press trip to Myrtle Beach, as part of the destination's "60 Best Bites" campaign and Visit Myrtle Beach. I attended this event with other food writers, and it was an epicurean experience that was like none other!
Today I'm sharing the details about the hotel where we stayed, and a few other highlights of the trip, like where we ate! If you want to read more, about Myrtle Beach: What to Eat and What to Do, then click, here.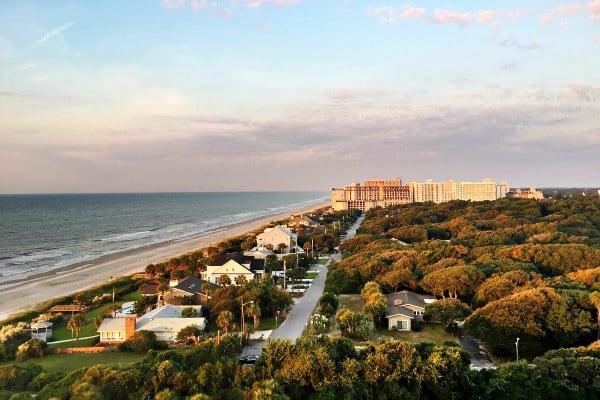 Myrtle Beach: Where to Stay and Eat
The Marriott Resort & Spa at Grande Dunes Hotel, in Myrtle Beach, South Carolina, was our first stop when we arrived. Coming from Oregon, be prepared to change planes several times, but know that it's worth it when you arrive in this beautiful city!
This oceanfront resort in North Myrtle Beach, moments from the sparkling sands of Myrtle Beach, features a state-of-the-art spa, two swimming pools, a fitness center, golf and tennis, and exquisite on-site dining.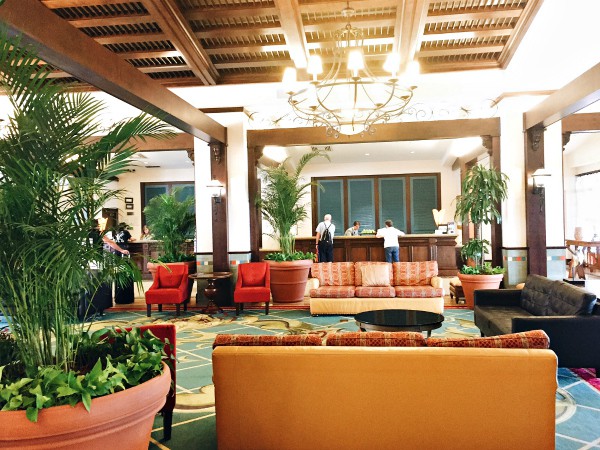 Entering the hotel, we had quick and friendly service!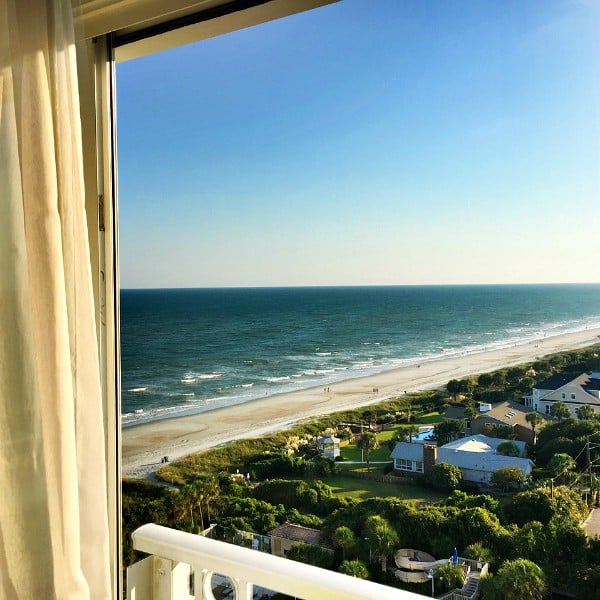 When I walked into my room, the first thing I did was throw open the doors!
Ah, the sound of the waves, the warm sun entering my cozy room, the mesmerizing ocean view of Myrtle Beach!
The plush bed was so comfortable, and the room had everything I needed, including high-speed Wi-Fi, and a flat-screen TV, and a nice roomy bathroom.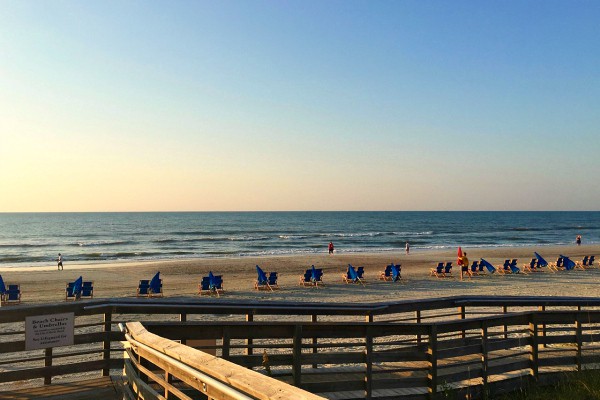 The beach is only moments away!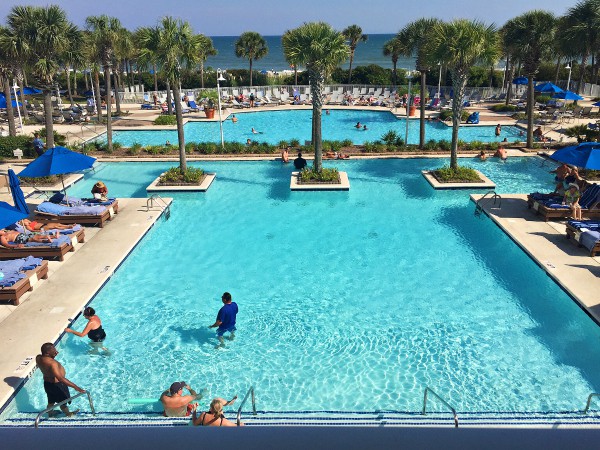 The pool, refreshing, with nearby hammocks.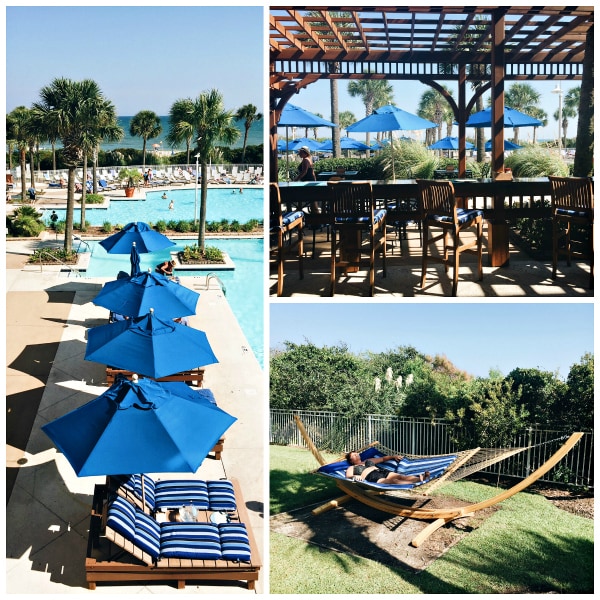 The hammocks … well, let's just say I had the best "cat nap."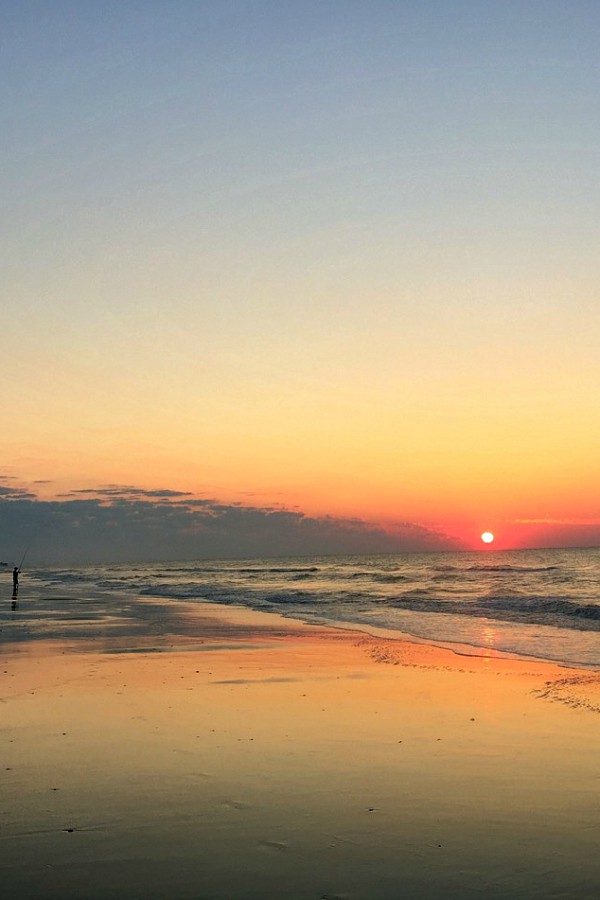 And the, my favorite, a morning walk on the beach … most glorious!
The first night, our group met in the lobby, before heading to Thoroughbreds Chophouse & Seafood Grille for dinner. There we shared a meal with the group, and met Chef John Tapper II.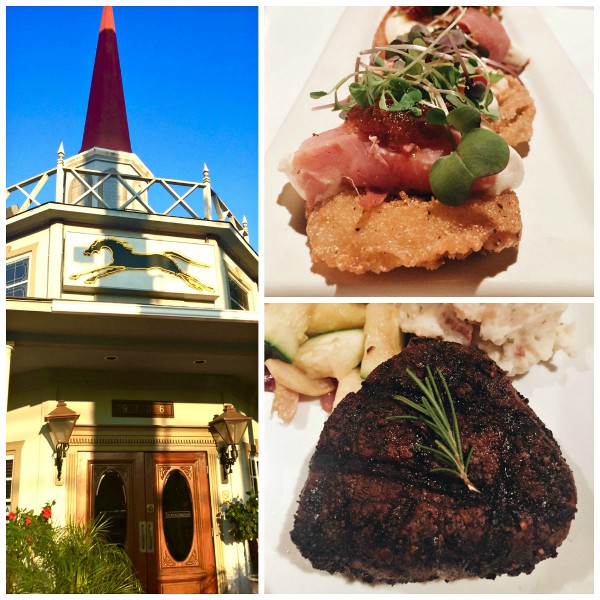 Since opening in 1988, Thoroughbreds has become widely known as one of the locals' favorite fine dining restaurants, after along with being recognized year- after-year in the categories of "most romantic," and "best fine dining." Their fried green tomatoes were out of this world! I also enjoyed a filet, encrusted with coursely ground coffee beans, sea salt, and cracked black peppercorns. It was cooked to perfection!
Coming back to the hotel, before taking a nighttime walk on the beach, we enjoyed a quick dessert of Hummingbird Cupcakes, from Hopsewee Plantation Tea Room. By the way, if you're not familiar with a Hummingbird cake, it is made up of banana, pineapple, pecans, and spices. So good!
The next morning, we enjoyed the most delicious breakfast at the hotel, and then headed out to the Brookgreen Gardens to explore what is known to be the finest outdoor presentation of American
figurative sculpture in the world! The gardens were created in the early 1930s by Archer and Anna Hyatt Huntington, on the site of four former rice plantations.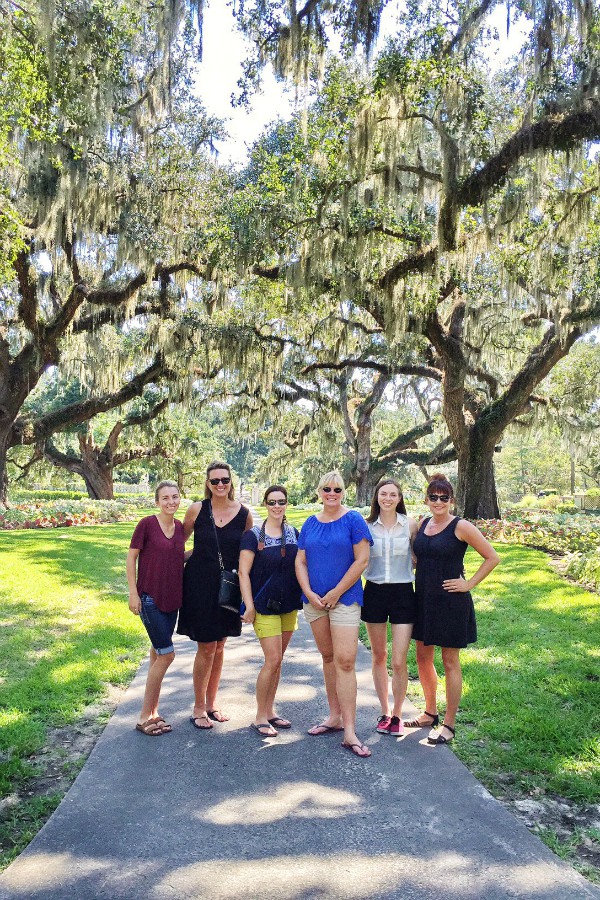 Brookgreen Gardens is home to more than 1,400 works (550 currently displayed), by 300 of the greatest names in American sculpture, past and present. In addition to the Sculpture Garden, visitors can explore the Lowcountry History and Wildlife Preserve, with acre upon acre of native plants and animals, and the E. Craig Wall Jr. Lowcountry Center, featuring exhibits and educational programs focusing on the area's rich history.
We were lucky enough to have a pontoon boat tour to learn more about the local ecosystems and historic sites. We cruised the creeks, along historic rice fields now home to alligators, waterfowl, and osprey, as an interpreter explained the distinctive landscape of the rice plantations, and explained the roles of the enslaved Africans in the cultivation of the rice crop.
We also visited the original Brookgreen Plantation Kitchen, the last building to survive the plantation era.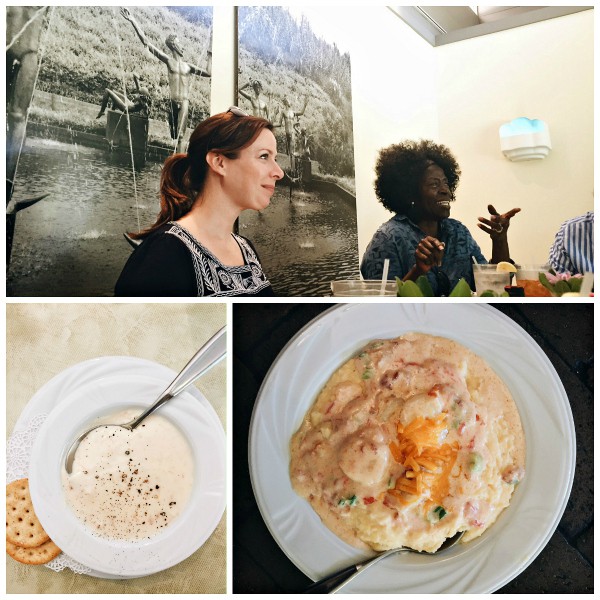 We met for lunch at the Pavilion Restaurant, and enjoyed their famous Shrimp and Grits and She Crab Soup. We visited with Veronica Gerald to discuss Gullah Geechee cuisine (co-author of The Ultimate Gullah Cookbook), herself a descendant of enslaved Africans from the Brookgreen and Longwood Plantations in Georgetown County, South Carolina.
From there we visited the L.W. Paul Living History Farm to learn how to make grits!
This 17-acre farm takes you back to the first half of the twentieth century, to what it would have been like living in Horry County from 1900-1955.
They engage visitors who come to observe and participate in activities that would have been commonplace on traditional family farms during this era, including plowing with mules, making lye soap, curing meat, and milking cows.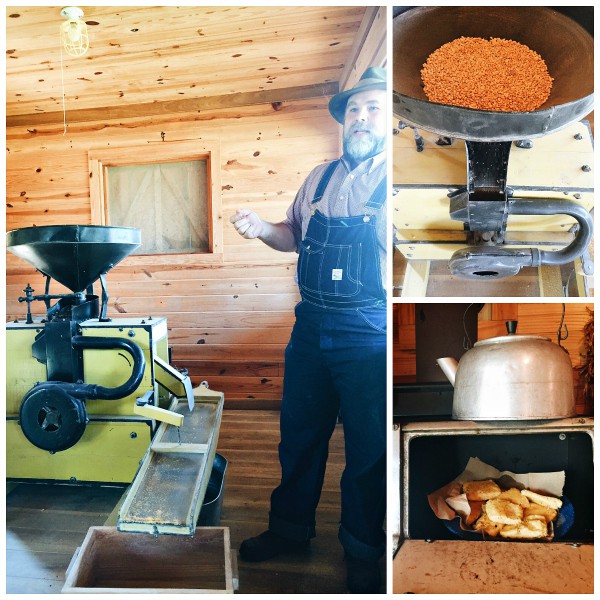 I've had grits many times, but I must say that each place we visited had their own special way of making them. This time, we saw how they were ground and processed.
And then we got to try them (YUM!)
Our next stop was at the La Belle Amie Vineyard, for wine tasting and a tour from Vicki (the owner), the location where family wine making began with Vicki's ancestors from the south of France, and was passed down her family who has carried on the tradition.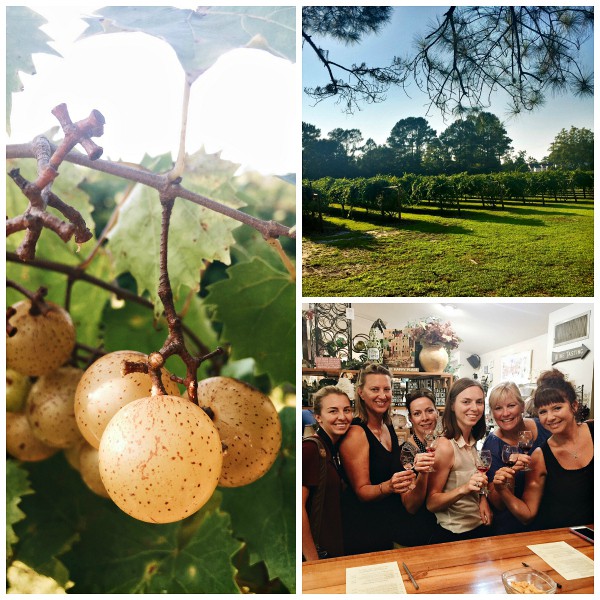 The grapes from these vines are used to make the grape preserves sold at the shop. Most of the wine sold is made from the muscadine grape (sweeter wine), which I was not familiar with. But they also make dry wines under Vicki's label, obtaining grapes from other regions of the country. They are most known for their Twisted Sisters label!
We ended the first day back at the Grand Dunes Marina, to enjoy my favorite meal of the trip at Waterscapes, a restaurant with awesome views of the Intracoastal Waterway.
It's located inside the luxurious Marina Inn at Grande Dunes Hotel.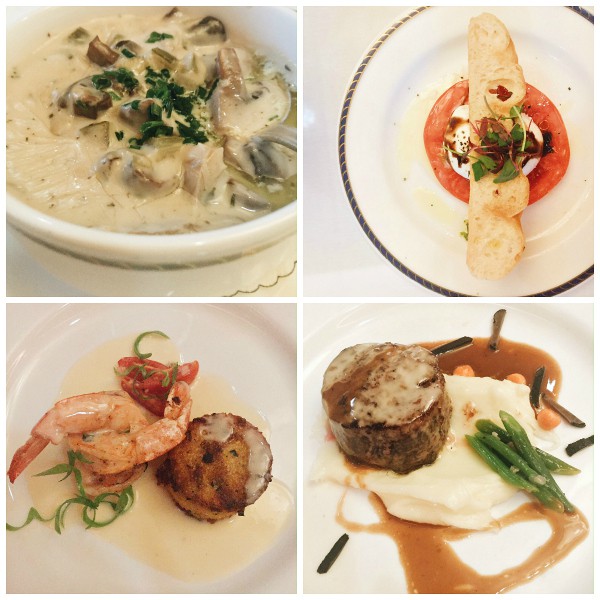 After we enjoyed a fantastic meal of unique blends of French Cuisine, prepared Southern style, we got to visit with Chef Corbett and congratulate him not only on our meal, but on his success as an award-winning Chef (and restaurant)! (Above menu: Oyster Stew, Tomato & Mozzarella Salad, Shrimp & Grit Cakes, and Filet with Truffle Mashed Potatoes.)
We then returned to the out hotel, the Marriott Resort & Spa at Grande Dunes, where we took a nighttime walk on the beach, and out of pure exhaustion (so much fun in one day!), I fell into my cozy, comfy bed …. for a great night's sleep.
Myrtle Beach, Day 1, was an amazing experience! Join me, coming up, for my next 2 days (hint, we enjoyed more seafood, had an incredible kayaking and fishing experience, and visited downtown Myrtle Beach).
Visit Myrtle Beach on Facebook, Instagram, Twitter, and Pinterest.
More on Myrtle Beach: Where to Eat and What to Do
I was invited on this culinary-themed press trip to Myrtle Beach as part of the destination's "60 Best Bites" campaign, and Visit Myrtle Beach. My trip was covered, but all opinions are my own!

Hello and welcome to my home and table!
I'm Sandy—lover of food, family, cooking, THE BIG BOARD, travel, and bringing people together. Through great recipes and connection around the table, we become better, stronger, and more courageous people. Feasting on Life is real, and every time we do it, we grow a little more. Read more...