Day 10. Neighbors. Acorn Squash Basil Soup.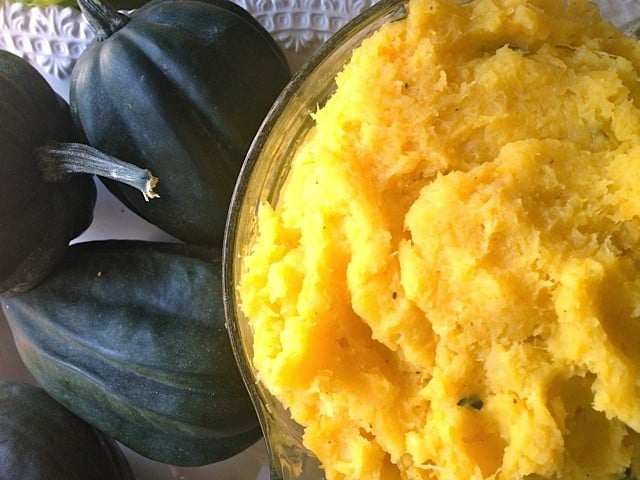 Neighbors.
The lonely or sad.
The busy and happy.
The older and the younger.
When I make a pot of soup, I always think of my neighbors.
Who could benefit from a hot bowl of soup straight from the garden, nothing but the best, and so good for you?
Our acorn squash has gone crazy in the garden … well, crazy for our little garden of 11 raised beds.
I made a huge pot of Acorn Squash Basil Soup and plan to freeze it in Ziploc bags so we can enjoy it in the winter months.
How to cook/prepare acorn squash: Cut the squash in half. Scoop out the seeds. Place each half on a cookie sheet. Salt and pepper and drizzle with olive oil. Bake at 375 for 1 hour, or until soft (poke with a fork or knife). Allow to cool. Scoop the squash out of the shell. :)
I researched whether you can freeze soups with coconut milk and yes, you can!
Back to our neighbors …
I keep my eye on Robin who lives down the street from us. She still cries and is devastated at the loss of her husband.
So, I bring her a bowl of something, when I can.
This time a bowl of soup. Plus a little bread.
Soup + love.
We're supposed to love our neighbors–so we do.
Neighbors.
When's the last time you did something nice for one of your neighbors?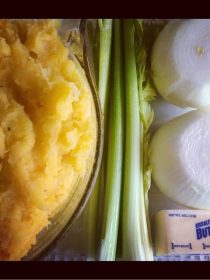 Get the Recipe: Acorn Squash Basil Soup Recipe
Rich squash soup that feeds a crowd or can be frozen in Ziploc bags.
Ingredients
2 large onion
1 cup chopped celery
1/2 cup butter
1/4 cup all-purpose flour
4 Tbsp. beef base, or bouillon granules
3 tsp. dill weed
8 tsp. curry powder
2 tsp. chili powder
4 cans beef broth, + more if you need it
4 cans light coconut milk
12 cups mashed cooked acorn squash
2 cup fresh basil, chopped
Tomatoes for garnishing
Sour cream for garnishing
Instructions
Cut acorn squash in half and place on baking sheet. Salt and pepper. Bake at 375 for 1 hour, or until tender.

Allow squash to cool and scoop out of the shell into a large bowl. Set aside.

In a large frying pan, saute onion and celery in butter. Stir in the flour, bouillon, dill, curry, chili powder until blended.

Add in the broth and coconut milk. Bring to a boil; cook for 3-4 minutes.

Add the mixture to a larger stock pot.

Add the squash.

Salt and pepper to taste.

Stir in the fresh chopped basil.

Serve with chopped tomatoes, a small amount of basil for garnishing, and a dab of sour cream (optional).
Here are some of my friend's fantastic acorn squash recipes:
Aggie's Kitchen Stuffed Acorn Squash
Tasty Kitchen's Acorn Squash Salsa
Pioneer Woman's Sweet Roasted Rosemary Acorn Squash Wedges
Eat Live Run's Spicy Acorn Squash Bisque
Smitten Kitchen's Acorn Squash with Chile-Lime Vinaigrette
Iowa Girl Eats Stuffed Acorn Squash
The Novice Chef's Mashed Acorn Squash
What's Gaby Cooking Quinoa Stuffed Acorn Squash
Good Life Eat's Apple Pecan Stuffed Acorn Squash
If you've missed prior days of my 30 Days of Autumn Inspiration series …
Day 1. Autumn.
Day 2. Health.
Day 3. Entertaining.
Day 4. Sunshine.
Day 5. Fresh.
Day 6. Heirlooms.
Day 7. Harvest.
Day 8. Ambience.
Day 9. Simplicity..
Day 10. Neighbors.
Hello and welcome to my home and table!
I'm Sandy—lover of food, family, cooking, THE BIG BOARD, travel, and bringing people together. Through great recipes and connection around the table, we become better, stronger, and more courageous people. Feasting on Life is real, and every time we do it, we grow a little more. Read more...