NO-Bake Chocolate Almond Cranberry Oat Bars
These NO-Bake Chocolate Almond Cranberry Oat Bars are easy, fresh, and delicious!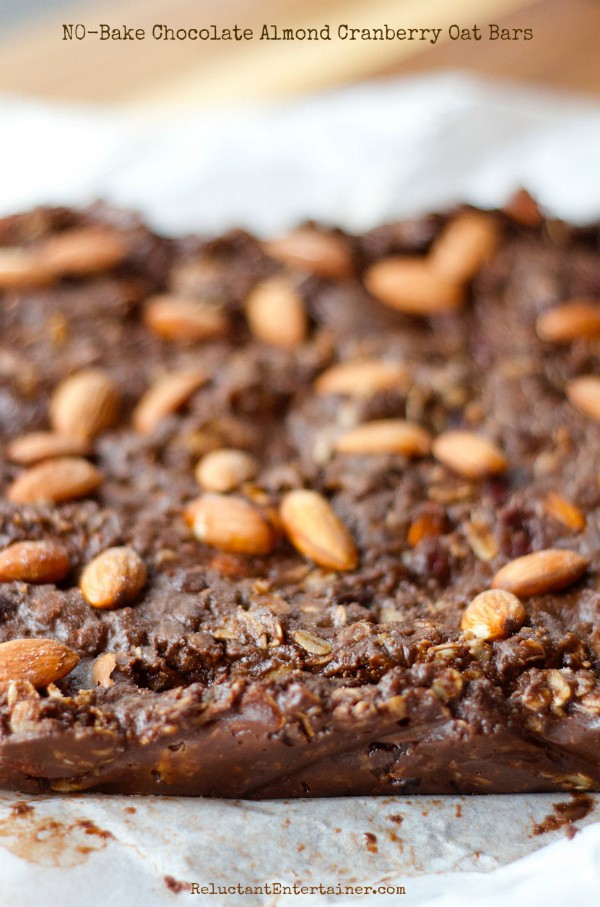 Today's post is about love and chocolate and gratefulness. All three of those are pretty big words, with big shoes to fill, when it comes to loving, taste, and appreciation.
When I was younger, I looked around at what everyone had, and I wished for more … I just don't think I was grateful.
Today I look at what I've been given and I appreciate the gifts–big and small–that grace me every second of every day.
If I find myself looking at others, I am happy for them. Being happy for others is a way we can gage where our hearts are. If we're content, thankful, happy …
A grateful heart.
A grateful heart comes when we thank God for everything we have…the ability to hear the sounds of nature or a beautiful melody, or to see a beautiful smile or brand new baby, to smell a flower or the ocean breeze, or to feel love and a warm embrace, or to taste chocolate.
Love for chocolate.
Chocolate is one of my favorite foods. There's nothing like a good quality chocolate, too! Last week I made these yummy No-Bake Chocolate Almond Cranberry Oat Bars for my family. I made 2 8×8 pans and froze them, thinking they'd be great snacks for the weeks ahead for the kids (high school and college).
Freezable.
I adapted the recipe from Martha Stewart's Living magazine this month, adding a few ingredients that our famiy loves. Today when I went to see how they froze (knowing that if I left them out on the counter or in the fridge, they'd be gone in 2 days), I saw that everyone was helping themselves to these chocolate delights, as if I never put them in the freezer in the first place! Basically, there was about 1 bite left.
Which, is a good sign.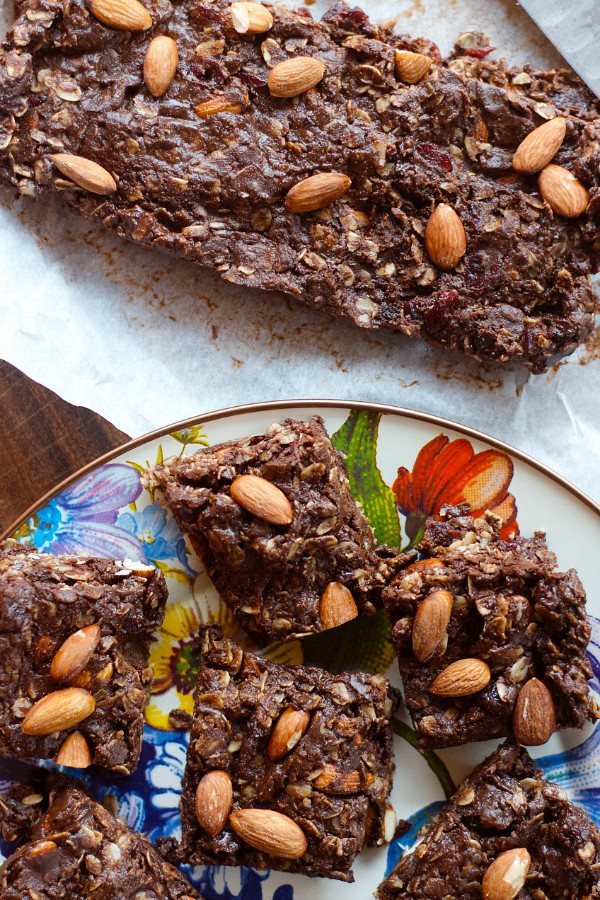 The crumbs.
People love chocolate. So when the bag is about eaten, and there are only crumbs left, I say smile.
And whip up another pan or two.
Thanks, Martha, for the yummy inspiration.
What's your secret ingredient to add to a no-bake chocolate cookie recipe?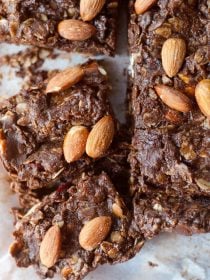 Get the Recipe: NO-Bake Chocolate Almond Cranberry Oat Bars
Adapted from Martha Stewart Living Sept. 2014 edition. Double for a 9×13 pan.
Ingredients
Nonstick cooking spray
1 cup smooth almond butter
1/3 cup honey
1 stick unsalted butter
2 cups rolled old-fashioned oats
1/2 cup chopped toasted almonds
6 ounces bittersweet chocolate, chopped (about 1 1/4 cups)
3/4 cup orange cranberries, from Trader Joe's
1/2 teaspoon coarse salt
Instructions
Coat an 8-inch square baking pan with cooking spray, and line with parchment paper.

Melt almond butter, honey, and butter in a saucepan over medium heat, stirring frequently, about 6 minutes. Remove from heat and add remaining ingredients, stirring with a wooden spoon until chocolate has melted and ingredients are well combined.

Pour the mixture into lined pan. Refrigerate until the chocolate hardens, for about 2 hours or up to 1 day.

Run a knife around the edges, then use parchment to remove from pan and transfer to a cutting board. Cut into 12 bars; store in refrigerator up to 3 days or freeze!
Are you following me on Instagram, Twitter, Facebook and Pinterest? Thanks being here today, and if you'd like to subscribe to Reluctant Entertainer, to have each post delivered straight to your e-mail box, then please add your email, here. It's really easy!

Hello and welcome to my home and table!
I'm Sandy—lover of food, family, cooking, THE BIG BOARD, travel, and bringing people together. Through great recipes and connection around the table, we become better, stronger, and more courageous people. Feasting on Life is real, and every time we do it, we grow a little more. Read more...