Old-Fashioned Peach Cobbler
This Old-Fashioned Peach Cobbler is easy for summertime entertaining or last-minute company!
How in the world does our garage get so messy? Your family is probably a lot like ours, very active and busy in the summer months. The boys went backpacking, we've been camping, we set up our ping-pong table, in the midst of freezers, laundry, canning supplies, tools, bikes … you name it.
One of the things I came across in my garage a few weeks ago were my Mom's handwritten recipes. Boy, did that bring back a flood of memories, to see her handwriting. I could almost feel her presence, standing there in the garage …

And then I saw her easy peach cobbler recipe, the one in which she'd substitute whatever fruit was in season.
We always had fresh fruit in the house growing up. Sometimes we went to the orchards to pick, or sometimes Mom would buy already-picked fruit. Mom was a big canner. You name it, it went into the canning jars.
Our friends came for a spontaneous dinner party last week, and just like Mom, it only took minutes for me to prepare her cobbler and place in the oven.
Since beautiful peach season is here, I hope you enjoy my Mom's old-fashioned recipe from years past.
What's your favorite kind of cobbler to make?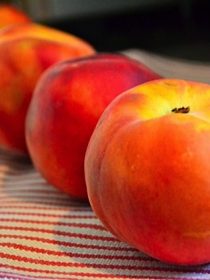 Get the Recipe: Old-Fashioned Peach Cobbler
Delicious cobbler that can be made with any kind of fruit, any time of the year.
Ingredients
6 cups peeled, sliced peaches
2 cups sugar, divided
1/2 cup water
8 tablespoons butter
1 1/2 cups self-rising flour
1 1/2 cups milk
1 tsp. ground cinnamon
Instructions
Preheat oven to 350 degrees F.

Combine the peaches, 1 cup sugar, and water in a saucepan and mix well. Bring to a boil and simmer for 10 minutes. Remove from the heat.

Put the butter in a 9×13 baking dish and place in oven to melt.

Mix remaining 1 cup sugar, flour, and milk slowly to prevent clumping. Pour mixture over melted butter. Do not stir.

Spoon fruit on top, gently pouring in syrup. Sprinkle the top with ground cinnamon, if desired. Bake for 35 to 45 minutes.

The batter will rise to the top during baking and will look like a cake/cobbler.

To serve, scoop onto a plate and serve with vanilla ice cream.
Are you following me on Instagram, Twitter, Facebook and Pinterest? If you'd like to subscribe to Reluctant Entertainer, to have each post delivered straight to your e-mail box, then please add your email, here. It's really easy! Thanks for being here today!
Hello and welcome to my home and table!
I'm Sandy—lover of food, family, cooking, THE BIG BOARD, travel, and bringing people together. Through great recipes and connection around the table, we become better, stronger, and more courageous people. Feasting on Life is real, and every time we do it, we grow a little more. Read more...