Pimiento-Stuffed Olive Three Bean Salad
This Pimiento-Stuffed Olive Three Bean Salad is the perfect potluck or picnic salad, delicious served with fresh mint on top!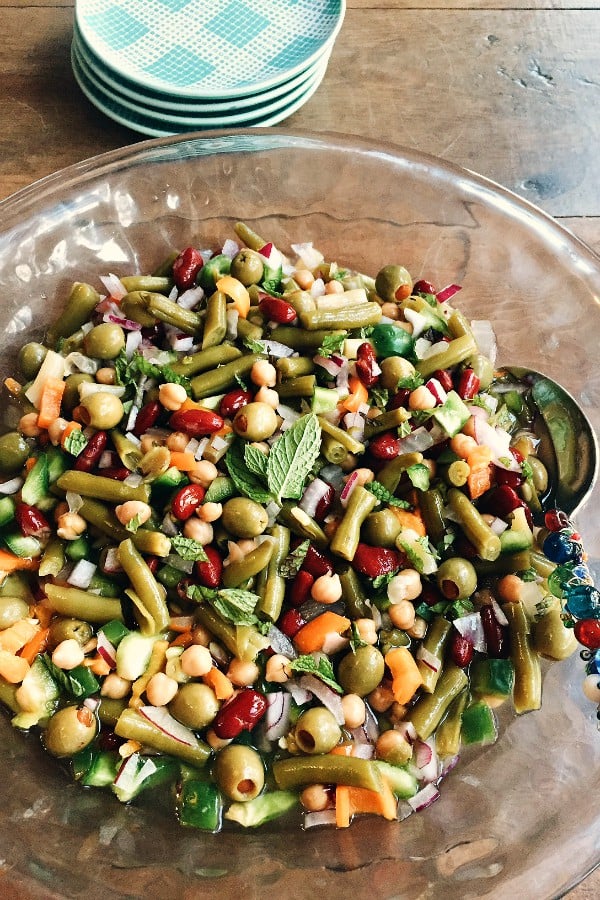 Friends, since we moved away, one of my fears was not seeing friends and family back home. But we've had so many delicious dinners around our table this summer, and even at restaurants, with friends passing through town, and out of town guests, every experience inspires gratitude, if not outright celebration.
This past weekend we hosted my husband's best friend since 7th grade, and his amazing family (wife and 3 adorable kids). What I love about out-of-town company is that you really get to know your guests—and in return, they get to see the real you. But that could really scare a person … if you don't like to be known.
I can really relate to Shauna Niequist's new book, Present Over Perfect. What kills a soul? Exhaustion, secret keeping, image management. And what brings a soul back from the dead? Honesty, connection, grace.
Truthful words. For us, hospitality is about laying it all out on the table. Dying to self, giving up a bed, making meals, staying up late for needed conversation and encouragement … and giving up on rejecting perfect.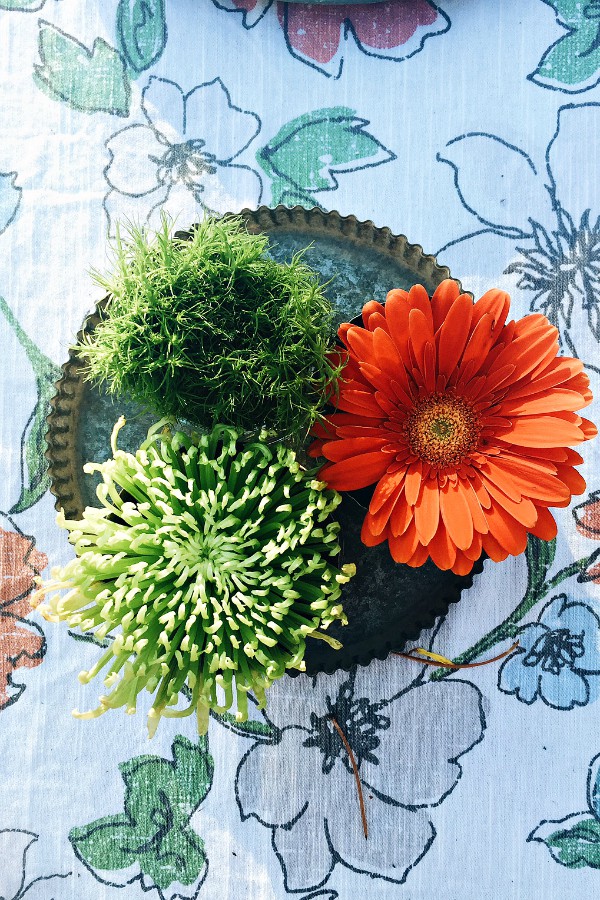 The house may start off spic and span, clean as a whistle, but in no time, the guests arrive, the pots and pans are flying, the house is noisy, clutter begins to build, the floors are dirty, the white cabinets have spills, the espresso machine tray is overflowing, the garbage is full!
But … the house is so full of life.
We always say, we are who we are. People can love us, or leave us. Funny words, but it is true. Hosting can be stressful, so each family has to figure out what works for them.
I'm a happier person when my soul is connected to other people, when we can share stories, open up, share our hurts. Relationships are tough for people. We've had our share of hurts over the years, rejection, dealing with bullies or self-centered people. It's okay to be honest about these situations, and make a plan within your family to be a healthy family.
Pimento-Stuffed Olive Three Bean Salad
Here's a simple, yummy salad, for any end-of-summer entertaining that you plan to do!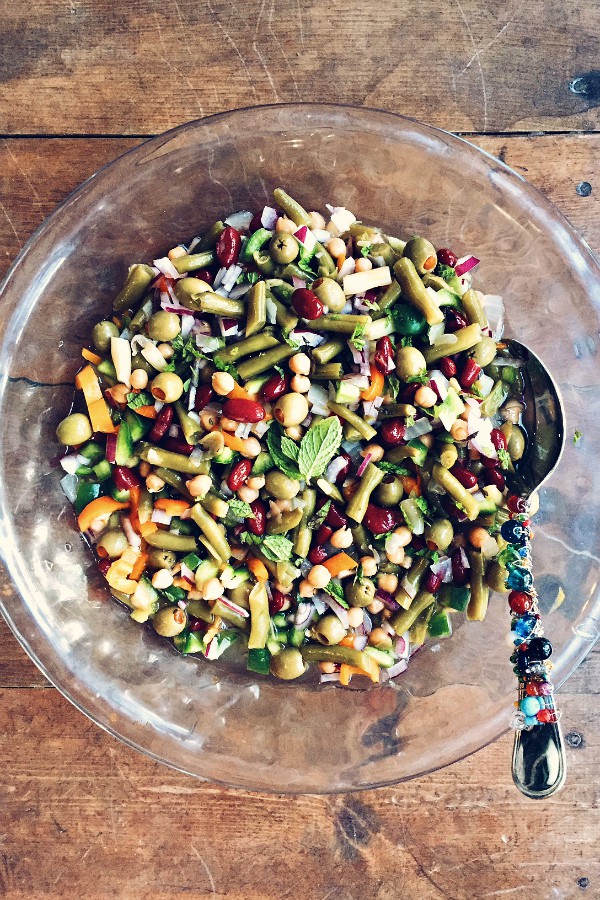 Taking the traditional 3-bean salad, add a few extras. Garnish with mint!
Fresh and savory!
A hit at the party!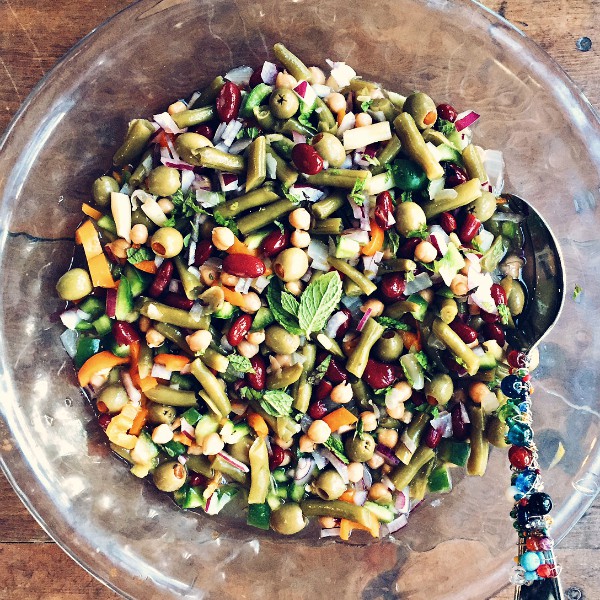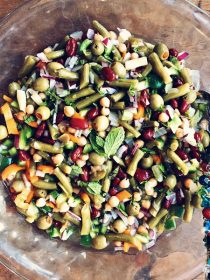 Get the Recipe: Pimiento-Stuffed Olive Three Bean Salad
Ingredients
1/3 cup olive oil
1/4 cup white wine vinegar
2 Tbsp. sugar
1 1/2 teaspoons dried oregano
1 15 oz. can Bush's kidney beans, drained
1 15 oz. can Bush's garbanzo beans, chickpeas, drained
1 15 oz. can green beans, drained
1 cup chopped green bell pepper
1 cup chopped red or yellow or orange bell pepper
1 cup pimiento-stuffed olives, drained
1/2 cup red onion, chopped
Fresh mint
Instructions
Blend the olive oil, white wine vinegar, sugar, and oregano in a small dish. Salt and pepper; set aside. In a large bowl add the rest of the ingredients; lightly mix together.

Add the dressing to the bean mixture, lightly mix again. Cover and refrigerate for several hours before serving; garnish with fresh mint.
More bean salad recipes:

Hello and welcome to my home and table!
I'm Sandy—lover of food, family, cooking, THE BIG BOARD, travel, and bringing people together. Through great recipes and connection around the table, we become better, stronger, and more courageous people. Feasting on Life is real, and every time we do it, we grow a little more. Read more...