Planning a Surprise 50th Birthday Dinner Party!
Hosting a birthday party is definitely different than hosting a birthday dinner party.
And a "surprise" birthday dinner party, at that.
Recently some of my beautiful friends joined me in my home to bless and SURPRISE our friend who turned 50 on January 1st.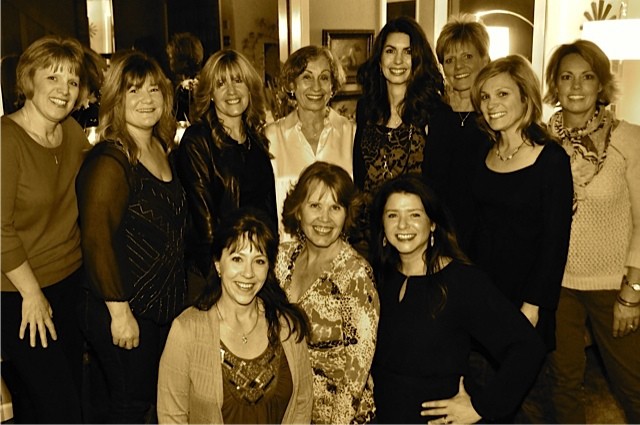 The element of surprise makes planning SO fun. We were little working bees behind the scenes, making sure that our friend Kathie would NOT find out about this event.
When you think about it – a surprise brings joy to all. The look on the their face, the sounds of elation, the tears, … it goes on and on, as they walk through the door.
Let me just say it's such a JOY to surprise a person, when they least expect it! Kathie did not have a clue, especially since the party was almost 2 months after her actual birthday. (It happened so quickly- all I had ready was my iPhone for this picture.)
Her mother flew down from Portland. I'm so glad we made that happen!
What a gift to have a beautiful guest of honor with us.
Well, actually two guests of honor. :)
I noticed as we were sitting around for appetizers, how Kathie's Mom's hand kept gravitating over to hers.
Precious – the gift and love of a Mother/Daughter.
I love holding hands, so naturally I saw this the night of the party, but also later as I went through the photos.
On January 1, 1963, the world became a better place as our friend Kathie was born! Her mother confirmed that she was indeed the first baby of that year to be born in their local hospital. I'm pretty sure I overheard her saying that she made the cover of their newspaper that next day, too. :)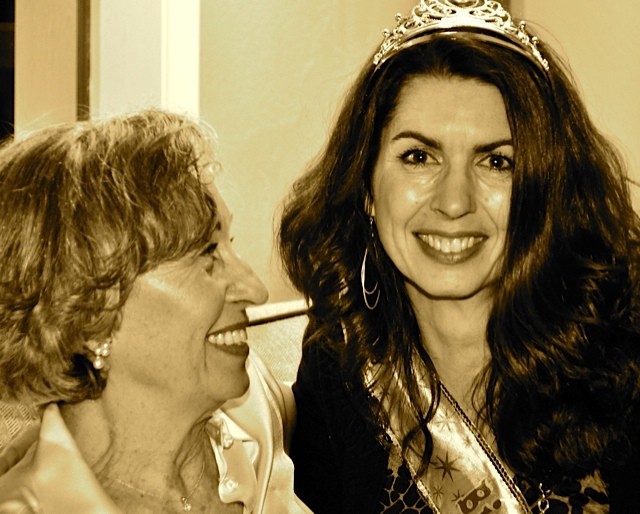 Back to the party planning …
Planning a surprise party can be tricky, but if you get everyone there on time, which we did, it's one of the best kind of parties to throw!
I found myself very cheerful all day long as I was cleaning, preparing, cooking, getting the primroses ready and setting the table – all for these wonderful ladies who were coming to my home!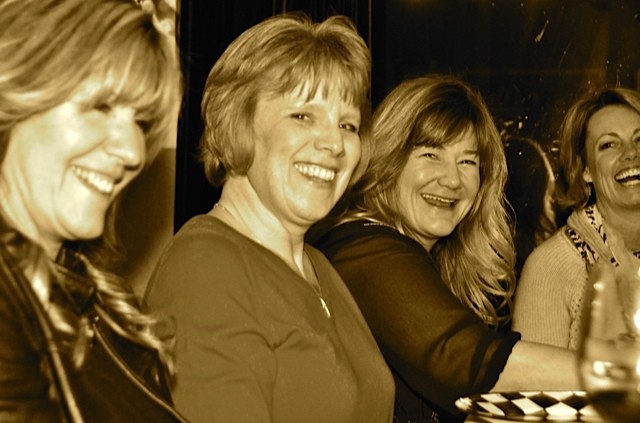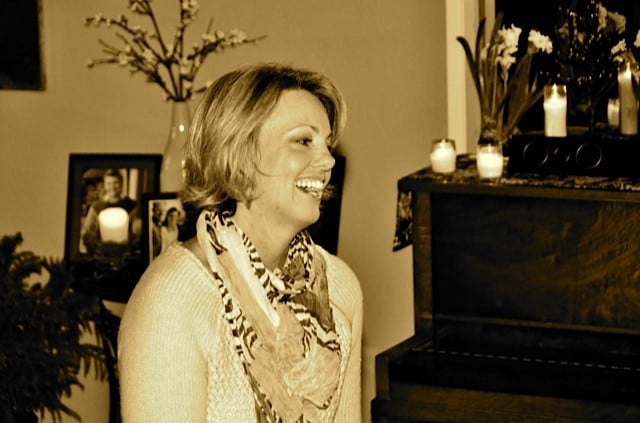 How to plan a surprise dinner party!

1. Gather a list of friends that you want to invite and send out invitations.

2. Plan one unique surprise that will shock the birthday person, which in our case was a surprise "guest."

3. Count the number of RSVPs and start planning your table. Do you need to add a table on?

4. What will the "theme" of the table be? In my case – bright colored PRIMROSES.

5. Plan the menu. A few girlfriends and I shared the making and serving of different courses.

6. Decide where each course will be served. Where will you start off with the appetizers? In our case, we gathered in the living room.

7. A crown and a sash ties it all together. And a lovely dessert.

8. Make sure and take photos of the night – because pictures say a thousand words. And they're memories that you'll have forever.
The words that flowed around the table that night were deep, inspirational, loving, and caring.
Enough to make any person feel like a princess!
I know we all have special people in our lives, that we think about hosting special parties for milestone their events, but then, …. we don't. I want to encourage you to just do it. Get together with a group of people and plan to make a special memory for your friends. You won't be disappointed, I promise!
Today I'm ending this post with some inspirational words about my gracious friend, Kathie, who I believe is a great, great, GREAT person!
I believe that humility, obedience, and integrity are three key characteristics that contribute to the making of a great man or woman. If you humble yourself before God, develop a habit of obedience, and choose to walk in integrity in every area of your life, you will be well on your way to showing the world what really makes a great great person. – Joyce Meyer
Have you ever hosted a surprise dinner party? What was your favorite part?
Hello and welcome to my home and table!
I'm Sandy—lover of food, family, cooking, THE BIG BOARD, travel, and bringing people together. Through great recipes and connection around the table, we become better, stronger, and more courageous people. Feasting on Life is real, and every time we do it, we grow a little more. Read more...