Potato Gratin Muffin Stacks Recipe
Enjoy Cheesy Potato Gratin Muffin Stacks Recipe for individual servings of delicious gratin potatoes, topped with fresh chives. Perfect for a dinner party any time of year!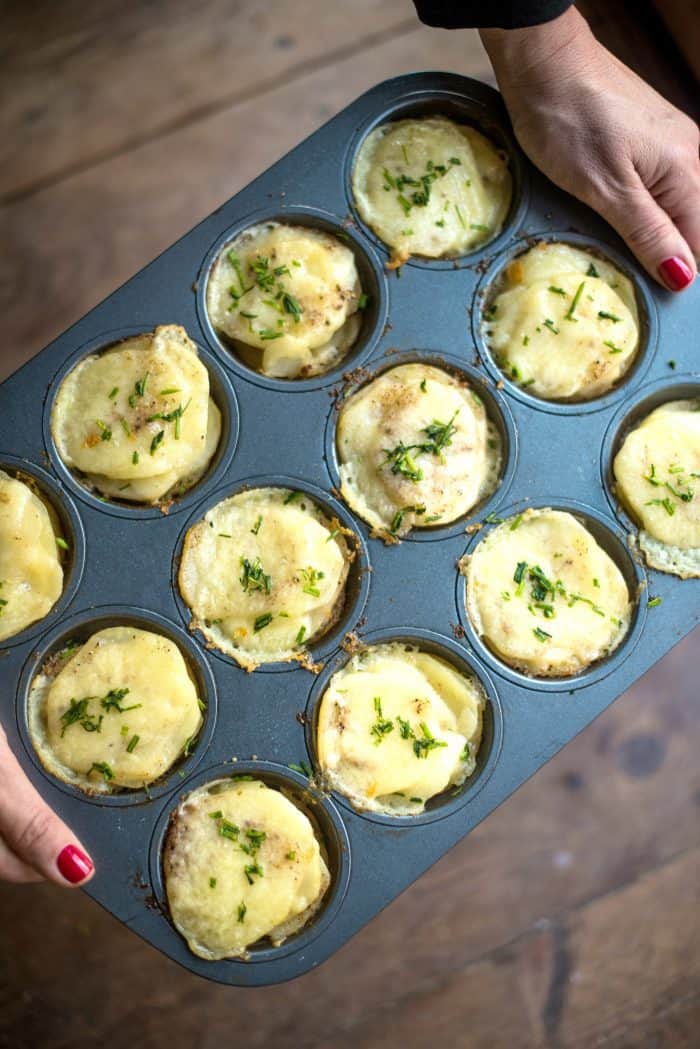 We recently made this Potato Gratin Muffin Stacks Recipe, so good with prime rib, chicken, or Herbed Brown Butter Scallops! This is one of the easiest side dishes you can make! I love "easy!'
Potato Gratin Muffin Stacks Recipe
So easy, here are the ingredients for this recipe:
Medium russet potatoes
Butter
Minced garlic
Heavy cream
Garlic powder, nutmeg, ground black pepper, and kosher salt
Sharp white cheddar cheese
Chopped chives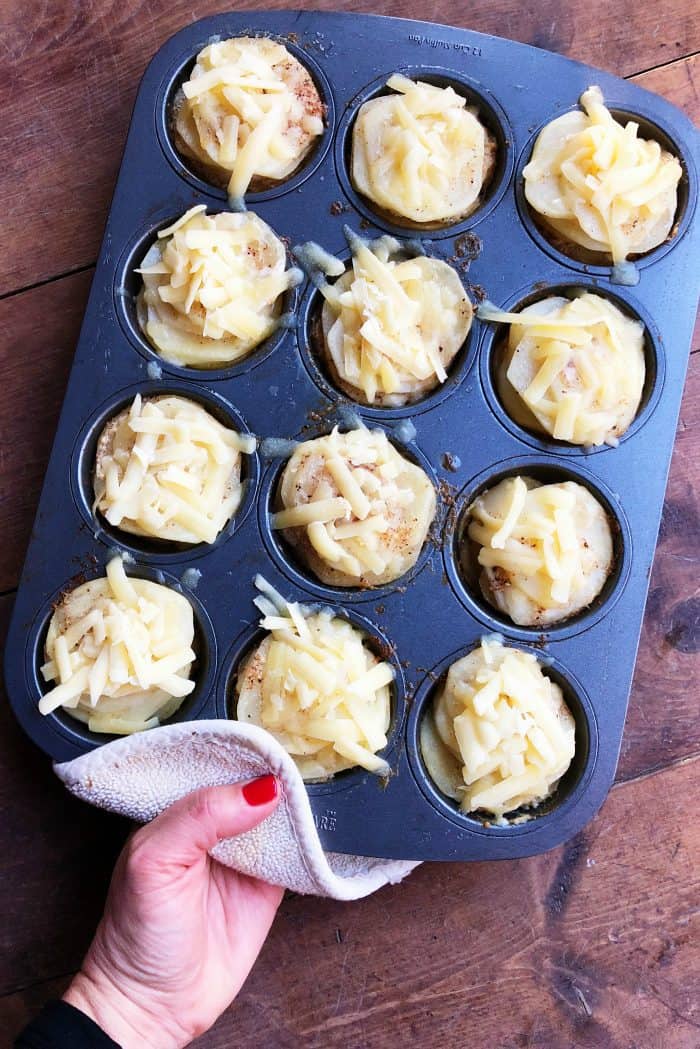 Potato Gratin Muffin Stacks Recipe
Usually we serve my Potato-Fennel Gratin recipe, but this new on … Mm-m-m, so cheesy good.
And I love the individual servings!
Bake without cheese for 30 minutes, then add the cheese, and bake until melted and brown on top!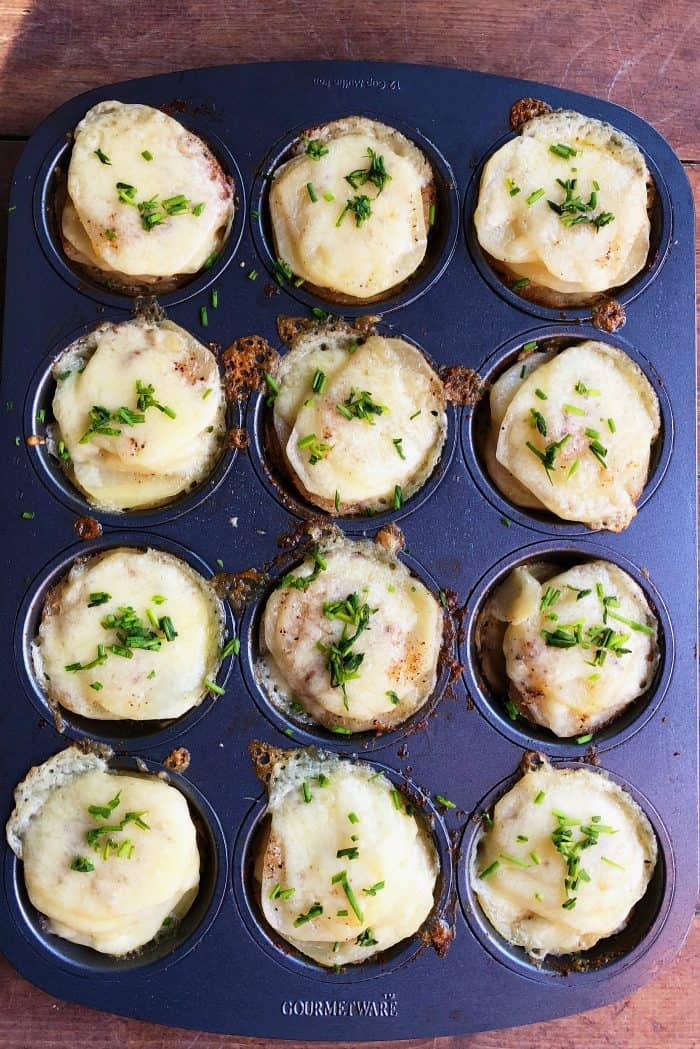 Serve with fresh chives sprinkled on top!
This was our Christmas dinner this past week. (Scallop recipe coming soon.)
I really love the Magnolia Journal (magazine), an inspiration for life and home. Friends, have you read it? It's full of great words of wisdom, inspiration, stories that will make you weep, stories that will help you want to be a better person, and so much love. What a beautiful magazine!
What really is inspiring, besides looking at Joanna and Chip's designs, stories, and photos, is the last page.
I can't wait to get to the end of the magazine because these words are so true and honest, I usually read them twice.
Magnolia Manifesto
Magnolia Manifesto:

We believe that newer isn't always better and that there is something inherently good in hard work. We believe that friends who feel like family are the best kind of friends and that nothing matters more than family. We believe that today is a gift and that every day miracles are scattered about if only we have the eyes to see them. We believe in seeking the balance between hustle and rest and striving to be passionate about both: a leisurely first cup of coffee to start the day mindfully and then at day's end not clocking out from a job 'til you're proud.

We believe failure needn't be a negative thing; rather, we learn from our mistakes and fail smarter next time. We believe in doing work that we love and, in choosing that, nudging others toward doing what they love. We believe in courage, in cartwheeling past our comfort zones and trying something a little bit scary every day. We believe in subtle beauty, the kind that doesn't deteriorate with age or wear.

And of all heroic pursuits large or small, we believe there may be none greater than a life well-loved.
These words are worth passing on, or printing out, and sharing with others!
Enjoy this Potato Gratin Muffin Stacks Recipe that we adapted from the magazine this last week for our dinner!
More gratin recipes:
Cauliflower Bacon Gratin [+video RE], Pressure Cooker Cheesy Potatoes Au Gratin [Pressure Cooking Today], Spaghetti Squash & Chard Gratin [Kalyn's Kitchen].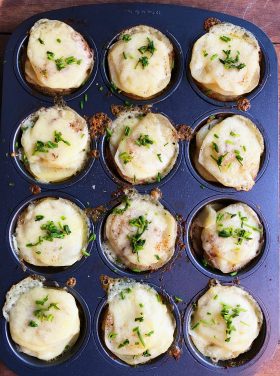 Get the Recipe: Potato Gratin Muffin Stacks Recipe
Ingredients
2 lb. peeled small or medium russet potatoes, thinly sliced with mandolin
2 Tbsp. butter
2 Tbsp. minced garlic
1/2 c. heavy cream
1 tsp. garlic powder
1 tsp. nutmeg
1/2 tsp. freshly ground black pepper
1 tsp. kosher salt
1 1/4 cups sharp white cheddar cheese
2 Tbsp. chopped chives
Instructions
Preheat oven to 375° and grease a standard 12-cup muffin tin with cooking spray.

In a small saucepan melt butter over medium heat. Add garlic and cook for 2 minutes. Stir in cream, garlic powder, nutmeg, salt and pepper. Remove from heat.

Peel potatoes and very thinly slice with knife or mandolin. Place in a large bowl. Add the cream mixture.

Divide the potato mixture between muffin tin cups to create 12 potato stacks. Spoon remaining cream mixture over the potatoes; press down on the potatoes. Cover with foil and bake 30 minutes.

Remove the foil; sprinkle the stacks with cheese. Bake additional 10-15 minutes (uncovered).

Let stand 10 minutes before serving. Sprinkle with chives!
Hello and welcome to my home and table!
I'm Sandy—lover of food, family, cooking, THE BIG BOARD, travel, and bringing people together. Through great recipes and connection around the table, we become better, stronger, and more courageous people. Feasting on Life is real, and every time we do it, we grow a little more. Read more...