Holiday Quiche Wreath Breakfast Board
Perfect for entertaining, this Holiday Quiche Wreath Breakfast Board with green grapes and red raspberries (wreath) and giant cinnamon rolls!
Friends, I'm so excited to share with you this EASY Holiday Quiche Wreath Breakfast Board, with only 6 ingredients! Interested in the Big Board? Keep reading …
Oh, and have you bought my new cookbook? Buy Big Boards for Families today! It's "editor's pick" on Amazon this month!
Quiche Wreath Breakfast Board
Some boards take longer than others to assembly, but this one … quick and easy!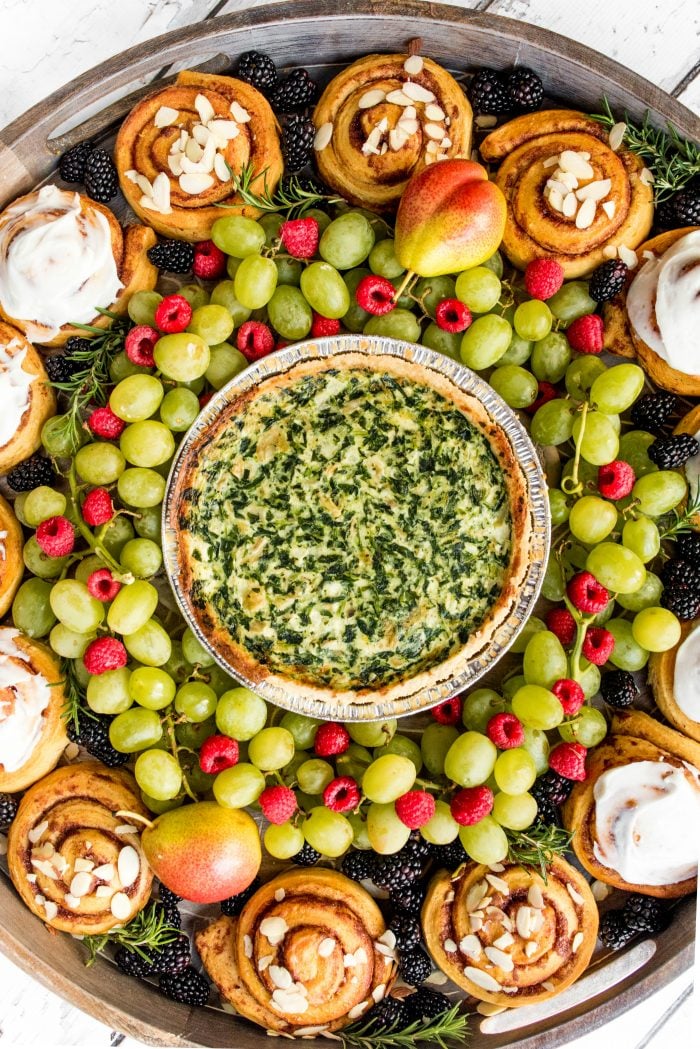 Gather your board (make sure it is food safe – read below), and ingredients. Pop the quiche in the oven (timing is everything), and have a JOLLY holiday breakfast with your family or friends!
But first, did I tell you that we sold our little mountain home and bought a new fixer upper!?
We had a little celebration last Sunday and gathered around this Quiche Wreath Breakfast Board.
Homemade or store-bought quiche
You have several options with the quiche.
Buy in a (2) pack at Costco.
Make ahead and freeze, or make fresh the day of. You can make try this How to Make Impossible Quiche Pie recipe (and oldie but goodie). Or, make my friend Skinnytaste's Crustless Ham and Cheese Quiche.
Prepare mini quiches, like this recipe, Bacon Egg Breakfast Board Muffins.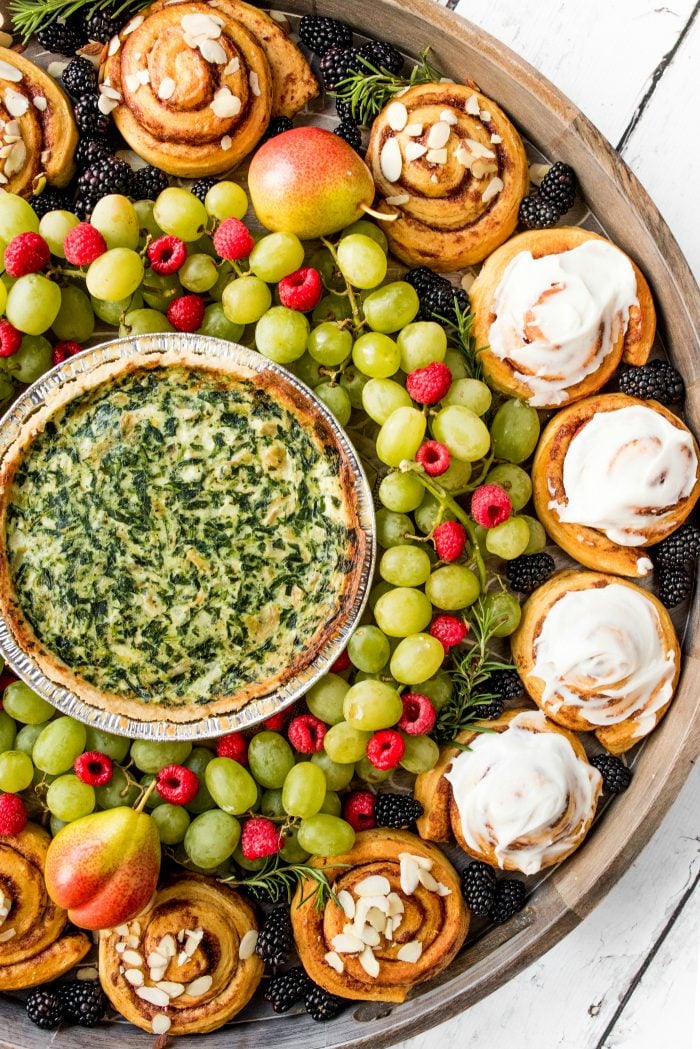 Ingredients for holiday quiche board
Also perfect for Christmas—with 6 easy ingredients!
12 Cinnamon Rolls
2 quiches, cooked (keep one hot in the oven)
Green grapes
Red fresh raspberries
2 pears + rosemary, for garnish
Fresh blackberries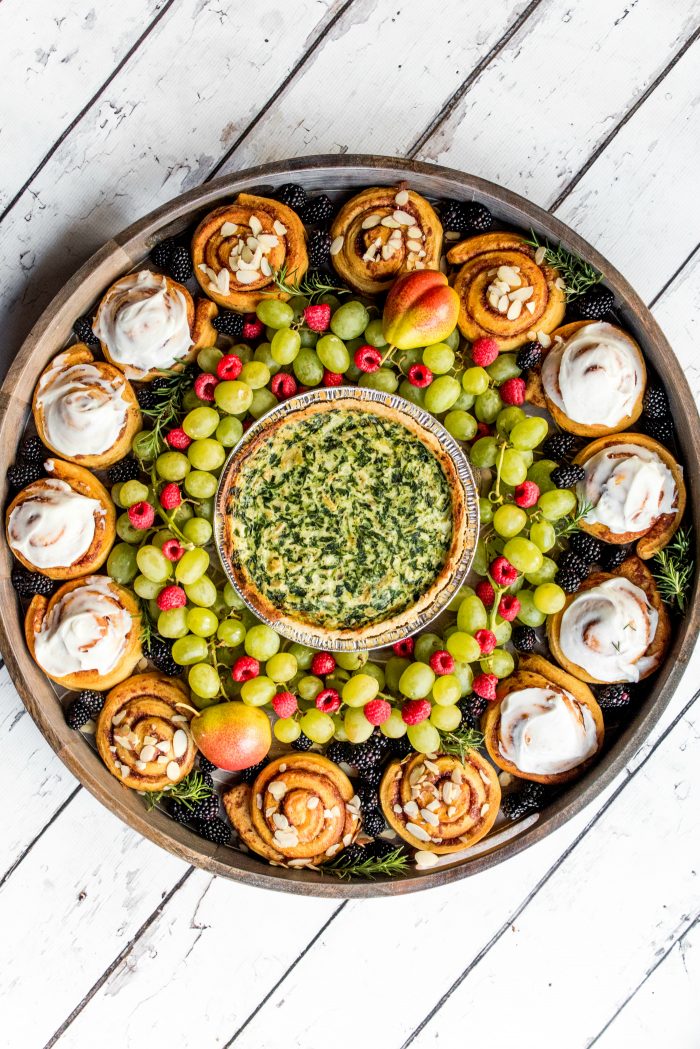 For A New Home, by John O'Donohue
It's bittersweet, as we really loved this house, but most people who know us well, know that we love fixer uppers!
The snow was coming down, HARD, when we got the keys.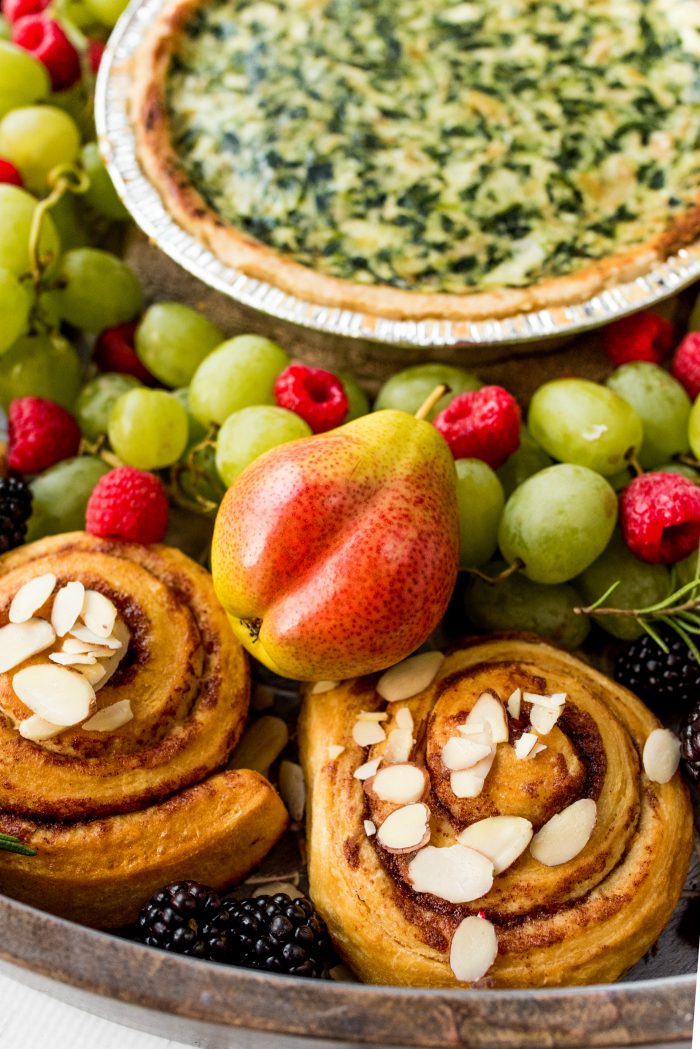 Stay tuned as I share more.
For now, enjoy this beautiful poem, as we will be leaving our current home, and moving into our new fixer upper, hopefully in a few more weeks!

For A New Home, by John O'Donohue

May this house shelter your life.
When you come home here,
May all the weight of the world
Fall from your shoulders.

May your heart be tranquil here,
Blessed by peace the world cannot give.

May this home be a lucky place,
Where the graces your life desires
Always find the pathway to your door.

May nothing destructive
Ever cross your threshold.

May this be a safe place
Full of understanding and acceptance,
Where you can be as you are,
Without the need of any mask
Of pretense or image.

May this home be a place of discovery,
Where the possibilities that sleep
In the clay of your soul can emerge
To deepen and refine your vision
For all that is yet to come to birth.

May it be a house of courage,
Where healing and growth are loved,
Where dignity and forgiveness prevail;
A home where patience of spirit is prized,
And the sight of the destination is never lost
Though the journey be difficult and slow.
May there be great delight around this hearth.
May it be a house of welcome
For the broken and diminished.

May you have the eyes to see
That no visitor arrives without a gift
And no guest leaves without a blessing.

–John O'Donohue
How to serve a quiche board
If you have 12 guests, set out 1 hot quiche (cut it first into 6 pieces), right before serving.
When gone, replace it with another warm quiche from the oven.
Serve with a little mimosa and set out plate and forks.
A delicious little housewarming party in our messy, torn-apart house.
Super easy!
Friends, The Big Board® is here! Yes, I've partnered with JK Adams, the premier woodmaking company in Vermont, with my own line of RE boards!
20-inch round, maple
26-inch round, maple
12 x 36-inch maple
NEW 12 x 24-inch maple
23-inch Lazy Susan
26-inch ebonized BLACK, cherry
12 x 36-inch ebonized BLACK, cherry
A board with a lip (or raised edged) so the food doesn't fall off
FOOD SAFE
Made in the USA
Undercut handles (a unique design)
Thank you for your support, as we've sold out so many times already!
Order The Big Board® today!
Happy hosting!
Get the Recipe: Holiday Quiche Wreath Breakfast Board
Ingredients
12 Cinnamon Rolls
2 quiches, cooked (keep one hot in the oven)
Green grapes
Red fresh raspberries
2 pears + rosemary, garnish
Fresh blackberries
Instructions
On a large prepared board, place the cinnamon rolls around the outside.

In the center, make room (lay a pot holder down) for the hot quiche.

Fill in open areas with green grapes around where the quiche will be. Arrange in a circle like a wreath, and garnish with red raspberries.

Add fresh blackberries in open areas. Garnish with 2 whole pears (optional).

Right before serving, remove the hot quiche from the oven. Cut into 4, 6, or 8 slices (depending on the sizes and how many people you are serving). Place in the center of the board and serve!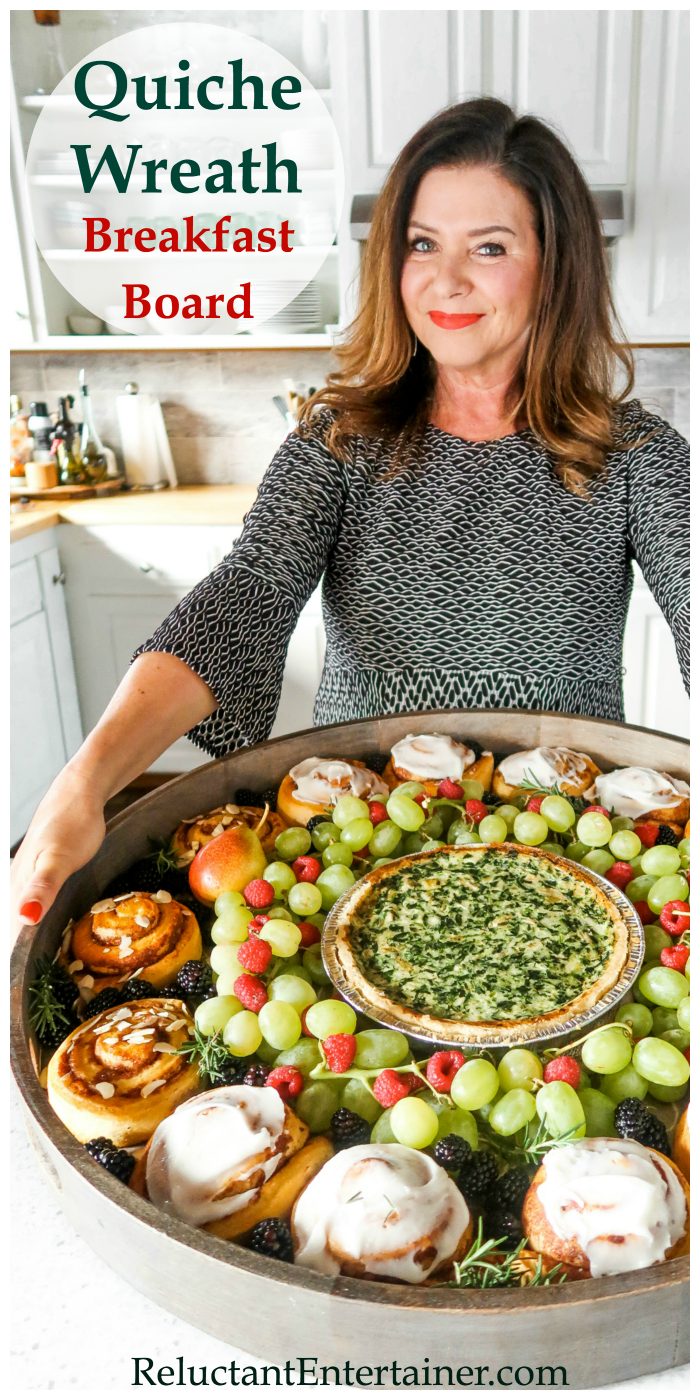 Hello and welcome to my home and table!
I'm Sandy—lover of food, family, cooking, THE BIG BOARD, travel, and bringing people together. Through great recipes and connection around the table, we become better, stronger, and more courageous people. Feasting on Life is real, and every time we do it, we grow a little more. Read more...