Reverie Sleep System for Your Best Night's Sleep
I've partnered with Reverie Sleep System for Your Best Night's Sleep review and their 101-day sleep challenge!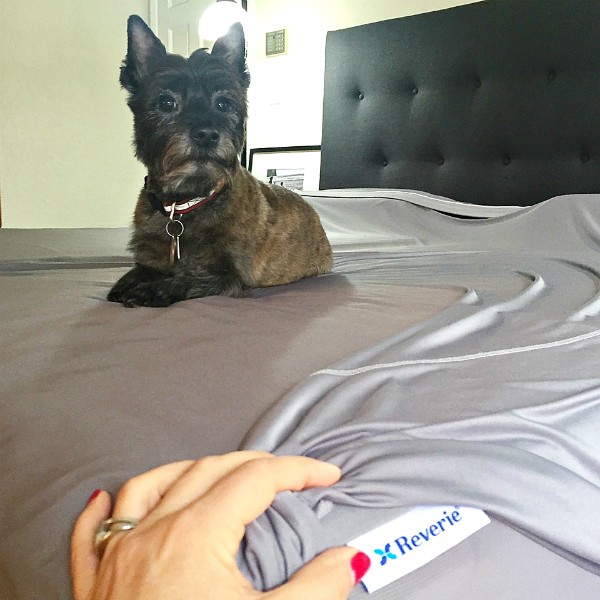 Friends, when's the last time you had a great night's sleep, or woke up with your mind, body, and soul feeling rejuvenated? If you're as busy as Paul and me, it might not be the answer you'd like. I know, because I hear a lot of our friends talking about sleep issues (many talk about snoring), and Paul and I have struggled ourselves with sleep after 25 years of marriage, to find that sweet spot of really great sleep.
Rest is God's gift to us. It's the hospitality our body and soul needs in order to be the best that we can be! A good night's sleep helps us live authentic and connected lives. Since we're on the go, and both travel quite a bit, with a good night's sleep, we're way more productive. Everyone know that when you wake up refreshed, you have much more to give that day!
Since we just got our bed, it's still very new to us! But we're enjoying cozying up in our favorite pajamas, getting to know these fantastic Reverie features, with a good book or our favorite telelvision shows, and of course Haggis (our Cairn Terrier) by our side.
We had never heard of Reverie, but have since experienced their outstanding customer service and white glove treatment! Here's our story!
Placing the order.
We worked with Kevin and Josh to place our custom order. Our experience began with an in-depth phone conversation about our sleep, and what we look for in a bed, talking with a Reverie consultant. From there, they helped us customize a bed and experience that would be best for us.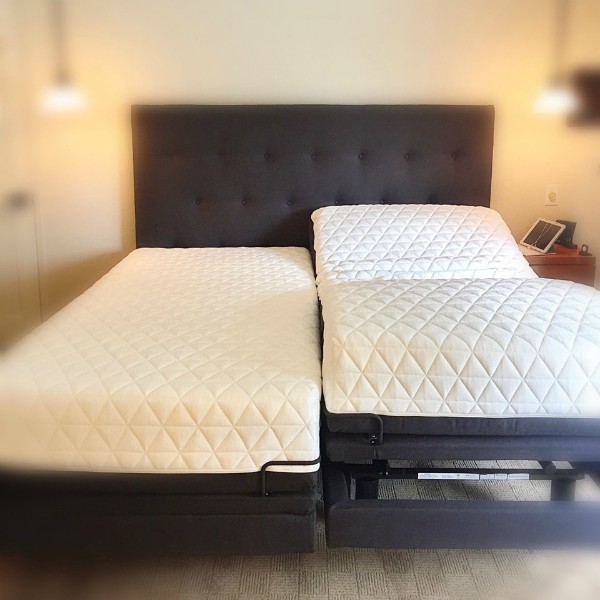 Customized bed.
The bed we picked was the split king mattress. We chose this because we each had the ability to control and move our own bed up and down independent of each other, which was very appealing. Friends have asked about us "falling in the crack" in the middle, but guess what? There are no issues! We adjusted our firmness levels according to our sleep preference needs. For example, I like my mattress a little bit softer than Paul likes his. Once the bed was set up, the adjustable power base allows both Paul and me to find our most comfortable position with the touch of a button.
However, whether you choose the split matresses, or you choose to buy a full sized king, Reverie configures each side individually, as the base is set up with separate units, that are united during installation.
Reverie Sleep System.
Reverie Sleep Systems contain DreamCell™ technology. DreamCell™ foam springs are the basis of the mattress used in the Reverie Sleep System. They come in four different firmness levels ranging from extra soft to firm. The firmness level can be changed at any time to the entire bed, part of the bed or even certain areas of the bed.
Handmade, tufted, upholstered headboard.
The bed (queen or king) also comes with the a handmade tufted, upholstered headboard with solid wood legs. We chose the dark gray to match our dream Sleep System!
The set up.
Our new Reverie Sleep System arrived a few weeks ago, and was delivered and set up by the most professional young men in Southern Oregon, Justin and Ricky, from Garrison's Mattress Gallery. These guys knew what they were doing – with a detailed bed to put together–and what a great job they did!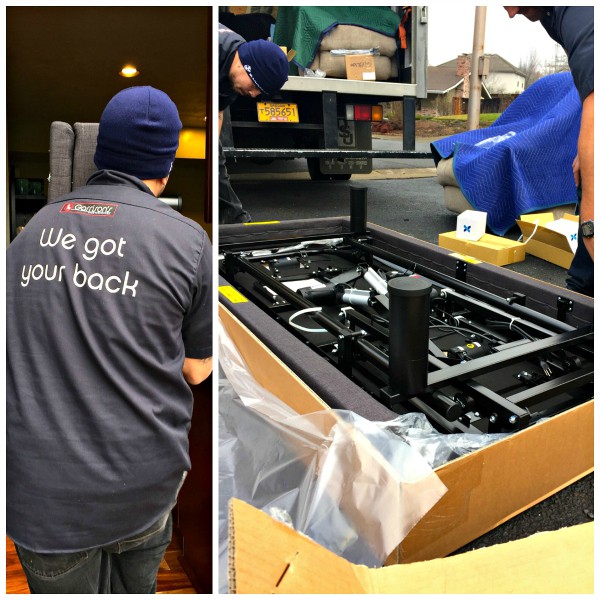 Here's a peek at what I mean by the "details" (above).
The base units are set up completely separate, so we each have our own control.
Our Sleep System came with the full package – headboard, sheets and all!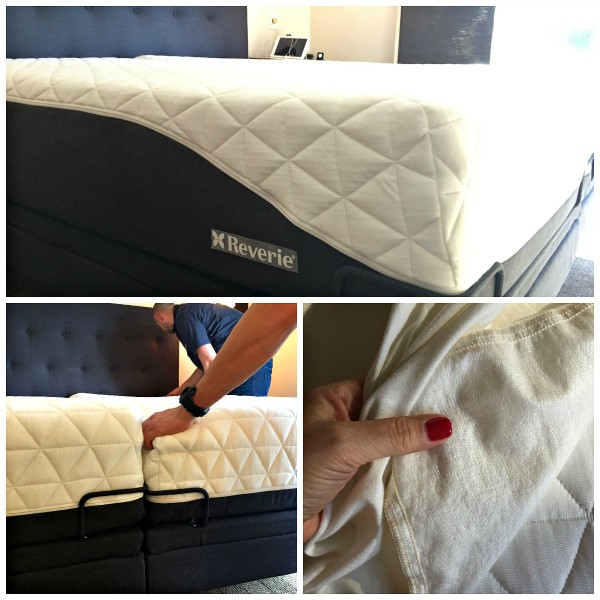 Once the bed was set up, we added an organic mattress protector for each side of our split king bed.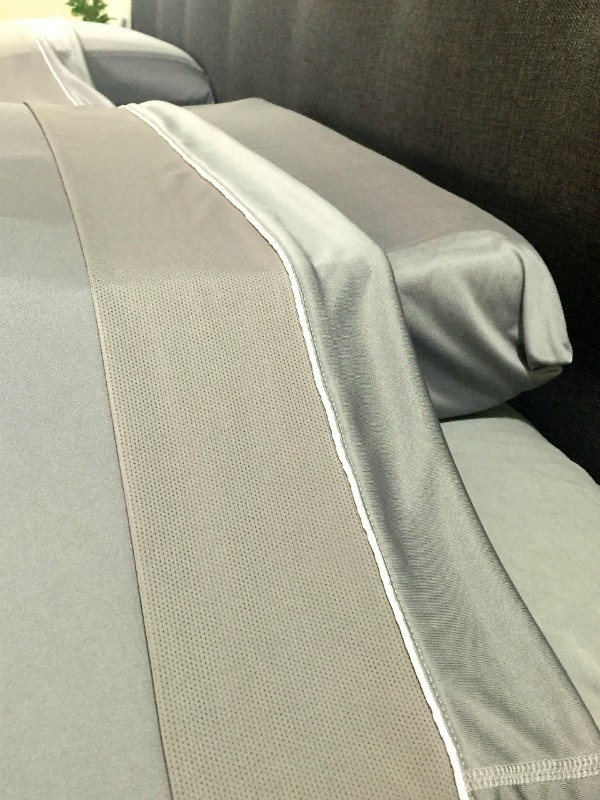 The sheets … oh, wow. The sheets! We ordered the dark gray, that matched the beautiful headboard, and the linens (2 fitted, 1 flat, 2 pillow cases) are from the Reverie Luxe Performance Collection, made of RevTek Cool Knit. We've never slept in sheets like this–we love the cool feel!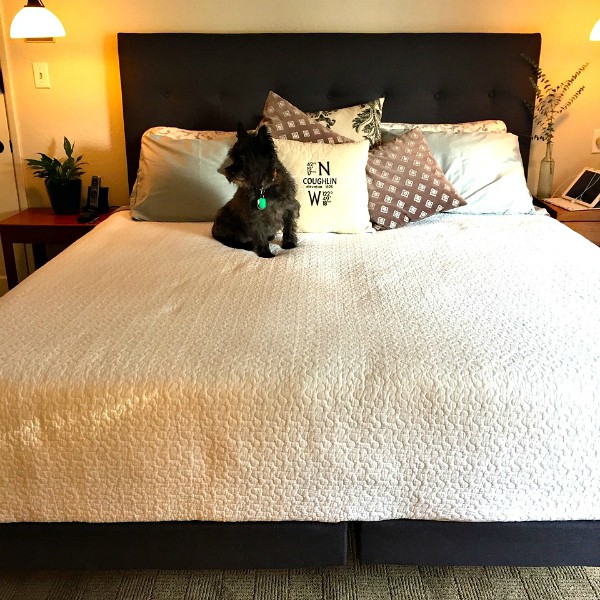 Zero Gravity.
Zero-Gravity position with the massage function allows us to relax after a long day of work, or for us, after hosting a dinner party! Falling into bed with this feature has been amazing!
This setting gives us a feeling of weightlessness, which eliminates pressure on the limbs and lower back. This feature has been fantastic, as Paul and I both work on our computer so much during the day!
· Upright settings. With the top portion of the bed elevated to a sitting positon, you can easily read your favorite book, work on your laptop, or cuddle up and watch Downton Abbey, with cute little Haggis!
· Anti-Snore. The Anti-Snore setting raises the head just enough to open up airways, which can help reduce the snoring that keeps you up at night. It can also really help you out if you're congested with winter sniffles. The first night, I hit the "snore" button on my remote, and Paul said he did not hear me snore. Amazing!
· Foot elevation. If you've ever have restless legs, cramps, swelling in the legs or feet, elevating the feet can help reduce pain and swelling. We also love this feature if we are watching television!
· Massage. I'm not kidding, the massage setting is something we've looked forward to, as we crawl into bed and relax. It's helped us to fall asleep faster, and they say it also increases circulation. Plus, it's ultra-quiet, and has an automatic shut-off.
· Nightlight. The built-in nightlight emits a soft glow, which is great if you need to get up in the middle of the night!
Everything about the Reverie Sleep System so far has been truly magical. I'll be back with a report in a few weeks to let you know if we're still loving our new bed, as Reverie offers a 101 Night Risk Free Trial for all of their customers.
Thank you for joining me on our "new" sleep journey!
What is your dream feature in a bed?
This post is sponsored by Reverie, who provided us with a sleep system, but as always, all opinions are my own!

Hello and welcome to my home and table!
I'm Sandy—lover of food, family, cooking, THE BIG BOARD, travel, and bringing people together. Through great recipes and connection around the table, we become better, stronger, and more courageous people. Feasting on Life is real, and every time we do it, we grow a little more. Read more...