Roasted Pecan Sweet Potatoes Dessert
This Roasted Brown Sugar Pecan Sweet Potatoes Dessert is a tasty, elegant bite of deliciousness, best served with premium vanilla ice cream!
Just in time for fall and winter, enjoy this Roasted Brown Sugar Pecan Sweet Potatoes Dessert!
A simple, classic sweet potato dessert with a crunchy, praline brown sugar topping! Here's another elegant dessert that I love, this Lemon Blackberry Bread Pudding with Mascarpone Vanilla Frosting.
Roasted Pecan Sweet Potatoes Dessert
You will wow your guests with this healthy, different, flavorful "autumn" dessert! All you need are these ingredients:
Sweet potato
Cinnamon + nutmeg
Pecans
Vanilla
Salt
Coconut oil
Bown sugar
Vanilla ice cream
Roasted Brown Sugar Pecan Sweet Potatoes Dessert
Speaking of a small dessert plate, today I'm sharing a delicious recipe that my daughter created over the holidays, that I'm just now getting around to sharing, Roasted Brown Sugar Pecan Sweet Potatoes Dessert.
What a treat, such a delicious bite of warm sweet potatoes, served as a dessert!
It's not too much, and so elegant!
Of course, just like a good friend in your life, the ice cream is the perfect added touch.
And I love the flavor of vanilla!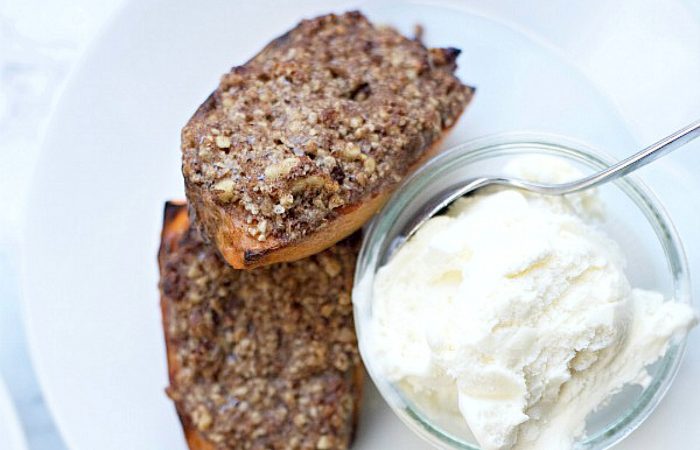 Small to-do lists
I'm realizing that I can only juggle a small dessert plate now, where it used to be a giant serving platter!
How true is this?
When we think we can do it all, and we never slow down, it takes a hit on us and our family. Many of us have learned this.
But now, our small to-do lists even seem big! We wrestle with ever getting through our "small" list of the day!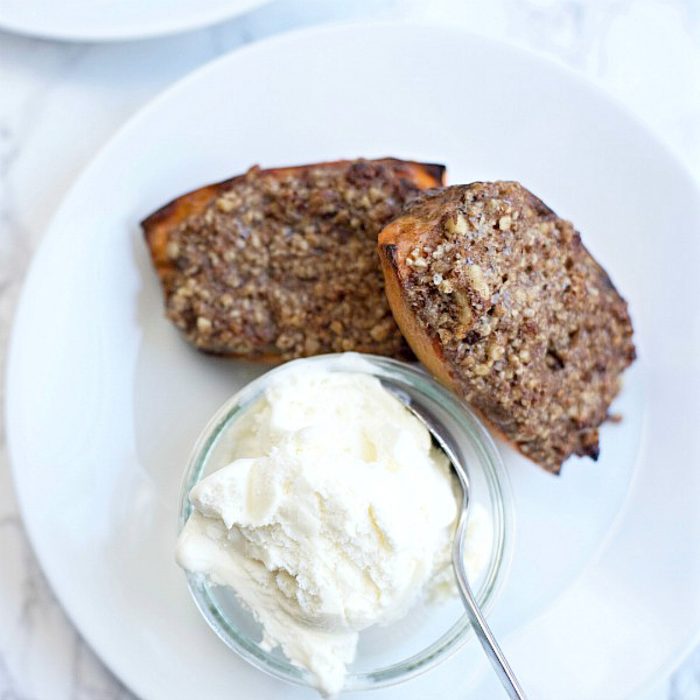 My tips to staying productive without fatigue:
Pray for wisdom and listen in the mornings. Sit in silence.
Prioritize a to-do list and write it down–do the night before.
Do the important things during the first half of the day. Do the easier tasks, that take less mental energy, during the last half of day.
Exercise and take a break outside. And I go to Crossfit 4-5 days a week.
Drink lots of water!
Stay focused: Turn your ringer off on your phone, take alerts off of your phone! I haven't had any notifications on my phone for years!
Try to have a plan for dinner.
By 3 pm, start thinking about dinner, winding down, enjoying family, get dinner on the table or head out to meet friends … slowing down.
Relax …
Get lots of sleep. You can take all the Vitamin C in the world, but really what your body needs (and doesn't excrete out) is sleep and rest.
Again, slowing down …
And then start over again the next morning.
Gratifying exhaustion is way better than empty fatigue. Ultimatley, our daily habits and routines funnel into where our time goes. We have a lot of friends and Paul and I do prioritze being with family and friends. You, too?
What size of plate do you find yourself juggling right now?
More desserts:
Roasted Pineapple with Honey & Pistachios [A Beautiful Plate]
This Epic Dessert Board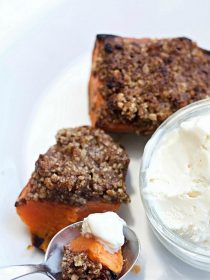 Get the Recipe: Roasted Brown Sugar Pecan Sweet Potatoes Dessert
Ingredients
1 medium/large sweet potato, cut into quarters
1 tsp cinnamon
1 tsp nutmeg
½ c pecans, finely chopped
1 tsp vanilla extract
½ tsp salt
2 Tbsp coconut oil, melted
1 Tbsp brown sugar
Vanilla ice cream
Instructions
Melt coconut oil; add cinnamon, nutmeg, pecans, vanilla, and salt in small bowl and mix together.

Taking one large sweet potato, cut width-wise down the center; cut halves in half. Brush the sweet potato pieces with melted coconut oil, and cook at 400 degrees for 30 minutes, or until softened.

Remove potatoes from oven, spread pecan mixture on top; broil for 2-4 minutes, or until lightly golden and caramelized.

Serve 1 wedge of sweet potato with a serving of vanilla ice-cream.
Notes
Reposted from May 2017.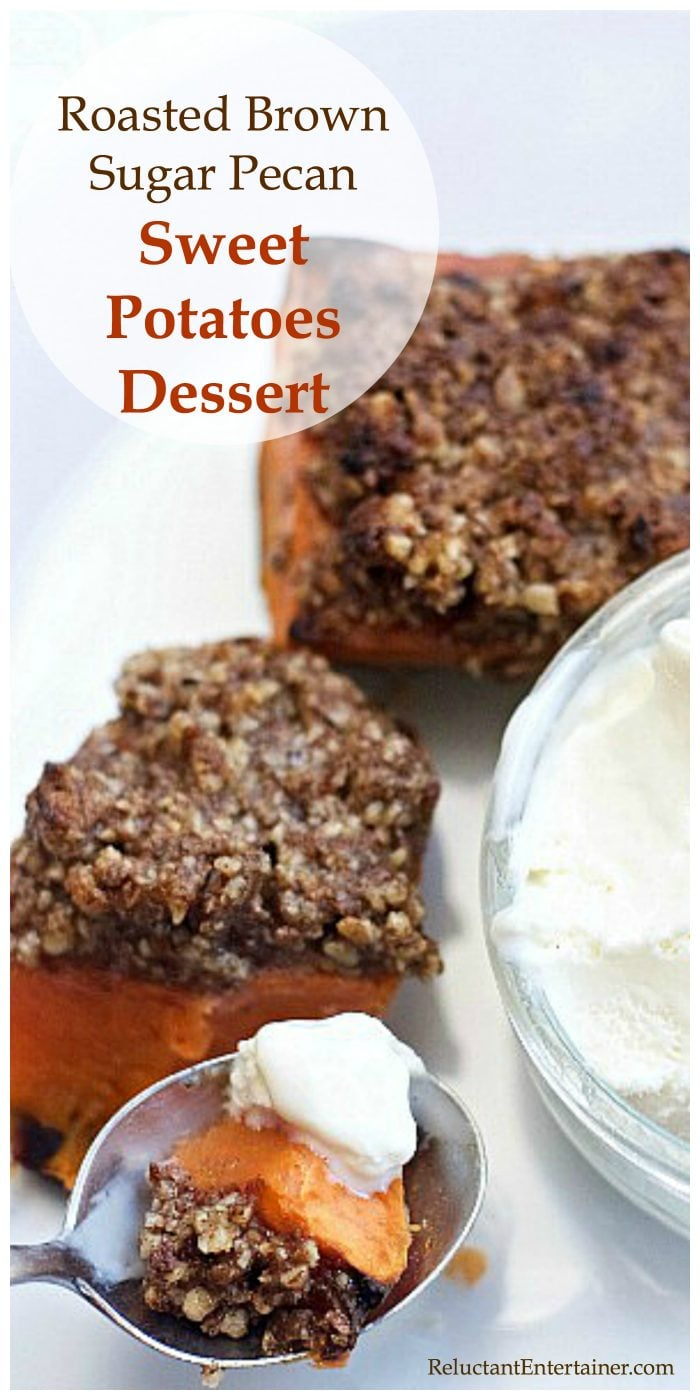 Hello and welcome to my home and table!
I'm Sandy—lover of food, family, cooking, THE BIG BOARD, travel, and bringing people together. Through great recipes and connection around the table, we become better, stronger, and more courageous people. Feasting on Life is real, and every time we do it, we grow a little more. Read more...