Salmon with Wilted Greens Recipe
Elegant Salmon with Wilted Greens Recipe, delicious for company. Plate by layering wilted greens, asparagus, salmon fillet, lemon zest and fresh dill.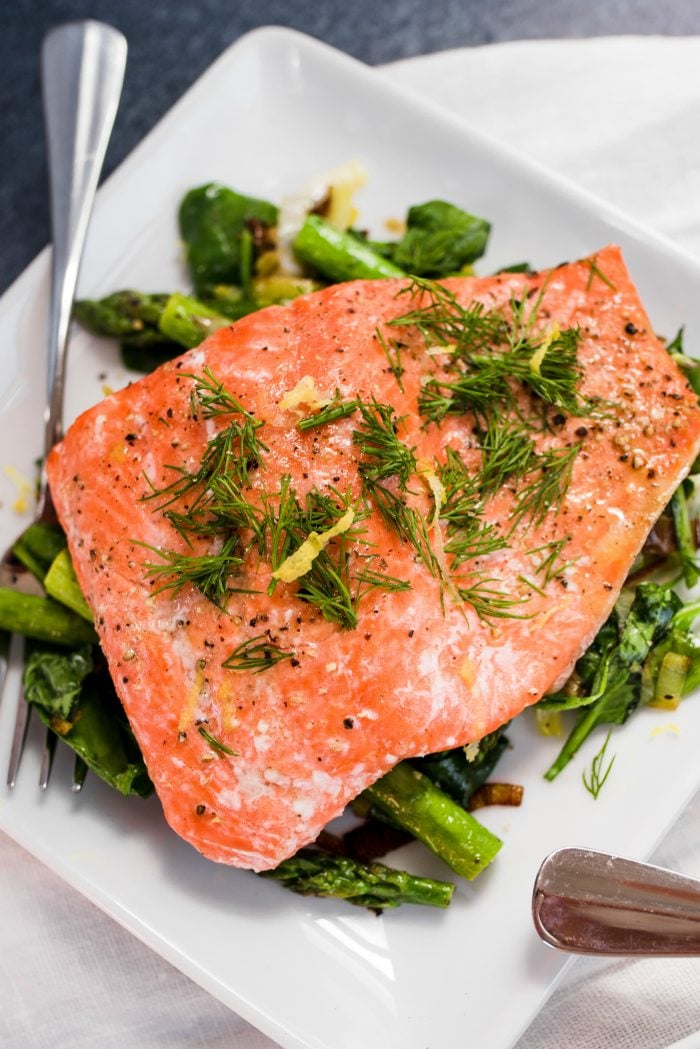 Oh, I love this simple way of serving a salad. For this Elegant Salmon on Wilted Leeks and Greens, you can use leftover salmon, canned salmon, or even smoked salmon! You may also love my Butter Lettuce Spring Veggie and Salmon Salad or Salmon Mushroom Zoodle Marsala!
Invite a friend over for lunch and ENJOY!
Salmon with Wilted Greens Recipe
This recipe serves 2, but double for a dinner party or dinner tonight!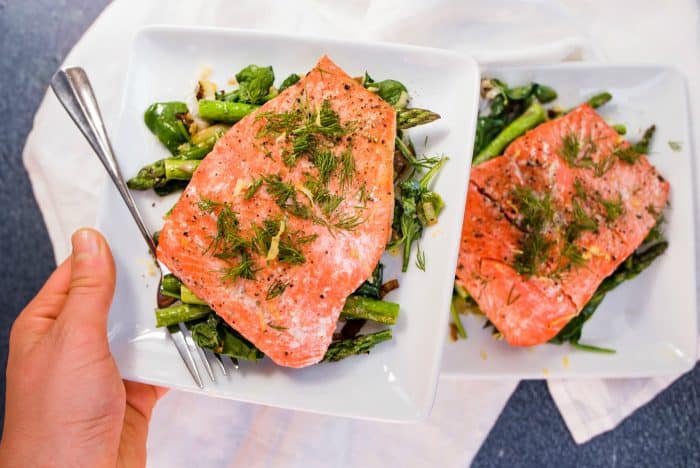 One time I was at Terri's house (my cousin). She had a busy family, things were often a mess, and I would sometimes help her get things cleaned up just because she needed it, and because I liked being around her enthusiasm.
Terri was great at sharing her hospitality skills with others, and I learned a lot from her!
And then she made a statement that I have never forgotten. She said … A peanut butter sandwich or a can of soup–it doesn't matter how simple it is–it always tastes better made by someone else.
These words were said long ago, but they have never been forgotten. And it was true. I loved peanut butter sandwiches at her house. :-)
I also loved tomato soup. And then her homemade cookies.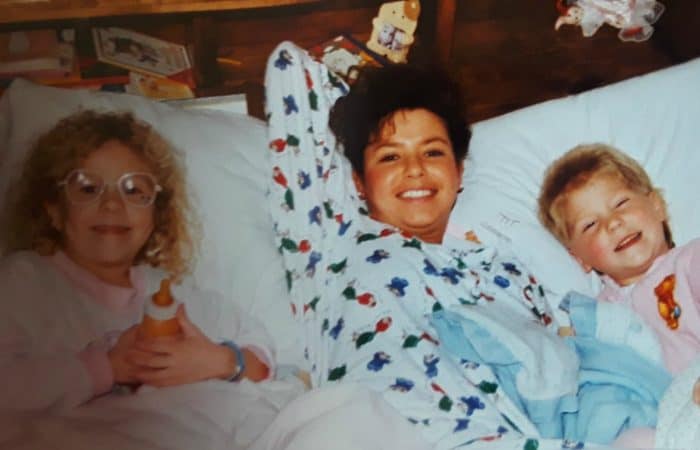 Here's a picture of me with her kids in my 20's (in the '80's, can you tell by my hair?) Cuties Breanna and Aaron!
Hospitality is a ministry to the hearts of people. We all need each other in all kinds of ways. Years ago I learned sooooo much from my cousin Terri!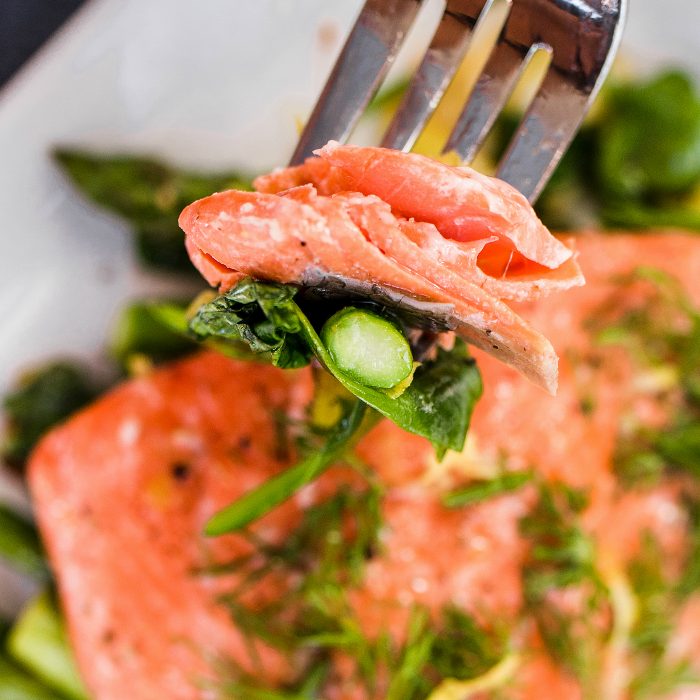 Elegant Salmon on Wilted Leeks and Greens
So now I will go make this delicious Elegant Salmon on Wilted Leeks and Greens recipe, and share it with a friend on our back deck.
In the sunshine.
And just eat and talk about life.
Happy Hosting!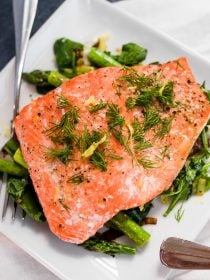 Get the Recipe: Salmon with Wilted Greens Recipe
Ingredients
2 salmon fillets, about 1/2 a pound each
1 leek stalk, thinly sliced
1 bunch thin asparagus, extra stem removed and cut into thirds.
Olive oil
1/2 a small lemon
Fresh dill to garnish
Salt and pepper to taste
Instructions
Preheat oven to 400 degrees F.

Wash and dry salmon fillets. Drizzle with oil and salt and pepper each side. Rub seasoning in and place on baking sheet. Bake for 10-13 minutes (depending on thickness of fillets).

In a medium bowl, toss asparagus with a drizzle of oil, and salt and pepper to taste—the stalks should be lightly oiled and not dry. Spread on sheet pan and create two spaces for salmon to sit. Place salmon on the pan, squeeze lemon over (straining any seeds out with your hand), and move to the oven. Bake salmon and asparagus for 10-13 minutes. Don't overcook the salmon. Remember salmon will continue to cook slightly as it rests outside the oven.

While salmon and asparagus cook, sauté leeks in about 2 Tbsp of olive oil on medium-high heat. Cook until leeks begin to brown—5 minutes. Salt and pepper to taste, then add spinach. Stir until spinach wilts, then remove from heat.

When salmon and asparagus are done, remove form oven and allow to rest for a few minutes before plating and serving. If asparagus is thick, you may need to remove salmon and return to oven for an additional 5 minutes, if spears are too crunchy for your liking.

Plate by layering wilted greens, asparagus, and salmon fillet. Zest fresh lemon, and garnish with finely chopped dill.
Hello and welcome to my home and table!
I'm Sandy—lover of food, family, cooking, THE BIG BOARD, travel, and bringing people together. Through great recipes and connection around the table, we become better, stronger, and more courageous people. Feasting on Life is real, and every time we do it, we grow a little more. Read more...