Time Management and Saucy Cocktail Meatballs Recipe
Try these Saucy Cocktail Meatballs Recipe and create another meal "or two" by freezing them. Think outside the box – be creative with your cooking!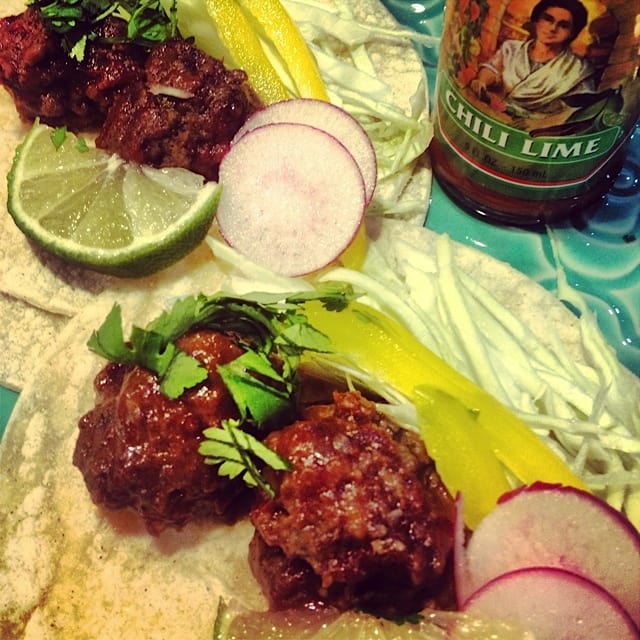 You need to focus what energy you have on things you are passionate about. And you need some level of time management and organization to keep you from getting distracted and wasting yourself on the small stuff. – Lee Silber
The days I'm most productive are the days that I have a plan, with chores, errands, cooking, my blog. As we start a new year, one of my goals is to be smart with my time. Because when I'm smart with my time, it leaves me more time to have fun with the things I'm passionate about. One of of those things is a new book idea that I've had for a year. It's exciting, I'm passionate about the subject, yet I find myself so busy and "the idea" always gets put aside for another day …
I'd love to hear one passion that you have, that you'd really like to accomplish this year?
Back to the kitchen. Over Christmas break, I made these saucy meatballs for a couple of parties, because the recipe is SO easy! You can take them hot in a slow cooker, or display them on a platter with individual toothpicks (microwave before serving), or serve them in a bowl with toothpicks on the side.
You can make them for your family and serve them over rice, or better yet, how about Meatball Tacos?
My point is this. When you make a meal for your family, or you're asked to bring a dish to a party – double up the recipe!
Be smart with your ingredients, your time, your meal planning.
Think ahead to whether you could create another meal "or two" by making more food, even if you freeze it. Think outside the box – be creative with your cooking!
After the parties, I served the leftover meatballs with tacos, and included fresh healthy toppings. It was different, but my family really loved the flavor.
Cocktail Meatballs on steamed corn tortillas with cheese, tomatoes, cabbage, radishes, peppers, lime … and cilantro. Yummmmm!
So … what is something you're passionate about accomplishing this year and how are you setting out to get it done? Do you have any kitchen goals?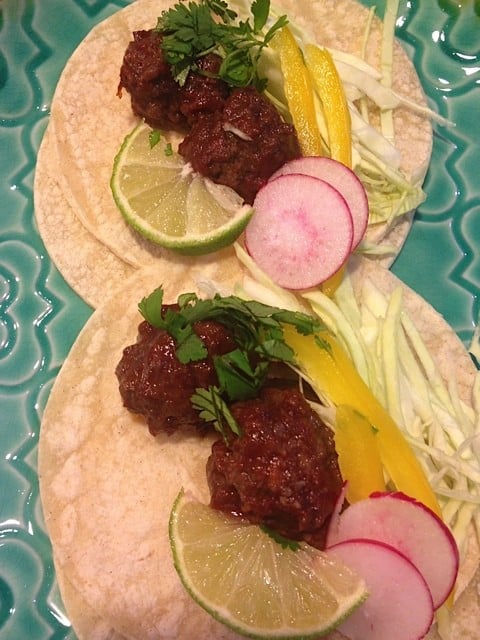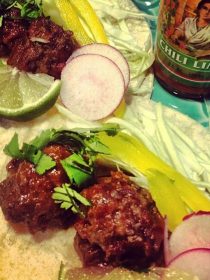 Get the Recipe: Saucy Cocktail Meatballs Recipe
Easy sweet and saucy meatballs served as an appetizer, over rice, or as Meatball Tacos.
Ingredients
2 lbs. lean ground beef
1 cup bread crumbs, any flavor
¾ cup finely chopped onion
½ cup milk
4 tablespoons chopped fresh parsley
2 teaspoons salt
2 teaspoons Worcestershire sauce
½ teaspoon pepper
2 eggs
2 bottles 12 ounces each chili sauce
1 bottle 22 ounce grape jelly
Instructions
Heat oven to 400°F. Stir together all ingredients except chili sauce and jelly. Shape into 1-inch meatballs. Place in ungreased 13x9x2 rectangular pan.

Bake uncovered about 20 minutes or until no longer pink in center.

Heat chili sauce and jelly in large saucepan over medium heat, stirring constantly until heated through. Stir in meatballs until coated. Simmer uncovered 30 minutes.

Serve in a slow cooker, or on a platter with toothpicks, or over rice.
Hello and welcome to my home and table!
I'm Sandy—lover of food, family, cooking, THE BIG BOARD, travel, and bringing people together. Through great recipes and connection around the table, we become better, stronger, and more courageous people. Feasting on Life is real, and every time we do it, we grow a little more. Read more...