Seafood Ceviche and Becoming a Better Cook
To lighten up entertaining in the winter, I love to make a summer Seafood Ceviche for a party! It's a fresh, healthy appetizer that everyone loves!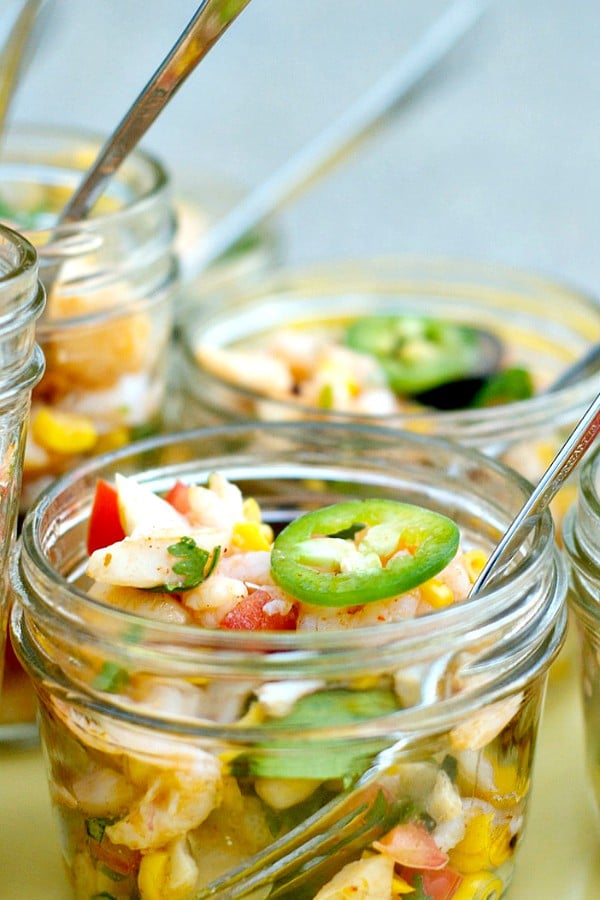 Friends, even in the winter months, I'm looking to add a bit of freshness to a dinner party. This is what I love about this Seafood Ceviche appetizer, which includes 3 kinds of seafood.
Inspired by my friend Judy's Mexican Shrimp Cocktail, I so remember how everyone raved over this healthy appetizer that she brought to our party.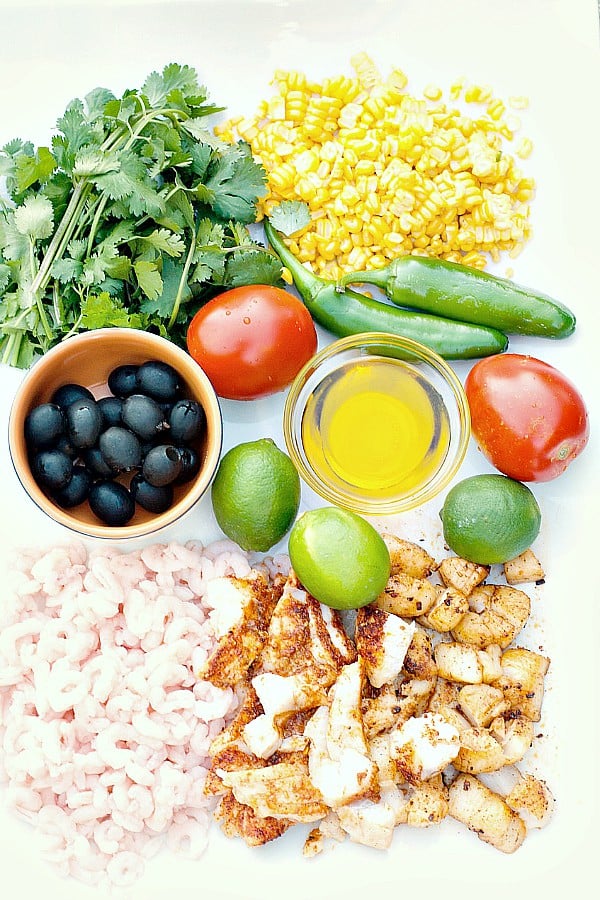 Ceviche is a seafood dish popular in the coastal regions of Latin America. The dish is typically made from fresh raw fish cured in citrus juices, and spiced with chili peppers, but sometimes the fish is lightly cooked.
Seafood Ceviche
This time, using three different kinds of seafood, I lightly cooked the fish and mixed together these fresh ingredients, and then placed them in different sized half-pint canning jars. (Use what you have!)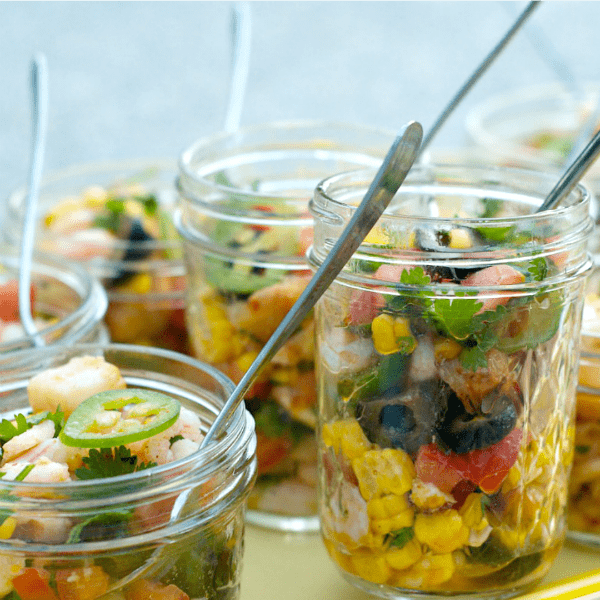 But don't worry, if you only want to use 2 types of seafood, that's okay, too! One thing I've learned over the years is how to substitute foods.
Most common cooking mistakes
I loved this article I found over at Cooking Light (The Most Common Cooking Mistakes), and the 3 tips that have helped me be a better cook!
~Your palate is the control factor: Be willing to taste the foods you are making before you serve it!

~Read the entire recipe ahead of time: A wise cook approaches each recipe with a critical eye, and reads the recipe well before it's time to cook.

~Learn how to substitute foods: Don't lose the soul of the dish. Know what foods work well with others, and really know your stuff if you substitute anything with baking! That's dicey!
So, fresh and healthy, enjoy this recipe today, and make it for a side salad or an appetizer!
It's a great potluck dish, too (if you prepare in small canning jars ahead of time).
What have been some of your biggest cooking mistakes?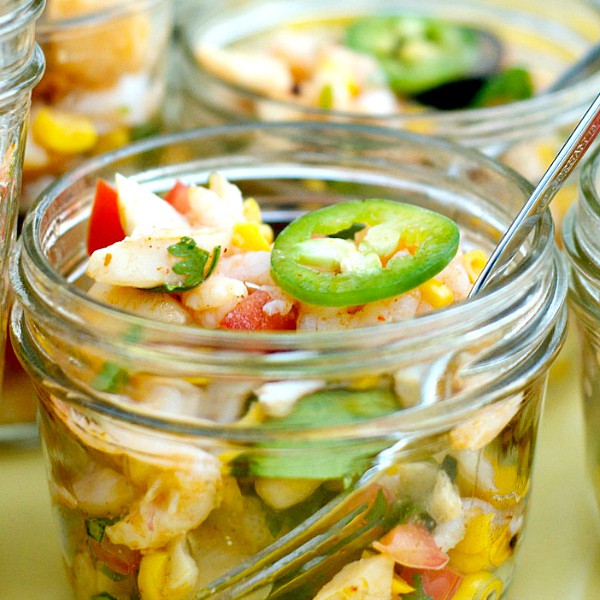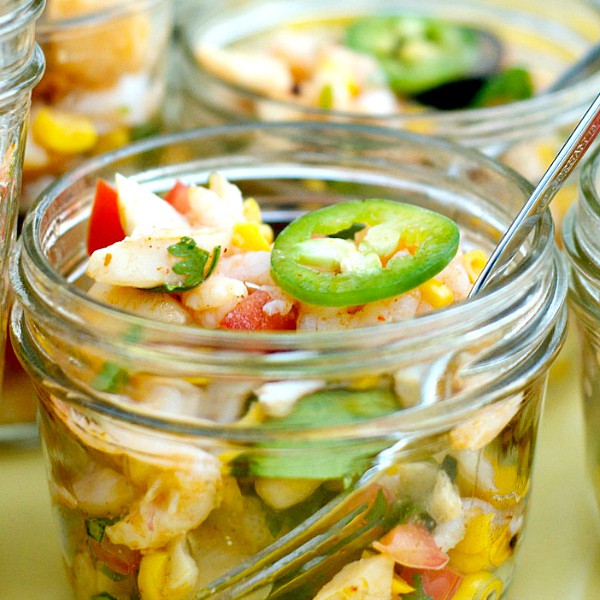 Print Recipe
Seafood Ceviche
Servings:
10
-12 half-pint servings
Ingredients
1

pound

bay shrimp

rinsed

1

pound

tilapia or cod

baked and shredded

1/2

pound

mini scallops

cooked

1/4

tsp.

cayenne pepper

optional

Salt and pepper

1/4

cup

lime juice

1

cup

corn kernels

about 3-4 cobs, blanched or canned corn

2

roma tomatoes

chopped

1/2

cup

cilantro

finely chopped

2

jalapeños

one finely chopped, one finely sliced

1/4

cup

black olives

chopped

1/4

cup

olive oil

3-4

lime

for garnish
Instructions
Place the three types of seafood in a large mixing bowl.

Season with salt and pepper and cayenne pepper; add the lime juice and mix well.

Add the corn, tomatoes, cilantro, chopped jalapeños and black olives, gently mixing together.

Finish by drizzling olive oil on the mixture, then cover and refrigerate.

Serve in small dishes or half-pint canning jars. Garnish with lime and the jalapeño slices.
More great recipes:
My friend, Elise's Ceviche {Simply Recipes}
Ceviche "Carpaccio Style" {A Spicy Perspective}
Mexican Shrimp Cocktail {Reluctant Entertainer}