Sour Cream Banana Cake Recipe
Enjoy a slice of Sour Cream Banana Cake Recipe with real banana frosting and toasted walnuts, made in a bundt pan; rich and delicious!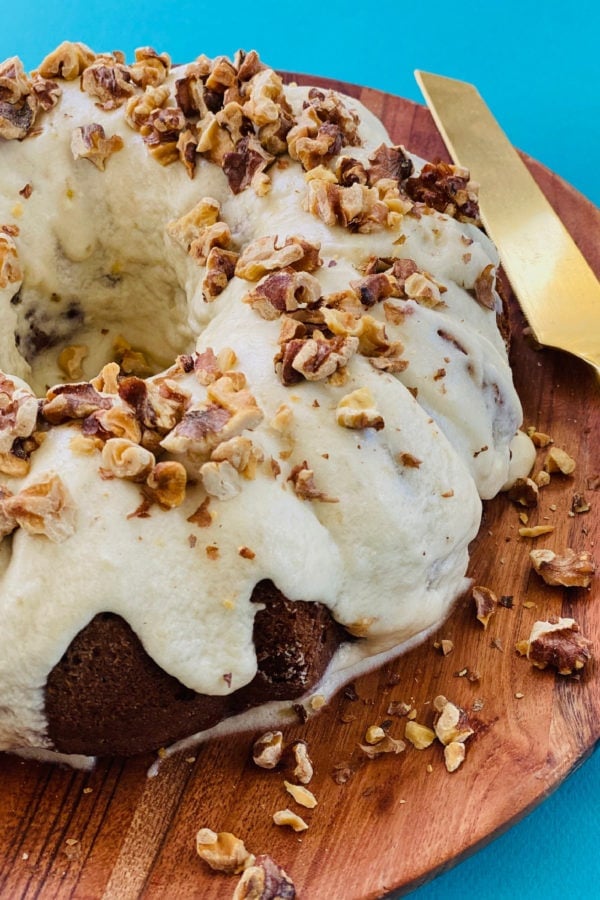 Friends, my Sour Cream Banana Bread is hands down, the BEST banana bread I've ever had. It's soft, moist and rich, and just read all of the reviews!
Sour Cream Banana Cake Recipe
Since that recipe is so popular, we're baking it differently today, into a Sour Cream Banana Cake recipe with real banana frosting. You know, the kind of frosting made with a banana, powdered sugar, lemon juice, and vanilla–the kind my Mom would make!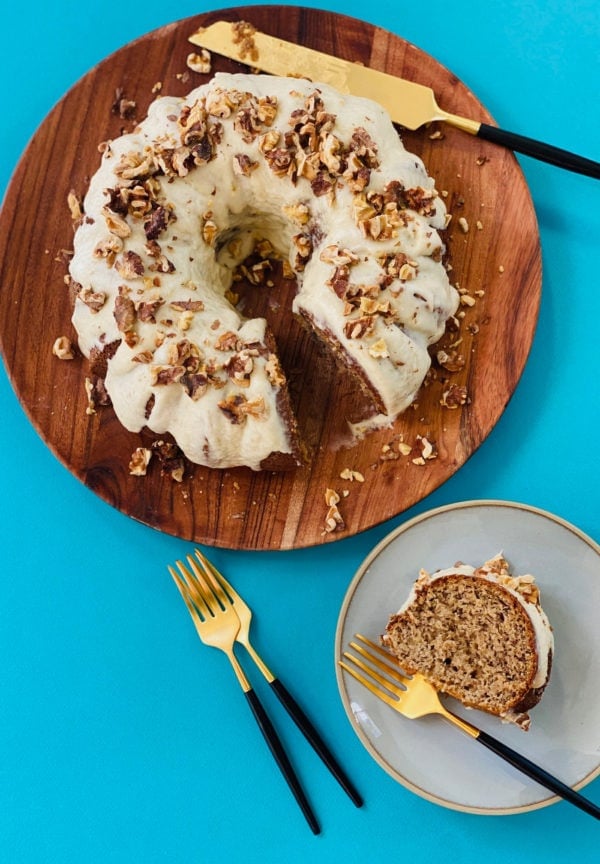 Leftover banana frosting tip
I have sweet memories of Mom's banana frosting, and the leftovers she'd spread on graham crackers. It was the perfect sweet dessert for my lunch box!
So creamy good, you can skip the overly rich cream cheese frosting for this recipe–you don't need it. You can also use leftover frosting for these Banana Chocolate Chip Muffins!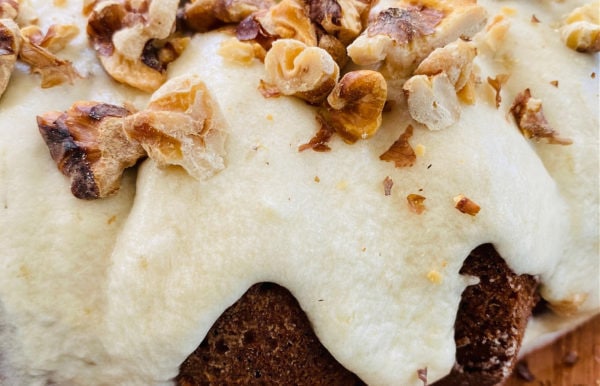 Cardamom makes the Sour Cream Banana Cake Recipe so good!
So once the cake is cooled, top with the irresistible vanilla-banana frosting for a perfect dessert your family will love!
Oh, and a quick tip about cardamom. I know it's expensive, but once you use it, you may want to try this spice in other recipes. I always keep it on hand, and I love the flavor so much. Buy it here, Caramom Powder, in case you can't find in the grocery store. Often it's sold out. [affiliate link]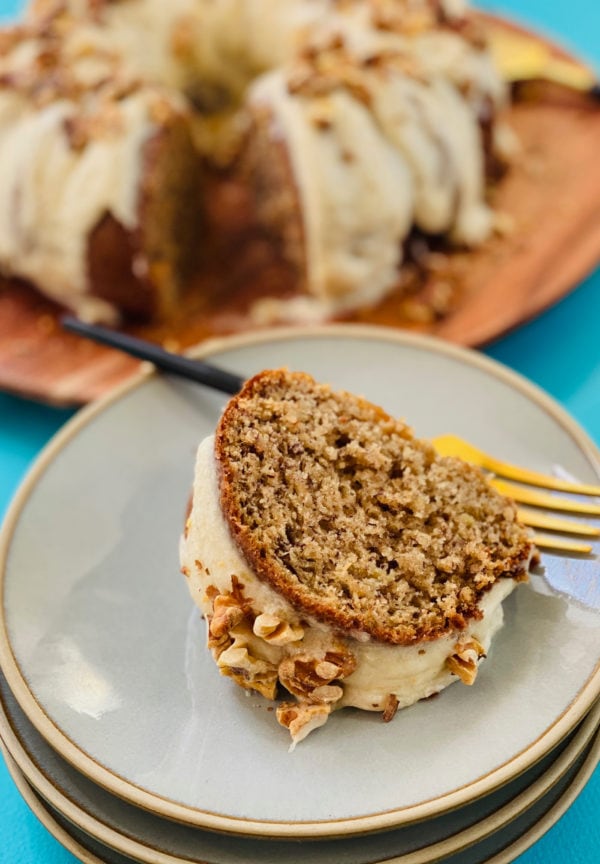 The Best Banana Cake with Banana Frosting
Rich and sweet, this banana sheet cake is one of the best, and my family's favorite cakes, with banana frosting!
All you need are these ingredients for the cake:
Butter
Sugar
Eggs
Flour
Baking soda + salt
Cinnamon + cardamom (optional)
Bananas
Sour cream (you can swap out the sour cream for Greek yogurt)
Vanilla
Toasted walnuts
It's moist and light, with sweet banana flavor in every bite.
And guess what? It's delicious with toasted walnuts or pecans, or if you are not a nut fan–leave them off!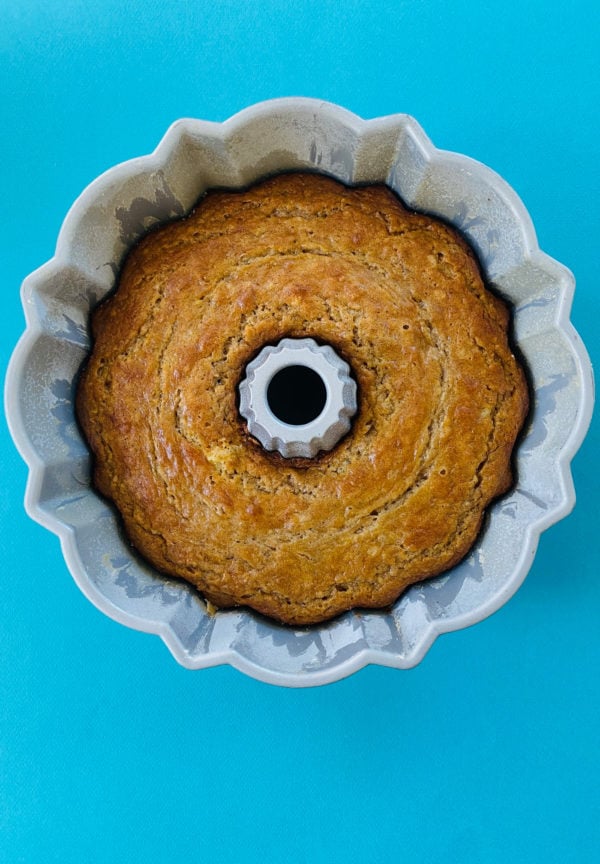 How to Make Banana Cake
This recipe starts with three large mashed bananas (above). The best bananas are the ones that have been sitting on the counter for a few days (nice and brown).
Oh, and the browner the bananas, the sweeter they are, for the a rich banana-flavored cake!
I always mash my bananas on a plate first (like my Mom did), and your cake will thank you. It's okay for the batter to be a bit lumpy because of the mashed bananas.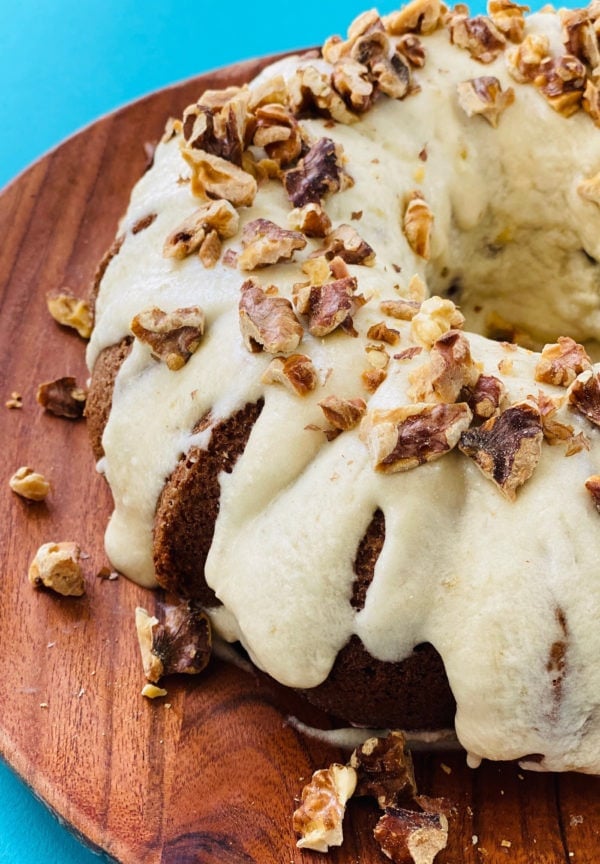 How do you make banana frosting from scratch?
My mom's recipe is the best!
All you need are these ingredients:
Butter
Banana
Lemon juice
Vanilla extract
Powdered sugar

Tips to ensure a moist cake:
First of all, the cooking time on this cake can vary! Check your cake at 30 minutes. Check with a toothpick; if it comes out clean, it's done. The result will be an irresistible banana cake. My baking time was 35 minutes for the perfect cake.
Try to use eggs and butter at room temperature.
Beat the butter, sugar, eggs and vanilla to a fluffy consistency.
Lastly, don't over-beat the batter. It should be fluffy, but it's okay if there are a few lumps (bananas).
Let's talk about connecting with others
We had friends over for dinner over the weekend. You, too? See if these words ring true for you (I wrote this years ago in a blog post, so resharing today).
We celebrate the good life. A life that includes getting to know each other more, because relationships really count. The world beckons in all its intoxicating beauty, but also has its annoying distractions. And I'm reminded with every entertaining moment, how happy we are that we chose to extend ourselves "just a little bit more," get a meal on the table (it does take effort!), and bring people together. The payoff is deeper relationships, and learning to be more deeply present, both important things to learn in our fast-paced world.
So next time you have company for dinner, here's a delicious cake to enjoy!
More banana recipes to try:
Banana Chocolate Peanut Butter Ice Cream
Chocolate Covered Peanut Butter Banana Bites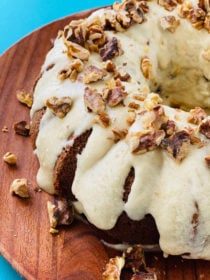 Get the Recipe: Sour Cream Banana Cake Recipe
Substitute the sour cream with Greek yogurt. Cardamom is optional, but it's SO good with it.
Ingredients
½ cup butter (1 stick), softened (room temp)
1 cup sugar
2 eggs, beaten (room temp)
1 ½ cups flour
1 tsp. baking soda
½ tsp. salt
¾ tsp. cinnamon
¾ tsp. cardamom, optional
1 cup mashed bananas, about 3 large
¾ cup sour cream
1 tsp. vanilla
1 cup toasted walnuts, chopped (optional)
Banana Frosting:
¼ cup butter, softened
½ cup mashed bananas, 1 large
½ teaspoon lemon juice
½ teaspoon vanilla extract
2 cups powdered sugar
Instructions
Preheat oven to 350 degrees. Grease (I use cooking spray) and flour one bundt pan.

In a large bowl, cream the butter with sugar until light and fluffy. Add the eggs and mix well.

Whisk together the flour, baking soda, salt, cinnamon and cardamom; combine with the butter mixture.

Add the sour cream, bananas, and vanilla; stir well.

Pour into prepared bundt pan and bake for 35-40 minutes. Use a toothpick to see if the cake is done. If it comes out clean, it's done.

Cool for 10 minutes and then turn the cake out onto a rack.
Frosting:
Beat with mixer for about 1 minute the butter, mashed bananas, lemon juice, and vanilla. Add in the powdered sugar.

Immediately spread onto the banana cake. If you want it thinner, add a few drops of milk. If you want it thicker, add a bit more powdered sugar.

Toast the walnuts; chop in big chunks and sprinkle on the cake. [I toast on a papertowel in the microwave for 1 minute; toss around, and then another 30 seconds.]

Serve and enjoy!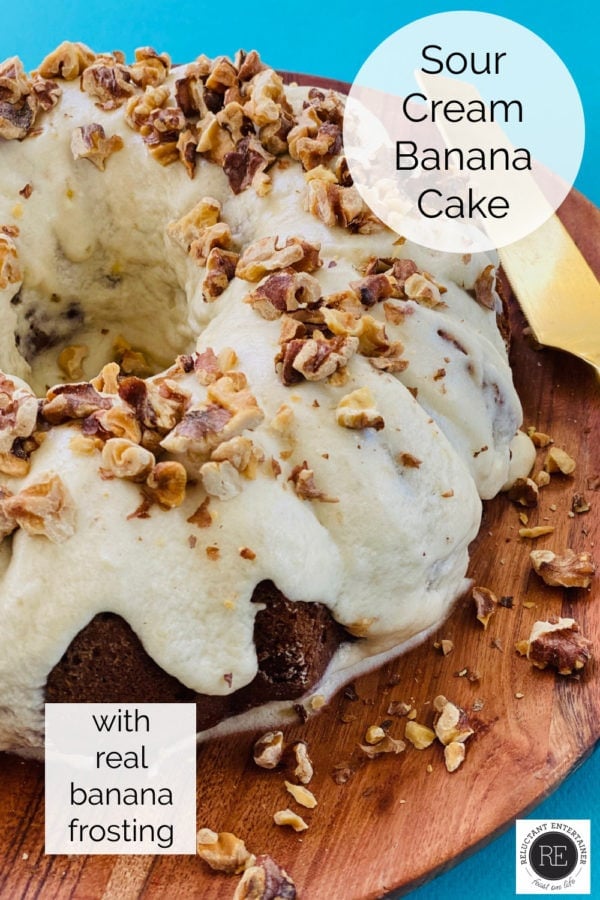 Hello and welcome to my home and table!
I'm Sandy—lover of food, family, cooking, THE BIG BOARD, travel, and bringing people together. Through great recipes and connection around the table, we become better, stronger, and more courageous people. Feasting on Life is real, and every time we do it, we grow a little more. Read more...