Summer Layered Vegetable Salad
Enjoy a simple Summer Layered Vegetable Salad for summer weeknight dinners, potlucks, and parties. Layer your favorite chopped veggies and serve!
Friends, this Summer Layered Vegetable Salad is beautiful, with a variety of colorful veggies!
Treat your family with this tasty salad, layered with your favorite summer vegetables – a perfect lunch or dinner!
Layered Veggie Salad
This salad is also a great take-along dish to potlucks, and it serves all kinds of diets. Optional to leave the dressing off the top and let people add their own (like they would with a standard green salad).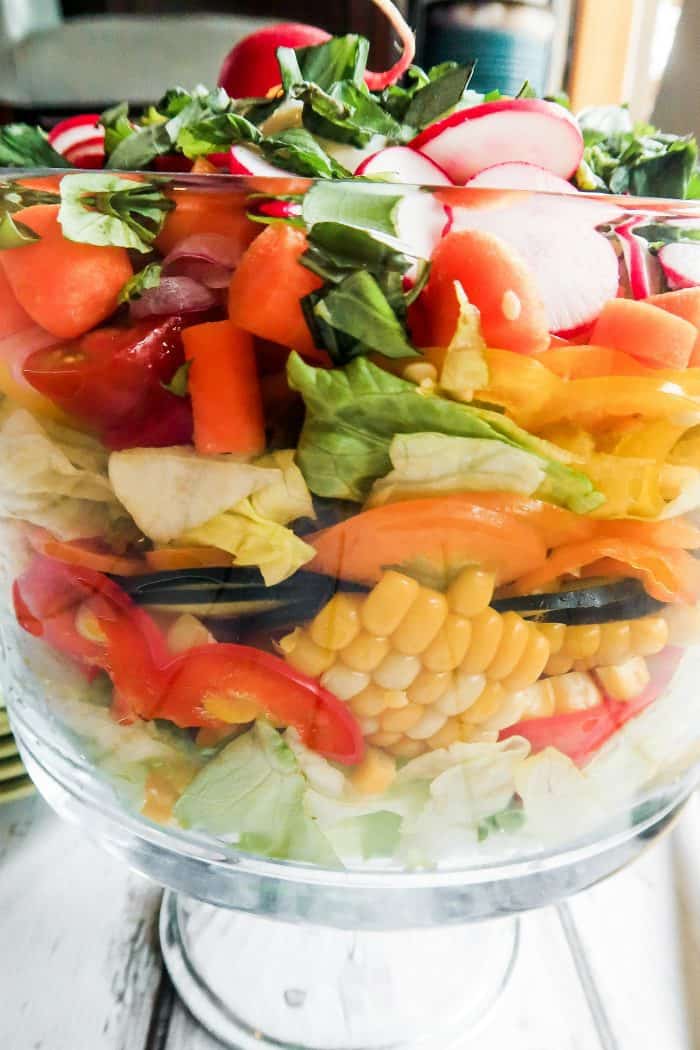 One of my favorite kitchen tools is this OXO Good Grips V-Blade Mandoline Slicer. I slice all my veggies with this. Its so quick and easy! You can buy it here on Amazon (great reviews!) with my affiliate link.
Simplify Magazine
Friends, I want to tell you about a really good magazine that I recently heard about, Simplify.
In this month's JUNE edition, I actually wrote an article for the Food + Diet theme. Imperfectly Perfect Hospitality. I felt so honored that they asked me to be a part of such a meaningful publication.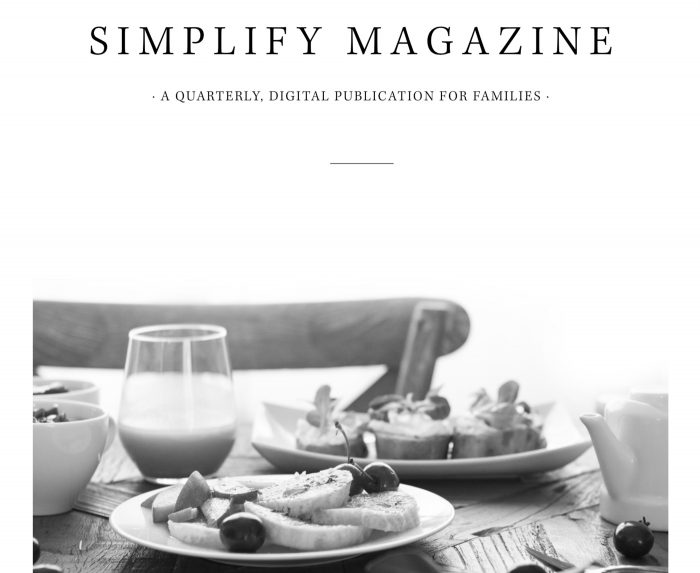 Joshua Becker, bestselling author and founder of Becoming Minimalist, started this magazine with his friend Brian Gardner, and it's an ad-free, topical, online quarterly publication for families.
Two years in, there are almost 200k paid subscribers. It's meeting a need, and people love the format. Each issue includes 8-10 articles, and takes a deep-dive into one specific topic central to the modern family.
The audience is mostly (but not exclusively) modern families with children, anywhere from new babies to teenagers.
In this June edition there are articles on Eating Healthy and Shopping on a Budget, and then articles on food and relationships. All written with soul. Words and stories that will encourage young parents—often reluctant entertainers–to let go of their Pinterest-perfect expectations and see the value of gathering friends and feasting on life, sticky floors and all.
Oh, and I just read the issue on Gratitude, Generosity, and Contentment. So good!
You can now sign up. This month only there is a special!
All of June: "Buy One, Gift One" Lifetime Subscriptions for just $20.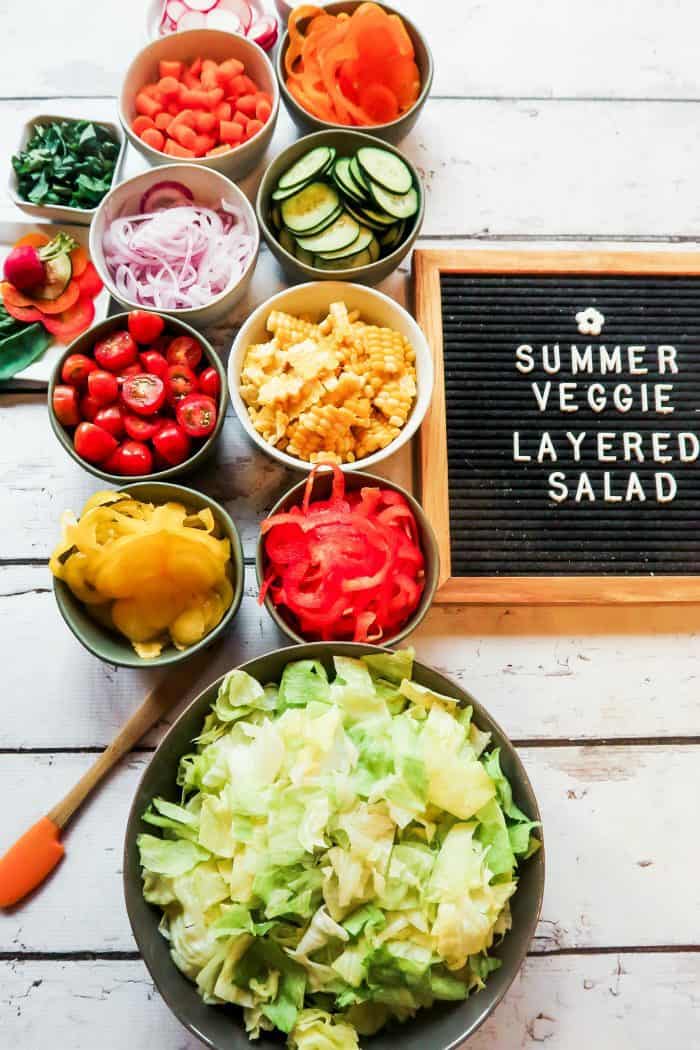 Summer Layered Vegetable Salad
This is our new favorite summer salad. It's all veggies, and of course optional to serve meat on the side.
One night we served grilled tri tip on top.
Grilled chicken would be amazing, too. Oh, and more summer salads? Caprese 3 Bean Salami Salad, Summer Cobb Salad, and Creamy Pasta Salad.
It's a fun presentation to take to a party. People can just dig in to the salad with tongs, or, you can always dump it in a large bowl and add the dressing and toss.
There are so many options.
ENJOY!
Happy Hosting!
Get the Recipe: Summer Layered Vegetable Salad
Ingredients
1 head iceberg lettuce, chopped
Corn cut from 4 cooked cobs
1 cup grape tomatoes, halved
1 cup basil, chopped
1 sliced cucumber
1 red pepper, thinly sliced
1 yellow pepper, thinly sliced
1 orange pepper, thinly sliced
1 small red onion, thinly sliced
1 cup baby carrots, chopped
4-5 radishes, thinly sliced
Garnish with fresh basil, pepper and cucumber slice, and radish
1/2 cup ranch dressing, or your favorite dressing
Instructions
In a large clear parfait bowl, layer the ingredients, ending with dressing and the garnish on top!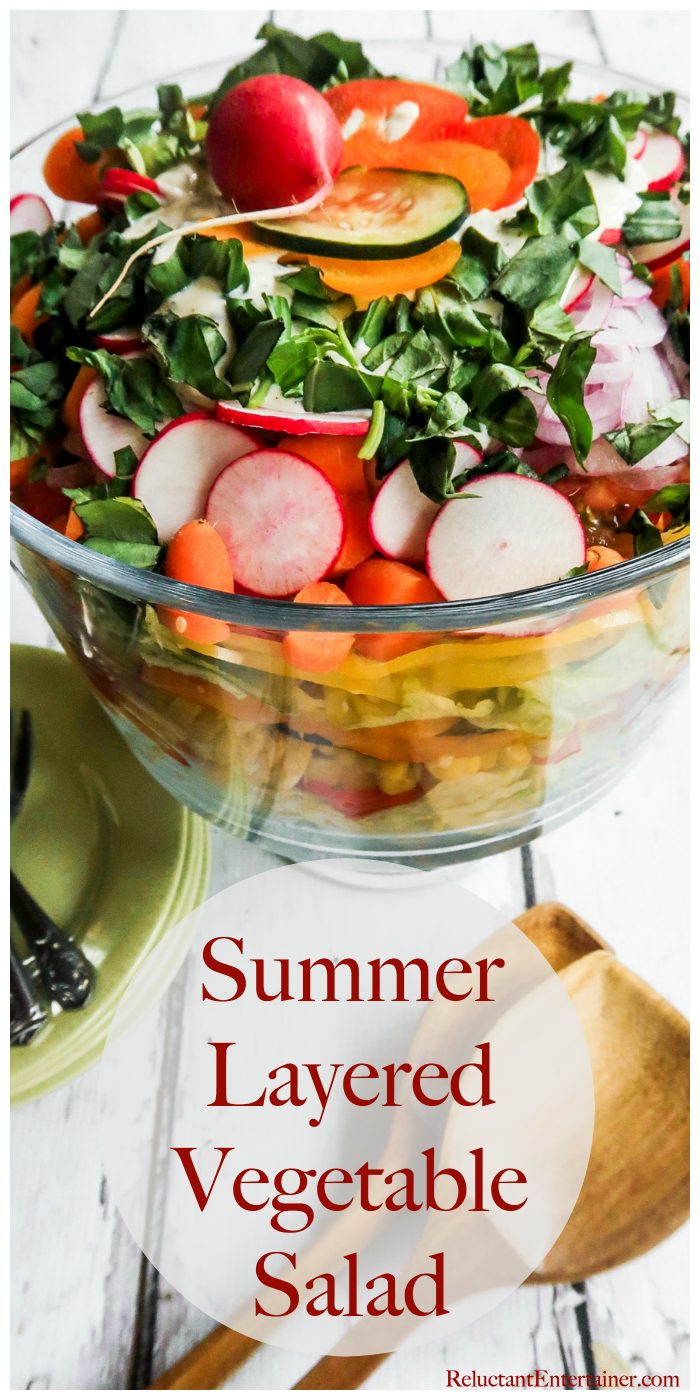 Hello and welcome to my home and table!
I'm Sandy—lover of food, family, cooking, THE BIG BOARD, travel, and bringing people together. Through great recipes and connection around the table, we become better, stronger, and more courageous people. Feasting on Life is real, and every time we do it, we grow a little more. Read more...