Day 22: How to Change the Menu of Your Dinner Party When Guests Cancel/Sweet Summer Salad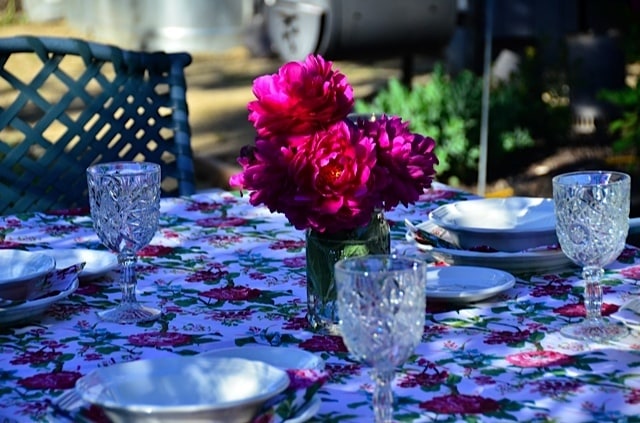 Thanks for joining me in my "30 Days of Summer Entertaining" series. (Scroll down to the bottom for previous posts in this series) :)
What I love about summer entertaining is the relaxed attitude and atmosphere. It's easier to push the time back. Everyone seems more relaxed with a "go-with-the-flow" attitude.
Guests tend to hang around to visit longer. Summer entertaining is really my favorite season, if I had to pick a season :)
But things can change quickly when a couple or two cancel. Right?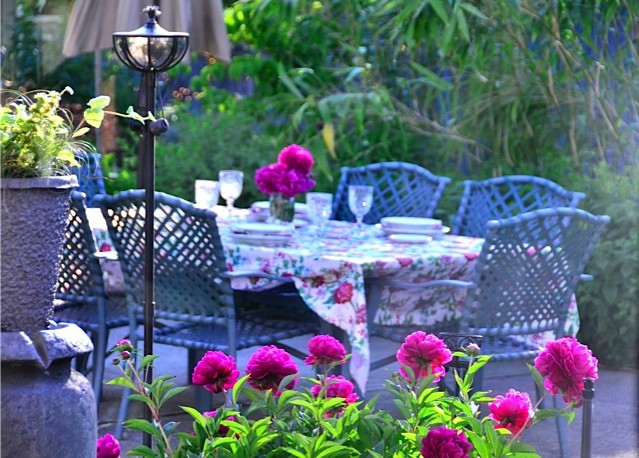 Earlier this week, our party changed when a few people had to cancel.
The party was planned, dishes were delegated, groceries were purchased for my portion of the menu. But as soon as I found out I immediately changed the meal to lighter fare, knowing it would only be 4 of us.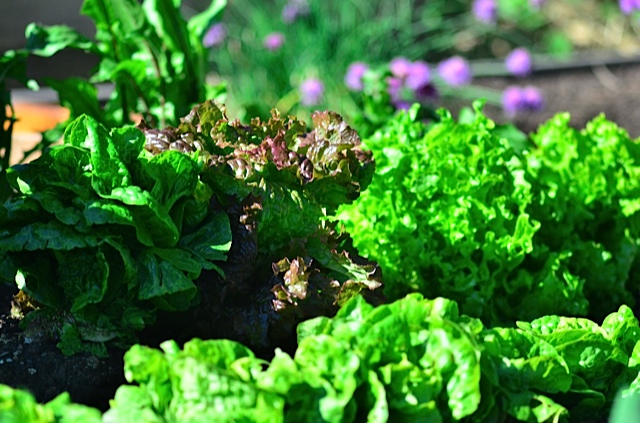 Since we had so much freshly-picked lettuce, spun and washed, we decided to divert from the bigger "dinner party menu" to make a large summer salad for our guests.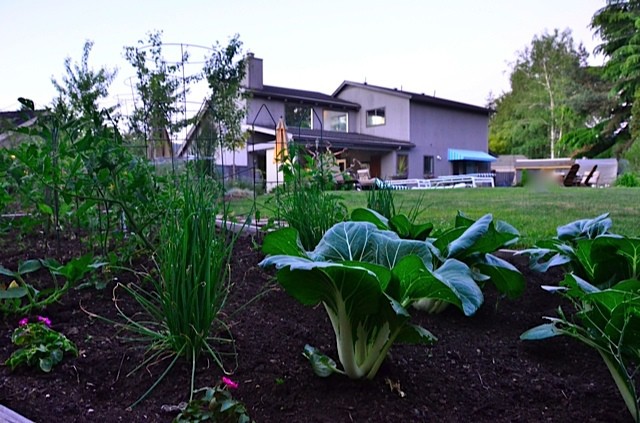 (One of 7 garden beds looking up at our house from the bottom of our property … not sure I've ever showed this angle before.)
And it was a hit!
Our guests brought appetizers.
We put bread in the oven.
We served a beautiful summer salad
We resorted to *Plan B for dessert (since I originally had delegated this dish).
Sweet Summer Tossed Chicken Salad
Mixture of fresh lettuce
Rotisserie chicken, seasoned and chopped into small pieces
Sweet Vidalia onions
Feta cheese
Cucumbers, thinly sliced
Toasted walnuts (this method is really yummy)

Mix greens, onion, feta cheese, and cucumbers. Toast the walnuts (using this method), and then add in the chopped chicken. Heat on low for 2-3 minutes.

Add the chicken/nut mixture and toss the salad with oil and vinegar.

Serve onto plates. Top each plate with slices of avocado and fresh pineapple.

Toss with olive oil and white balsamic vinegar.

Top each served salad with: fresh pineapple, sliced avocado.
Do you free to deviate from your menu when guests cancel? Or do you stick with what you had already planned?

(*Plan B for the dessert will be shared on the last day of this series.)
If you've missed the last 21 days of this series, you can catch up now:

Day 1: Summer Entertaining is About the People
Day 2: When Perfect Robs You of Something Good
Day 3: Who To Invite to Dinner
Day 4: Planning the Menu for Outdoor Entertaining
Day 5: Setting the Table Using What You Have
Day 6: Using One Classic Water Glass
Day 7: Napkin Options for Summer Entertaining
Day 8: When You Feel Like Canceling the Party
Day 9: Leave Your Technology at the Front Door
Day 10: Candles That Enhance Good Conversation
Day 11: Serving Flavored Herb and Fruit Water
Day 12: Leafy Greens and a Tiny Bit of Agave
Day 13: Keeping Nut and Fruits and Cheeses on Hand for Easy Appetizers
Day 14: Move Your Table to a Different Space
Day 15: Greek Salad on a Stick and Getting the Kids Involved
Day 16: Three Lies of Perfectionism that Ruin Entertaining Moments
Day 17: Be Creative When You Run Out of Linens for Your Dinner Party
Day 18: Gather Around a Fire for Intimate Summer Entertaining
Day 19: Last Minute Father's Day Invite and Pork Chops with Glazed Apricots
Day 20: Summer Entertaining GIVEAWAY from National Pork Board
Day 21: Create a Simple Appetizer Basket for Last-Minute Guests
Feel free to grab my button and share it with your readers :).

Hello and welcome to my home and table!
I'm Sandy—lover of food, family, cooking, THE BIG BOARD, travel, and bringing people together. Through great recipes and connection around the table, we become better, stronger, and more courageous people. Feasting on Life is real, and every time we do it, we grow a little more. Read more...