Toffee Chocolate Bundt Cake
A rich, decadent Toffee Chocolate Bundt Cake, drizzled with a chocolate frosting, topped with toffee. Super easy to throw together in no time!
Friends, this is the time of year I love! There's a chill in the air, which has me reaching for a sweater or jacket now for most evenings.
Best Chocolate Bundt Cake
It's also a time for cozy recipes, good desserts, like this Toffee Chocolate Bundt Cake, and getting together with friends! Mm-m-m … the toffee chunks on this cake really make it unforgettable! :)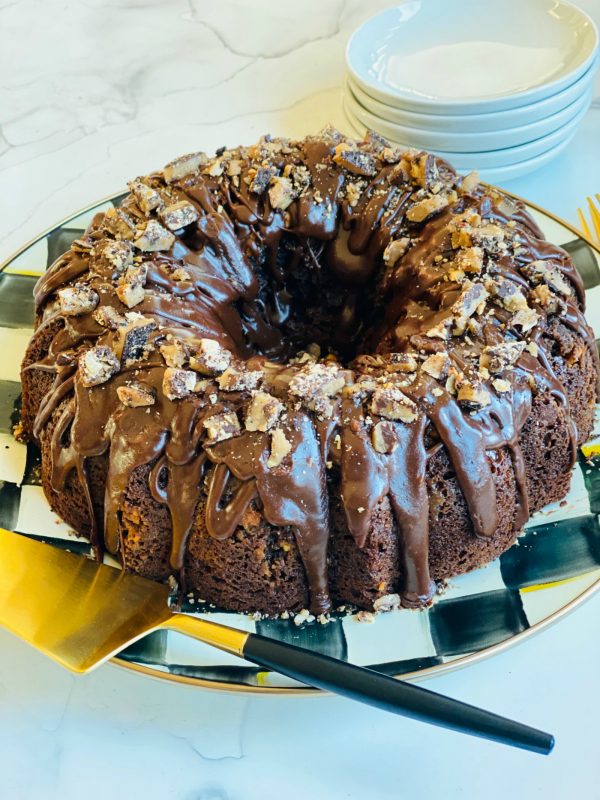 Toffee Chocolate Bundt Cake
I've thought to myself several times this week, the holidays are coming! I know they are going to look different for many of us this year, but we can still enjoy a dessert here and there, whether with neighbors, family, or friends. We just enjoyed this Toffee Chocolate Bundt Cake the other night and brought it to our friends for dinner.
This cake is so easy, feel free to add different flavors of instant pudding. We've tried cheesecake and chocolate! So good!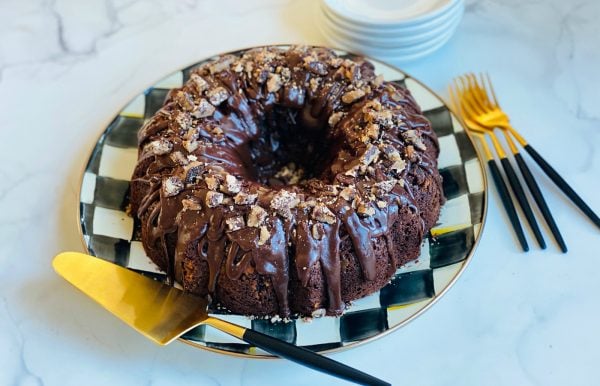 The ingredients are easy for this cake
Devil's food cake mix
Plain or vanilla yogurt
Eggs
Vanilla instant pudding mix (or whatever flavor you want)
Vegetable oil
Miniature semisweet chocolate chips (we've used butterscotch, too)
For the toffee frosting:
Brown sugar
Butter, cubed
2% milk
Vanilla extract
Premiem cocoa powder
Confectioners' sugar
Toffee candy, cut into large chunks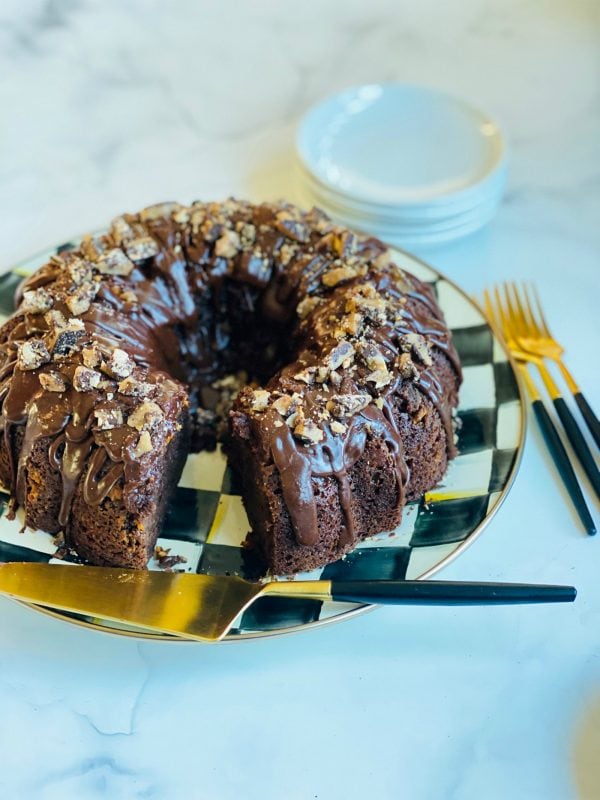 What I love about this bundt cake recipe that has been around for a long time (I remember my mom making this recipe!), is that you can change it up.
Add toffee for the crunch!
This time, we added the toffee because, well, … we love toffee!
The chocolate frosting is rich and creamy, and I've found that if you use a premium cocoa powder (like Guittard), it really makes a difference.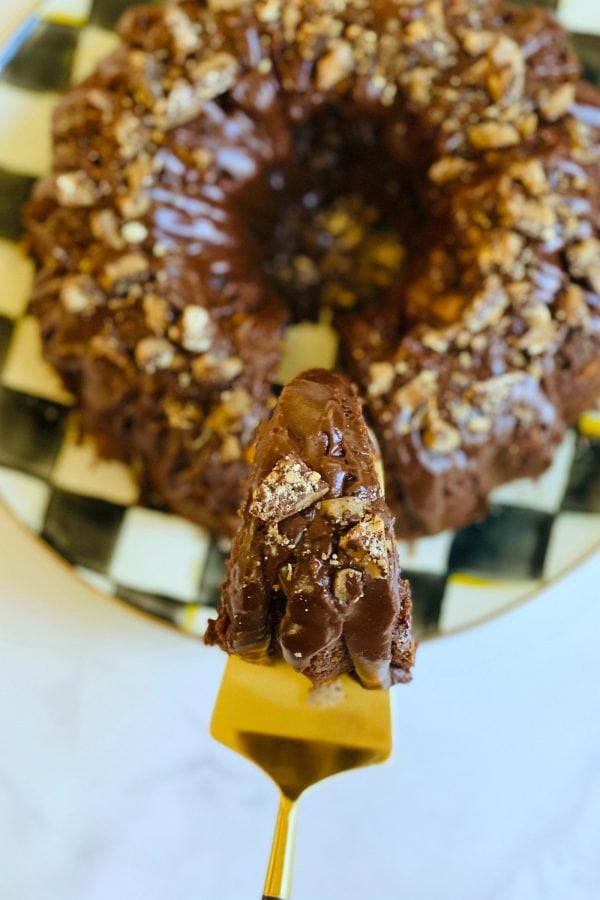 This is a great cake for the holidays—any holiday, really!
For now, I'm thinking Halloween, Thanksgiving, and Christmas.
Fall is here! Get together and get cooking, friends!
More chocolate recipes:
Homemade Chocolate Fudge Brownies
Get the Recipe: Toffee Crunch Chocolate Bundt Cake
This cake is so easy, feel free to add different flavors of instant pudding. We've tried cheesecake and chocolate! So good!
Ingredients
Cake
1 15 oz pkg devil's food cake mix
1 cup plain or vanilla yogurt
4 eggs
1/2 warm water
1 3.4-oz. pkg. chocolate instant pudding mix, (or whatever flavor you want)
½ cup vegetable oil
1 cup miniature semisweet chocolate chips, optional, butterscotch
Frosting
1/2 cup packed brown sugar
1/4 cup butter, cubed
1/8 cup 2% milk
1/2 tsp vanilla extract
1/4 cup premium cocoa powder
1 cup confectioners' sugar, + more, if needed
1/4 cup toffee chunks, chopped into large pieces
Instructions
Preheat oven to 350°. In a large bowl, mix together the cake mix, yogurt, eggs, ½ cup warm water, pudding mix and ½ cup oil.

Using a hand mixer (or stand mixer), beat the ingredients until combined, 1-2 minutes, until fluffy. Gently fold in the chocolate chips.

Prepare a bundt pan with cooking spray, and lightly dust with flour. Pour mixture into the bundt pan. Bake in preheated oven, 35 to 40 minutes, until a toothpick inserted in center of cake comes out clean.

Remove cake from oven, and cool for 10 minutes. Carefully transfer cake from pan to wire rack; cool an additional 1 hour.

For frosting, combine brown sugar, butter and milk in a large saucepan. Bring to a boil over medium heat; cook and stir until thickened, 1-2 minutes. Remove from heat; stir in vanilla extract and cocoa powder. Cool to lukewarm.

Gradually beat in confectioners' sugar, and right away, drizzle over the cake. Add chopped toffee on top!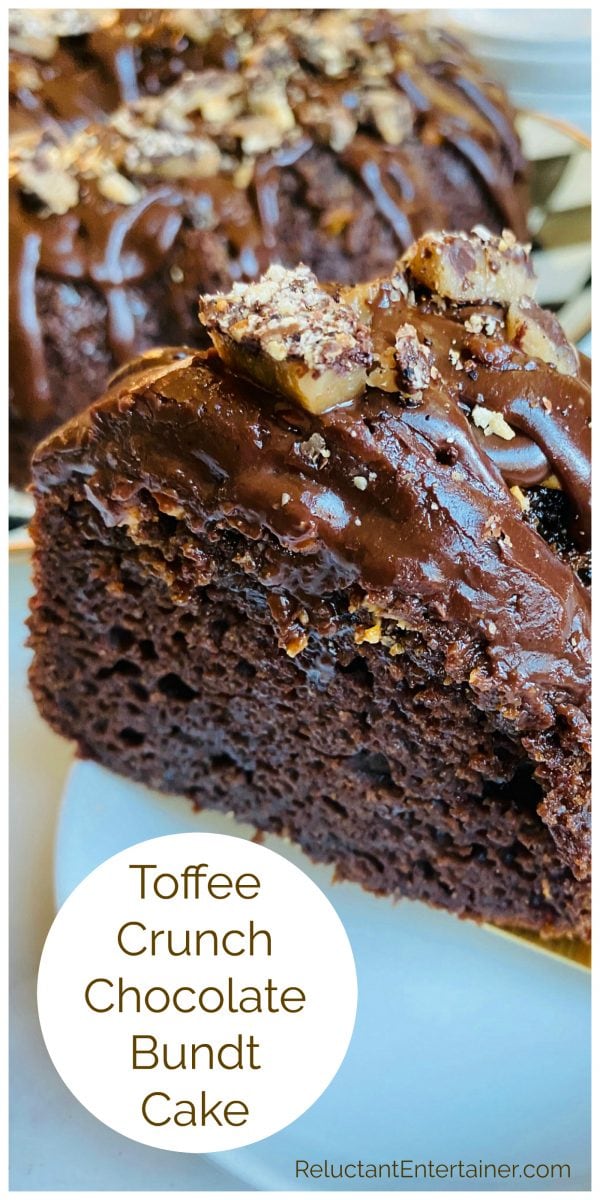 Hello and welcome to my home and table!
I'm Sandy—lover of food, family, cooking, THE BIG BOARD, travel, and bringing people together. Through great recipes and connection around the table, we become better, stronger, and more courageous people. Feasting on Life is real, and every time we do it, we grow a little more. Read more...