Turkey Bacon Meatballs Recipe
This Turkey Bacon Meatballs Recipe is a delicious meat dish to serve with pasta, delicious for a potluck or weeknight meal.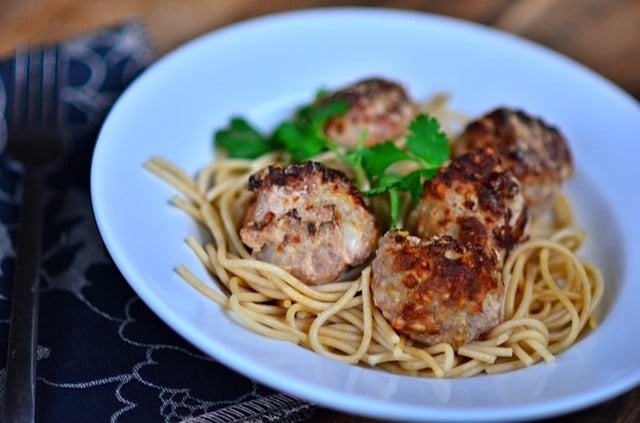 I'm a mom of 3 teens and I absolutely love it when our family comes together. Last week even with the holidays–a little bit of honest truth here–it takes effort to bring everyone together for dinner. Especially with social kids, their many friends, jobs, sports, so much to do … our children are pulled in many directions.
But … once we're together, it's time to relax.
Often we'll grab our plates of food and head up to watch our favorite television show, or in the summer, soccer games, or we'll even sit together in the living room and just talk and eat. A very non-traditional way at times, but we love to change it up!
Turkey Bacon Meatballs Recipe
Last week I cooked this yummy recipe and I'll be making it again soon – Turkey Bacon Meatballs. We love anything with bacon, don't you?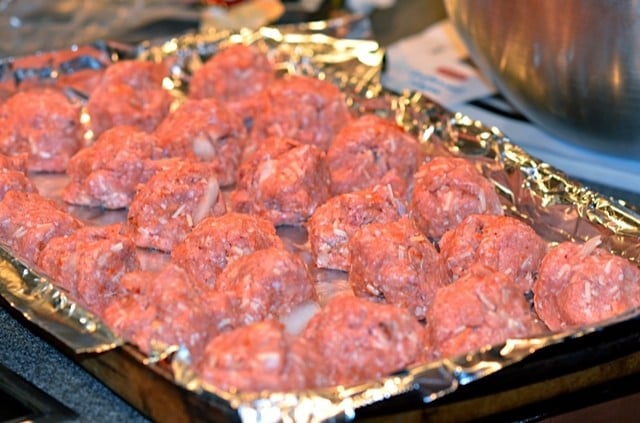 Double or triple the recipe and freeze for last-minute-dinners!
You can serve the meatballs over fresh pasta, spaghetti squash, or even rice.
Have you ever tried adding bacon to meatballs?
Get the Recipe: Turkey Bacon Meatballs Recipe
Tasty winter treat–meatballs with bacon–that you can make ahead of time and even freeze in Ziploc bags.
Ingredients
1 medium onion, coarsely chopped
6-8 slices of bacon, cooked and chopped
3 cloves garlic, peeled and pressed
2 pounds ground turkey
1 cup Parmesan cheese
1/4 cup bread crumbs
2 large eggs
Salt and pepper
Pasta, or rice or spaghetti squash
Optional: white or marinara sauce
Instructions
Heat the broiler to HI. In a food processor combine the onion, cooked bacon, and garlic; pulse until finely chopped. Transfer to a medium bowl, add the ground turkey, cheese, bread crumbs and egg, salt and pepper; mix to gently combine.

Line a cookie sheet or broiler-proof pan with foil. Form the meat mixture into 1-inch balls and place on pan.

Broil, turning once, until cooked, 10-12 minutes.

Cook pasta according to directions. Heat up marinara sauce (or make a white sauce), or eat plain over pasta.

Sprinkle with Parmesan cheese and serve.
Hello and welcome to my home and table!
I'm Sandy—lover of food, family, cooking, THE BIG BOARD, travel, and bringing people together. Through great recipes and connection around the table, we become better, stronger, and more courageous people. Feasting on Life is real, and every time we do it, we grow a little more. Read more...