How to Ask for Dinner Party Help & Harry & David's Wild Mushroom Leek Soup for a Crowd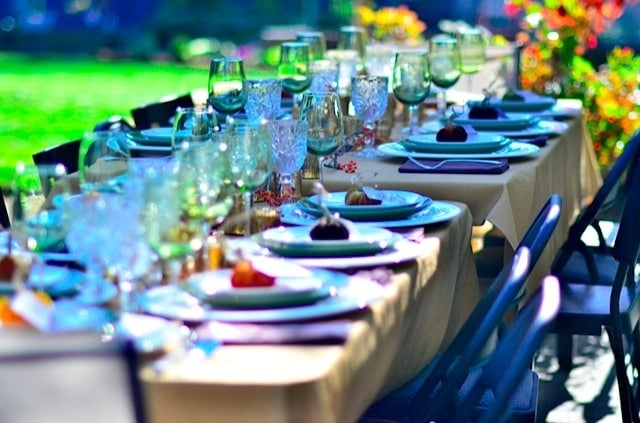 I've found that too many people say "no" to hosting dinner parties because they're just too overwhelming. (Or, it's too intimidating.)
I agree, it's a lot of work.
It took time to plan this night's menu, the details, and then of course worrying about the weather.
Last time I entertained for Harry & David, it was the hottest night of the year. Yup, an outside dinner party on a day that was 108 degrees. It all came together, but looking back at the pics, we were beginning to melt. But the beauty of southern Oregon evenings is that it does eventually cool down. :)
The weather was fantastic. It couldn't have been more perfect for a glorious Autumn evening dinner party.
How did I pull it off, serving and entertaining 15 around our table?
I asked for help.
Yup. My neighbor chopped veggies and nuts and pears. I took the instructions over to her house and she delivered it all back over to me the afternoon of the party. Oh, and she ironed my table cloths too (thank you, Ellie!).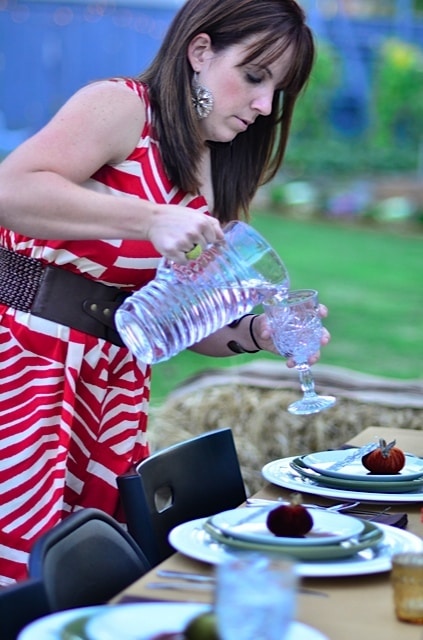 My friend, Holly, who is so bubbly and outgoing, came and helped my daughter cook and serve in the kitchen. Beautiful friend. Servant's heart. Why did I need her? Because I wanted more time around the table with my guests to enjoy their company!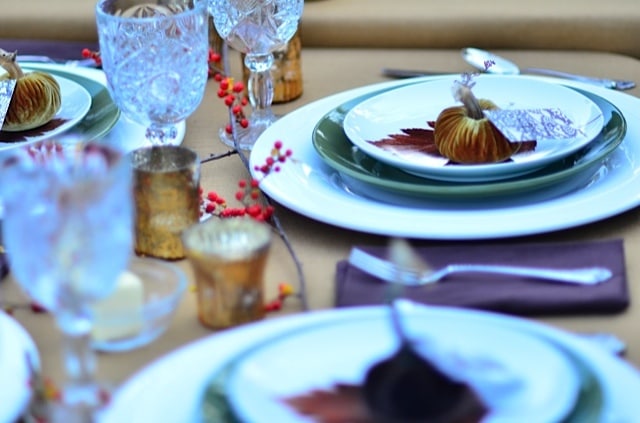 Carol and Susie, from Penny and Lu Lu, came and brought bittersweet and added a few other touches around the back yard.
Burlap on straw bales, tied in a knot.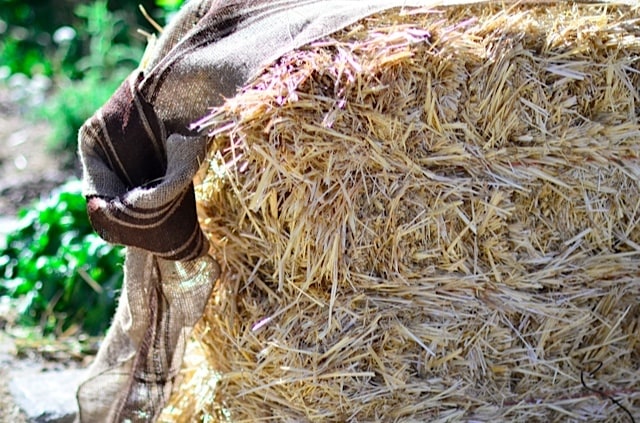 Perfect side table for holding overflow drinks.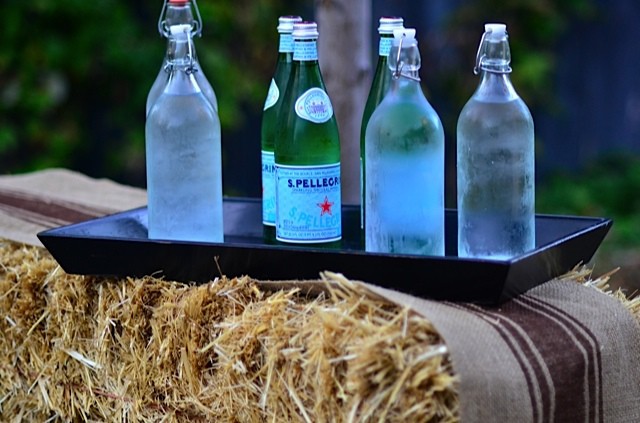 I borrowed Carol's chargers and her beautiful leaf plates for dessert. Our friend's over at LoveFeast Table's Plush Pumpkins for simple place cards.
I used my olive-green Dollar Tree wine goblets (plus water goblets), and new green dinner plates.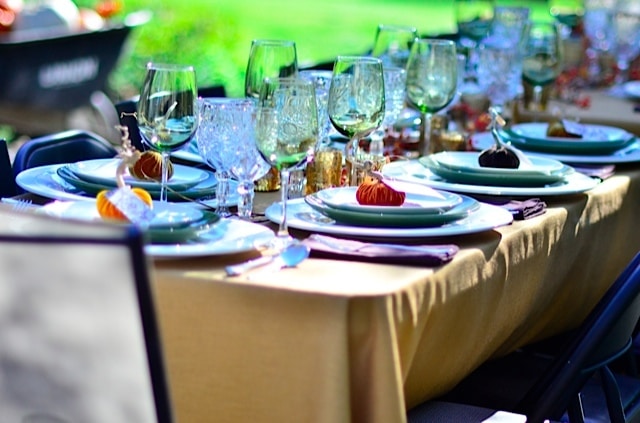 I added our mini torches around the yard, one over by the herb bed. We put the pool light on. Party lights galore. Pumpkins and fall colors permeated the scene.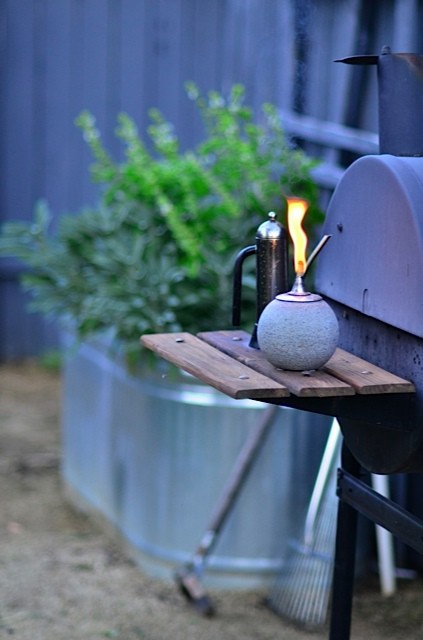 My husband built a side fire. He's the music guy, too. Lots of people wanted to know his play list.:)
Really, I couldn't do it without my husband. He's the glue that holds it all together, when you think of all the aspects of entertaining that he helps me with. Here's a huge CHEERS to Paul! (Thanks for the photo, Dara.)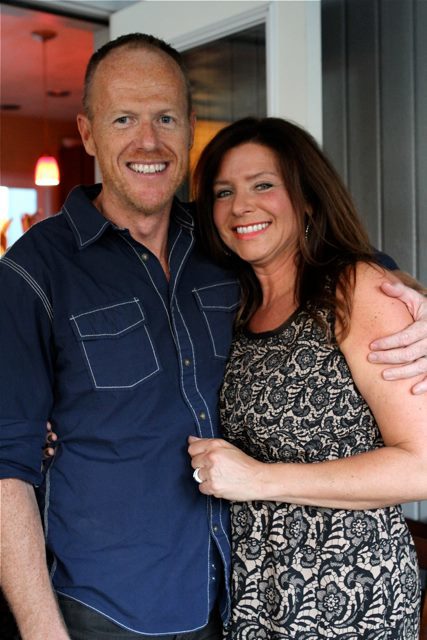 The night was sponsored by Harry & David, as the next 3 days were spent touring their facilities and enjoying H&D meals and getting to know their staff. We all stayed in Jacksonville, where the hospitality there was top-notch (bloggers stayed at Magnolia Inn).
So, as the guests arrived … (Brian, Carrie, and Heather.)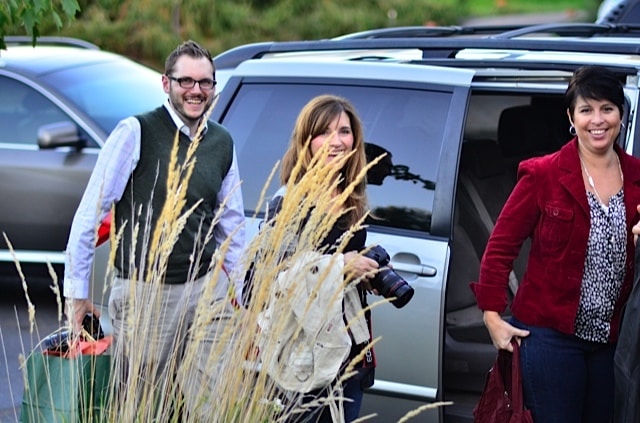 .. we had a very special evening together.
(Brenda, Brian, Heather, Matt, Julie, Aggie, Maggy Carrie, Dara, Gaby. And missing Sommer because her flight was delayed.)
My friends all have effervescent personalities, as you can see in this picture. We had a ton of fun together, but more importantly, they were so impressed with the Harry & David company, from the CEO to the migrants workers. I have to say, I'm very proud to live in southern Oregon and be working with so many outstanding H&D staff members.
In the meantime, back to Holly.
What's the first course that she and my daughter served to the guests?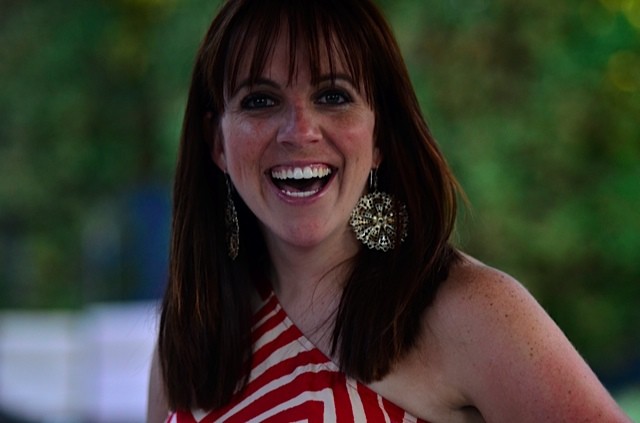 Harry and David's Wild Mushroom Leek Soup.
You can buy it, here. The flavor is superb. The steps are EASY!
Here's how I made it richer and more robust to feed a crowd:

1. Add fresh leeks and mushrooms.

2. Make it up 2 days in advance. The secret is to steep the soup ahead of time in its own juices so it expands the flavors prior to reheating.

3. Triple the batch to serve a large crowd.
For sure, dinner-party worthy!
Do you have a hard time asking for help if you're hosting a large group of people? Or, what's your favorite soup to feed to a large group?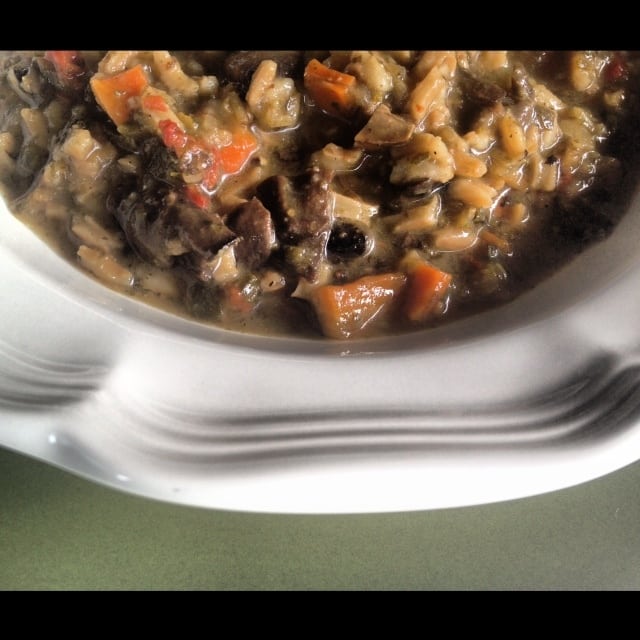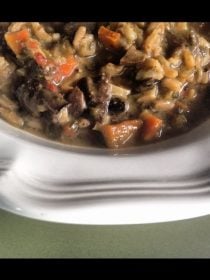 Get the Recipe: Harry & David's Wild Mushroom Leek Soup Recipe
Add fresh leeks and mushrooms for a more robust soup. Make 1-2 days in advance to get the richest flavor. Triple the recipe for a large crowd.
Ingredients
1 6.6 oz. Harry & David Wild Mushroom and Leek Soup mix
4 tsp. butter
1 cup leeks, thinly sliced
2 cups mushrooms, thinly sliced (I used baby Portabellas)
8 cups water
Instructions
Melt butter in a pan. Add leeks and cook 2-3 minutes. Add sliced mushrooms and cook an additional 8-10 minutes.

Add water, rice, vegetable packet, spice packet and soup base packet. Stir to blend.

Bring to a boil; reduce heat. Cover and simmer for 20 minutes, stirring occasionally.

Makes approx. 8 (1 cup) servings.
If you find you're a Reluctant Entertainer, feel free to check out this post.
My 3 days with this group was sponsored by Harry & David, but as always, all opinions are my own.
Other H&D stories & photography:
Brian – A Visit to Harry & David and the Rogue Valley
Julie – Dinner at the Coughlins'
Julie – Harry & David Orchard Tour
Julie – Lithia Park and Déjà Vu Bistro
Julie – Harry & David Gift Baskets
Matt – Harry & David Launches Wine Collection
Matt – Harry & David Mushroom Soup, Red Wine, and a Giveaway
Aggie – A Visit with Harry & David in Medford, OR
Heather – Harry & David, a Southern Oregon Experience
Brenda – Harry & David – and Beautiful Southern Oregon
Dara – Harry & David Pears, Moose Munch, and Friends
Carrie – A Pear in a Harry & David Tree, Just for You
Sommer – My Harry & David Experience and Giveaway
Maggy – Harry & David Trip Delicious Giveaway
Gaby – Apple & Pear Crisp with Crystalized Ginger and H&D Recap
Hello and welcome to my home and table!
I'm Sandy—lover of food, family, cooking, THE BIG BOARD, travel, and bringing people together. Through great recipes and connection around the table, we become better, stronger, and more courageous people. Feasting on Life is real, and every time we do it, we grow a little more. Read more...