Cucumber Salad Recipe with Fresh Pineapple and Cilantro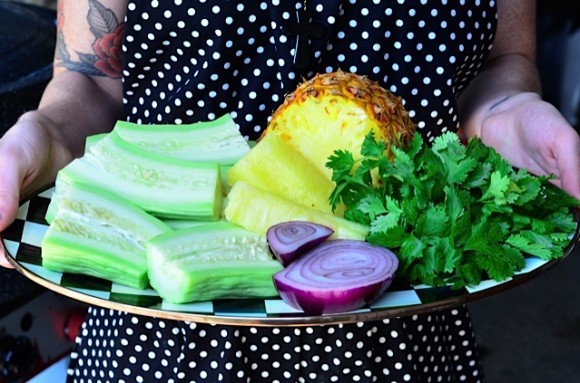 This is our first year to enjoy Armenian cucumbers from our garden beds, as we've tried to grow them in the past without any luck. And since we have so many, I've rediscovered my mother's cucumber salad recipe, but this time adding a few extra fresh ingredients – pineapple and cilantro!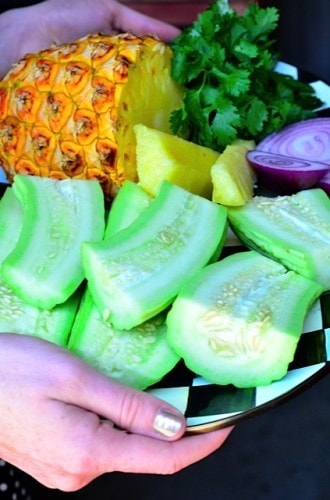 My niece first told me about it, and she posted the recipe on her blog. With so many cucumbers, we've been eating them on sandwiches, in salads and wraps, and they're excellent served with fresh dill or mint, too.
The dressing: 1:1:1 – water, white vinegar, and sugar.
We still can't get over how they've taken over our garden, even climbing up the bean trellis (an old soccer net that we repurposed for our beans). I just read that it's best to plant cucumbers near corn, so they can crawl up the stalks!
It's been very hot in Oregon, and one thing we've learned about cucumbers is you have to keep them watered well during the dry spells, or they will have a very bitter taste. Nothing worse than a bitter cuke!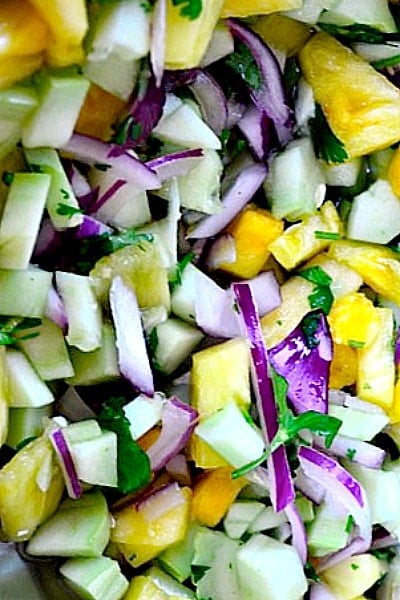 So depending on how many cucumbers you have, use the dressing combination above, add in the fresh fruits, red onion, and herbs, and ENJOY!
What's your favorite combination for cucumber salad?
PS. Don't forget to remove the seeds with Armenian Cucumbers … they are big, and there are a lot of them. But the cucumbers are FANTASTIC!
Cucumber Salad Recipe with Fresh Pineapple and Cilantro
Yield: 12
Prep Time: 10 minutes
Total Time: 10 minutes
Adapted from RideRideEat.com blog.
Ingredients:
1/2 cup white balsamic vinegar
1/2 cup water
1/2 cup sugar
5-6 cups cucumbers, sliced
1/2 medium red onion, chopped
1 bunch cilantro, chopped
2 cups pineapple, chopped
Directions:
Mix the first 3 dressing ingredients in a small bowl; set aside.
Slice the cucumber (removing the seeds). Chop the onion, pineapple, and cilantro. Mix together in a large bowl.
Add the dressing. Serve.