Day 27: How to Barbecue Salmon on the Grill
Thanks for joining me in my "30 Days of Summer Entertaining" series. (Scroll down to the bottom for previous posts in this series) :)
When it comes to summer cookouts, nothing is simpler or more satisfying than salmon on the grill.

To me, it's the easiest meat to grill and takes little preparation. It can feed a crowd, and the presentation is beautiful, too!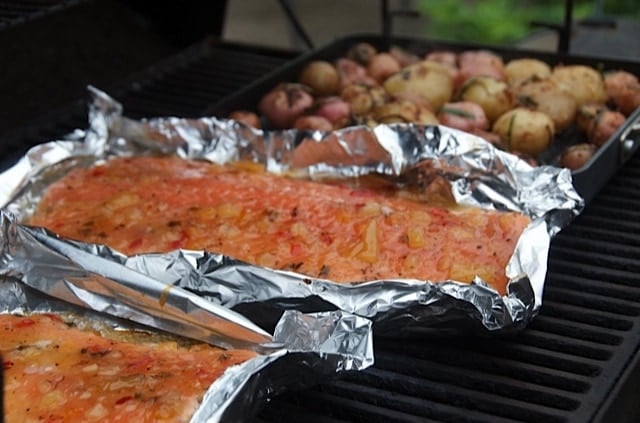 How to make a "tray" for barbecuing salmon on the grill
1. Set 2 pieces of foil on top of each other on the counter (usually about 12-14 inches long)
2. Fold the ends up on each side to make a "tray"
3. Place salmon filet on the "tray" right before you are ready to barbecue
I love this method because you don't have to flip the salmon. It cooks slowly on the grill, and as soon as you press down with the back of a spatula handle, and the meat is NO LONGER SPONGY feeling, the salmon is done.
The secret to delicious salmon is to NOT overcook it.
I have a really good recipe in my book (Savory Oregon Salmon), but if you're wanting a last-minute idea, you can purchase Costco's Roasted Pineapple and Habanero Sauce.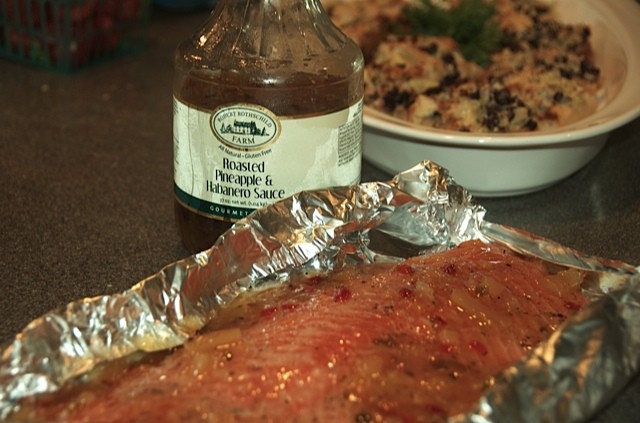 Roasted Pineapple and Habanero Salmon

1. Cut salmon pieces to about 8-10 inches long.

2. Place the salmon filets in a Ziploc bag.

3. Add 1-2 cups of the Roasted Pineapple Sauce.

4. Place in the refrigerator and marinate for 3-4 hours.

5. Place the fillets on the ready-made "tray," for barbecuing. (You may need 2 or 3 of these, depending on how much salmon you are cooking.)

5. Salt heavily with sea salt and white pepper.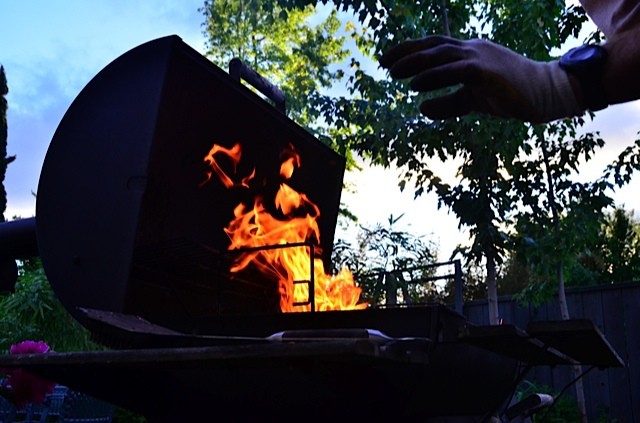 We still use charcoal. We just love the flavor. It does take more time, for sure, but when it comes to barbecuing, we need to slow down and enjoy what we're cooking, and the end results of waiting for the delicious fruits of our labor.
Waiting for our food is good.
Do you use charcoal or gas for grilling?

BBQ TIP: To prevent food buildup on the grill, coat the metal parts with light cooking oil before each barbecue.
If you've missed the last 26 days of this series, you can catch up now:

Day 1: Summer Entertaining is About the People
Day 2: When Perfect Robs You of Something Good
Day 3: Who To Invite to Dinner
Day 4: Planning the Menu for Outdoor Entertaining
Day 5: Setting the Table Using What You Have
Day 6: Using One Classic Water Glass
Day 7: Napkin Options for Summer Entertaining
Day 8: When You Feel Like Canceling the Party
Day 9: Leave Your Technology at the Front Door
Day 10: Candles That Enhance Good Conversation
Day 11: Serving Flavored Herb and Fruit Water
Day 12: Leafy Greens and a Tiny Bit of Agave
Day 13: Keeping Nut and Fruits and Cheeses on Hand for Easy Appetizers
Day 14: Move Your Table to a Different Space
Day 15: Greek Salad on a Stick and Getting the Kids Involved
Day 16: Three Lies of Perfectionism that Ruin Entertaining Moments
Day 17: Be Creative When You Run Out of Linens for Your Dinner Party
Day 18: Gather Around a Fire for Intimate Summer Entertaining
Day 19: Last Minute Father's Day Invite and Pork Chops with Glazed Apricots
Day 20: Summer Entertaining GIVEAWAY from National Pork Board
Day 21: Create a Simple Appetizer Basket for Last-Minute Guests
Day 22: How to Change the Menu When Guests Cancel & Sweet Summer Salad
Day 23: Keeping the Conversation Strong with Summer Berry Crisp
Day 24: Music at a Summer Dinner Party
Day 25: Adding Dried Rosemary to your Barbecue
Day 26: Using Accent Dishes to Compliment Your Table Setting
Feel free to grab my button and share it with your readers :).