Almond Butter Berry Steel-Cut Oats
This Almond Butter Berry Steel-Cut Oats is a healthy, delicious breakfast, guaranteed to get your day started off in the right direction!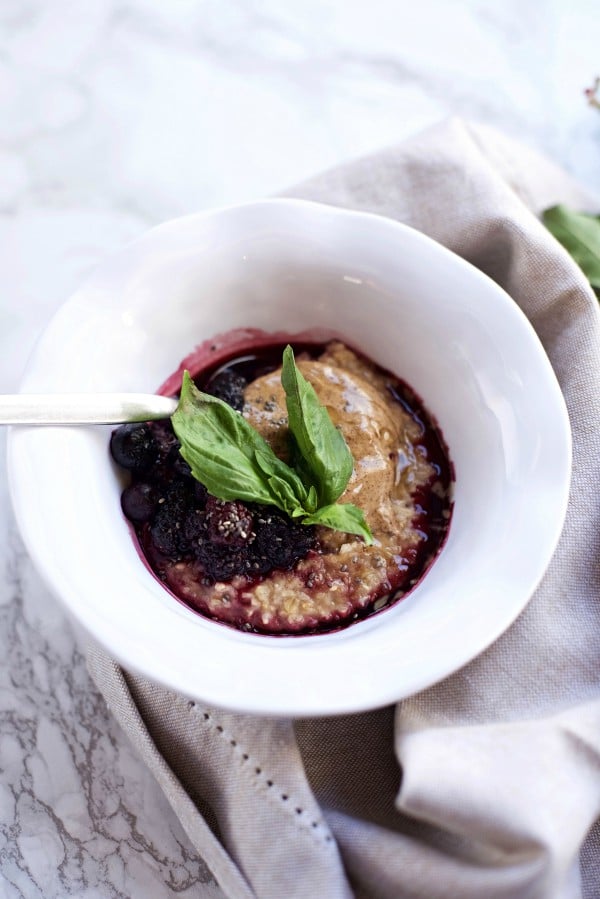 Friends, I think of the many reasons and obstacles in our lives, and how we can get overwhelmed. I know, because I continue to struggle, usually when it involves too much on my plate.
But first, today I'm sharing one of my favorite plan-ahead breakfasts made with frozen Oregon berries: Almond Butter Berry Steel-Cut Oats. Easy to make ahead, it's healthy, and a great way to start off the day!
Do you ever feel overwhelmed by either so much to do, or too many worries?
Turning our worries and thoughts to prayers and gratitude is the perfect way to peace.
Instead of being overwhelmed by fear, we can be overwhelmed by God's goodness all around us!
The beauty of nature. The hope of spring, the overwhelming beauty of prayer and miracles, the way that our days are orchestrated with blessings (both big and small), a love for family, a love for friends who are like family, new wrinkles and gray hairs (and hopefully a whole lot of wisdom that comes with both), true friends (the kind that are in your corner, no matter what), my smallness compared to His greatness, beautiful, exquisite colors of the sunrise and sunsets, His wisdom, His timing … God's grace.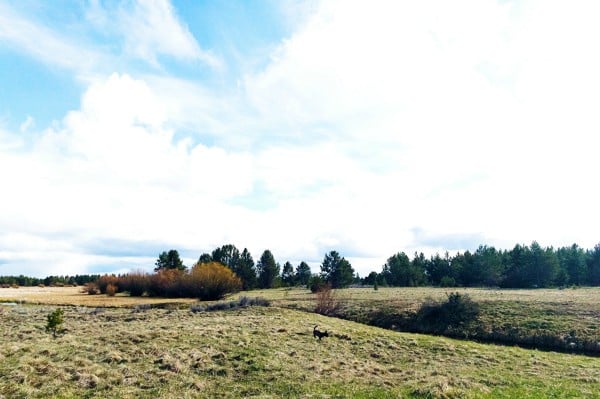 His eye is on the sparrow, and I know He's watching me :) (Do you see little Haggy leaping through the field? This is his favorite place to go!)
I think if we turn our overwhelmedness over gratitude, we will see our days in a new light.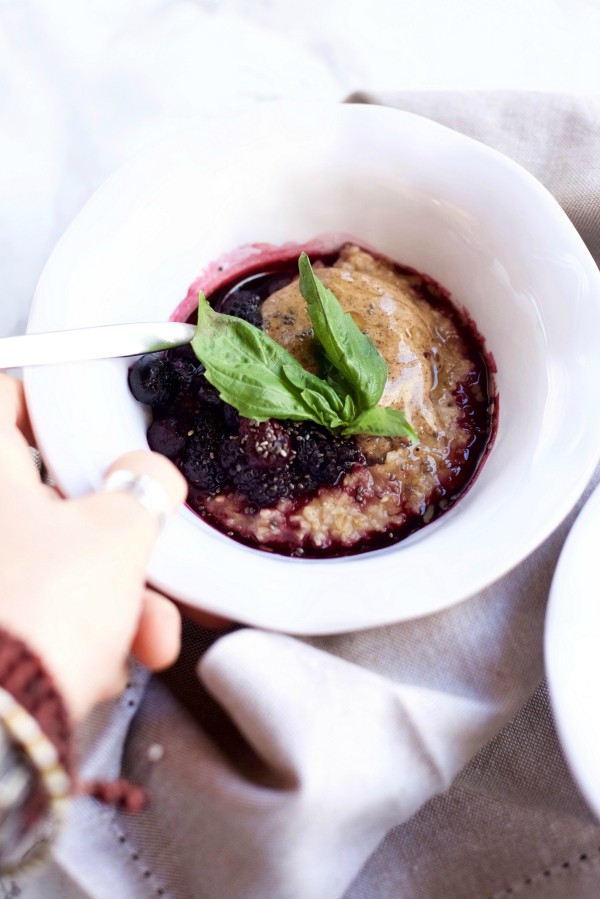 Almond Butter Berry Steel-Cut Oats
So, in taking the "heavy" out of our days, trying to make them lighter, I'm sharing a delicious breakfast to get you going for the day.
Make the steel oats the night before and store in the fridge. Heat up on stove or microwave!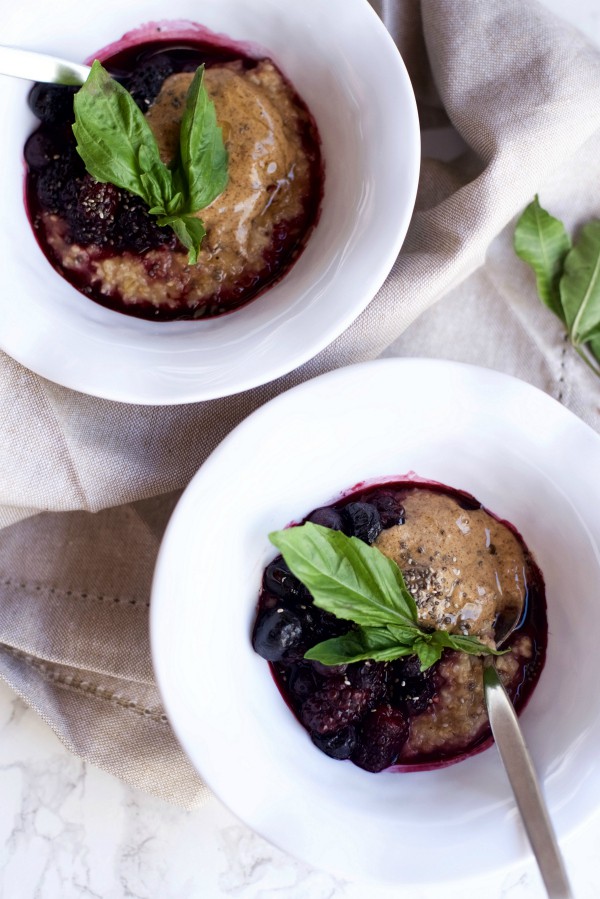 Top with chia seeds!
Abby made this awhile back, and it's one of my favorites.
Happy-over-the-hump-Wednesday!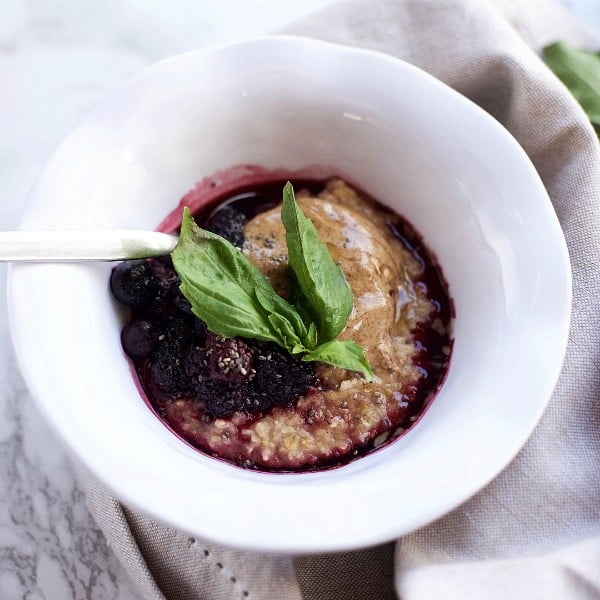 Get the Recipe: Almond Butter Berry Steel-Cut Oats
Make the steel oats the night before and store in the fridge. Heat up on stove or microwave!
Ingredients
1/2 c. steel-cut oats
1 1/2 c. water
1 tsp. vanilla
1 tsp. cinnamon
1/4 tsp nutmeg
1/4 tsp. ground ginger
1 1/2 c. defrosted Oregon berries
3 Tbsp. almond butter
3 tsp. Chia seeds for garnish
Basil leaves for garnish
Honey to drizzle
Instructions
Boil water, add oats and lower to medium heat. Cover and cook for 10-15 minutes, or until oats are soft. Stir occasionally. Mix in spices and vanilla and keep warm on stovetop.

Defrost berries in microwave and drain excess juice.

Separate oats into 3 servings. Evenly divide and top oats with berries, almond butter, chia seeds, lightly drizzle with honey, and garnish with basil. Add a splash of your favorite milk to make it creamier (almond, coconut, regular).
More healthy breakfast recipes: Sunny Side Up Breakfast, Healthy Oatmeal with Dried Fruit and Nuts, and here's 30 Make-Ahead Brunch Recipes from my friend at NeighorFood!

Hello and welcome to my home and table!
I'm Sandy—lover of food, family, cooking, THE BIG BOARD, travel, and bringing people together. Through great recipes and connection around the table, we become better, stronger, and more courageous people. Feasting on Life is real, and every time we do it, we grow a little more. Read more...