Savoy Jicama Slaw Salad Recipe
We love snacking on almonds! My partnership with Blue Diamond Almonds has provided a great outdoor snack for our adventurous family, and they're also delicious paired with a meal, such as this Savoy Jicama Slaw Salad recipe!
When in the outdoors, you can be pretty popular right away when you open a can of Blue Diamond Almonds, the perfect, healthy on-the-go snack for an active lifestyle.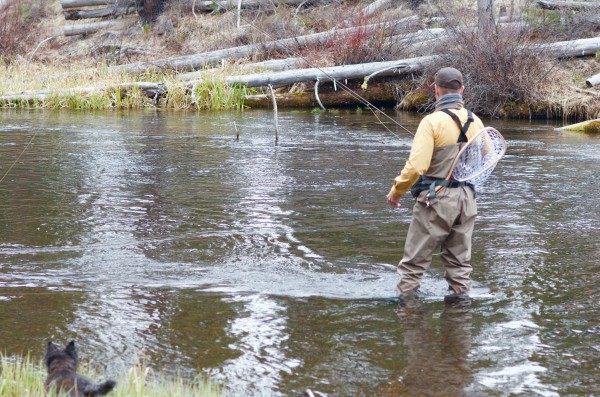 My husband, Paul, has shared many Blue Diamond Almonds with fellow fly fishermen on the waters, who in return have shared just the right fly and a few local secrets with him :)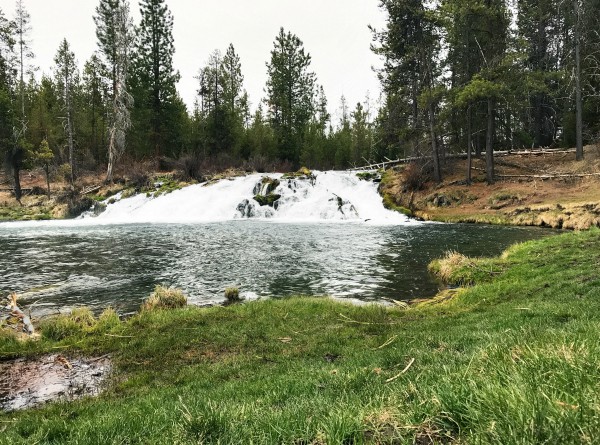 This past week, we headed up to the legendary Fall River in central Oregon, with its smaller trout, in mostly slow-moving, gin-clear, tranquil waters, taking our small dog who thinks he's huge, Haggis Barley McStitch.
I love to sit and watch. Don't get me wrong, I have waders, and my day is coming to fish (bring on the warmer, summer weather), but for now, I spread out the checkered tablecloth and set up a mini picnic for us to enjoy.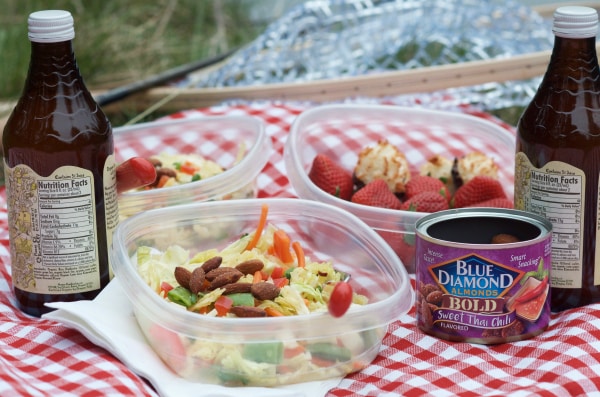 Blue Diamond's flavors taste great and are so convenient for fly fishing, because you can leave a can in your fly fishing equipment, and never have to worry that they will lose their freshness or flavor!
Full of protein, they're also a handful of sustained energy for the entire day!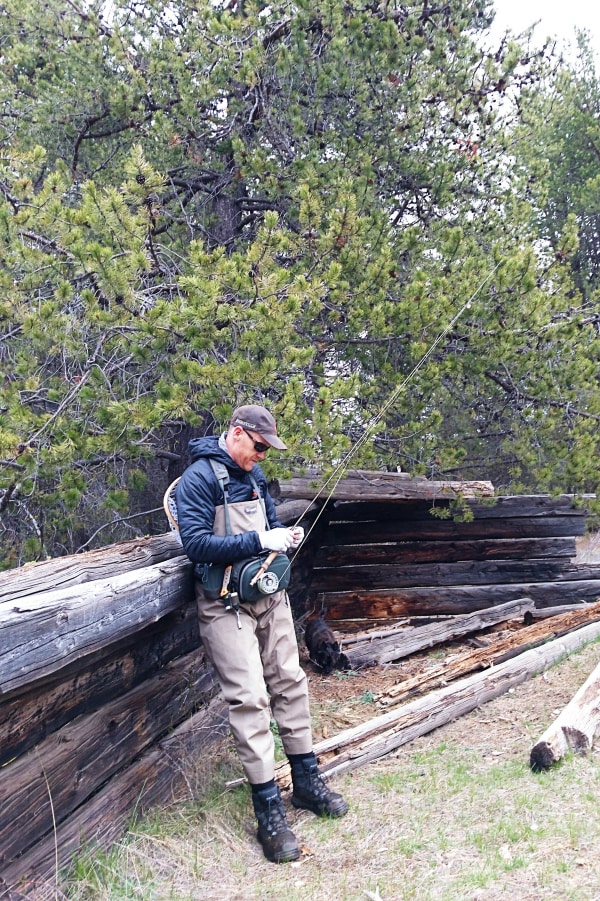 We didn't catch one this day, but that is okay. That's why they call it fly fishing, and not fly catching. It's relaxing and good for the soul–especially when your belly is full of food that's good for you, and tastes great!
But as good as almonds are plain, did you know they're also amazing in recipes?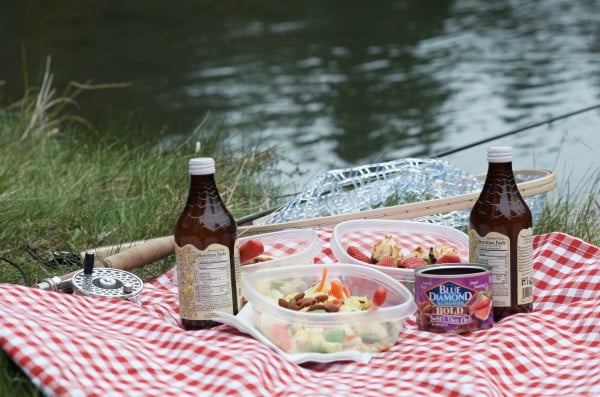 Savoy Jicama Slaw Salad Recipe
Here's what I love about this Savoy Jicama Slaw Salad Recipe that we brought for our dinner, to enjoy with a Kombucha drink, and a side of strawberries and our favorite macaroons.
This salad you can make ahead, drizzling in the dressing and tossing to serve later, or place in to-go containers.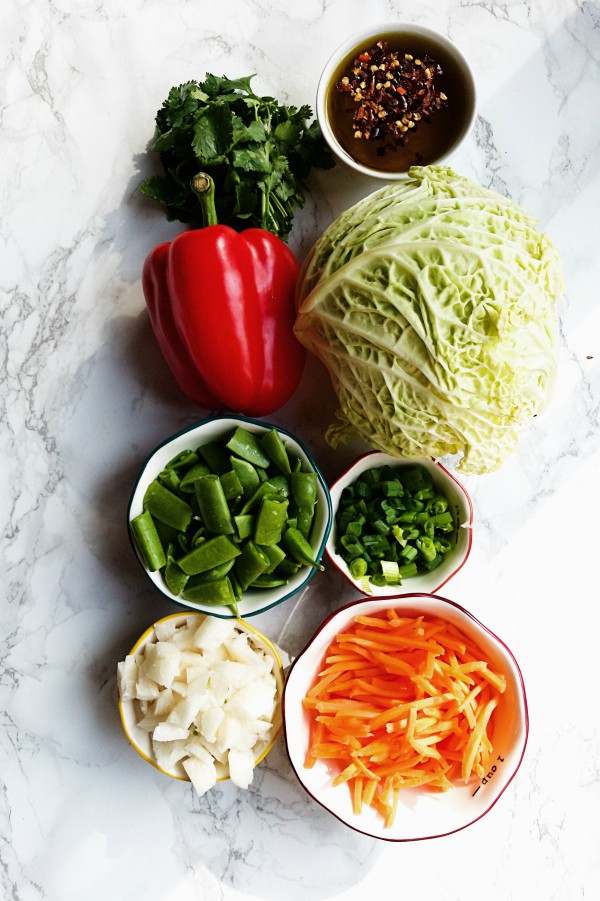 Made with Savoy cabbage, I love the crunchy leaves and subtle flavors, tossed with a delicious dressing–it does not become soggy. In fact, the longer it sits, the more the flavors mingle together.
Savoy pairs beautifully with any number of rich, fragrant vegetables, like red pepper, jicama, sugar snap peas, and fresh cilantro.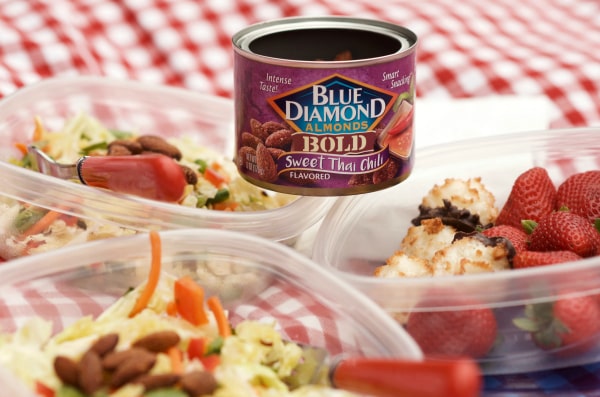 Lastly, with a side of (or mixed in) our favorite Blue Diamond Sweet Thai Chili almond flavor! Oh, YUM! Here are a few other recipes that we've enjoy different flavor of almonds: Greek Yogurt Waffles, Frosty Almond Raspberry Squares, and Almond Lime Flan Cake!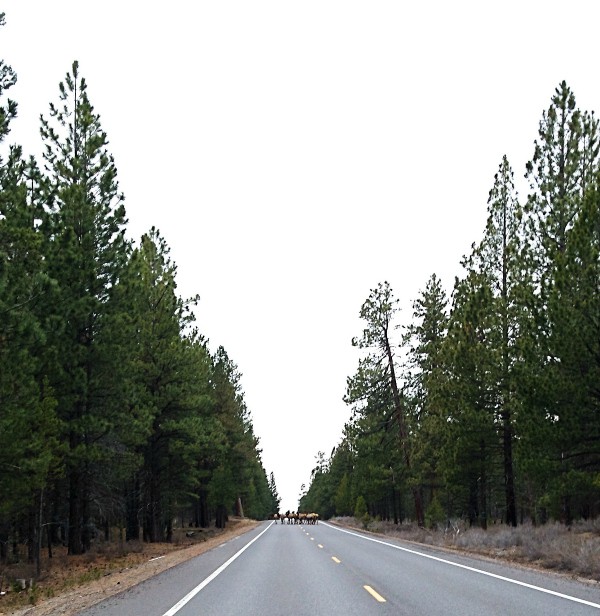 And did I mention, the stately elk standing in the center of the road on the way home? Central Oregon is full of the most beautiful wildlife experiences!
This salad will store in your fridge for 5 days.
Ingredients:
1 medium head Savoy cabbage, shredded (about 8 cups)
1 cup sugar snap peas, cut in thirds
1 large red bell pepper, cut into small chunks
1 cup jicama, peeled and cut into small chunks
1/4 cup green onion, sliced
1/4 cup fresh cilantro, chopped
2 Tbsp. rice vinegar
2 tsp. sesame oil
1/2 tsp. salt
1 tsp. red pepper flakes
6 Tbsp. olive oil
1 cup favorite flavor Blue Diamond Almonds
Directions:
In a large salad bowl, combine the cabbage, sugar snap peas, red pepper, jicama, green onion, and cilantro.
In a small bowl, whisk together the rice vinegar, sesame oil, salt, red pepper flakes, and olive oil until creamy and well combined.
Drizzle the dressing into the slaw. Mix and set aside.
Garnish with a handful of favorite flavor Blue Diamond Almonds.
All images and text ©
This post is sponsored by Blue Diamond Almonds, but as always all opinions are my own!