Apple Endive Appetizer
I love a beautiful kind of hospitality, inviting new friends to dinner, creating a simple menu a with Apple Endive Appetizer recipe.
One of my newest favorite appetizers is so healthy, you can't help but love it. With these ingredients, you can have the option to drizzle honey or a balsamic glaze on top, or serve it plain.
Apple Endive Appetizer
Start with endive leaves.
And these simple ingredients.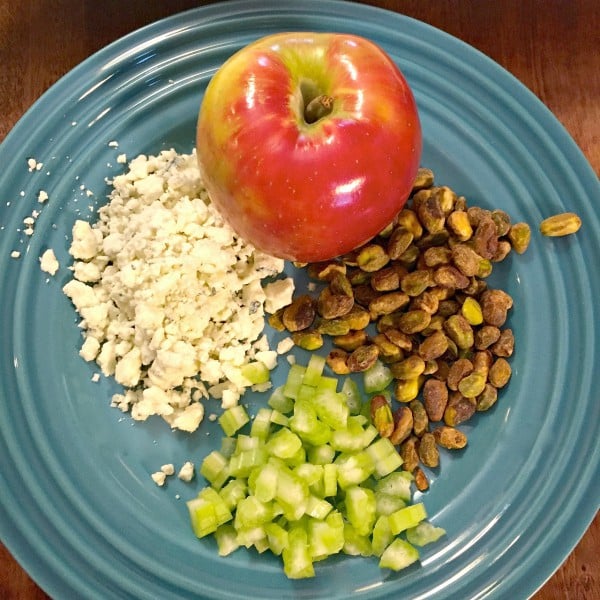 It's flavorful, especially with delicious Honeycrisp apples!
Hosting dinner
Earlier this week I hosted 6 of my workout friends for dinner. We've all taken a class together for about a year, but did not truly know each other (ages 52-74). I'm really at a loss for words in describing the connection that took place on this evening. It was beautiful.
In fact, I woke up in the morning (my husband was out of town), and I pinched myself. Did this really happen?
I laid in bed for a few minutes longer, I prayed, I allowed myself to "feel" what had taken place the night before. These women's stories went deep into my soul.
I think it's important that we feel. It's easy to be so rushed, so busy, that we are not present to "feel" the pain, joys, or what others alongside of us are experiencing.
When we are willing
I'm so glad I pushed through my busyness to make this time happen. When we are willing to open up our lives, we are changed.
There's no doubt with entertaining that I love a beautiful table, and making everyone feel comfortable and loved. After all, isn't that the appealing side of hospitality? (Hi, Haggis!)
Listen and love
It brings me great joy to bring people together, and although the table and food is essential, it's not the most important aspect. I really believe the secret to a "wasn't that a great night?" feel is when guests feel comfortable in the space to open up. To share about their lives and to be known.
So during this night, I lost track of the details … the food, the wine, refilling the water glasses … because the conversation was so deep and lovely.
Every event is unique, as we take our stories–some very raw and painful, some very light and funny—and through these experiences we start to feel "closer" to the people at our table.
A true connection.
We take the time to listen and to love.
Just like that.
The beauty changes us.
Really, I want to be a game-changer in this world.
Do you?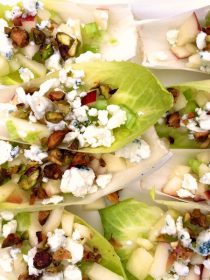 Get the Recipe: Apple Endive Appetizer
Make Ahead Tips: To bring this appetizer to a party, pack the apple mixture, the endive, and the pistachio separately, and quickly assemble them once you arrive.
Ingredients
1 large Honeycrisp apple, cored and cut into 1/8-inch slices
3 oz. blue cheese, crumbled (to yield about 3/4 cup)
¾ cup finely chopped celery, from about 2 large ribs
5 Belgian endives, outer leaves separated
½ cup pistachio nuts, toasted (cooled) and coarsely chopped
Instructions
In a medium bowl, combine the apple and celery. Stir gently to combine.

To assemble, mound a small spoonful of the apple mixture onto the core end of each endive leaf. Sprinkle with the blue cheese; place in the refrigerator until ready to serve.

Right before serving, lightly sprinkle the pistachio nuts on top; serve!
And here's the menu that I served (remember I told you it was simple, right?)
Simple menu
Apple Endive Appetizer (recipe below)
Chicken Mandarin Orange Salad (recipe to come)
Wild Rice Salad (it's fabulous!)
And my friend, Cindy, made Skinnytaste's Triple Berry Cobbler (with ice cream), from the Skinnytaste Cookbook.
Oh, boy!

Hello and welcome to my home and table!
I'm Sandy—lover of food, family, cooking, THE BIG BOARD, travel, and bringing people together. Through great recipes and connection around the table, we become better, stronger, and more courageous people. Feasting on Life is real, and every time we do it, we grow a little more. Read more...