Marinated Cornish Game Hens Recipe
Marinated Cornish Game Hens recipe are easy to prepare ahead off time in a delicious ginger-soy sauce. Bake and serve for your next dinner party!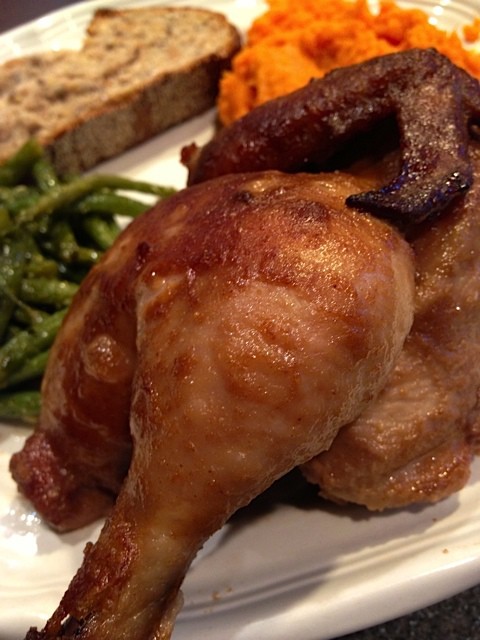 Being prepared for entertaining is really what makes a get-together successful, which is why I LOVE this Marinated Cornish Game Hens Recipe.
When I'm not prepared, I'm scattered, frustrated, and grumpy. Who wants to be around a grumpy hostess? (My family for sure does not).
If you've never split a cornish game hen, watch the video below. It's really easy!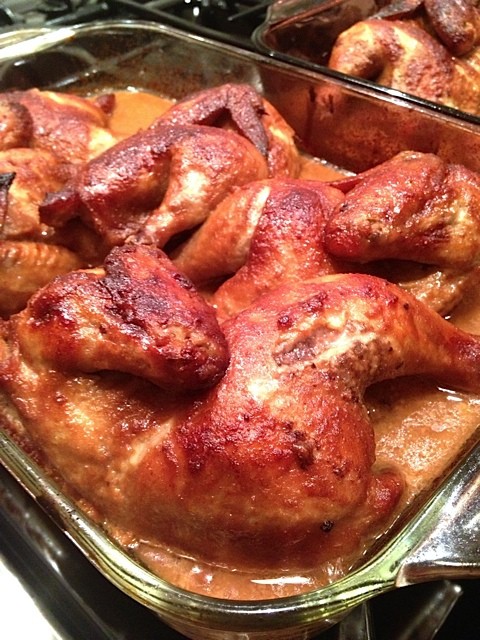 Know what to cook.
Part of being prepared is not only knowing what you are going to cook, but making sure that it's easy and dinner-party worthy.
Marinated Cornish Game Hens Recipe
So I'm sharing a delicious recipe that our friend Jenny has made for us for many years for her dinner parties. I can see why now … 24 hours ahead of time you marinate the Cornish Game Hens (very easy), and then pop in the oven 1 hour before you're ready to serve. You do baste them every 15 minutes, but that's easy. Give one of your kids the job! :)
I've made them both ways … blending the marinade, and then not blending (just mixing). Both delicious!
I made these hens on Christmas Day and our entire family loved them. The flavor is … well, you decide. Fantastic!
All I know is that I was asked over and over to make them again.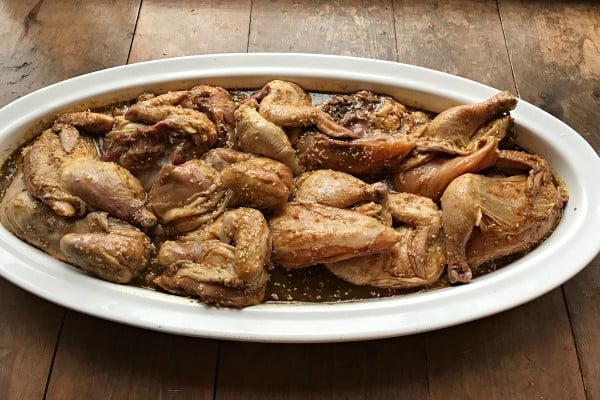 Here's my list of tips that help me get prepared and stay on track for a dinner party.

Be prepared:

-Choose a main dish that you can prepare ahead of time, that takes very little of your time the day of the dinner. (You marinate this recipe ahead of time, up to 24-36 hours.)

-Get your shopping done 1-2 days ahead of time.

-Make a list and cross things off as you complete them.

-Make a list of what items need to go in the oven, with a time frame.

-Tell yourself you are not going to run to the store. Use what you have; fight the "perfectionism" inside of you.

-Know what your guests are bringing. KNOW YOUR MENU. Write it out and place it on the refrigerator so you can keep checking it.

-Have any condiments, butter, or extra food items you'll need, in dishes, ready to put on the table.

-Get prep work done ahead of time.

-Count backwards and plan out your time for what needs to be done at certain times.

-Know in advance what you want to wear.

-Use my 10-minute Countdown Method.
They are delish!
Have you ever cooked Cornish Game Hens?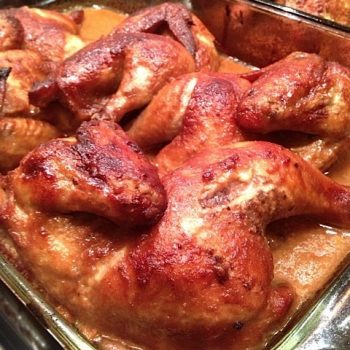 Print Recipe
Marinated Cornish Game Hens Recipe
Delicious recipe good enough for company! Be sure to double the sauce ingredients for every 2 hens you cook.
Ingredients
2

game hens split in half

1/3

cup

soy sauce

¼

cup

olive oil

3

garlic cloves sliced

2

TBS

toasted sesame seeds

2

tsp

ground ginger

1

TBS

brown sugar

3

TBS

lime juice
Instructions
Lay hens skin side down in glass dish. Prick each several times with a fork. In blender or food processor, blend all above ingredients until smooth, about 1 minute.

Place hens in a ziplock bag (you can double bag), pour marinade over, seal bag and refrigerate 6-24 hrs, turning occasionally.

Transfer hens to a 9×13 baking dish, single layer, skin side up. Reserve marinade.

Roast at 400 for 1 hour. Baste with marinade every 15 minutes.

Serve right away!
More recipes: Cranberry BBQ Sauce Cornish Hens [Nutmeg Nanny], Coca Cola Glazed Cornish Hens [Grandbaby Cakes], and Pineapple and Brownsugar Cornish Hens [Big Bear's Wife].