Asparagus & Shaved Parmesan for Easter Brunch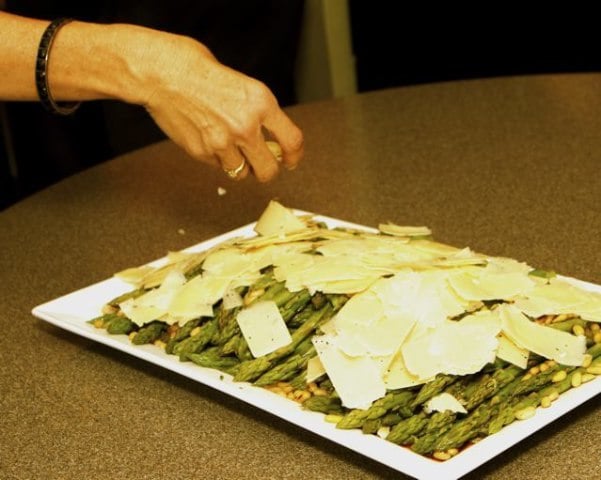 A few weeks ago, when the 'Meyer Lemon' was the rave on blogs and in the grocery stores, I bought some and used them in a variety of delicious recipes. I will say that they are superior in flavor, so now when they're available in the stores, I'll be buying them for sure.
A very tasty side dish for Easter is asparagus.
At least for my Easter menu this year, it will be one of the highlights of our meal.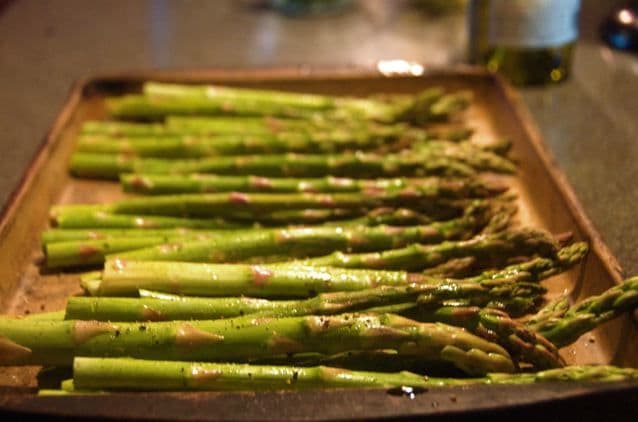 A few months ago, I was surfing around online, and I ordered a collection of older Williams-Sonoma classic cookbooks from Amazon. For under $2 each, I now have a classy set that I resort to when I have a certain ingredient that I want to use in the kitchen, because I know the recipes are tried and true. Sort of like I do with my Cook's Illustrated thick, very-used book.
I'm dying to try Shallots in Red Wine Sauce as a side dish, but what I'm sharing today, just in time for Easter, is Roasted Asparagus.
Roasted Asparagus with Shaved Parmesan
2 bunches (2 lb.) asparagus, trimmed and peeled
2 Tbsp. dry white wine or dry vermouth
Salt and freshly ground pepper
3 Tbsp. olive oil
Juice of 1/2 lemon
Toasted pine nuts and balsamic vinegar (optional as a last "touch")
Preheat the oven to 450. In a large shallow pan, toss together the asparagus, wine, salt and pepper to taste, and add the olive oil until the asparagus is coated.
Roast the asparagus until the spears are browned in spots and are just tender-crisp, about 10 minutes. Do not over cook.
Transfer the asparagus to a platter and drizzle with the lemon juice (Meyers Lemons are the best!) to taste. Then, using a cheese shaver, a vegetable peeler, or a paring knife, shave 1-2 oz. Parmesan over the asparagus.
Serve at once!

Don't you love the vegetable peeler trick? Also, did you know that Costco now sells shaved Parmesan cheese?
What's your favorite way to prepare asparagus? And will you be serving it for Easter this Sunday?