Fresh Vanilla Fruit Salad Recipe
For summer entertaining, make a spin on the regular fresh fruit salad with a couple fun ingredients, to serve a Vanilla Fruit Salad Recipe.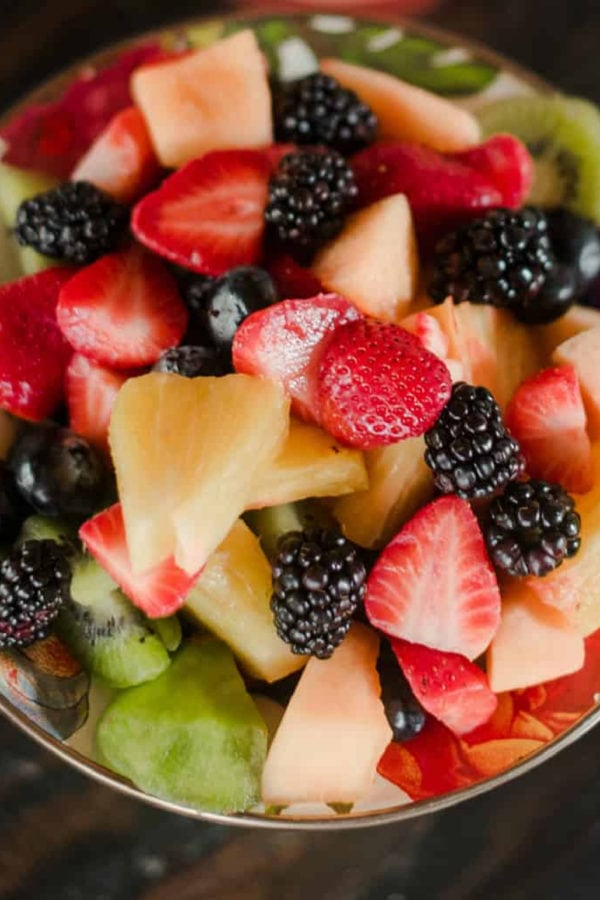 One thing I love about Easter is pulling out traditional recipes, setting up a buffet, and inviting a group over for brunch or dinner. Last year was small for everyone, and this year will be small since we'll just be rolling back into town. But we will still serve Easter dinner. On the menu? This easy Vanilla Fruit Salad Recipe.
Fresh Vanilla Fruit Salad Recipe
Each year we do "Easter" differently–inviting new friends, changing it up with a different menu–and how we serve the food buffet-style versus a sit-down dinner.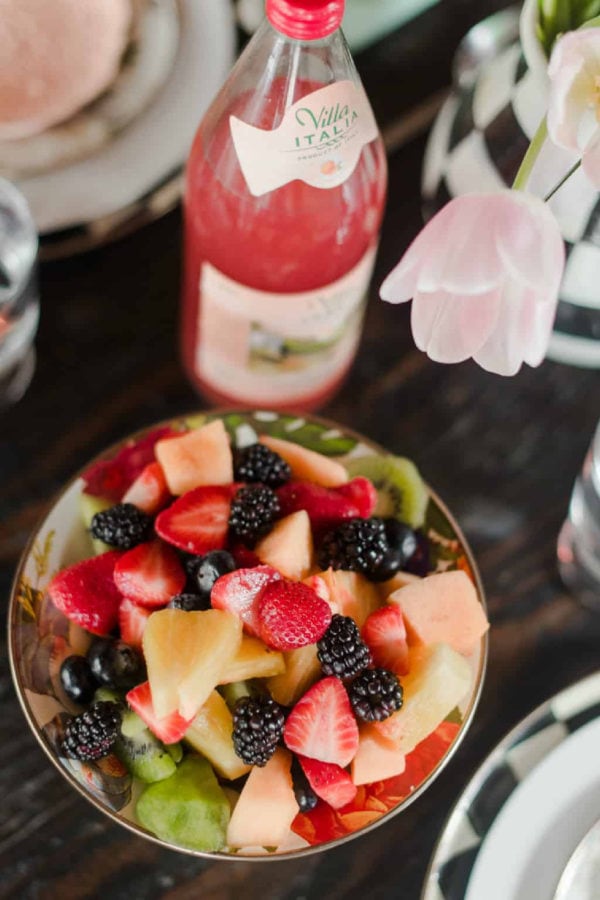 Ingredients for Vanilla Fruit Salad Recipe
Strawberries, halved
Blueberries
Blackberries
Pineapple chunks
Cantaloupe chunks
Kiwis, peeled and sliced
Confectioners' sugar (powdered sugar)
Vanilla extract
Variation to this salad:
Use raspberry or lemon extract in place of the vanilla.
Also, optional to serve a salad board, or any kind of food board. This salad would be delicious in the middle of this Epic Hot Dog Board or Epic Sandwich Charcuterie Board.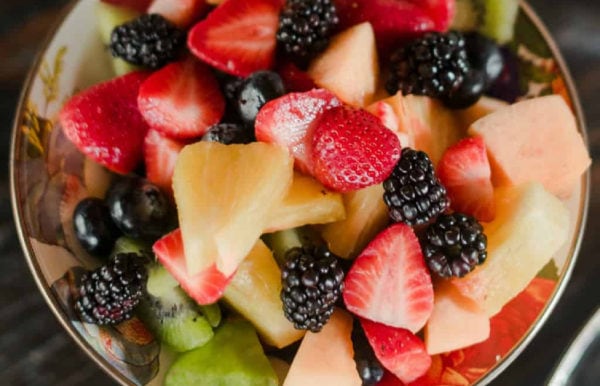 You may even like this Prawns Mango Avocado Salad (the dressing is so good!)!
Or, serve a salad on a board this year:
Apple Wedge Salad Board Recipe
Epic Shrimp Louis Salad Board (with dinner rolls)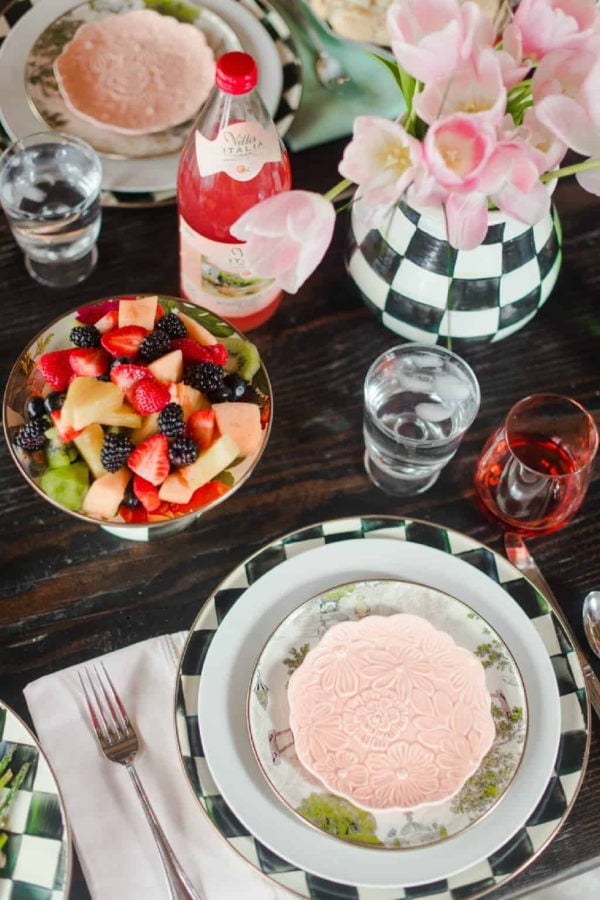 How to set up an Easter buffet
Here are tips if you want to set up a buffet this year:
Use your favorite dishes–mine are white. But if you have a variety of colors, mix and match the colors! Do you love Mackenzie-Childs Royal Check dishes or Mackenzie-Child Courtley Check pattern? (hand raised!)
Depending on your counter or serving space, spread the different dishes out, or create a serving line where your guests can quickly fill their plates.
You can stack books or turn serving bowls over to add height, but I use different sized pedestals to put serving bowls on.
Each year, make it unique and different for the season! Make it your style, not someone else's!
Serve the food on a board!
A perfect spread is not what people are looking for. Good food? Hopefully.
But remember, don't worry if there's a food goof-up. It happens to all of us (hand raised)!
A good time? Love and authenticity? Yes, yes, and yes!
Those are what really create a desirable atmosphere.
One thing we always serve for Easter brunch: a refreshing fruit salad!
And who says you can't put your guests to work in the kitchen, especially in making a fresh fruit salad?
Today's recipe I think you will love, especially with the hint of vanilla! ENJOY!
Delicious Easter menu: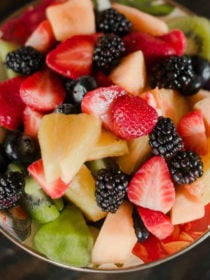 Get the Recipe: Vanilla Fruit Salad Recipe
Refreshing Vanilla Fruit Salad is welcome anytime -- serve at brunch, at dessert or snack time, or bring to a potluck.
Ingredients
2 cups strawberries, halved
1 cup blueberries
1 cup fresh blackberries
1 cup fresh or canned pineapple chunks
1 cup cantaloupe chunks
2 kiwis, peeled and sliced
¼ cup confectioners' sugar
2 teaspoons vanilla extract
Instructions
In a small bowl, mix the powdered sugar and vanilla. Add a tad bit of water if needed.

Place the sliced fruit in a bowl and pour the sweet dressing on top. Gently mix together.

Refrigerate 1 hour or until ready to serve.
Notes
originally posted MAR 2018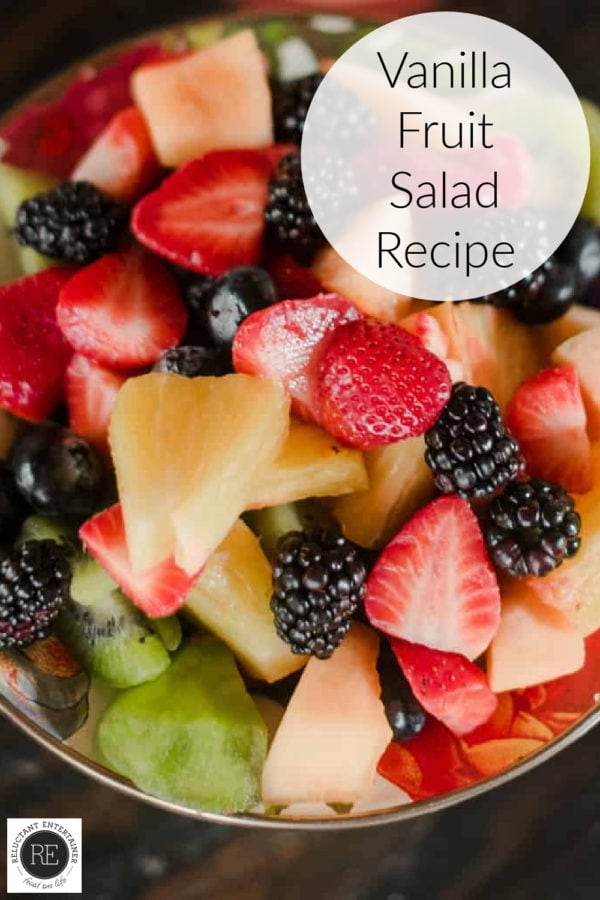 Hello and welcome to my home and table!
I'm Sandy—lover of food, family, cooking, THE BIG BOARD, travel, and bringing people together. Through great recipes and connection around the table, we become better, stronger, and more courageous people. Feasting on Life is real, and every time we do it, we grow a little more. Read more...