Carrot Cake with Cream Cheese Frosting
Enjoy moist, delicious Carrot Cake with Cream Cheese Frosting, a classic cake recipe served with an ultra-creamy frosting on the side.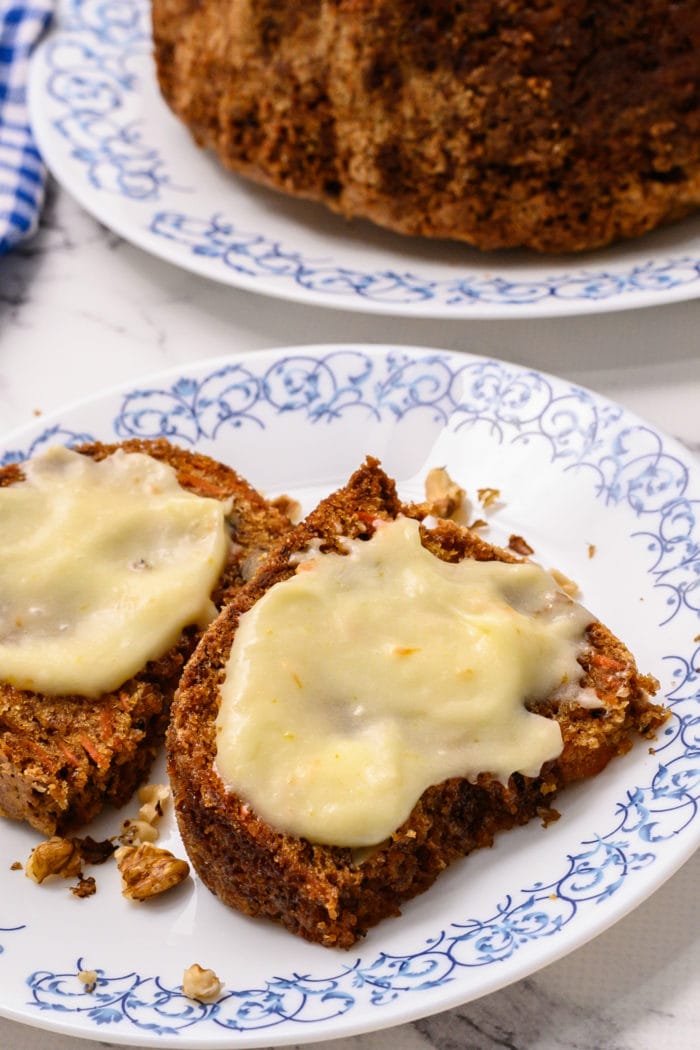 What does Carrot Cake taste like? So delicious, this carrot cake cake sets the standard for carrot cakes everywhere. It's filled with walnuts, but you can also use toasted pecans. The rich flavors come from brown sugar, cinnamon, nutmeg, and the carrots.
Carrot Cake with Cream Cheese Frosting
You will love this incredibly moist and easy carrot cake recipe with ultra-creamy cream cheese frosting! This recipe serves 8-12! Or, if you're a cream cheese frosting lover, you may want to try my Banana Walnut Cake with Cream Cheese Frosting Recipe. Or, one of our most popular recipes on RE is this Pineapple Coconut Cake with Cream Cheese Frosting (no oil or butter in the cake).
Ingredients for moist Carrot Cake
Flour
Cinnamon + nutmeg
Baking soda + baking powder + salt
Canola oil
Sugar + eggs
Vanilla
Grated carrots
Walnuts, chopped (optional)
Why is there no butter in carrot cake?
This cake is not butter-based, but rather it's an oil-based cake. The oil keeps it moist and helps it last for days. For this recipe we use canola oil.
Do I need to peel my carrots for carrot cake?
For easy making, use already shredded carrots. I buy mine at Trader Joe's.
The skin can be bitter, so, YES, you want to peel the carrots before shredding them for the best flavor.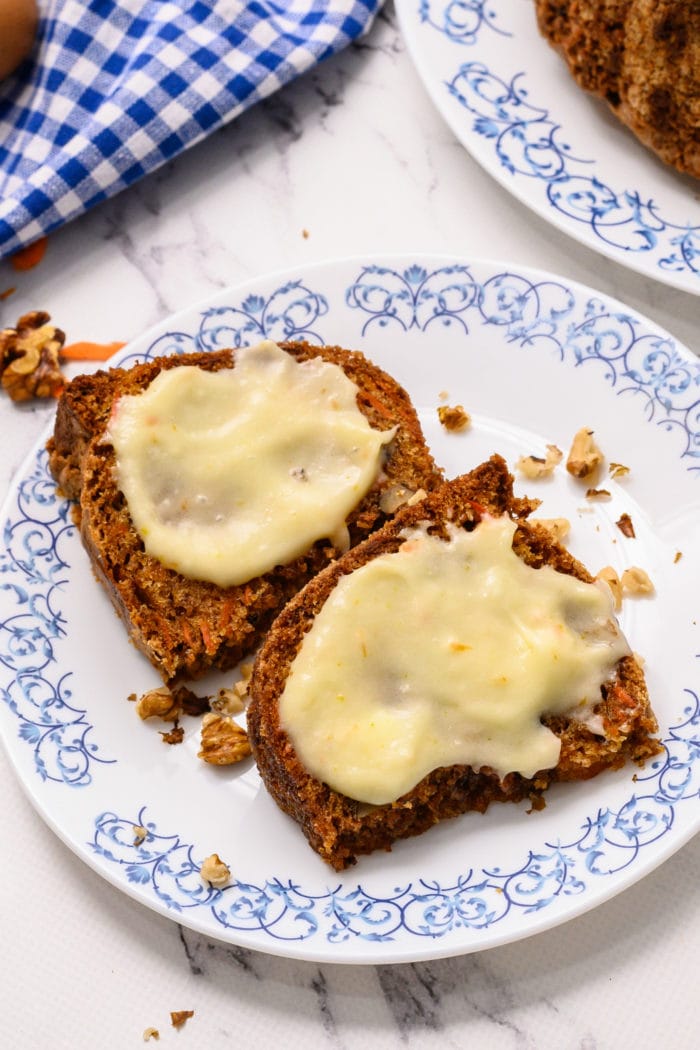 La Pomme de Portland
This recipe is from my friend Carrie Minn's beautiful cookbook, La Pomme de Portland: A Collection of Stories and Recipes Drawn from the Seasons of Food and Life (A collection of stories and recipes drawn from the seasons of food & life).
Carrie lives in Portland and has been a friend of mine for many years.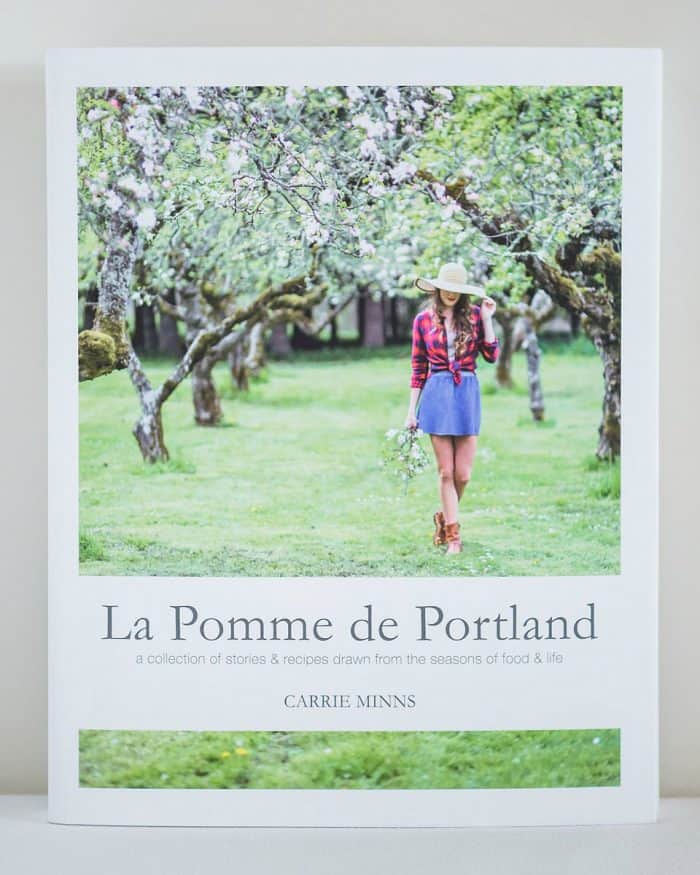 Why is the Cream Cheese Frosting so good?
Carrie recommends serving this cake deconstructed, with the cream cheese frosting on the side. Like butter.
Slice, spread the frosting on the plate next to the cake. Like butter.
Take your fork and dig in.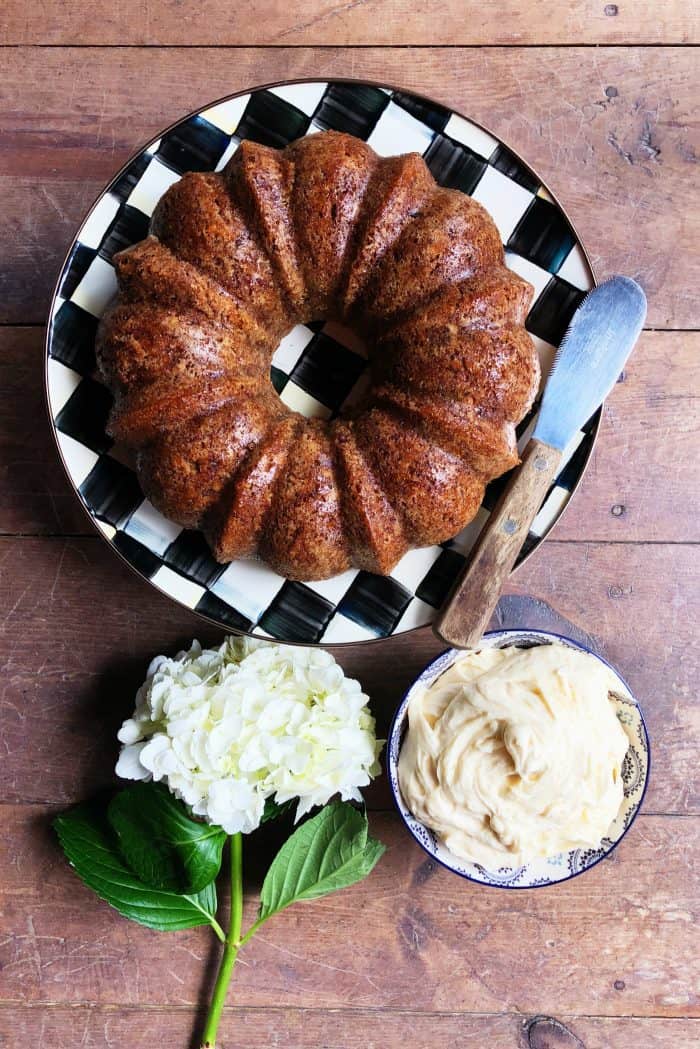 Cream cheese frosting
Butter
Cream cheese
Confectioner's sugar
Vanilla
Orange or blood orange zest
Optional to add big chunks of chopped walnuts.
Enjoy this amazing cake for spring, Easter, or any gathering! Thank you, Carrie!
I promise, you won't be disappointed!
More desserts to try:
Bake a Cake: Root Beer Float Cake
Strawberry Shortcake Cake Roll
Cezerye (Turkish Carrot Dessert)
Get the Recipe: Carrot Cake with Cream Cheese Frosting
Ingredients
2¼ cups flour
1½ teaspoon cinnamon
½ teaspoon nutmeg
1 teaspoon baking soda
1 teaspoon baking powder
½ teaspoon salt
1 cup canola oil
2 cups sugar
4 eggs
1 teaspoon vanilla
3 cups grated carrots
1 cup walnuts, chopped (optional)
For the Frosting:
1 cup butter, softened
1 8 oz. package cream cheese, softened
1 16 oz. box of confectioner's sugar, about 4 cups
1 teaspoon vanilla
2 Tbsp. orange, or blood orange zest
Instructions
Preheat oven to 350°F. Grease a 10-inch Bundt pan.

In a medium bowl, stir together your flour, cinnamon, nutmeg, baking soda, baking powder, and salt; set aside.

In a large mixing bowl, beat the oil, sugar, eggs, and vanilla for about a minute. Pour in the flour mixture and mix on low until just combined. Add in the carrots and nuts (optional). Pour batter into your prepared Bundt pan and bake for 45-60 minutes or until a toothpick inserted in the middle comes out clean.

Place on a cooling rack and let cool completely before removing from pan.

While cake is baking, whip together the frosting ingredients—butter, cream cheese, confectioner's sugar, vanilla, and orange zest—until smooth and creamy. Refrigerate frosting when not using.

Once cake is cooled and removed from pan, dust lightly with confectioner's sugar. Slice and serve with cream cheese frosting on the side. Enjoy!
Notes
reposted from May 2018
Hello and welcome to my home and table!
I'm Sandy—lover of food, family, cooking, THE BIG BOARD, travel, and bringing people together. Through great recipes and connection around the table, we become better, stronger, and more courageous people. Feasting on Life is real, and every time we do it, we grow a little more. Read more...