Epic Mini Chicken Taco Board
Enjoy an Epic Mini Chicken Taco Board served on The Big Board with all your favorite toppings and dips! Happy National Chip and Dip Day!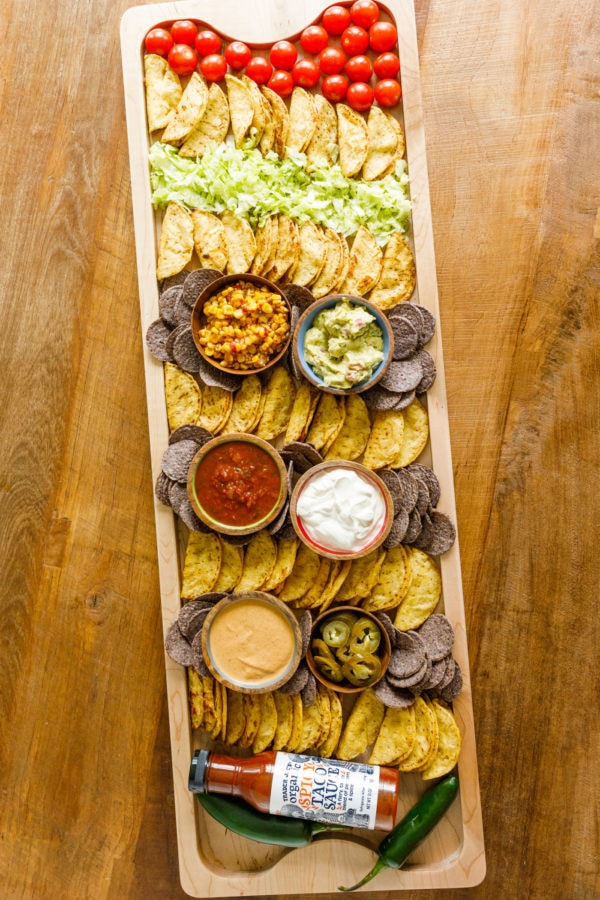 Friends, Happy Taco Tuesday!
Here's a fun Epic Mini Chicken Taco Board to make on the new 12 x 36-inch long Big Board (which I love)—perfect for Taco Tuesday. [Keep reading for all the board options to buy!]
Epic Mini Chicken Taco Board
We love tacos any day of the week though, and a taco board is fun to make for company! This recipe today serves about ten people, but that can vary, depending on whether you want it to be an appetizer board or a meal. For a big crowd, you may even love my popular Easy Taco Recipe Dinner Board (on the round board) or this Easy Pork Carnitas Taco Board.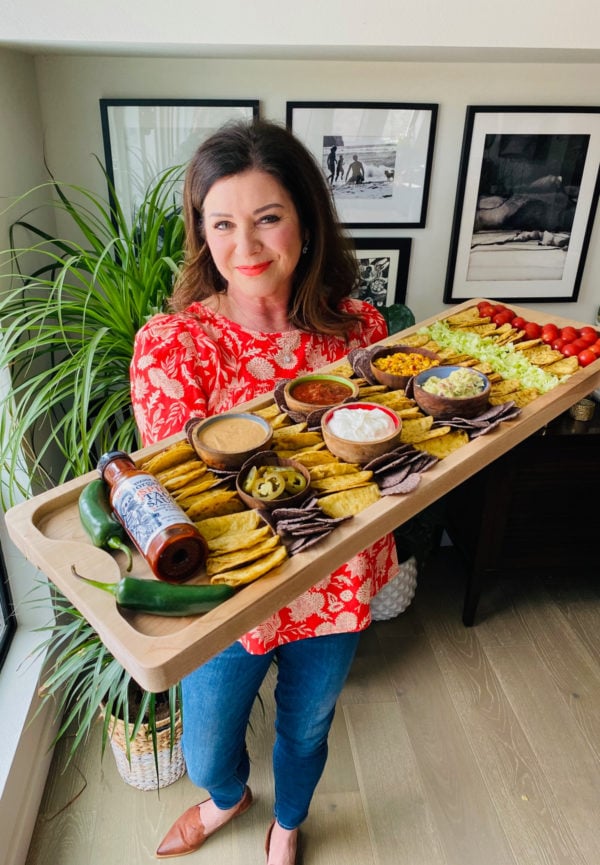 Taco Board ingredients
Enjoy this casual Mini Chicken Taco Board this week. You can buy everything at Trader Joe's … ready, set, go!
All you need for this board is this list of ingredients.
Trader Joe's Mini Chicken Tacos (bake and serve!)
Guacamole
Sour cream
Salsa
Bitchin' Sauce
Sliced jalapeno peppers
Cherry tomatoes
Chopped lettuce
Whole jalapeños
Trader Joe's Spicy Taco Sauce
Blue corn chips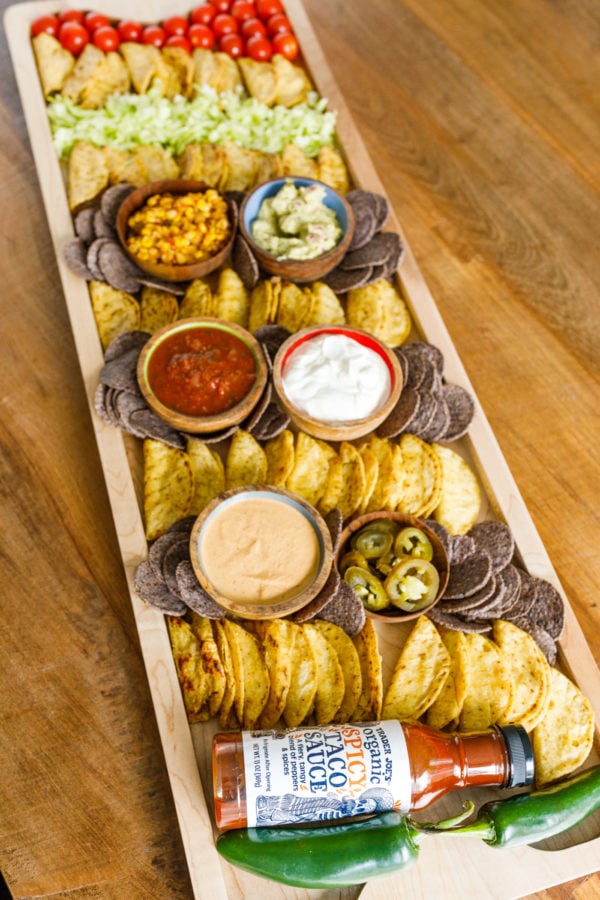 What's your hosting style?
I know, so many of us are just waiting to be able to host again. Truly I believe great entertaining is all about "blessing" people–whatever your style, type of cook that you are, design of your house, how many kids you have running around, whether you're an empty-nester, etc.
So, what's your style … casual like mine? Boards can be are casual, which is why I love them. But boards can be used if you're more formal too!
Taco boards are exceptionally good on the weekends, too!
Taco Tuesday Epic Fish Taco Board
How to keep the tacos hot?
Bake the tacos and keep warm in the oven.
On the board, leave space for the serving plate, and build around it (whilel the tacos are baking or staying warm in the oven).
Right before serving, place the hot plate of tacos in the center of the board (on a hot pad) and SERVE!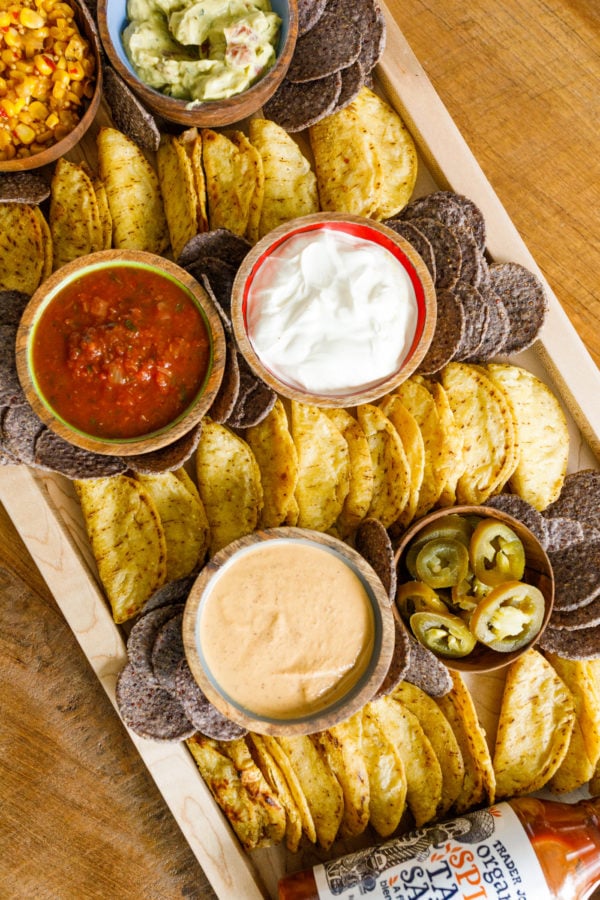 What to serve with a Mini Chicken Taco Board?
If you're feeding a crowd, you can always serve a side of rice and beans, or extra tortillas, and even a couple of enchilada casseroles.
Green Enchilada Chicken Bake Casserole
Stuffed Poblano Peppers with Spanish Style Rice
Trader Joe's Red Sauce Enchiladas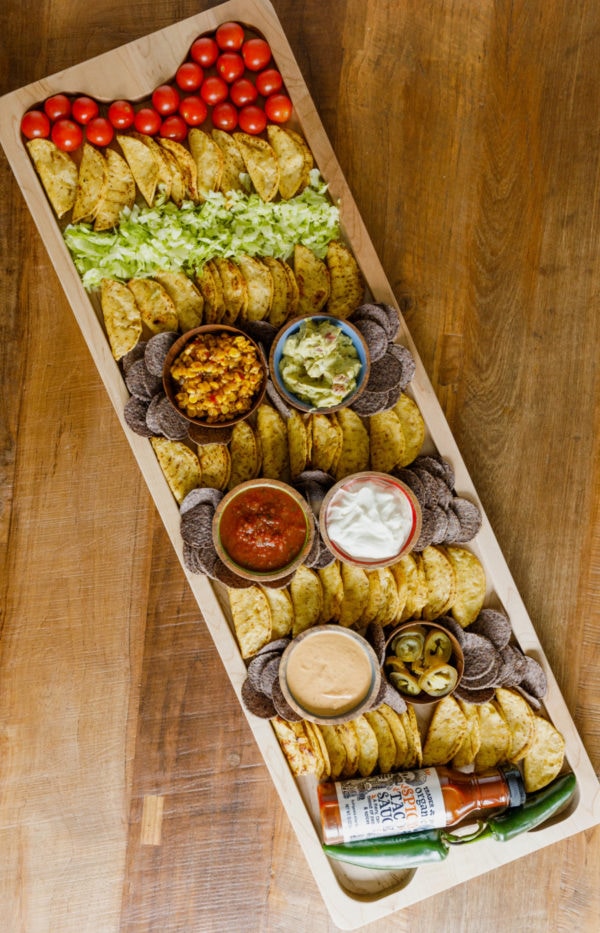 Entertaining is simply about hosting guests in a delicious and loving way. It's about spending time with, and taking care of, people. I love how mature that sounds. It's nothing to take lightly. Hosting is a gift you can give to others! I'm so gad that we'll be able to host larger groups again very soon, and I can't wait. You, too?
For now, talk it over with your family, decide who to invite over, who you want to get to know better, and plan a get-together!
Pull out The Big Board and make it fun for your people! Also, don't forget tacos are FUN to serve on a Lazy Susan Board, too!
Friends, The Big Board® is here! Yes, I've partnered with JK Adams, the premier woodmaking company in Vermont, with my own line of RE boards!
20-inch round, maple
26-inch round, maple
12 x 36-inch maple
NEW 12 x 24-inch maple
23-inch Lazy Susan
26-inch ebonized BLACK, cherry
12 x 36-inch ebonized BLACK, cherry
A board with a lip (or raised edged) so the food doesn't fall off
FOOD SAFE
Made in the USA
Undercut handles (a unique design)
Thank you for your support, as we've sold out so many times already!
Order The Big Board® today!
Get the Recipe: Mini Chicken Taco Board
Served on the 12 x 36-inch board
Ingredients
2 boxes Trader Joe's Mini Chicken Tacos
¾ cup guacamole
¾ cup sour cream
¾ cup salsa
¾ cup Bitchin' Sauce
¾ cup sliced jalapeno peppers
10 oz cherry tomatoes
2 cups chopped lettuce
2 whole jalapeños, for garnish
1 bottle Trader Joe's Spicy Taco Sauce
6 oz blue corn chips
Instructions
Preheat oven to 450 degrees. Bake the tacos according to package directions, 6-8 minutes.

On a large board or serving tray, leave room for the hot tacos. In small bowls, place all the dips and sauces. Arrange on the board.

Fill in open areas with lettuce, tomatoes, etc. and chips.

Serve with your favorite taco sauce and dips!
Hello and welcome to my home and table!
I'm Sandy—lover of food, family, cooking, THE BIG BOARD, travel, and bringing people together. Through great recipes and connection around the table, we become better, stronger, and more courageous people. Feasting on Life is real, and every time we do it, we grow a little more. Read more...