Green Enchilada Chicken Bake Casserole
Enjoy this Green Enchilada Chicken Bake Casserole, an easy crowd-pleasing delicious weeknight meal, potluck or party dish! This post has been updated with new photography!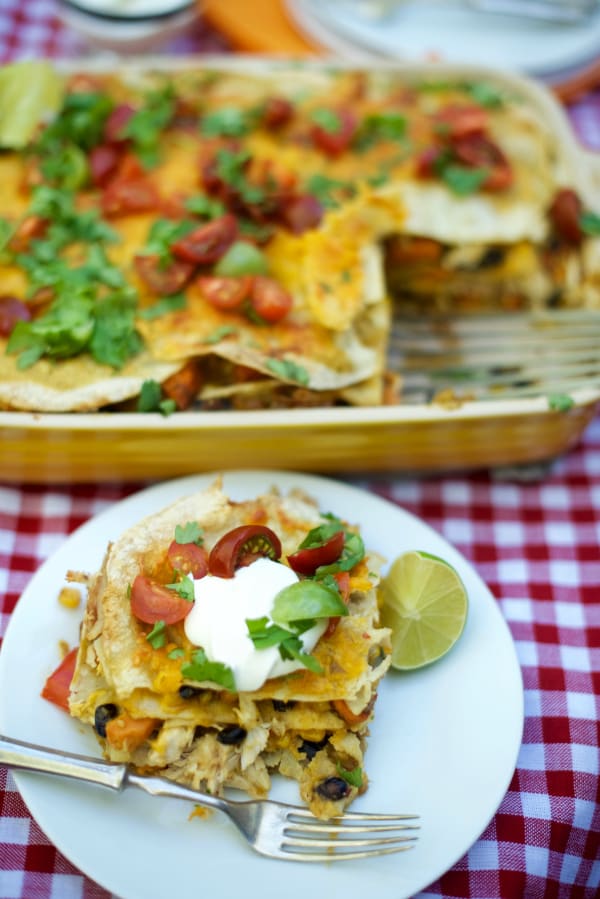 Recently my husband and I visited our friend, Heidi, and her family in Salt Lake City. They hosted a dinner party for us and other friends. The highlight of the trip was staying with Heidi's family!
Seeing her in action, in her own kitchen–full-swing hostess-with-the-mostess–making this incredible dish and recipe that I'm sharing today, Green Enchilada Chicken Bake Casserole.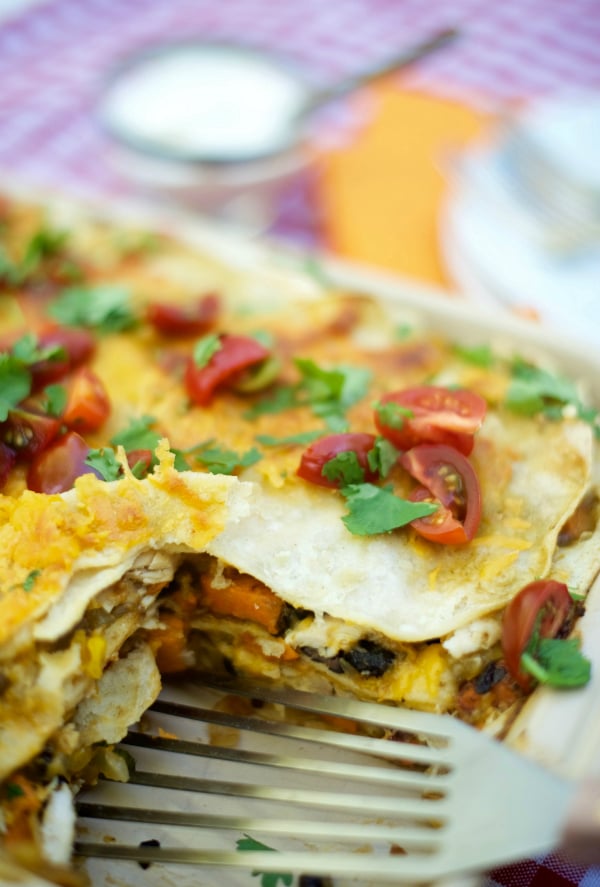 A Mexican potluck is one of the easiest ways to entertain. Everyone brings a dish, you make one giant main dish, set out the drinks, chips, salsa … and everyone digs in!
Green Enchilada Chicken Bake Casserole
This Green Enchilada Chicken Bake Casserole is so good. Since this party, I've doubled the recipe several times, tossing in the oven to bake before a large group came for dinner. It's the ultimate "potluck" bake!
Shredded chicken, black beans, cheese, sweet potatoes (love sweet potatoes in a Mexican casserole).
By the end of our 4-day stay, I knew Heidi's kitchen well. Where to find the coffee (very important), silverware, dishes, knives, cutting boards … and the fridge? Well, we helped ourselves to leftovers several times.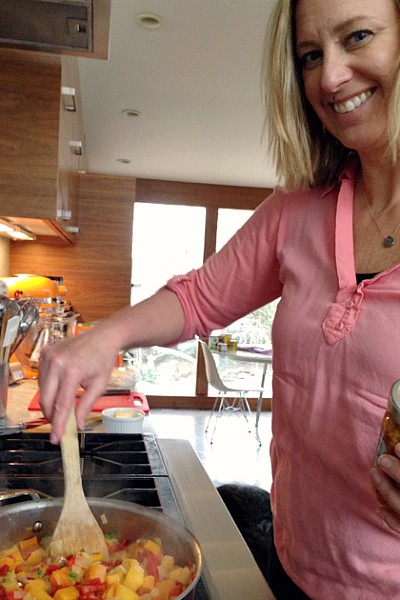 And knew how to find something yummy to munch on for a good snack. It's fun when you're a guest in a home where they really welcome you into their kitchen!
I want to say a few things about hospitality, and out-of-town guests. If you're in an entertaining slump, hospitality is remarkable and can really pull you out of that rut. It really can.
Here are 6 Hospitality Tips for Planning a Dinner Party:
1. Get ORGANIZED: It makes you get organized, tidy up, and plan out a menu or two. It gets your mind off of yourself and on to others, thinking about their needs and what they would like. Heidi and Jeff were so hospitable, always making sure we had everything we needed.
2. Bring PEOPLE together: Think of mutual friends of your guests, and invite them all for a meal one night. Try potluck if the meal is too overwhelming for you.
3. Think about WHY: Think about why you are opening your home. It's the perfect time to dive into the lives of your guests, getting to know them better. Ask questions about their past, families, what makes them happy, what makes them sad. Find value in others and what makes them unique in this world. One night the 4 of us sat up until 1 am talking about our extended families, our trip to Ireland, our pasts and present lives. It's awesome to get to know new friends!
4. Think about HOW: Think about how you can involve your guests and make the time together fun. These days everyone seems to expect "potluck." Ask your guests to bring a dish, set it out, and dig in!
5. Think about WHERE: Think about planning an easy buffet-meal for a small dinner party. With a buffet, the guests can mingle—stand or sit— so make sure and have your table ready. Just have a stack of dishes ready!
When's the last time you hosted people in your home and planned a small dinner party for out-of-town guests?
Get the Recipe: Green Enchilada Chicken Bake Casserole
Ingredients
4 T. olive oil, divided
2 medium sweet potatoes, peeled and diced
1 red pepper, diced
1 medium onion, diced
½ 6 oz jar Corn and Chili Salsa from Trader Joe's, or 1 cup drained corn
1 tsp. chili powder
1 T. cumin
salt and pepper to taste
1 jalapeño, finely chopped
1 15 oz can black beans, drained
2 dozen corn tortillas
4 cups precooked chicken, shredded
1 28 oz can mild green chili enchilada sauce, or 2 small cans
2 cups grated sharp Cheddar cheese
2 cups grated Jack cheese
lime, cut in small wedges for garnish
fresh cilantro, finely chopped
sour cream, for garnish
small cherry tomatoes, halved, for garnish
Instructions
Preheat oven to 375F. Spray a 9-inch x 13-inch casserole dish with non-stick spray.

Heat 3 tbsp oil in large pan sauté sweet potato on medium/low until tender (about 15-20 minutes). In separate pan, heat 1 tbsp oil and saute onion and red pepper for about 5 minutes. Mix in the half jar of corn salsa, spices, salt and pepper to taste, and finely chopped jalapeño. Add in drained beans and sweet potato.

Wrap a dozen corn tortillas in a moist paper towel and microwave for 1 minute to soften. Repeat again with the other 12 tortillas.

Shred the chicken into bite-sized pieces; set aside.

Layer 6 tortillas into the bottom of the casserole dish, arranging them so the whole surface is covered as much as you can. Over that make a layer of the vegetable mixture, 1/3 of the chicken, and 1/3 of the cheese. Drizzle with green enchilada sauce. Repeat the process 2 more times, ending with the rest of the sauce and cheese on top.

Bake uncovered until the casserole is bubbling and cheese is melted and browning on top, about 40 minutes. Let sit about 5 minutes before serving hot.

Serve with sour cream, tomatoes, chopped cilantro, and a wedge of lime.
Mexican Potluck MENU: Mexican Rice Salad [RE], Mexican Flan Cake [RE], Shrimp Guacamole Bites [Well Plated], Watermelon Feta Guacamole Recipe [Two Peas and Their Pod], Mexican Street Corn Pasta Salad [Chelsea's Messy Apron].
SaveSaveSaveSaveSaveSaveSaveSave
SaveSave
SaveSave
SaveSave
Hello and welcome to my home and table!
I'm Sandy—lover of food, family, cooking, THE BIG BOARD, travel, and bringing people together. Through great recipes and connection around the table, we become better, stronger, and more courageous people. Feasting on Life is real, and every time we do it, we grow a little more. Read more...