Salmon Taco Board Recipe
Enjoy a salmon taco with fresh peach and cherry salsa for a delicious summer meal. Serve a Salmon Taco Board Recipe at your next gathering!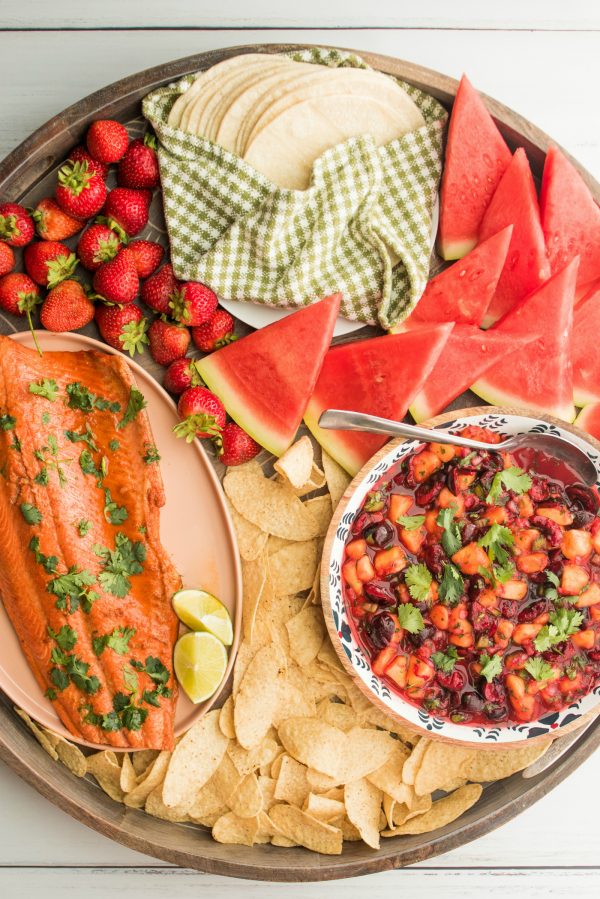 We love barbecuing salmon in late summer months, and leftover salmon is delicious on tacos! If you haven't tried my Garlic Honey Lime Salmon, it's a super easy and delicious recipe.
Salmon Taco Board Recipe
Flake it with a fork and serve for tacos! Better yet, serve it on a dinner board where everyone makes their own tacos!
With this salmon, we put together a salmon taco board, with a homemade cherry and peach salsa! I love the "kick" in this sweet and spicy salsa, too. So good. Or, you can try my Fresh Peach Salsa with Mint.
Taco Thursday Recipes
What is Taco Thursday? I know, almost any day can be a taco day! Especially when you love tacos like our family does.
Here are some other taco recipes we've enjoyed:
Crunchy Black Bean Mozzarella Tacos (vegetarian)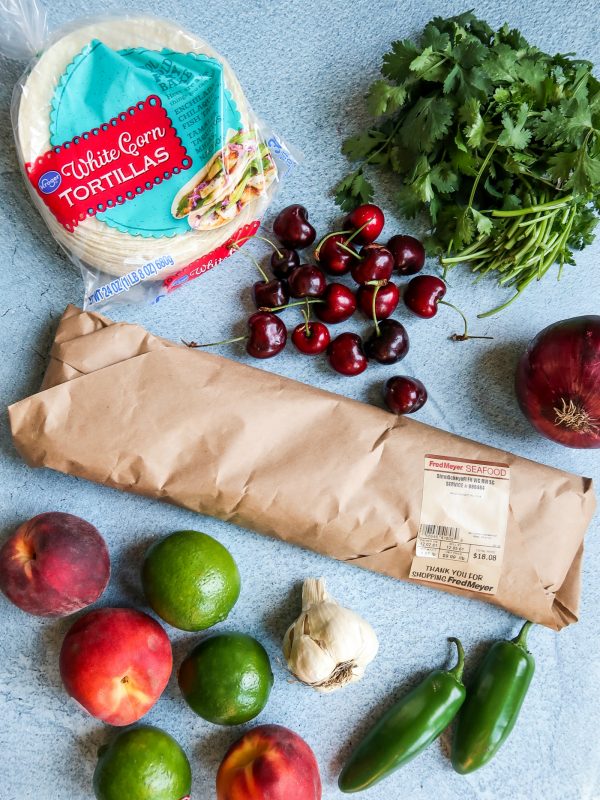 Ingredients for Salmon Taco Board
On this board today we served homemade peach and cherry salsa, and tacos with leftover Fresh Wild Sockeye Salmon.
White corn tortillas
Watermelon
Strawberries
Tortilla chips
Lime wedges for serving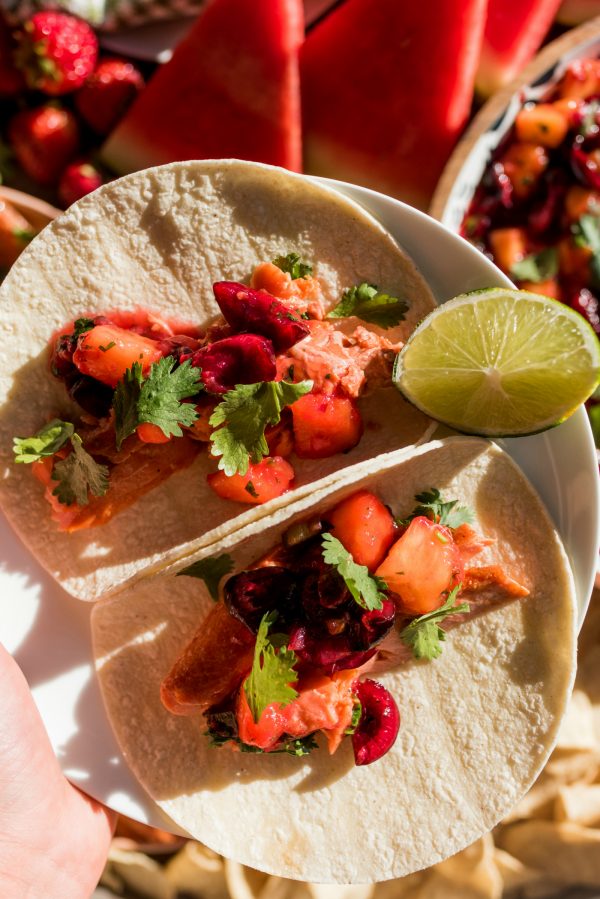 I'm so happy, even though the climate of our world is troubled, we can still celebrate the little moments with some great food!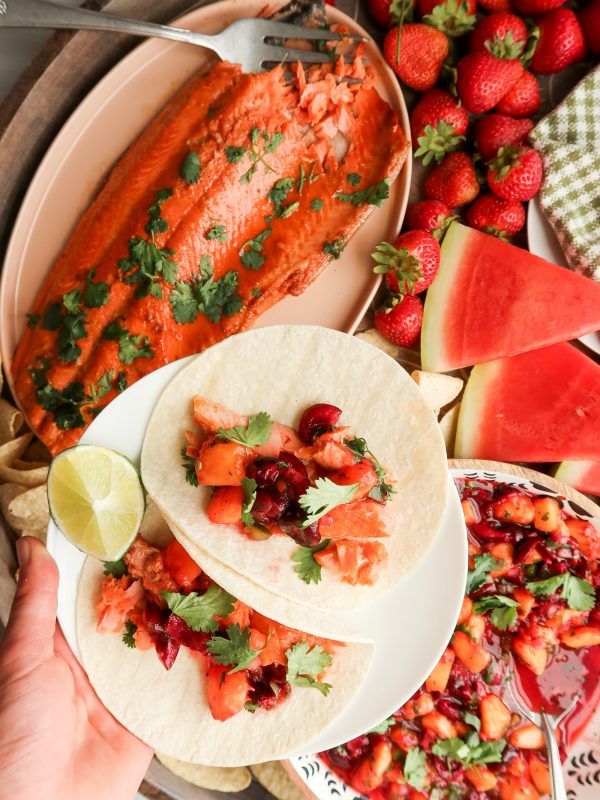 Be watching for my "pre-order" links soon!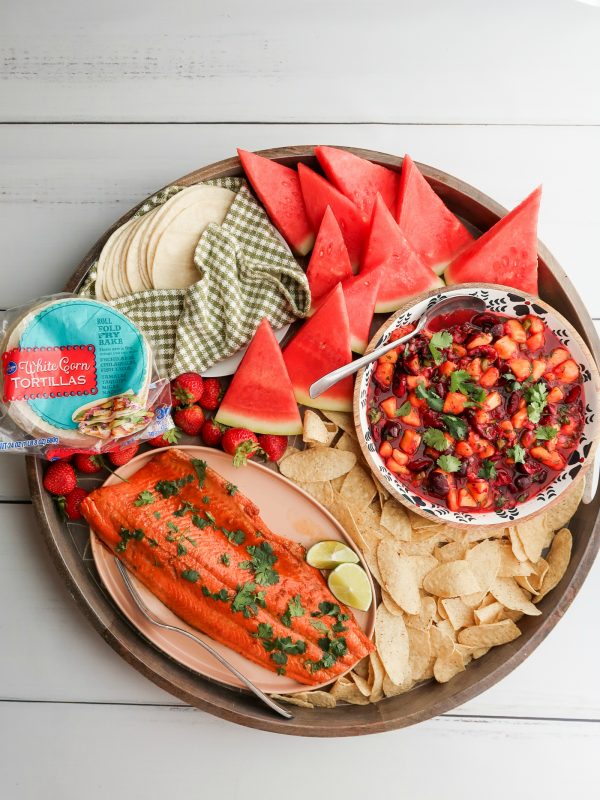 How to make a Salmon Taco Board
Just look at this grilled salmon and homemade cherry & peach salsa!
Heat the tortillas and wrap in a cloth, and get ready for the best tacos!
Take a fork and flake the salmon for grilled salmon tacos! ENJOY the best summer meal!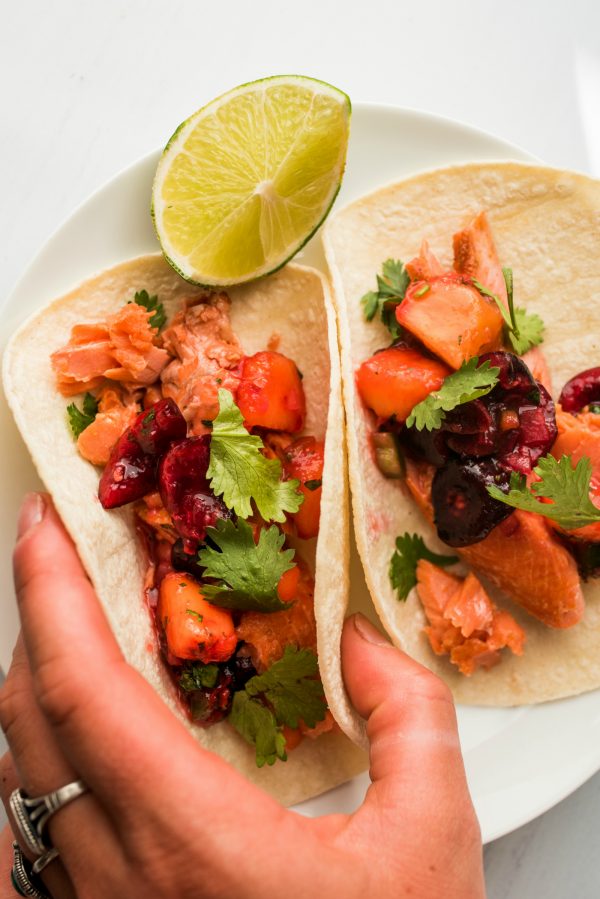 Now more than ever, I savor those moments when I purposely make a wholesome meal for my family.
My soul needs this time to connect and listen, and talk about the day! Happy Thursday!
Friends, The Big Board is here! Yes, I've partnered with JK Adams, the premier woodmaking company in Vermont, with my own line of RE boards!
20-inch
26-inch
12 x 36-inch
23-inch Lazy Susan
A board with a lip (or raised edged) so the food doesn't fall off
FOOD SAFE
Made in the USA
Undercut handles (a unique design)
Thank you for your support, as we've sold out so many times already!
Order The Big Board today!
Get the Recipe: Salmon Taco Board Recipe
Ingredients
Garlic Honey Lime Salmon Fillet, cooked
Cherry Peach Salsa
12 oz white corn tortillas
1 small watermelon, cut into wedges
1 c strawberries
8 oz tortilla chips
Lime wedges for serving
Instructions
On a prepared board, place the cooked salmon fillet.

Make the peach and cherry salsa and place in a bowl on the board.

Heat the tortillas and wrap in a cloth. Arrange fruit around the salmon, tortillas and salsa.

Optional to add more ingredients like sour cream, hot sauce, cilantro, etc.

Take a fork and flake the salmon for grilled salmon tacos!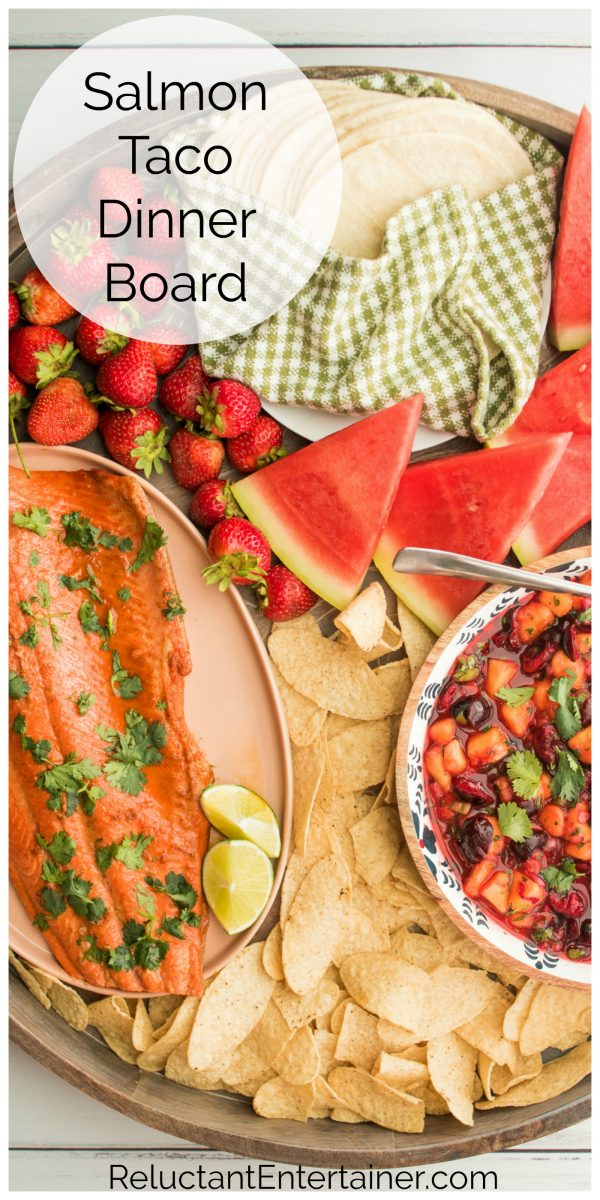 Hello and welcome to my home and table!
I'm Sandy—lover of food, family, cooking, THE BIG BOARD, travel, and bringing people together. Through great recipes and connection around the table, we become better, stronger, and more courageous people. Feasting on Life is real, and every time we do it, we grow a little more. Read more...