Crunchy Black Bean Mozzarella Tacos
Enjoy vegetarian Crunchy Black Bean Mozzarella Tacos on a crispy open-face tortilla, soft enough to fold. Broil and serve with your favorite taco toppings!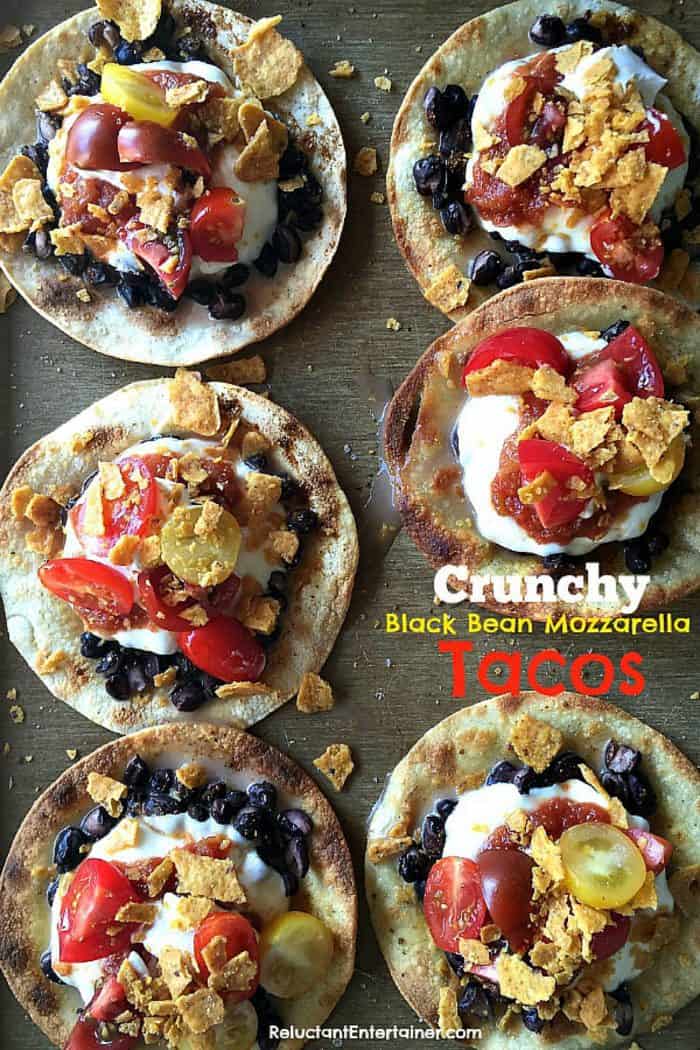 Enjoy an easy weeknight meal, these vegetarian Crunchy Black Bean Mozzarella Tacos for a light dinner! Plus today I'm sharing a few thoughts on cell phone etiquette around the table! You may also love this super fun hosting idea: Crunchy Breaded Fish Sticks Taco Board.
Black Bean Mozzarella Tacos
taco shells
olive oil
black beans
lime
cumin
salt and pepper
slices fresh Mozzarella cheese
salsa
plum tomatoes seeded and chopped
tortilla chips crunched for the topping

How to fry corn tortillas
If you want to learn How to Fry Corn Tortillas for Tasty Soft Tacos, it's a simple process! Cook a tiny bit longer for the "crunch" for these tasty tacos!
Bake and serve with a side of Mexican Rice Salad or Cucumber Tomato Avocado Salad with fresh cilantro!
Crunchy Black Bean Mozzarella Tacos
Not a lot, except when I put these pictures on Instagram a while back, everyone went crazy asking for the recipe!
It's a new way of making tacos for us. Cooking the tortillas in the pan (the method I grew up with), but then doing a final "broil" to melt the cheese and make the taco soft, gooey, bendable, yet still crunchy, and delicious.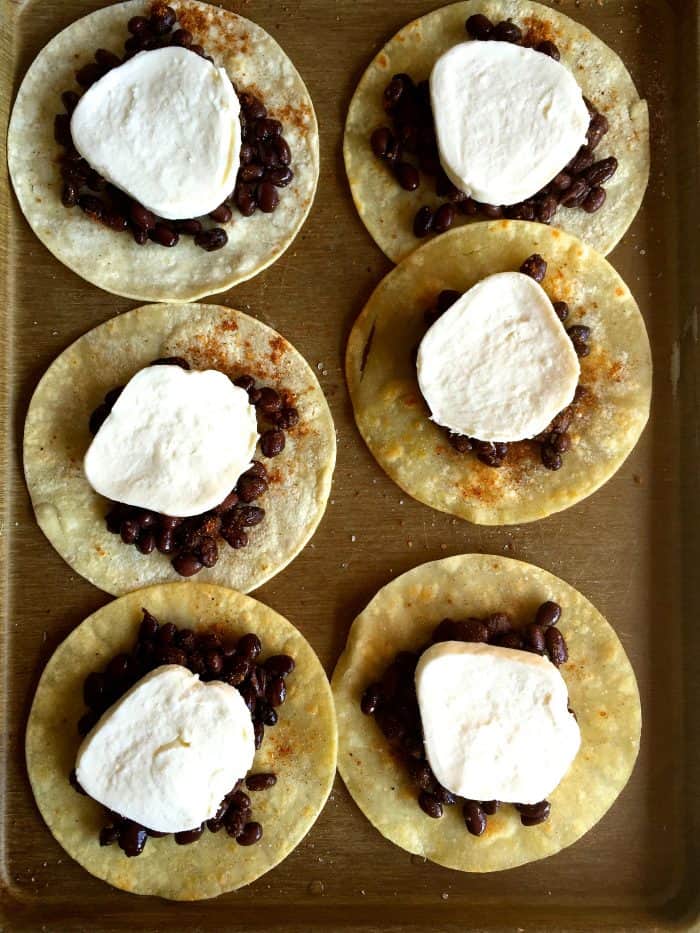 Make 2 baking sheets at a time
What I love about this method is you can prepare several large baking sheets of tacos (when cooking for a crowd), then pop them in the oven under the broiler for a few minutes, and you'll have dinner on the table in no time!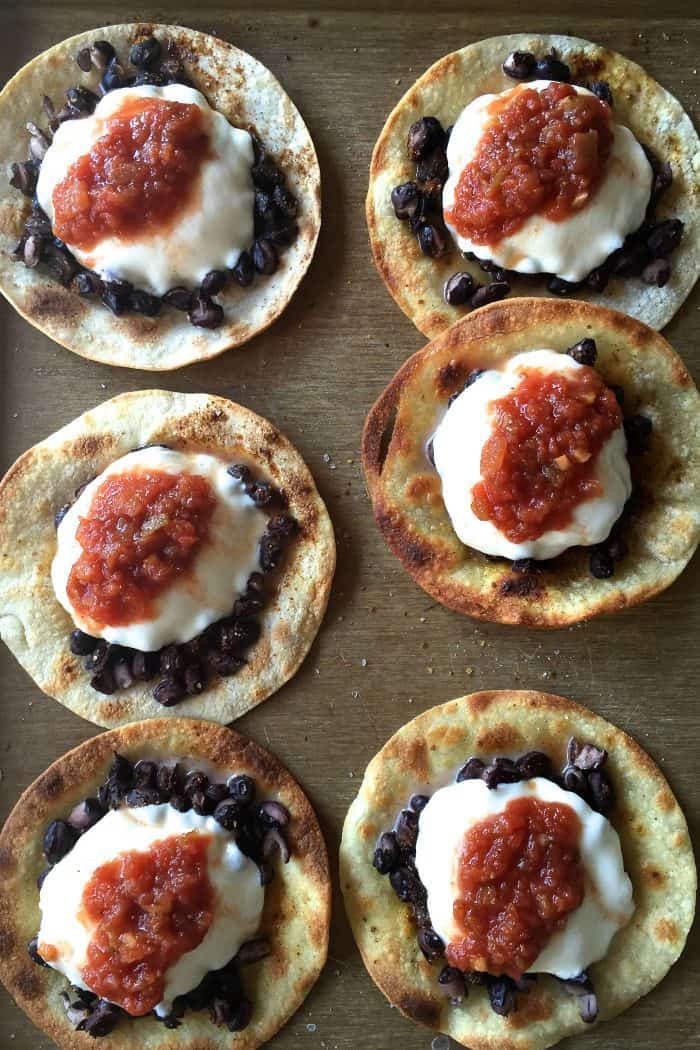 How to serve crunchy tacos
Serve with your favorite toppings, like fresh tomatoes, chips, guac, sour cream, cilantro, green onioons. And by the way, I buy the two pack of Bel Gioioso Fresh Mozzarella (from Costco). Pre-sliced!
Finding the cell phone balance
Finding the balance around cell phone use at a dinner party can be tricky. It's not old-fashioned to ask guests to put their phones away, since after all, a dinner party is about socializing with the friends who are present. But I'm just not going to be that kind of hostess.
Keep reading …
Cell phone etiquette
My friend and I were recently discussing cell phone etiquette at a dinner party, and I have to agree with her reasoning–although it's a little old-fashioned, except she's right on. She said, "The only reason a guest should need their cell phone during a get-together is for an emergency. And in the old days, if the babysitter had an emergency, they would call the host home. The parents would leave the host home's number for the babysitter to call in case of emergency."
Sometimes I wish we could bring back the olden days. Even though we don't really deal with this in our home much (our friends are just too classy), it is definitely more noticeable with the younger generation.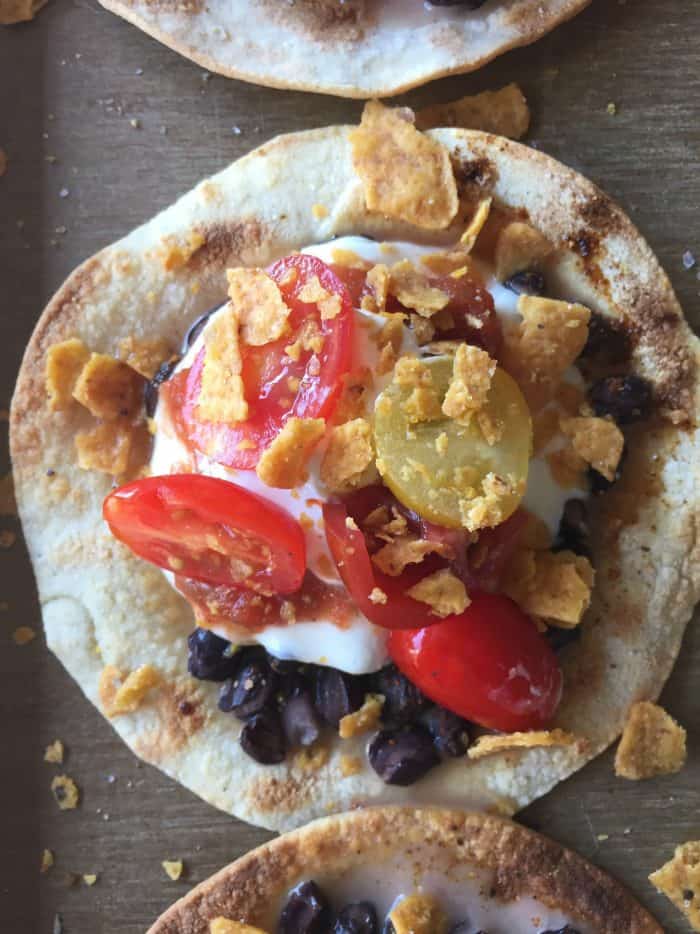 Cell phones around the dinner table:
1. Cell phone use can be insulting to the host. Rude to those around you.

2. Create a space where guests "stack the phones" when they come in (or put in a basket, on a tray, just somewhere easy for them to access if they need to).

3. You can give some basic house rules before the dinner is served, such as "the bathrooms are here" and "you can put your cell phones there."

4. This might be corny? But think of the old-fashioned days. Allow a periodic communal checking of phones and a potty break, in between courses.Think of it as a smoke break, and let your guests know that before the last course is served, everyone can take a break!

5. One of the most important virtues of a hostess is grace. Of course a phone may go off during the dinner party, with the guest jumping up to retrieve the call. There may be a guest who wants to take a quick picture of a course that is being served (a compliment to the host), or there's the "group shot" that always makes a dinner party fun. Allowing for grace and not being too rigid with rules always makes a party more enjoyable, even with a few surprises!

No cell coverage on the river
On a surprise note, we attended an outdoor wedding, down in California on the Klamath River, enjoying 2 full days with NO cell coverage. [This post is reposted from June 2015]
At first, I didn't think I would be able to manage. The good news is, I did not say no to the invitation, because I would know that I'd have no cell coverage. How sad would that have been?
I took it as a challenge, got my work done ahead of time, and of course told our kids how they could reach us in case of emergency (Happy Camp, CA store), or said they could reach out to our local friends if they needed something.
Then I let it all go.
It was a blast not checking my phone 110 times a day. That's right, my husband recently told me that a recent study shows people check their phones 110 a day. Holy Cow! I'm probably one of them.
I learned a lot about myself this past weekend: What I am going to be ruled by and what I am not.
And next time you are invited to a dinner party, I would love for you to email me your thoughts on how the group handled cell phone etiquette!
What do you do about cell phones when guests come to dinner at your home, or do you go with the flow?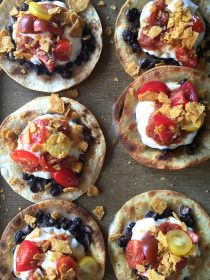 Get the Recipe: Crunchy Black Bean Mozzarella Tacos
Ingredients
12 corn taco shells
1/4 cup olive oil
1 15 oz can black beans, rinsed and drained
2 lime, juiced
2 tsp. cumin
Salt and pepper
12 slices fresh Mozzarella cheese, Bel Gioioso Fresh Mozzarella (from Costco
2 cups salsa
8 plum tomatoes, seeded and chopped
Tortilla chips, crunched for the topping I used Garden of Eatin' Sweet Potatoes Corn Chips
Instructions
Heat oil in small skillet to 375 degrees. Cook the tortillas for 1 minute on each side, removing to a paper towel (to absorb any oil). Continue until all 12 tortillas are cooked.

In a small sauce pan, heat the beans with lime juice and cumin until heated through.

Line the tortillas on one or more baking sheets. Top each tortilla with about 1/8 cup of black beans, and then a thick slice of mozzarella cheese. Top with a dab of salsa.

Heat the oven to broil. Broil the tacos on HI for about 3-4 minutes, until bubbly and crunchy.

Top with fresh tomatoes and crunched-up taco chips. Serve!

Extra toppings may include sour cream, guacamole, and fresh chopped cilantro.
Notes
[This post is reposted from June 2015]
I absolutely LOVE my Le Creuset skillet and saucepan for these types of recipes!
[This post is reposted from June 2015]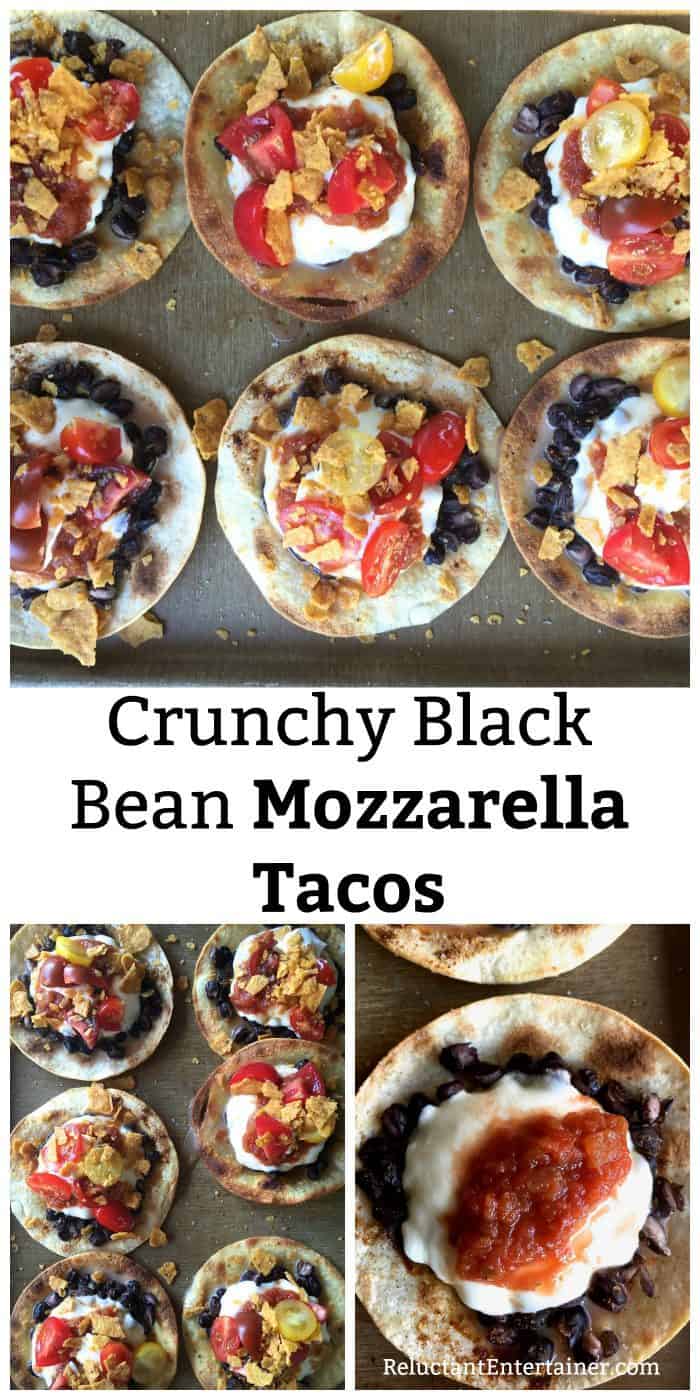 This post has affiliate links. Every purchase from these links supports RE at no extra cost to you. Thank you!
Hello and welcome to my home and table!
I'm Sandy—lover of food, family, cooking, THE BIG BOARD, travel, and bringing people together. Through great recipes and connection around the table, we become better, stronger, and more courageous people. Feasting on Life is real, and every time we do it, we grow a little more. Read more...