Baked Turkey Meatballs on Polenta
Delicious Baked Turkey Meatballs served on a square of polenta, a feel-good, anytime of year main dish to serve! Good enough for company!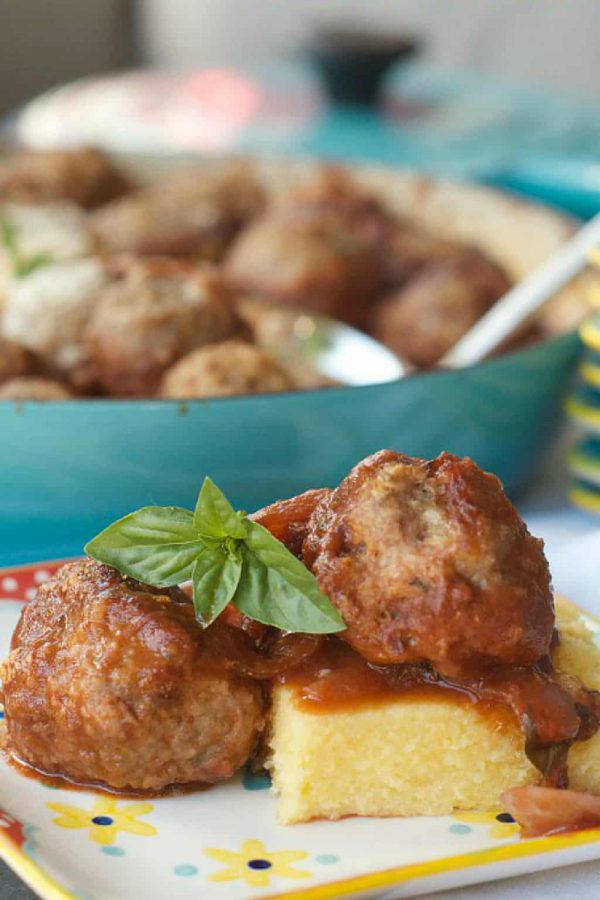 Friends, enjoy this easy recipe today: Baked Turkey Meatballs. A meatball is ground meat rolled into a small ball, usually with other ingredients, such as bread crumbs, minced onion, butter, eggs, and your favorite seasoning.
How do you cook meatballs?
You can fry meatballs, bake, steam, or braise in a delicious sauce. There are many types of meatballs using different types of meats and spices. Try my Lamb Meatballs served over a warm bed of Coconut Shallot Creamed Kale, or this classic Spaghetti and Meatballs Epic Dinner Board!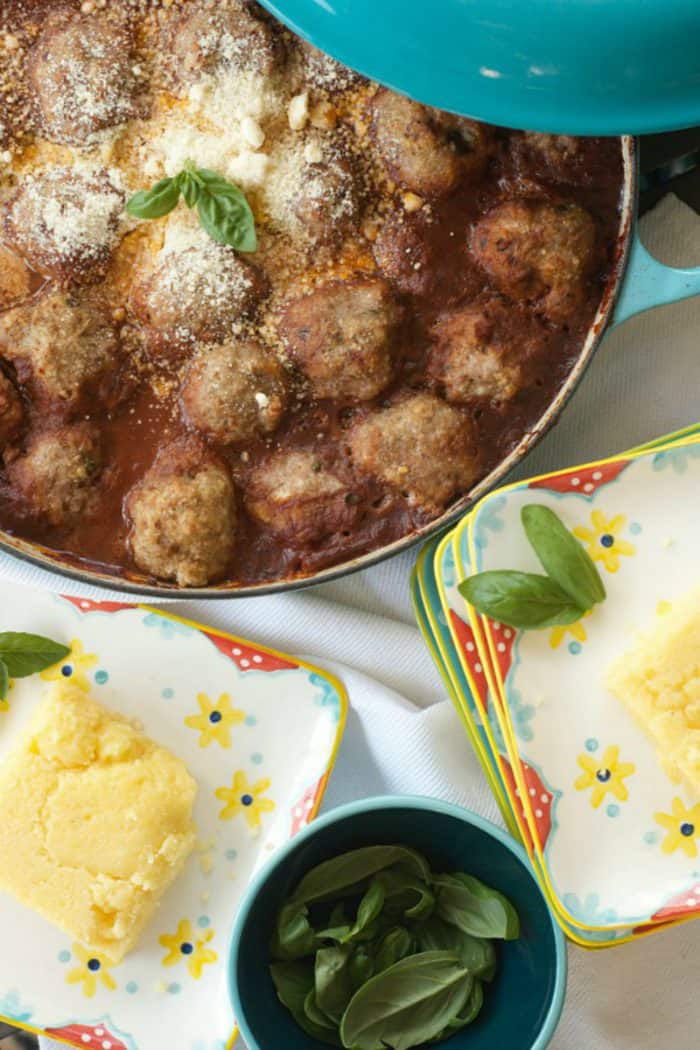 What should you eat with meatballs?
You can of course savor meatballs with spaghetti, quinoa, rice, noodles, or even potatoes. But we love this recipe served with polenta!
Baked Turkey Meatballs on Polenta
This is a tasty, casual meal for weeknight hosting, or a delicious family meal! I love the addition of polenta, because it's easy to make while the meatballs are baking!
We served this recipe in my beautiful Le Creuset Braiser, great to take straight to the table for serving.
Handwritten notes
I was cleaning out one of our bedrooms and came across a very sweet note, handwritten years ago, from a dear friend. It made me a little weepy when I got to the end … with much caring and love … because that is what true hospitality is all about. Caring about others and loving on them!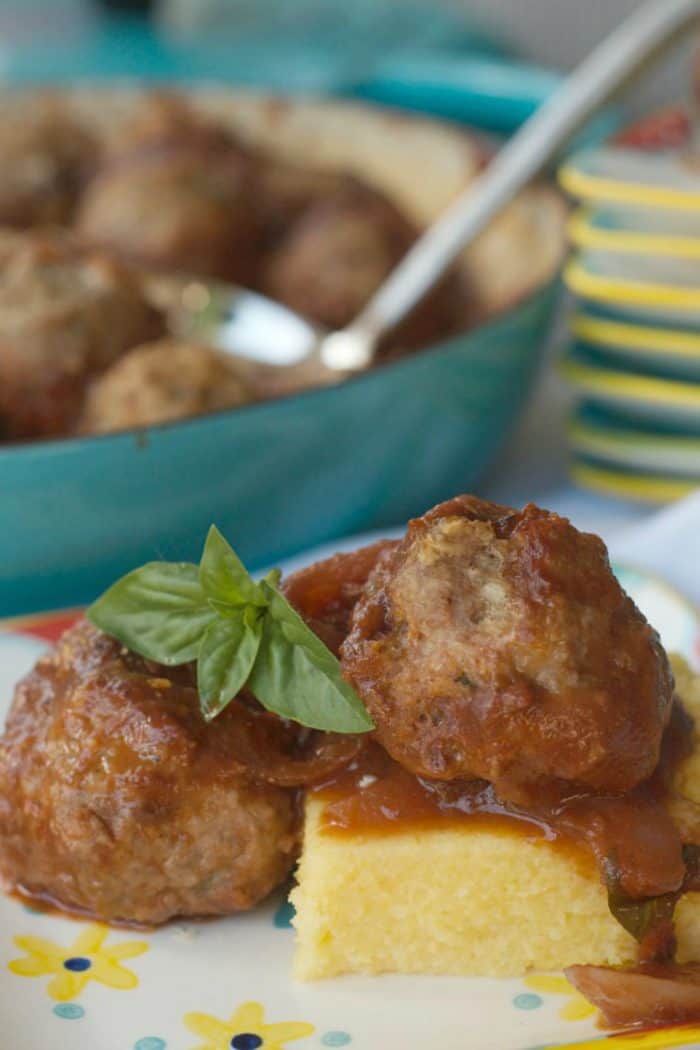 Reaching out to those around us
Sometimes our words are like gold, and we never know how we will affect, help, or inspire another person.
Of all the gifts that you could have bestowed, your beautiful words of gratitude, love and praise are the BEST. One of the consequences of a meager family is there are no witnesses to your life. I have no balance of who I am in relation to my history. I never hear a reminiscence of past or a compliment on my accomplishments.

Food preparation seems appropriate for the starvation of that emptiness.

And, to not be overshadowed, the visit and sharing with and in your beautiful family.

With much caring and love …
I share this note from years ago, because it's impacting.
Reaching out to those around us should be a part of our DNA. It's something that is there, we cannot change, it's who we are.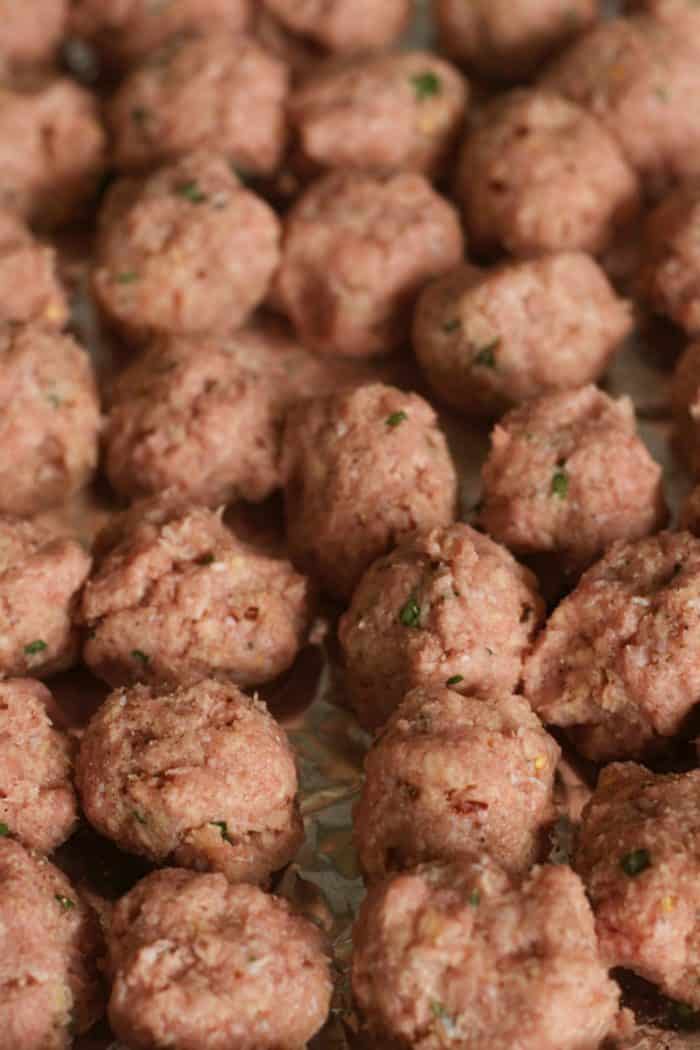 Baked Turkey Meatballs
Speaking of love and comfort, I made this recipe for some friends a few weeks ago. Who doesn't love the warmth and comfort that a giant meatball, served on polenta, brings?
You sauté the onions, make the meatballs and sauce, cook it slowly so the wine absorbs into the flavor (you can adjust the red pepper flakes to your liking), we loved this meal, and sharing it with good friends.

Why are my meatballs tough?
Meatballs are touch because you don't have enough moisture. Since the protein in meat makes it shrink when cooked, not enough moisture results in tough meatballs. Eggs and breadcrumbs are "binders" that along with milk, help with keeping meatballs tender and moist!
Food brings comfort, our words provide a salve, or healing, and our touch, and just being "invited," can really fill that starvation and emptiness in our souls.
We all want to be loved!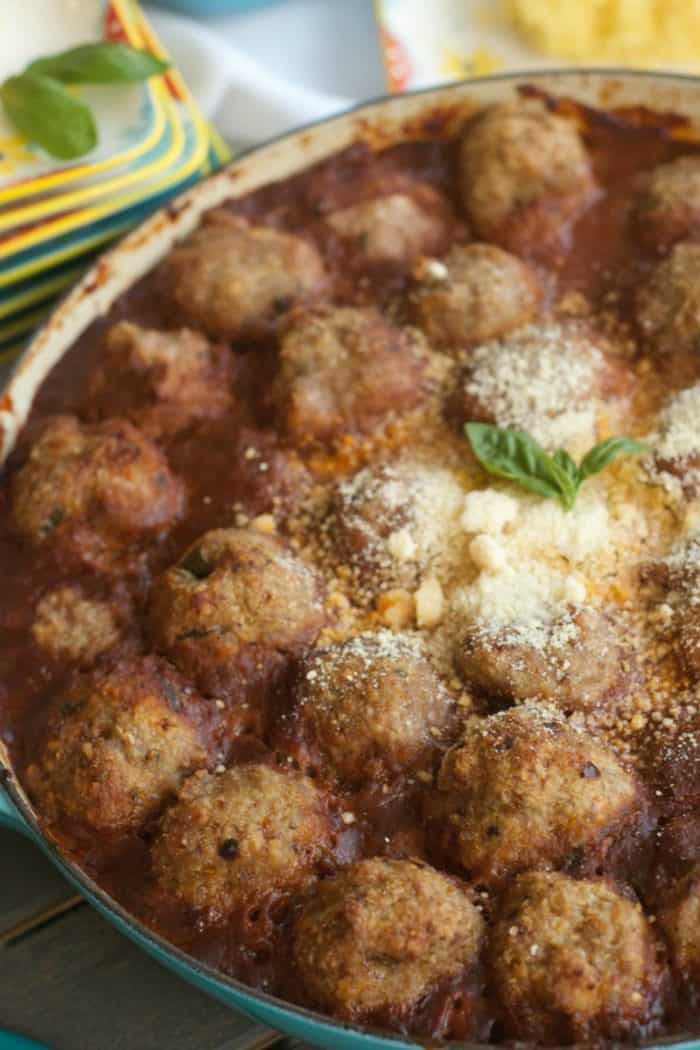 Are you interested in learning more about my Le Creuset Braiser?
I LOVE this beautiful piece in my kitchen … it's the BEST size for most family dishes, and not too heavy for me to lift!
More varieties of meatballs to try: Chicken Cordon Bleu Meatballs [The Cookie Rookie], and my Mini Pork Meatballs with Farro.
Get the Recipe: Baked Turkey Meatballs on Polenta
Adjust the red pepper flakes to preferred hotness. Serve over pasta or polenta. Recipe for 8-10 people.
Ingredients
10 cloves garlic, divided
3 pounds ground turkey
2 cups bread crumbs
1/2 cup milk
2 large eggs, lightly beaten
1/4 cup chopped fresh basil + 2 Tbsp.
4 tsp. red pepper flakes
Salt and pepper
1/4 cup olive oil
2 large sweet onions, thinly sliced
1 cup red wine
2 15 oz. cans tomato sauce
Polenta, cooked and prepared
Instructions
Preheat the oven to 450 degrees.

In a large bowl mix together 4 cloves of pressed garlic, ground turkey, bread crumbs, milk, eggs, 1/4 cup fresh chopped basil, and 2 tsp. red pepper flakes. Generously salt and pepper the meat mixture.

Form the meat into 2-3 inch meatballs and place on a cookie sheet (I put foil down first). Roast for about 15 minutes, until brown. Turn the oven down to 350 degrees.

Heat the olive oil in an oven-proof skillet and add the remaining pressed garlic and onions. Cook on medium until soft and tender, about 7 minutes. Add the wine, 2 tsp. red pepper flakes, and 2 Tbsp. fresh basil.

Bring to a boil and cook until the wine is reduced in half; add in the tomato sauce. Simmer for 15-20 minutes.

Add the meatballs to the sauce and bake in the oven-proof skillet for 1 hour (at 350 degrees).

Prepare the polenta according to directions. Press into an 8×8 pan. Cut into squares and serve the meatballs over the polenta.
Notes
Originally posted JUNE 2014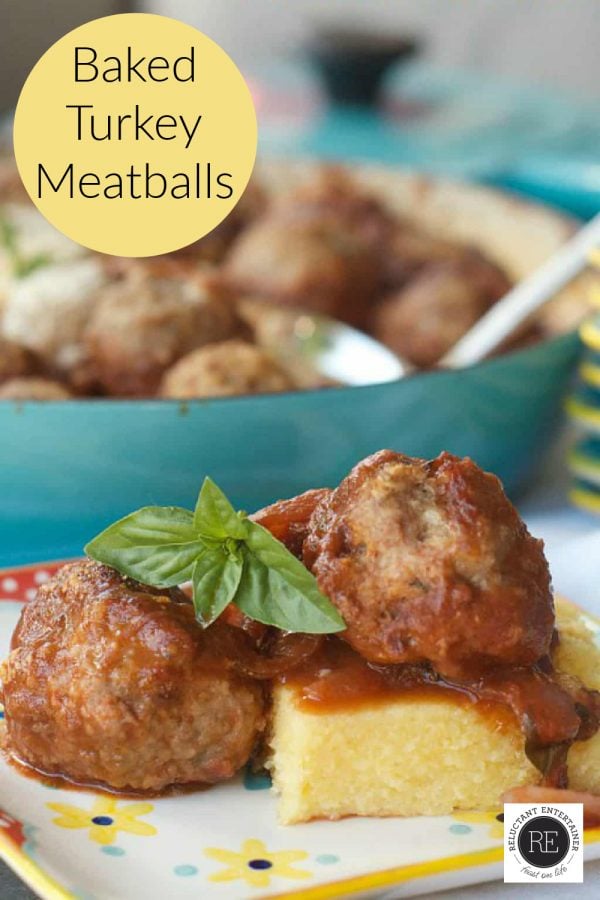 Hello and welcome to my home and table!
I'm Sandy—lover of food, family, cooking, THE BIG BOARD, travel, and bringing people together. Through great recipes and connection around the table, we become better, stronger, and more courageous people. Feasting on Life is real, and every time we do it, we grow a little more. Read more...