Lamb Meatballs with Creamed Kale
These Lamb Meatballs are served with a bed of Coconut Shallot Creamed Kale. They are baked to perfection, a meatball recipe treat!
Friends, do you love meatballs like I do? We love them for an elegant meal (like this) or a more casual, sassy meal (like meatballs for game day!)
Lamb Meatballs with Creamed Kale
These Lamb Meatballs served over a warm bed of Coconut Shallot Creamed Kale is so delicious. It's good enough for company!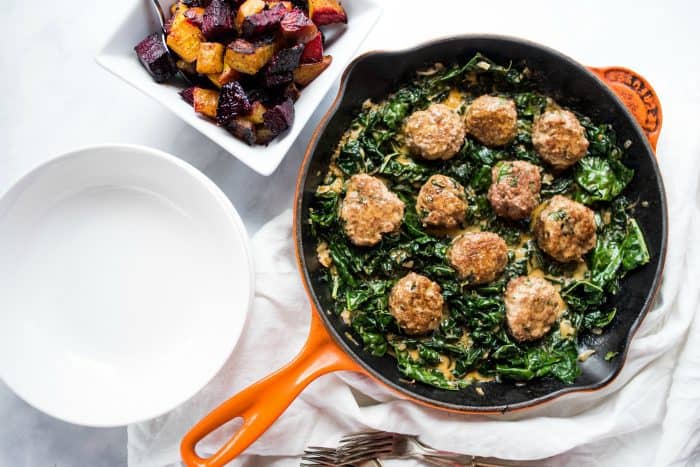 Of course most meals that we make are good enough for company. What I mean by that is, when we have company, we try to give our guests our best. It doesn't mean it has to be an expensive meal, because people simply love home-cooked meals. But I try to think both about what's easy for me to make, and what will my guests enjoy?
How do you make lamb meatballs?
This recipe is gluten-free, made with almond flour, and packed with fresh herbs. Which, in my opinion, gives meatballs such a great flavor!
You may have also tried my delicious Mint Lamb Burgers with Fig, broiled or grilled (so good!) for a more casual meal.
How do you make lamb meatballs without bread crumbs?
I love this recipe because you can make it gluten-free with almond flour (instead of bread crumbs).
How do you cook lamb meatballs?
Making lamb meatballs is almost the same as making regular meatballs.
Mix the ground lamb together with all the ingredients (and fresh herbs), and roll into big balls.
Bake on a prepared baking sheet in the oven for about 20 minutes.
The meatballs are slightly crispy on the outside and perfectly tender on the inside!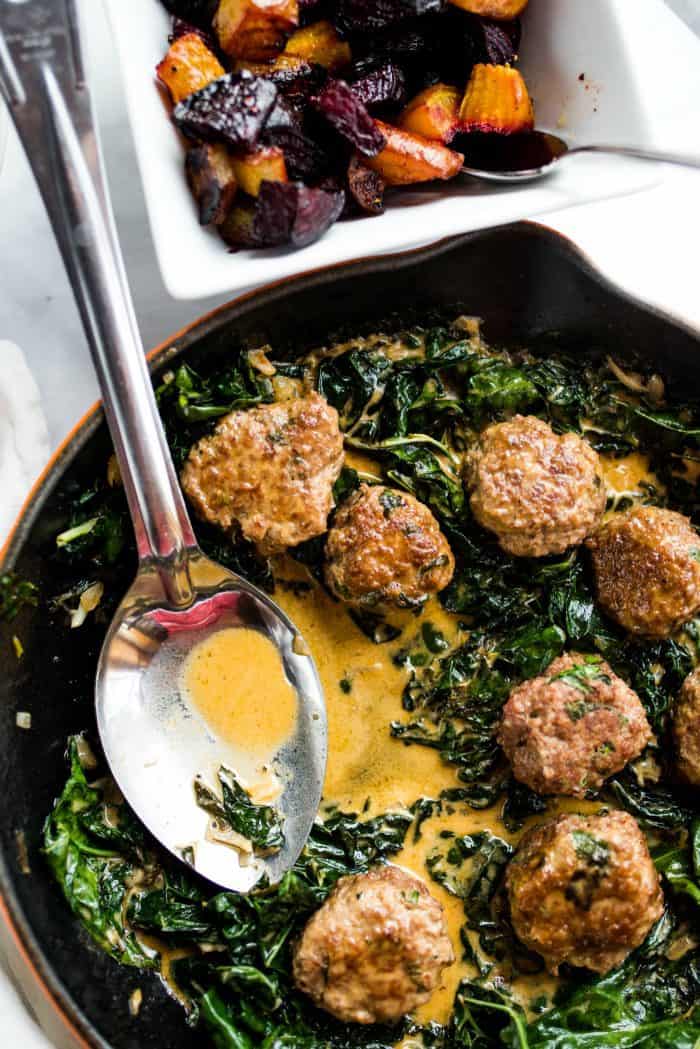 How do you season lamb meatballs?
For this recipe we seasoned with garlic powder, coriander, kosher salt and peppers. Adding the fresh mint and parsley made the meatballs so flavorful.
Serving the meatballs in a coconut shallot creamed kale sauce was out of this world!
Lamb Meatballs on Christmas Day
We enjoyed these lamb meatballs on Christmas Day, as our daughter made the best Christmas dinner. Oh, and dessert? This Holiday Rum Bundt Cake recipe – WOW!
What a beautiful Christmas we had, with a fresh snowfall, and a long family walk to church.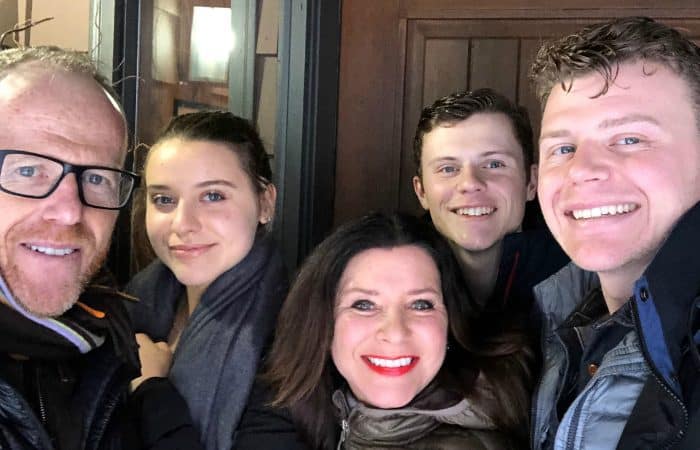 It's our tradition on Christmas Eve to eat out, so from church we walked to the restaurant.
The snow had already stopped (it literally snowed all day long), so it was crisp and beautiful out.
So thankful for another Christmas with our family. It makes me cherish the love that we have for one another.
The more we love God and others, the more successful we are at fulfilling what God has planned for our lives.
Which makes me want to be known for my love, to love wisely and humbly, and to serve others with a humble heart.
The true heart of hospitality.
Friends, I hope you enjoy your last week of 2018!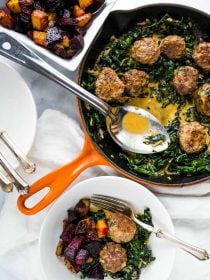 Get the Recipe: Lamb Meatballs and Coconut Shallot Creamed Kale
Ingredients
Meatballs
2 pounds ground lamb
2 beaten eggs
5 tsp coriander
4 tsp garlic powder
1/2 c fresh chopped mint
1/2 c fresh chopped parsley
1/3 heaping cup of almond meal (or panko bread crumbs if not gluten-free)
2 tsp kosher salt
2 tsp ground pepper
Sauce
1 can 13 oz coconut milk
1/2 tsp arrowroot, optional, used for thickening
2/3 cup finely minced shallots
2 tsp garlic powder
1/2 c roughly chopped basil
4 Tbsp olive oil, divided in half
1 tsp paprika
1 bunch of Tuscan kale, stems removed and roughly chopped
Salt and pepper to taste
Instructions
Preheat oven to 425 degrees. Line a baking sheet with parchment and set aside.

In large skillet, heat 2 Tbsp oil on medium-high heat. When hot, add the shallots and cook for 3-4 minutes, until translucent and slightly browned. Add in the coconut milk and bring to a simmer. Whisk in the arrowroot, paprika, garlic powder, and salt and pepper to taste. Continue to simmer for about 3 minutes, then add the kale. Stir gently until kale wilts—about 5-7 minutes. After kale wilts, reduce heat to lowest and set aside.

In a large bowl, add ground lamb and make a crater in the center. Add in almond meal, eggs, coriander, garlic powder, herbs, salt, and pepper. Mix with your hands until all ingredients are combined. Rub about a teaspoon of oil in your hands, then begin to shape the meatballs, about 3 Tbsp per meatball. Place the meatballs on the prepared baking sheet. Place in oven and bake for 15-20 minutes. The meatballs should be slightly crispy on the outside.

When meatballs are done baking, remove from oven and nestle into the wilted kale and sauce. Serve warm!
More lamb recipes: Moroccan Lamb Stew [The Noshery] and Ranch Gyro Sliders [Big Bear's Wife].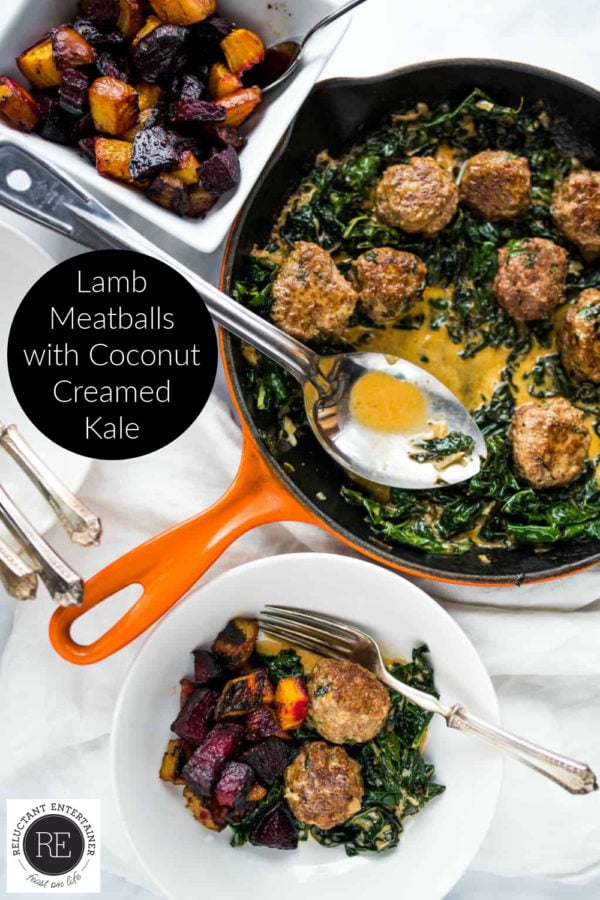 Hello and welcome to my home and table!
I'm Sandy—lover of food, family, cooking, THE BIG BOARD, travel, and bringing people together. Through great recipes and connection around the table, we become better, stronger, and more courageous people. Feasting on Life is real, and every time we do it, we grow a little more. Read more...