Sheet Pan Sweet and Spicy Meatballs with Broccoli
Delicious Sheet Pan Sweet and Spicy Meatballs with Broccoli dinner! Assemble, cook, and enjoy! Optional to leave out the spicy sauce for a milder flavor.
For an easy dinner tonight, serve a pan of Sheet Pan Sweet and Spicy Pork and Turkey Meatballs. I love my friend Mary's The Best Swedish Meatballs recipe, for milder flavors.
Sheet Pan Sweet and Spicy Meatballs with Broccoli
Add broccoli and you have a delicious sheet pan dinner! Plus, I'm sharing a few FIXER UPPER details in this post today!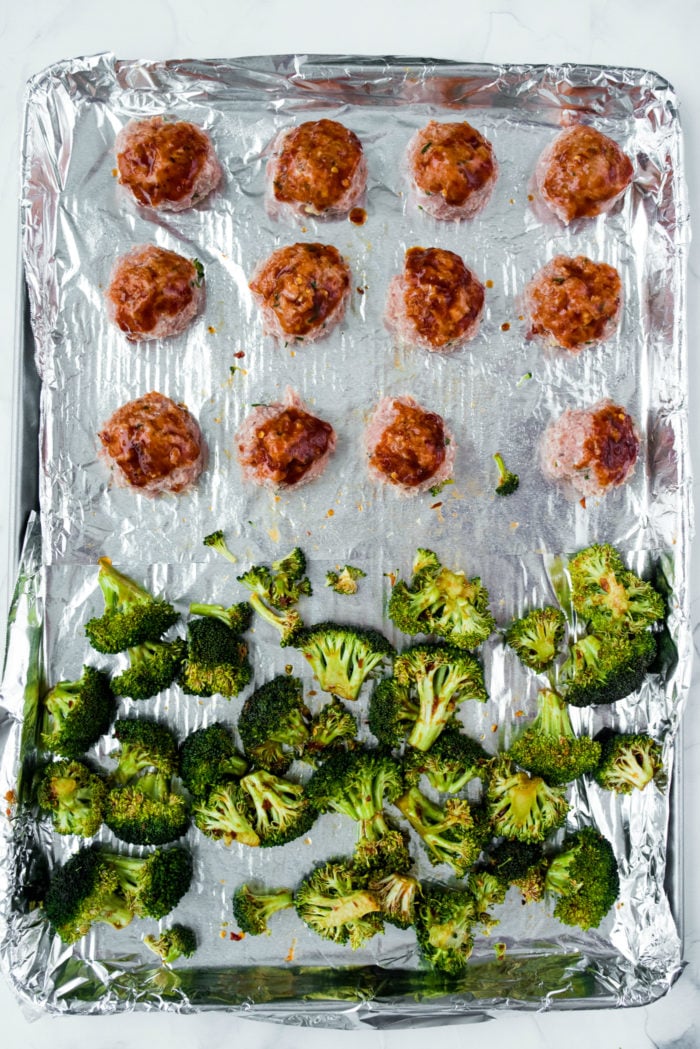 Sweet and Spicy Meatballs with Broccoli
We love sheet pan dinners, especially for easy weeknight cooking.
This Sheet Pan Sweet and Spicy Meatballs with Broccoli is easy and tasty. Sometimes I double the recipe so we have leftovers! If you love broccoli, you can also try my Rolled Broccolini Curried Chicken Divan or One-Sheet Cilantro-Parmesan Broccoli Baked Salmon recipes.
For this recipe, the chili sauce is spicy, so feel free to skip the homemade sauce recipe below, and just buy store-bought.
The meatballs are made with pork and ground turkey!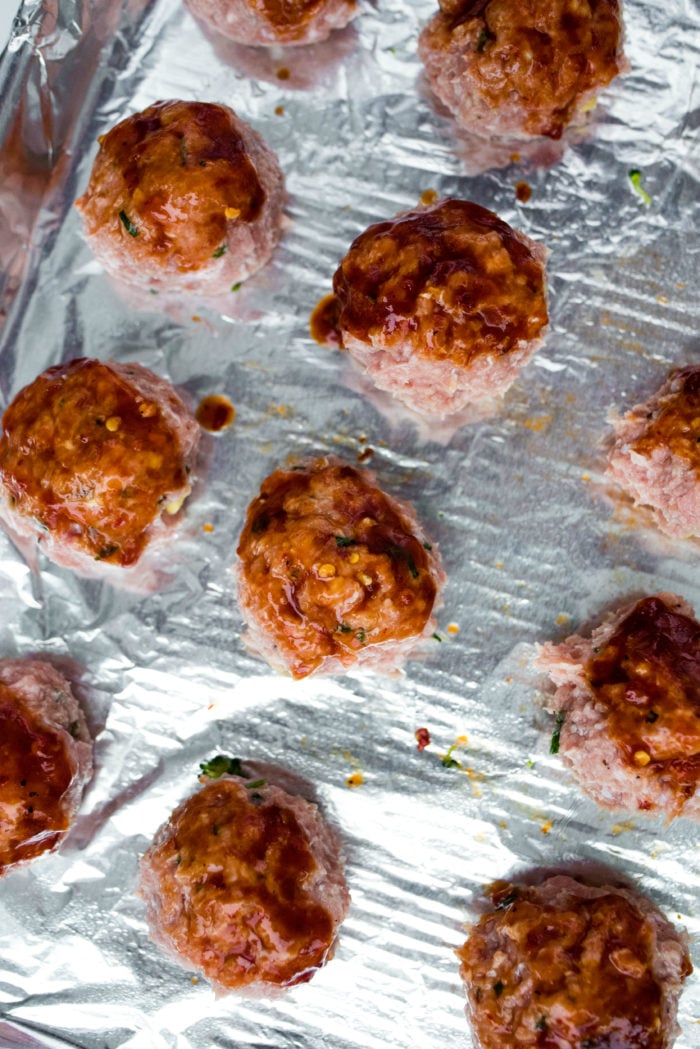 Modern Mountain Fixer Upper
Friends, my favorite part about our new modern mountain home fixer upper is all the light in this house. It's crazy, different parts of the day, how the sun makes its way to various places, and the rays are stunning. It truly makes my heart happy when I see it.
I love how the sunlight can give little glimpses into our hearts, of gratitude and a reminder to just be present, wherever we are.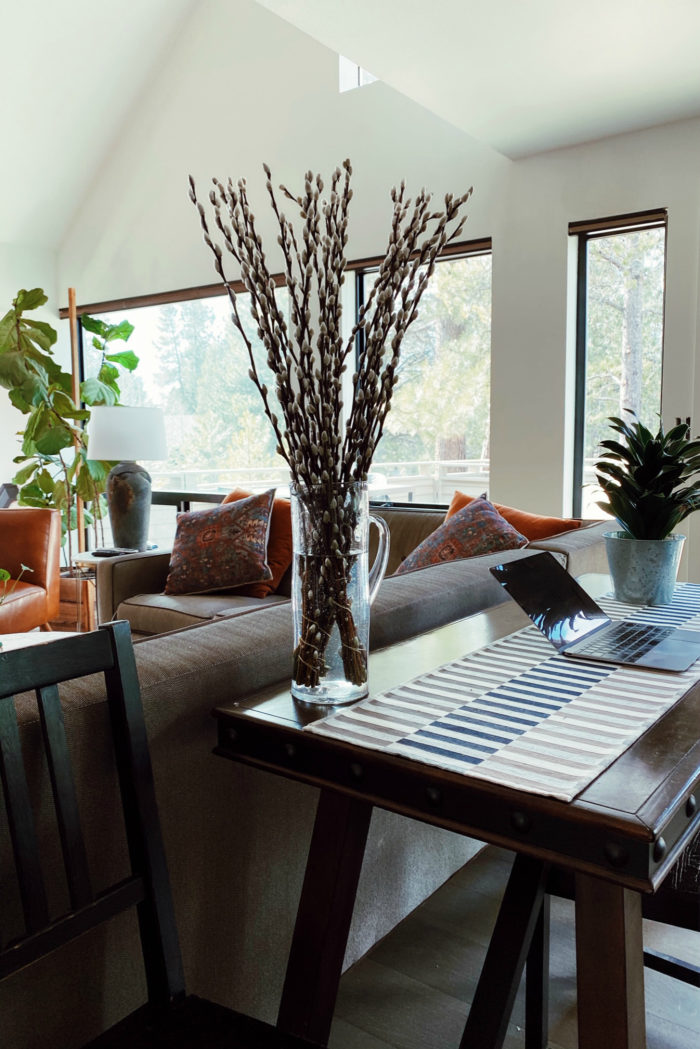 The process of fixing up a home is daunting at times. But then at other times, it's been very joyful. [MORE PICS BELOW!]
Like when we choose to invite people over anyway for dinner, even when our kitchen isn't done, or we're in the middle of a project!
Easy meal for dinner!
But first … THIS easy meal for dinner, and it's actually good enough for company!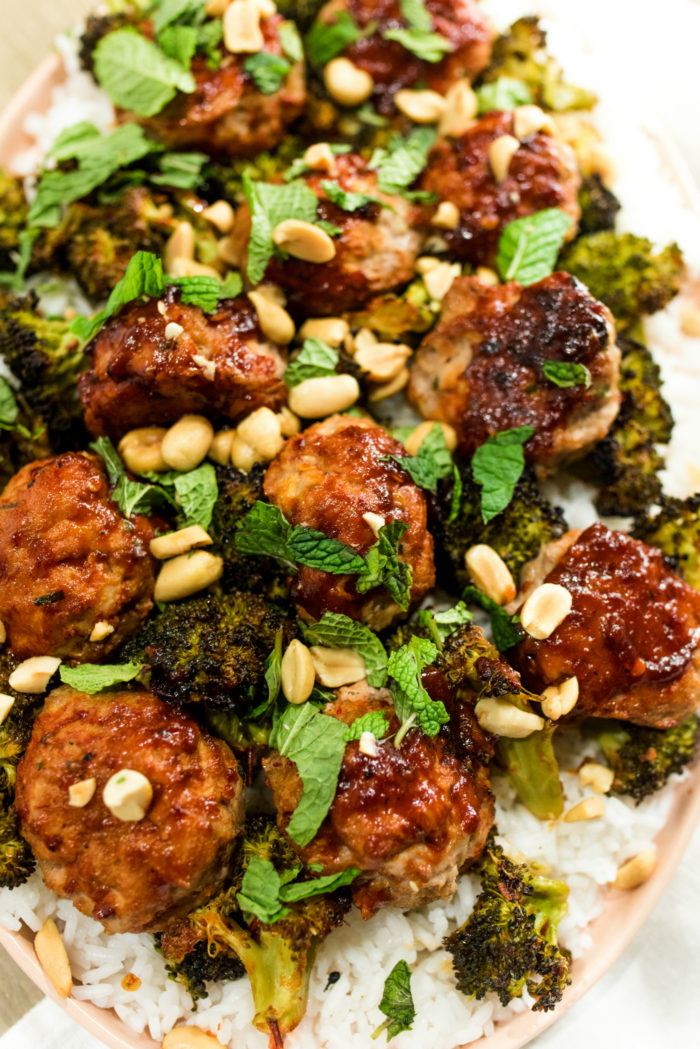 Ingredients for meatballs
Ground pork and ground turkey
Garlic, ginger, kosher salt
Fresh ginger, chives, and mint
Egg and panko crumbs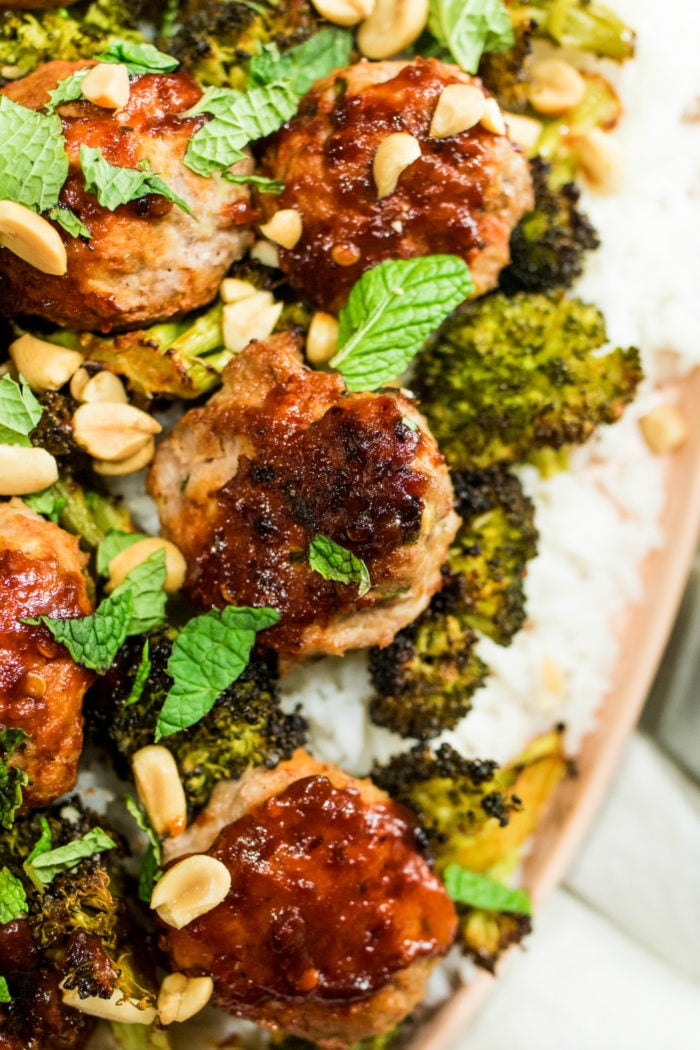 Ingredients for Sweet and Spicy Chili Sauce
Sambal Olek or chili sauce, tomato puree or ketchup
Soy sauce, Worcestershire sauce
Coconut or brown sugar
Grated fresh ginger
Pepper
Rice vinegar
Toasted sesame oil
Avocado or vegetable oil
How to serve meatballs
Make the sauce (or use your favorite store-bought).
Bake the meatballs.
Serve with broccoli over jasmine or sushi rice, or in lettuce wraps.
Drizzle with sauce and sprinkle with mint and roasted peanuts!

Transforming our fixer upper
Creating and transforming the very space that brings us joy is for sure an undertaking!
I'm learning to sit back, relax, and enjoy the process, because what seems like forever is actually very short-lived.
Before the next project presents itself. HA! Above was a florescent tube light (house built in 1985) that we removed and put in this gold Sputnik light.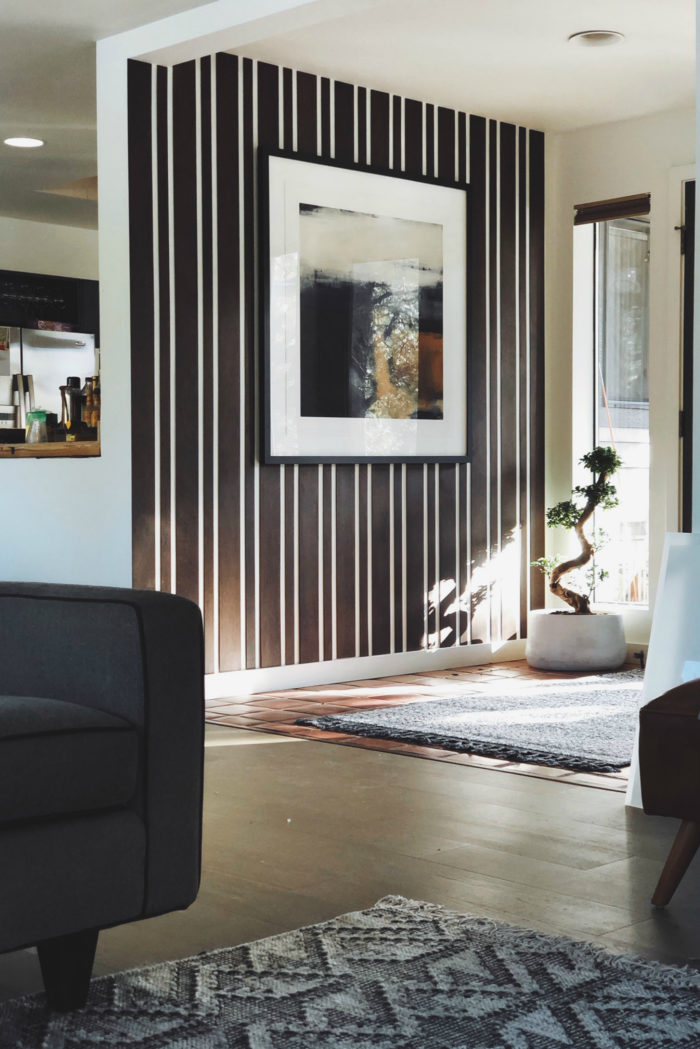 My hubby made me this beautiful wood veneer accent wall. I'll be sharing details later.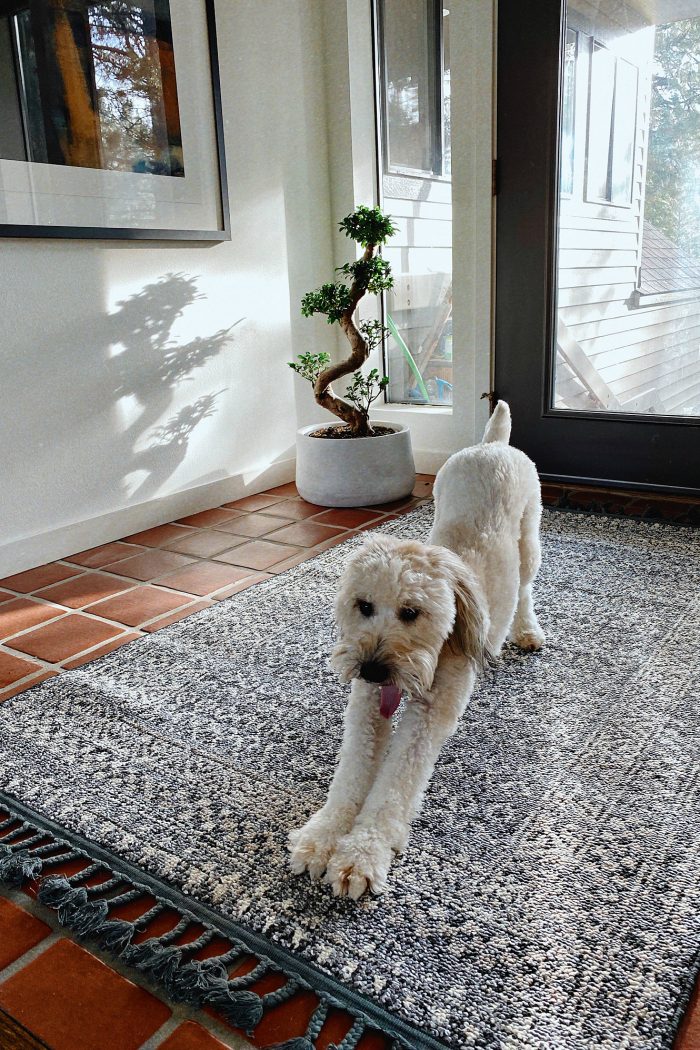 We love the entry rug. It stays in place, vacuums up beautifully, and is comfy under foot.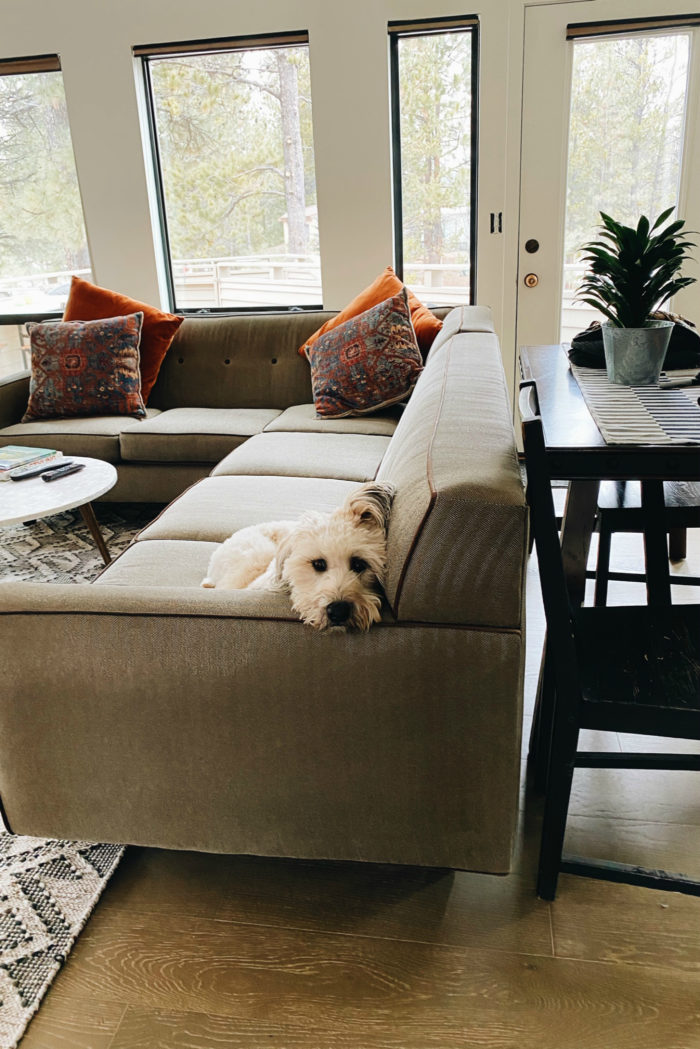 SHOP THE HOUSE (affliliate links):
Entry:
nuLOOM Claudia Diamond Area Rug, 4′ x 6′, Ivory Multi (color)
Kitchen:
Brass 5 Arm Sputnik Dining Room Mid Century Modern Starburst Ceiling Light Chandelier
Living Room:
Cognac Mid Century Huxley Chair
8 x 10 Living Room Black Graphic Woven Emerson Indoor Outdoor Area Rug
Home Decorators Collection Merwry 52 in. Integrated LED Indoor (matte black) CEILING FAN
Large Copper Velvet Throw Pillows [the print pillows are from Abode Home, here in Bend, OR]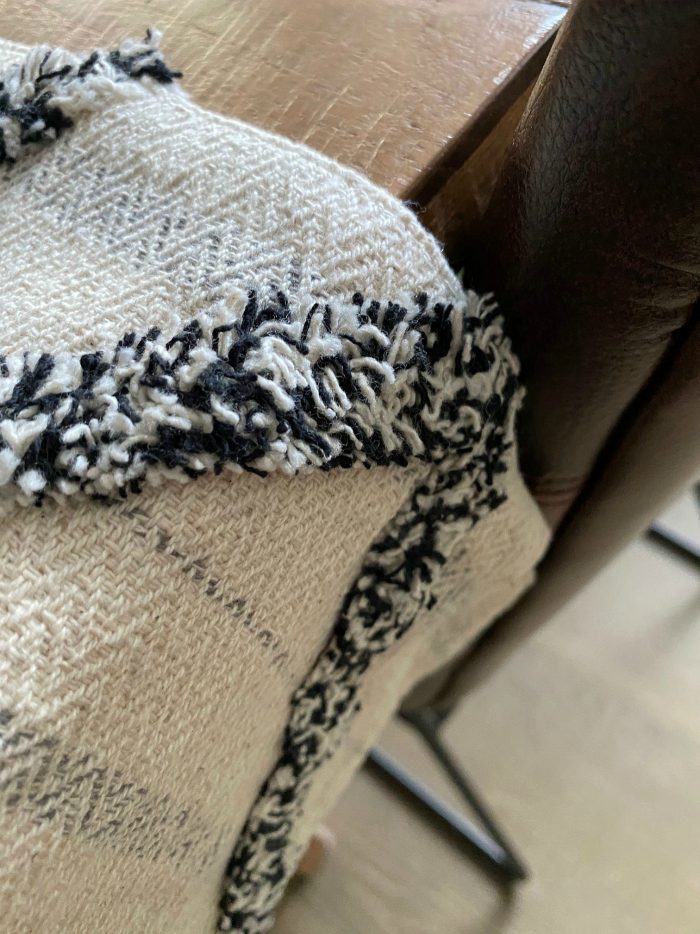 Adeline Table Runner
Also, I bought a new table runner that I love! It's from Anthropologie!
Adeline Table Runner (grab the affiliate link) – size: 90″L, 16″W
It's machine washable and made of cotton!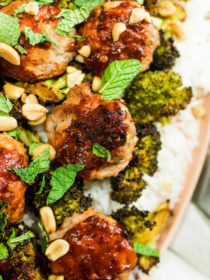 Get the Recipe: Sheet Pan Sweet and Spicy Meatballs with Broccoli
Ingredients
1-1 1/2 lb broccoli florets
1/2 lb ground pork
1/2 lb ground turkey
2 cloves garlic, minced
1 '' piece fresh ginger, minced
1/3 cup chives, finely chopped, loosely packed
1 tsp kosher salt
1 egg, beaten
1/4 cup panko bread crumbs
1/4 cup mint, roughly chopped
1/4 cup roasted peanuts, roughly chopped
Jasmine or sushi rice for serving
Sweet and Spicy Chili Sauce:
1/2 cup Sambal Olek or other chili sauce
2/3 to mato puree or ketchup
1/3 cup soy sauce
1 Tbsp wochestershire sauce
1/4 cup coconut or brown sugar
1 tsp grated ginger
1/2 tsp ground pepper
1 1/2 Tbsp rice vinegar
1 1/2 Tbsp toasted sesame oil
3 Tbsp Avocado or vegetable, plus some to grease sheet pan
Instructions
Spicy Chili Sauce
Mix chili paste, soy sauce, vinegar, Worcestershire, tomato puree, ginger, sesame oil, coconut or brown sugar, and pepper in a small saucepan.

Reserve 3/4 cup of the mixture in a bowl before you begin reducing the sauce. Bring the ingredients in the sauce pan to a simmer over medium heat, stir occasionally until sauce thickens—6-8 minutes.

Remove from heat and set aside.
Meatballs and Assembly
Place a rack in upper third of oven and preheat to 450°.

Line a rimmed baking sheet with foil.

Break broccoli into about 2" pieces. (They should all be about the same size, smaller ones will get extra toasty in the oven.)

In a medium bowl, toss the florets with 2 Tbsp. avocado oil (or other oil) and 1/3 cup of the reserved glaze. Spread to the edges of one side of the pan, then brush the other side with oil or cooking spray—this is where the meatballs will be placed.

In a large bowl, mix together pork, turkey, beaten egg, chives, garlic, ginger, panko, oil, pepper, and salt. Using wet hands, form into twelve 1½"-diameter meatballs. Arrange 12 on the baking sheet and brush each meatball with the reserved chili sauce mixture, enough to cover the tops and sides.

Bake until meatballs are cooked through, 15–18 minutes. Remove from oven, then heat broiler to 450 degrees and place the rack two levels below. Brush meatballs with glazing mixture once again and broil until broccoli is charred and meatballs are browned, 3-4 minutes.

Optional: flip the meatballs, coat with remaining glaze, and broil the other side for additional browning.

To serve, enjoy meatballs and broccoli over rice, or in lettuce wraps. Drizzle with sauce; sprinkle with mint and roasted peanuts!
Hello and welcome to my home and table!
I'm Sandy—lover of food, family, cooking, THE BIG BOARD, travel, and bringing people together. Through great recipes and connection around the table, we become better, stronger, and more courageous people. Feasting on Life is real, and every time we do it, we grow a little more. Read more...