Homemade Funfetti Cake Recipe
A homemade, made from scratch Funfetti Cake recipe with a sweet buttercream frosting — the perfect homemade birthday or celebration cake!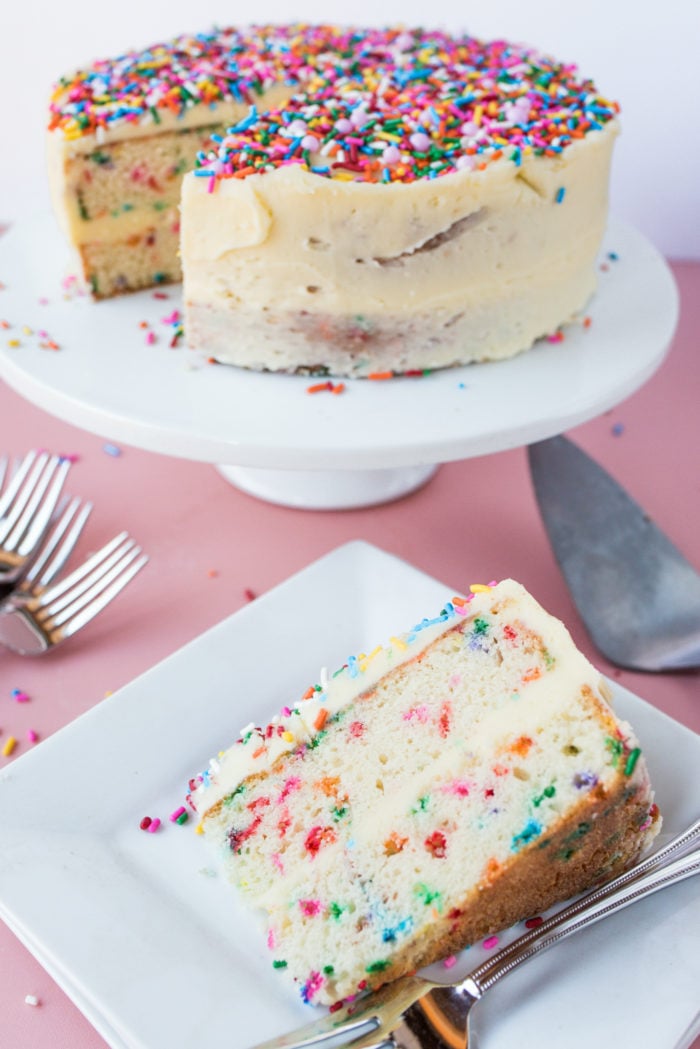 Friends, today I'm slicing a thick piece of funfetti cake for a party celebration! As promised last year, when Abby made her own Epic FUNFETTI® Inspired Cake Board, I said I'd be sharing the recipe for the homemade cake!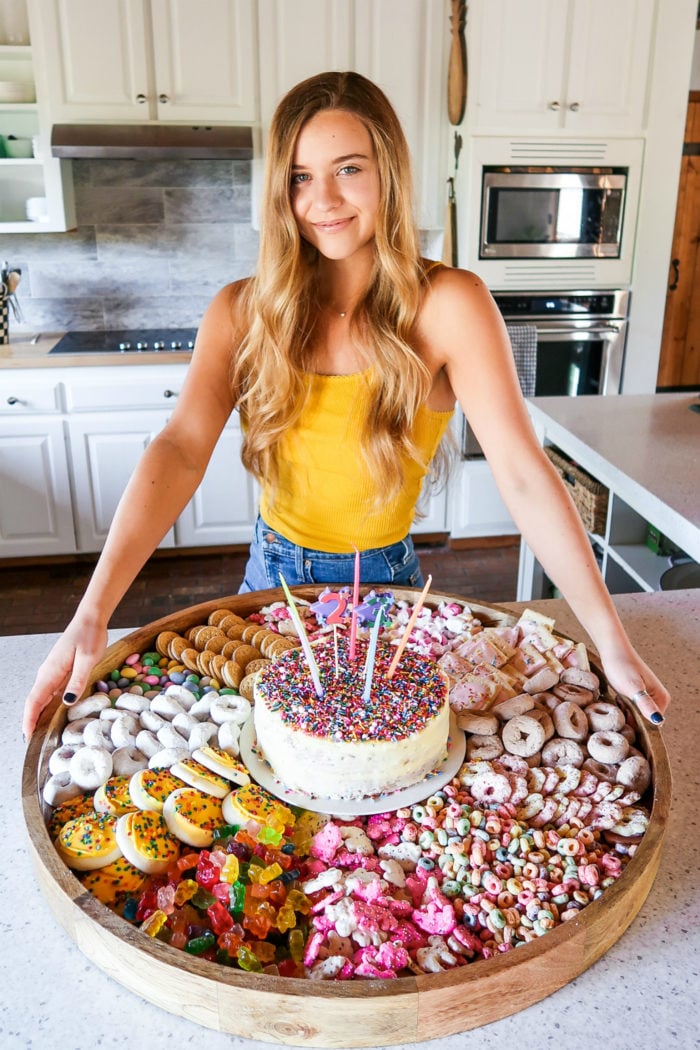 This cake was developed by Abby for her 23rd Birthday. She has learned that baking can be difficult… and also much more fun with rainbow sprinkles!
The frosting here is very quick and easy, but another option is to go to your local bakery (we love our Market of Choice!) and buy premade buttercream. Or, you can always make your favorite vanilla frosting.
How to make your own cake flour?
2 cups cake flour = 1 3/4 cups all-purpose flour + 1/4 cup cornstarch
Of course, anything with funfetti is super for any party!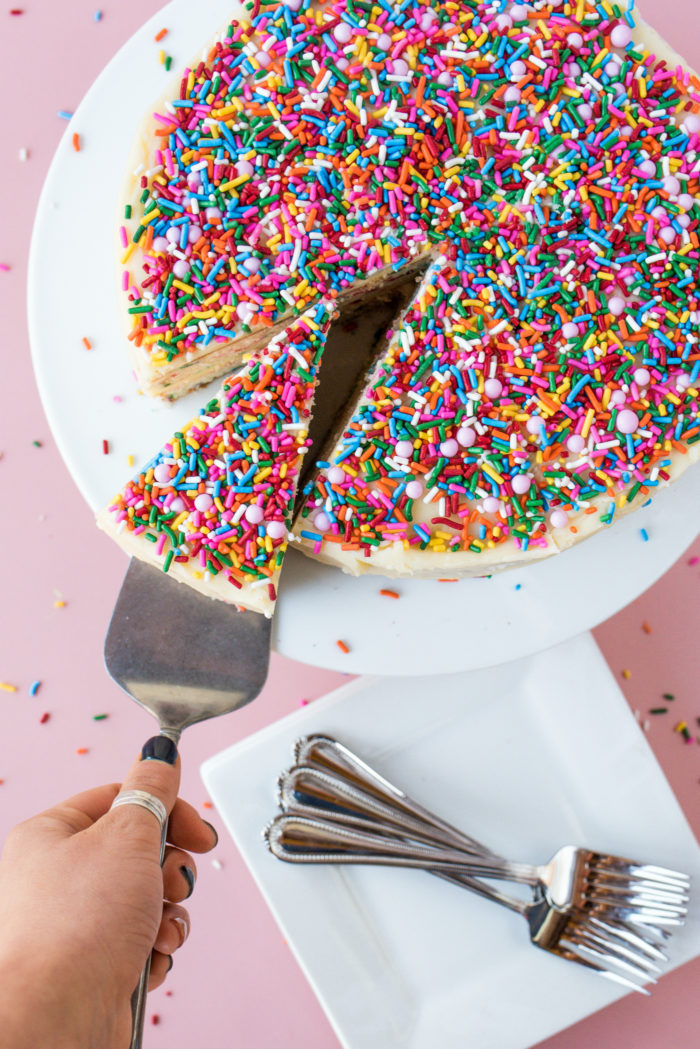 Having people over for dinner is a great way to keep in touch with friends.
Make a homemade Funfetti Cake for dessert — your guests will be happy! :) Or make a cake to help celebrate a friend's event, whatever that may be! Or, make Funfetti Cupcakes!
Who's ready for March?
To be honest, February is a hard month for me. By now, I've had enough winter. I'm soooo ready for spring. One way to combat the winter blues is to get out into the outdoors as much as possible, and keep in touch with good friends.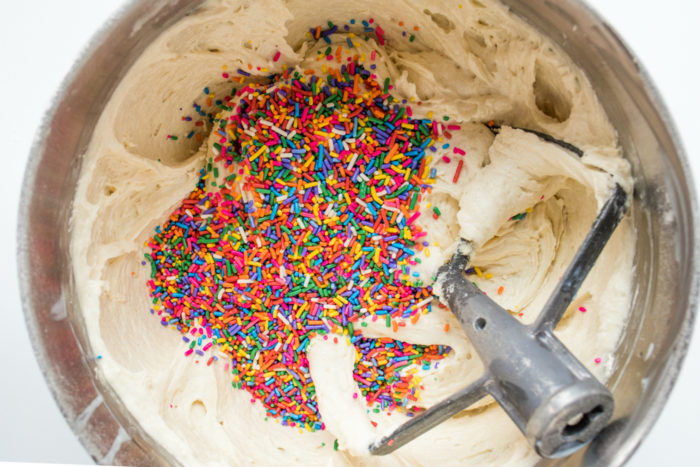 Ways to stay in touch with friends:
Send a text message to a friend you have not seen in a while. Wanna have lunch?
Stay connected with my older, wiser friends. Write a snail mail letter or pick up the phone and call.
Meet new young people and hang out with them. Set up a coffee date!
Go on a walk with a friend.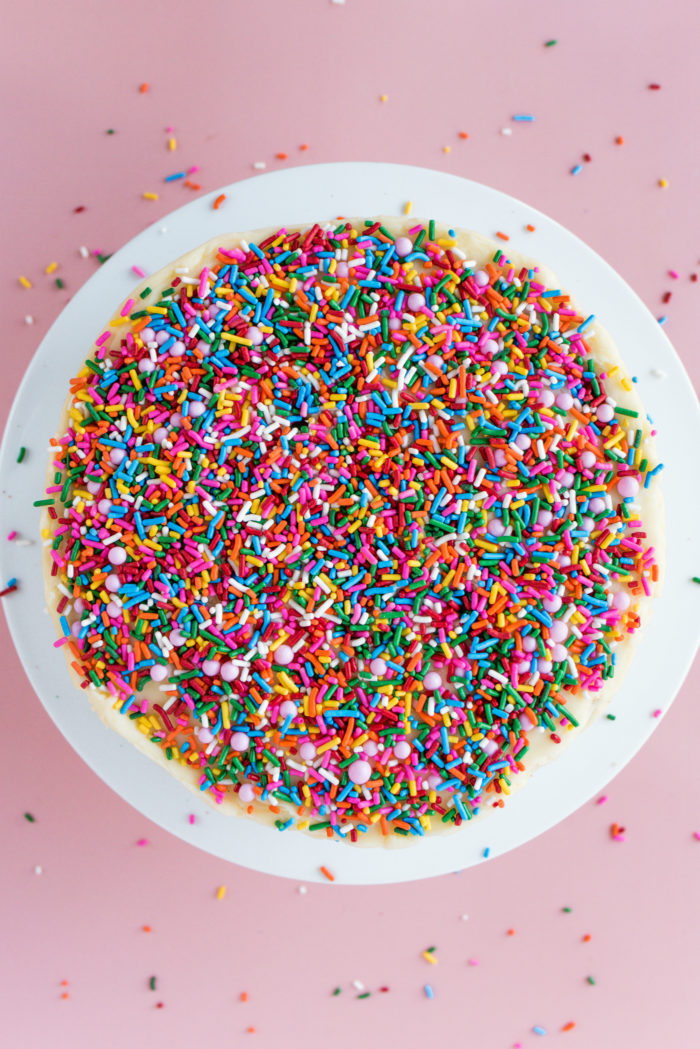 Relationships take effort
Relationships do not just happen, they take effort. Even in the blogging world, I have to work at staying in touch with my close friends. It's important to me, and I would like to think that they need me just as much as I need them.
Today I'm having lunch with an newer friend, one I have not visited with in a LONG time! :)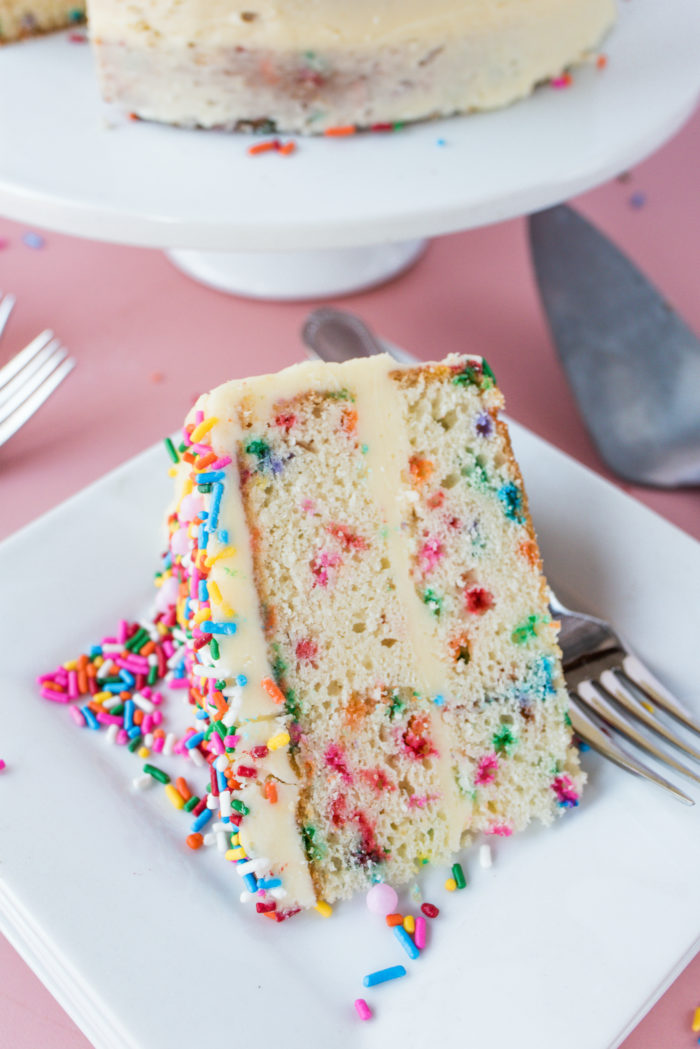 I'm also so grateful for my online friends — YOU! This space would be nothing without you coming back day after day, and I know I wouldn't have made it this far without so many kind, encouraging comments, likes, shares, and emails.
In the meantime, my daughter made a delicious homemade cake, and served it on this Epic FUNFETTI® Inspired Cake Board.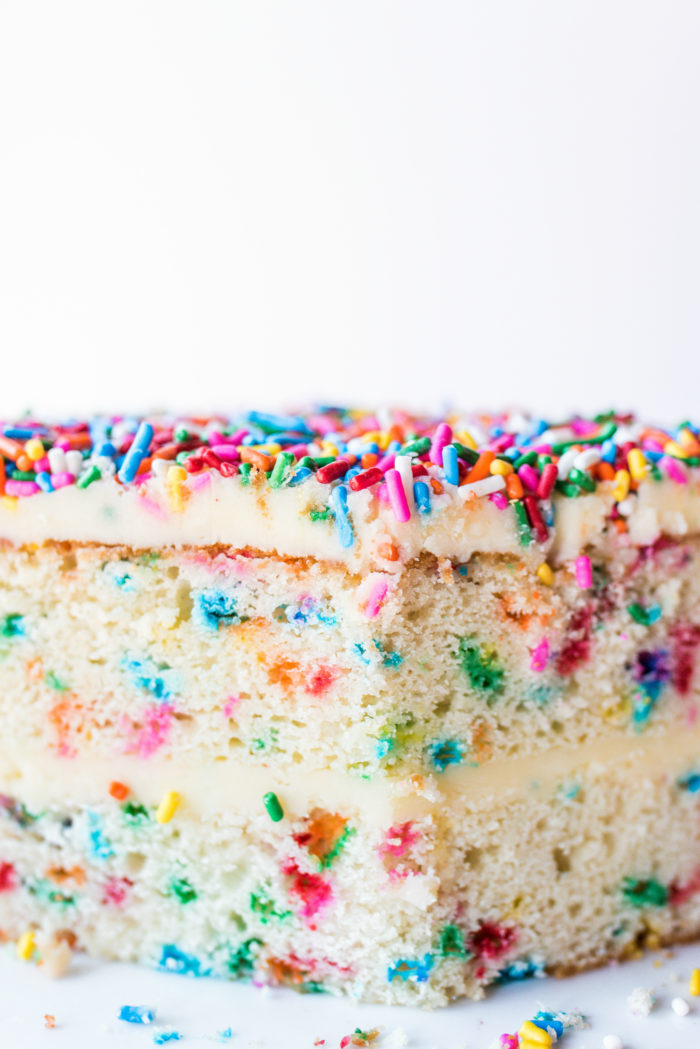 Get the Recipe: Homemade Funfetti Cake Recipe
Optional to buy premade butter cream frosting (like from Market of Choice).
Ingredients
Cake Batter
3¼ cups cake flour, recipe above
1¾ cups white sugar
1 tablespoon baking powder
1 teaspoon kosher salt
½ teaspoon baking soda
1 cup 2 sticks unsalted butter, room temperature
1/2 cup sour cream
1/2 cup whole milk
2 tablespoons canola, avocado, or other neutral oil
5 large egg whites plus 1 large egg
2 teaspoons vanilla extract
3/4 cup funfetti sprinkles, plus 1/2 cup to top
Frosting
2 1/2 cups or 5 sticks unsalted butter, at room temperature
4 cups powdered sugar, or to taste
2 teaspoons clear imitation vanilla OR almond extract
1 teaspoon lemon zest, optional
1 pinch salt
Instructions
Arrange rack in the center of the oven; preheat to 350°.

Grease two 9'' cake pans, with a piece of parchment lining the bottom.

In a medium bowl, whisk together eggs and vanilla extract. Set aside.

In a separate bowl, whisk together sour cream and milk. Set aside and bring to just about room temperature.

In a large mixing bowl, using a whisk, combine the flour, sugar, baking powder, salt, and baking soda—stir until all ingredients are incorporated. You can also do this in a stand mixer.

Insert the paddle attachment to a stand mixer and add the flour mixture. On a low speed, add in two sticks of room temperature butter to the dry ingredients. When butter is mostly incorporated, add in the neutral oil and continue mixing—the batter will be clumpy.

On a medium-low speed, add half of the sour cream and milk mixture, to the batter. Beat on medium speed, until incorporated, then add the rest. Beat until mostly smooth.

Begin to add egg mixture in two additions on medium-high speed, making sure the batter is well mixed before adding the second addition. Beat until combined and smooth.

Continue to beat on medium-high speed until mixture is thick and uniform, 2 minutes.

Finally, mix in the sprinkles on low speed until just incorporated.

Portion out the batter evenly into the prepared cake pans. Place in the oven and bake until the cakes have domed and are a light, golden color on the top—this takes 25-28 minutes, depending on your oven and altitude. When a tester is inserted into the center, it should come out clean, and the center should spring back when touched.

When cakes are done, remove from oven and place on a wire rack to cool. Use a blade around the edges of the pan to ensure the cake releases, then place a wire rack on top and flip the cake out.

While the cakes cool, make the frosting: Beat together the butter and sugar until fluffy and creamy. Add the vanilla and salt and continue beating to combine. Taste and add more powdered sugar if needed.

After cakes have cooled, level off the domed tops with a serrated knife or cake leveler to make two flat cakes. (Save the tops for a little snacking cake!)

Using a piping bag with a wide open tip, fill with about 1/3 of the frosting and pipe outward in a circular pattern from the center of the cake. Using an offset spatula, gently push and smooth the frosting out, then place the second cake on top, cut side down, and press gently. Use any remaining frosting in the bag to fill the gap between the layers.

Add the remaining frosting to the top and sides of the cake—because the frosting is dense, I tried to leave the sides of the cake with a thinner layer, but follow your heart.

Finally, add the remaining sprinkles to the top of the cake.

Refrigeration overnight will help the cake to solidify, making it easier to cut, but I'm sure that it could be served with only a few hours of refrigeration. Enjoy!
Notes
Make your own cake flour: 2 cups cake flour = 1 3/4 cups all-purpose flour + 1/4 cup cornstarch
Hello and welcome to my home and table!
I'm Sandy—lover of food, family, cooking, THE BIG BOARD, travel, and bringing people together. Through great recipes and connection around the table, we become better, stronger, and more courageous people. Feasting on Life is real, and every time we do it, we grow a little more. Read more...