Savory Pesto Mushroom Crepe Recipe
Savory Pesto Mushroom Crepe Recipe is filled with pesto-goat cheese, wilted arugula, and mushrooms, for a tasty vegetarian crepe dish.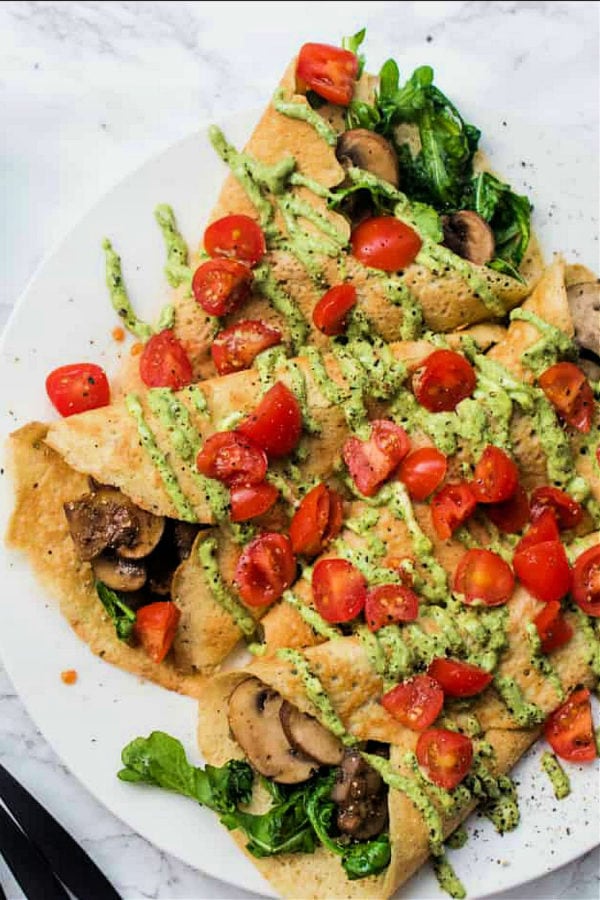 For a delicious French-style brunch, give these savory crepes with sauteed mushrooms and spinach a try! It's a gourmet meal that's easy to prepare!
Start with this crepe recipe and feel free to change up the different savory fillings. Or, if you're looking for a sweet recipe, try my Gluten-Free Coconut Strawberry Crepes Recipe.
Savory Pesto Mushroom Crepe Recipe
Savory crepes are also known as savoury galettes. Whatever you call them, you will love these Savory Crepes recipe.
Serve for breakfast, brunch, lunch or dinner. And feel free to change up the toppings, or even add meat.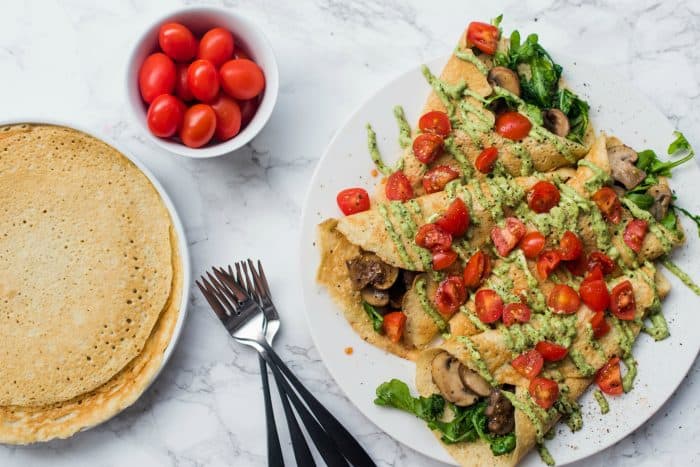 Ingredients for Gluten-Free Crepes:
Gluten free flour
Milk, almond or coconut for dairy-free
Eggs
Avocado oil
Salt
Goat cheese spread and garnish: Goat cheese, pesto, tomatoes, salt and pepper
They crepes are elegant, brimming with cheese, mushrooms, and a goat cheese spread.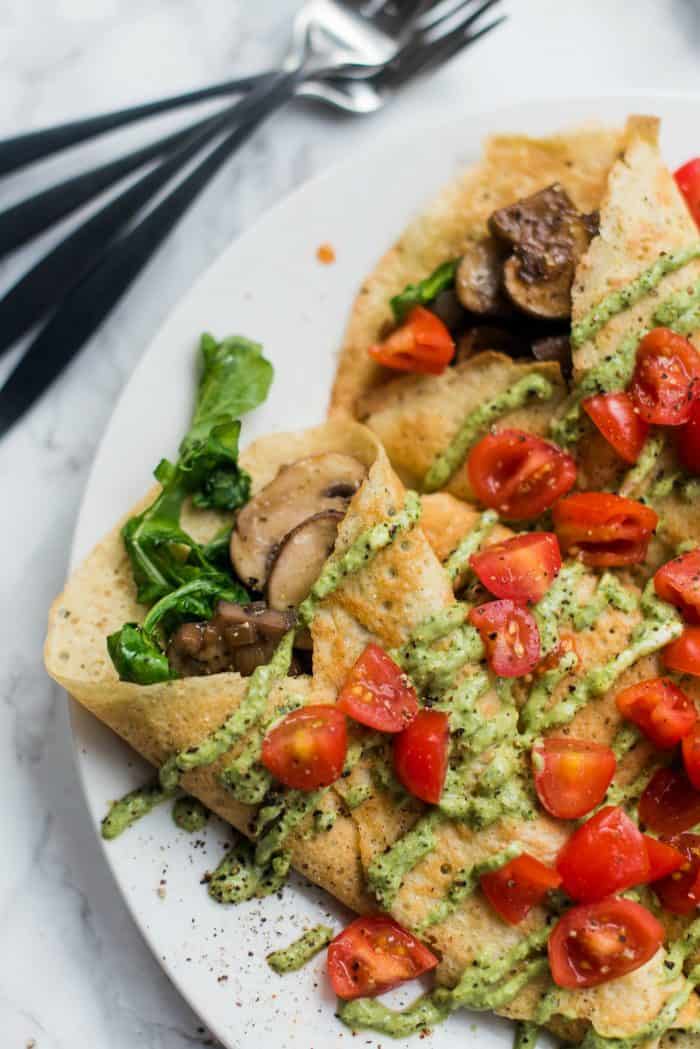 How to make Sautéed Mushrooms:
Olive oil
Mushrooms
Shallots
Avocado oil
Arugula
Enjoy this amazing vegetarian mushroom crepe recipe, made with pesto and mushrooms. Serve hot with a side of fruit salad!
What are savory crepes made of?
Savory crepes are usually made with buckwheat flour, but we say use what's in your pantry. For this recipe, we used gluten-free flour. Traditional fillings include leeks, caramelized onions, mushrooms, spinach, ham, eggs, and Gruyere cheese.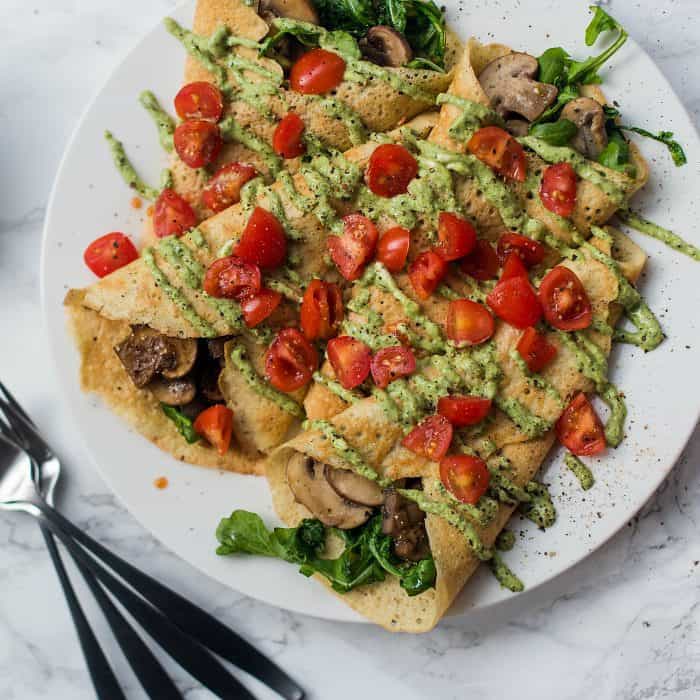 Make crepes ahead of time
Do you ever feel that you've made a connection with someone? Like you really "get" them, and they get you? I have so many friendships that I cherish; over the years so many beautiful women have stepped up to be a wonderful role model to me.
But love is more than words. It can be physical touch—a hug or a smile–or even sharing a tear with others. It could be sharing a book, a podcast, or another resource that can help a friends beyond what you personally can give.
Or even sharing food! Possibly invite a few friends over this week for brunch or lunch? This recipe is so good, and you can make the crepes ahead of time!
Crepes are easy to make in advance, because they hold up beautifully.
Whether you're making them for a sweet or savory recipe, you can refrigerate them or freeze them ahead of time.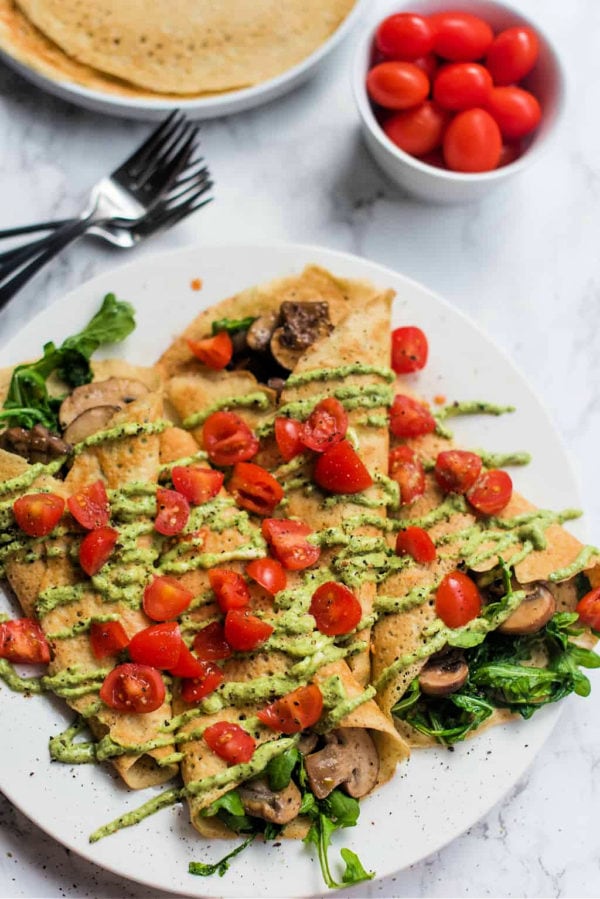 How to Store Crepes
Make the crepes and allow to cool completely. Next, cover with plastic wrap and refrigerate for up to 2 days.
To reheat crepes: Arrange crepes on a parchment lined baking sheet (it's okay if they overlap).
Cover the pan with foil and rewarm in a 250˚F oven for 10 minutes.
You can also rewarm the crepes individually in a non-stick skillet or crepe pan over medium low heat.
Freeze cooked crepes: Allow crepes to cool completely, then stack them with a layer of parchement paper between each crepe to prevent sticking. Then place in a freezer bag and freeze for up to a month.
Allow the crepes to thaw in the refrigerator or at room temperature before reheating for your recipe!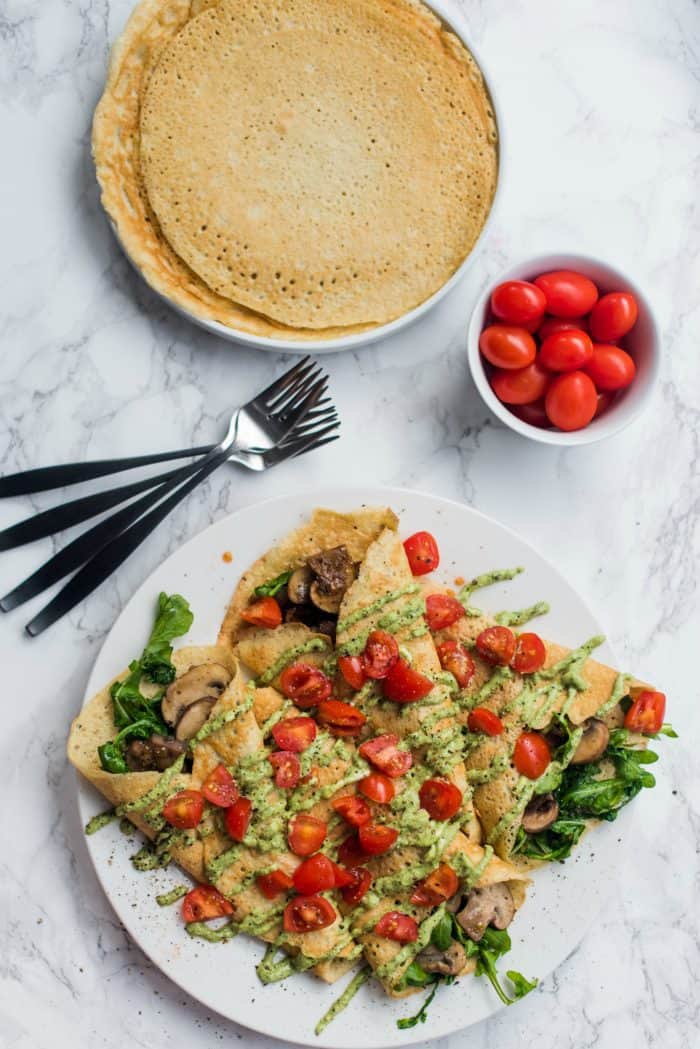 Universally adored, enjoy this crepe recipe today! The options are endless to how you can change them up with cheese, meat and vegetable combinations!
More crepe recipes to try:
More crepe recipes: Red Velvet Crepes [Tidy Mom]
Monte Cristo Crepes [Taste and Tell]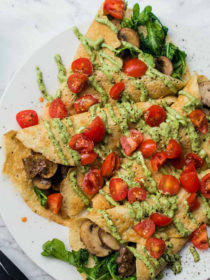 Get the Recipe: Pesto Mushroom Crepe Recipe
Ingredients
Gluten-Free Crepes:
½ cup gluten free flour
1 ¼ cup milk, almond or coconut for dairy-free
Pinch of salt
3 eggs
2 Tbsp. avocado oil
Sautéed Mushrooms:
⅓ cup olive oil
3 cup mushrooms, sliced
2 medium shallots, finely chopped
Drizzle of avocado oil
2-3 handfuls arugula
Goat Cheese Spread:
⅓ cup goat cheese
¼ cup pesto
Garnish:
Tomato
Salt and pepper to taste
Instructions
In small bowl, mix goat cheese and pesto together until smooth. Place in refrigerator.

Heat olive oil in medium sauce pan. When hot, add shallots and cook for about 2 minutes. Reduce heat to medium and add mushrooms, cooking until they are soft—7 minutes. Salt and pepper to taste. Reduce heat and keep warm.

Heat a crepe pan, or a pan that is relatively flat on medium-low heat. Add a touch of oil to the pan and then pour a little more than 1/4 c of batter in the center—tilt the pan in a circular motion so the batter disperses to the edge of the pan and thins out. Reduce heat slightly and allow to cook for about 3-4 minutes before flipping—watch for bubbles to appear on whole crepe before flipping. Continue until all batter is gone. Keep warm until ready to serve.

Heat a large sauce pan and add a drizzle of oil and 2-3 handfuls of arugula. Allow leaves to wilt slightly, before removing from heat.

In each crepe, add a smudge of pesto-goat cheese, wilted arugula, mushrooms, and desired garnish—tomatoes work great.
Notes
Originally posted May 2018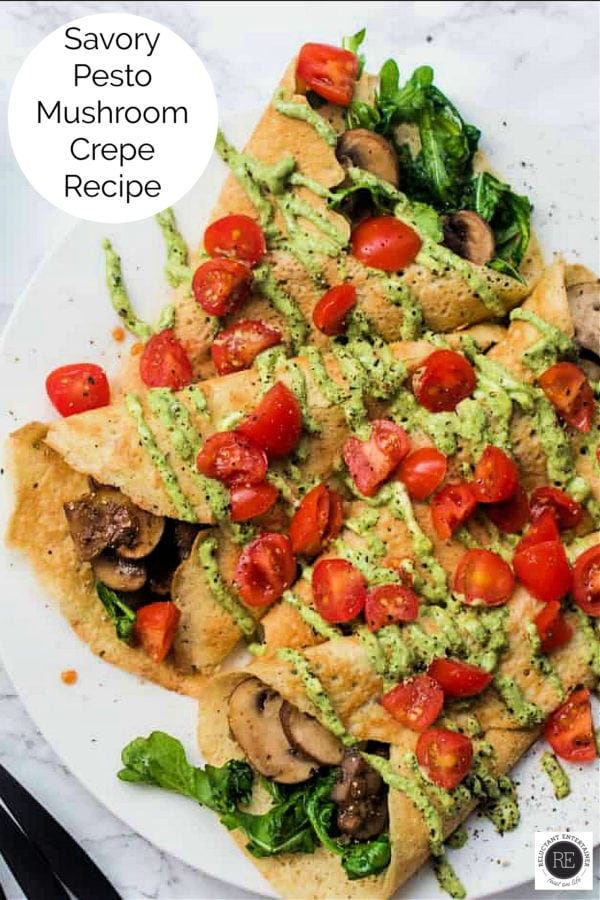 Hello and welcome to my home and table!
I'm Sandy—lover of food, family, cooking, THE BIG BOARD, travel, and bringing people together. Through great recipes and connection around the table, we become better, stronger, and more courageous people. Feasting on Life is real, and every time we do it, we grow a little more. Read more...