Honey Ginger Pear Custard Pie
Honey Ginger Pear Custard Pie is a delicious gluten-free pie, if you're wondering how to make a crustless pie! Not too heavy of a dessert, the flavors of pear, honey, and ginger are tantalizing and so tasty! Quick and easy, pears are delicious any time of year! Optional to serve with a dab of whipped cream!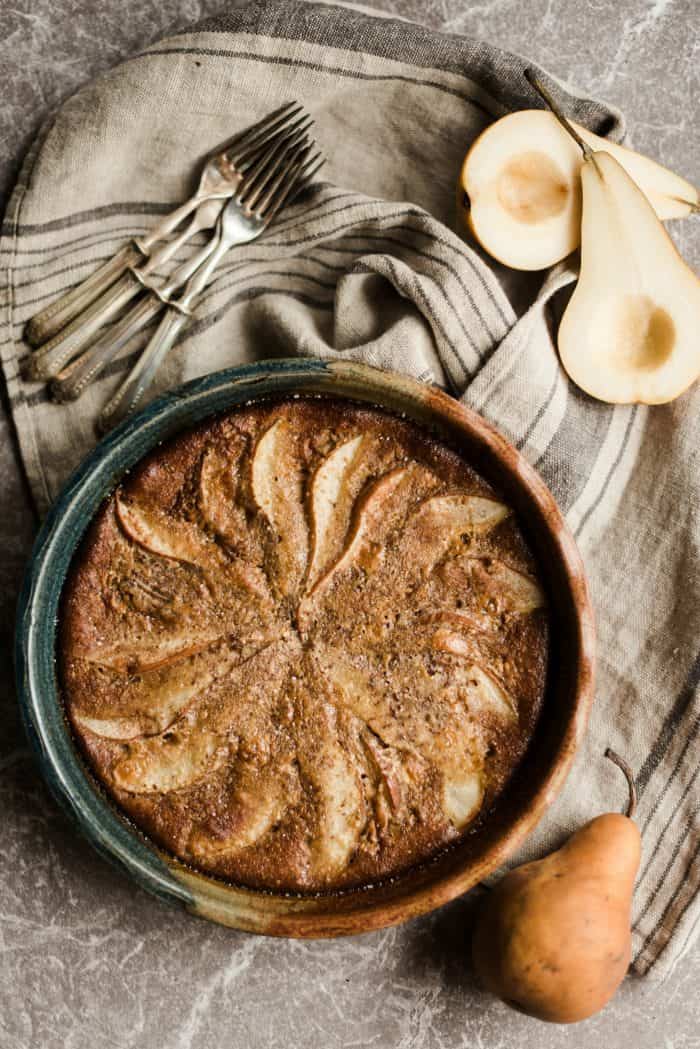 Friends, do you ever order pizza and invite people over for dinner? It's such a simple way to host. You don't have to "have it all together" in order to gather people in your home.
I'd rather serve pizza and sit around with some good beer or wine, and not worry about all the details of a meal, than miss out on a fun, hospitable moment. What about you?
I love investing in people and an easy way to start is with pizza and a good dessert!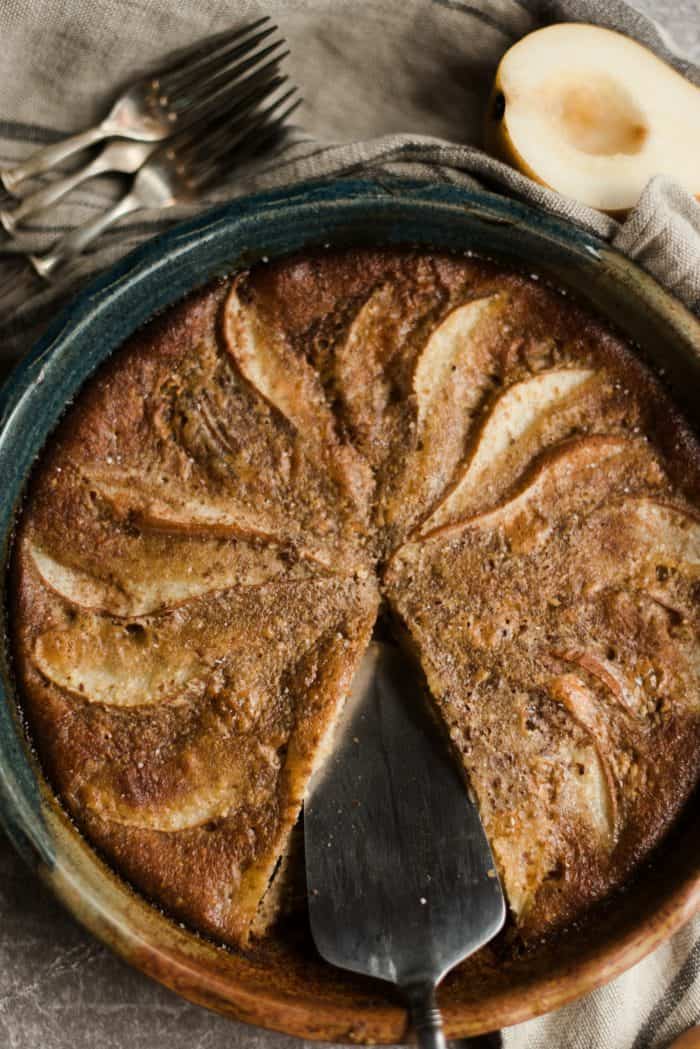 How to make a crustless pie
This crustless pie recipe today, Honey Ginger Pear Custard Pie, might be the best dessert you've ever served. And, it's great with pizza, because it's not too heavy.
Quick and easy, the hard part is slicing the pear (and that is actually easy!). Mix the ingredients and pour into a pie plate, over the sliced pears. Bake and serve!
Don't forget to spray the pan, because it will be tricky getting the pie out. We forgot to spray it the first time we made this recipe – oops. A little sticky.
Kitchen mishaps happen all the time in my kitchen, and this was probably my 10000th mistake. HA!
Order in pizza
Just call your friends and and say, "Hey, we're ordering pizza to be delivered – want to come over and share it?" It always tastes better with friends, and they enjoy it, too.
Since I love to bake, I usually still find the time (and the enjoyment!) to throw something in the oven for dessert – even if it's just brownies, cookies or a simple cobbler. Oh, and if you're a pear lover, maybe try this Pear Puff Pastry Dessert (yum), or Cardamom Pear Blueberry Crisp (wow).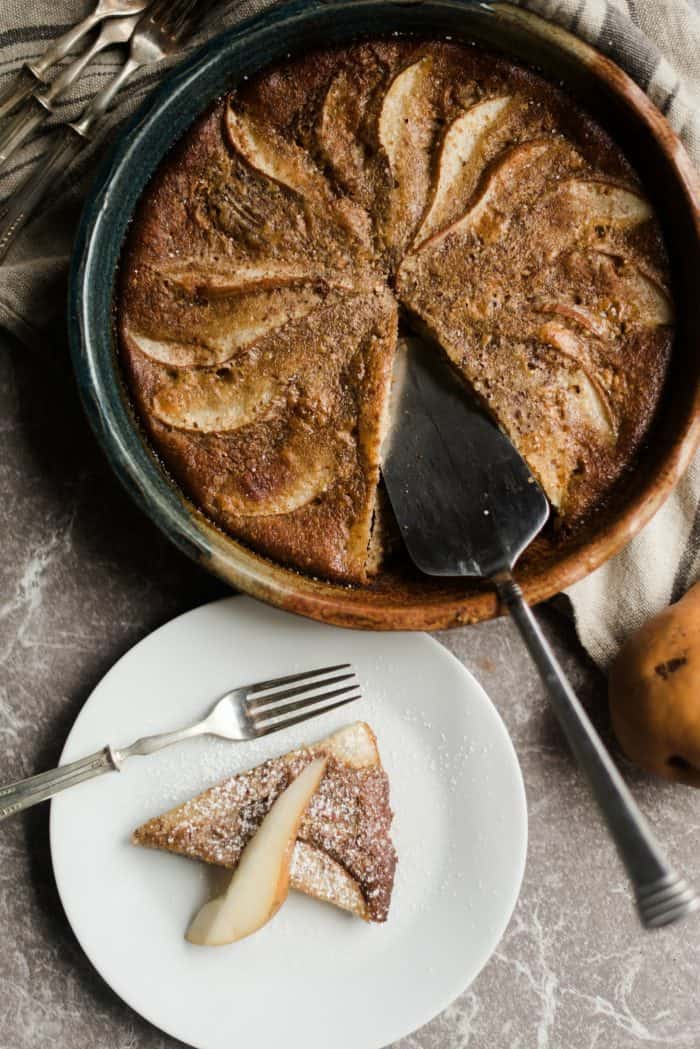 Pear Custard Pie
If gluten-free guests are coming (which might be a problem with pizza, so make sure you have a giant salad, too), then you may love my Honey Ginger Pear Custard Pie recipe today!
So delicious out of the oven, nice and warm, served with vanilla ice cream.
Often, the best social events are the simplest and least "planned" ones!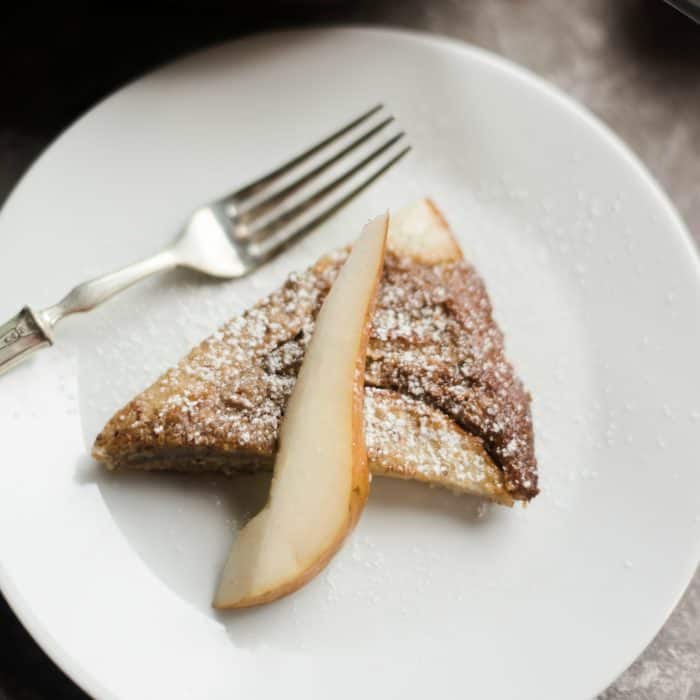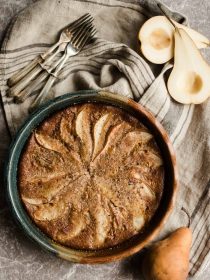 Get the Recipe: Honey Ginger Pear Custard Pie
Honey Ginger Pear Custard Pie is a delicious gluten-free pie, crustless, quick and easy to prepare!
Ingredients
3 Bosc pears
1/2 cup avocado oil
1/3 cup coconut sugar
1/3 cup almond meal
1/4 tsp kosher salt, plus a pinch
1/4 cup raw honey
3 large eggs
1/3 cup coconut cream
1 tsp vanilla
1/2 tsp ground ginger
1 1/2 tsp cinnamon
heavy cream for whipping, optional
Instructions
Preheat oven to 350 degrees.

In medium bowl, beat together eggs, avocado oil, coconut sugar, almond meal, honey, vanilla, salt, coconut cream, ground ginger, and cinnamon. Set aside.

Slice pear lengthwise into 8-10 slices. Place in spiral pattern at the bottom of an oiled (or sprayed) pie dish. Pour batter over the pears, then place in oven for 35-42 minutes.

Remove from oven, and serve with whipped cream or vanilla ice cream, and a pinch of salt to bring out the flavor.
More pear recipes: Pear and Raspberry Tart [Taste and Tell], and Mama's Pear Crisp [Southern Plate].
Hello and welcome to my home and table!
I'm Sandy—lover of food, family, cooking, THE BIG BOARD, travel, and bringing people together. Through great recipes and connection around the table, we become better, stronger, and more courageous people. Feasting on Life is real, and every time we do it, we grow a little more. Read more...