Trader Joe's Red Sauce Enchiladas
Buy simple ingredients for Trader Joe's Red Sauce Enchiladas, an easy main dish with ground turkey to serve for any Mexican feast!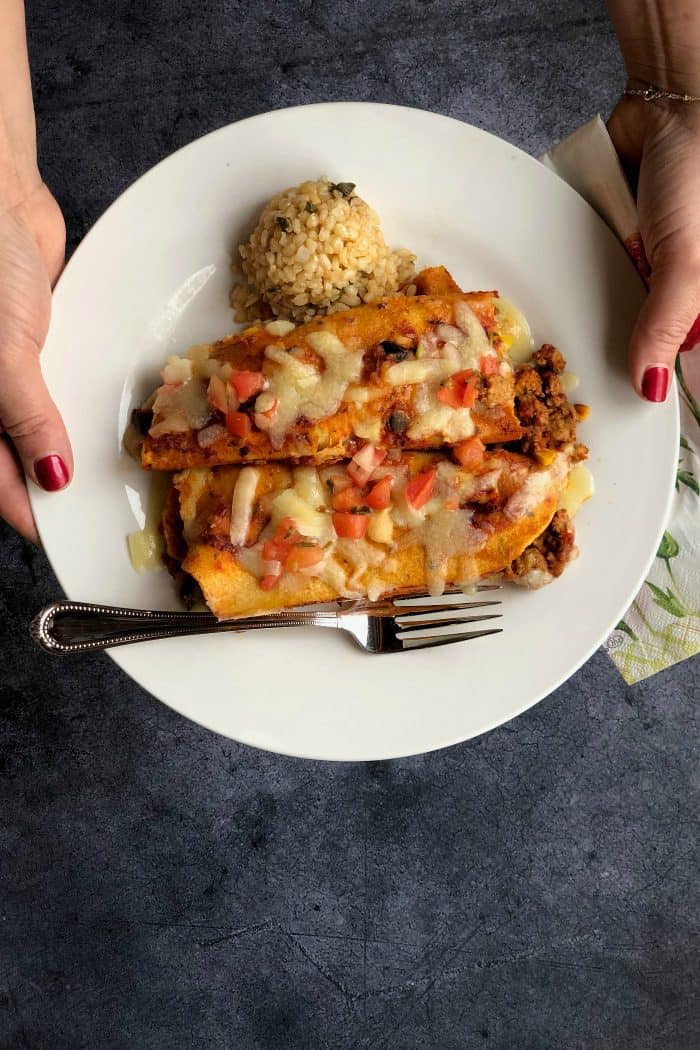 Friends, we hosted a "Family Dinner" with our church this past Sunday night and served these Trader Joe's Red Sauce Enchiladas!
Red sauce enchiladas
Family Dinners occur when different people in the church sign up to host a potluck dinner for however many they can accommodate! It's a fun way to get to meet new people! (You may also remember my Bread and Wine post, here.)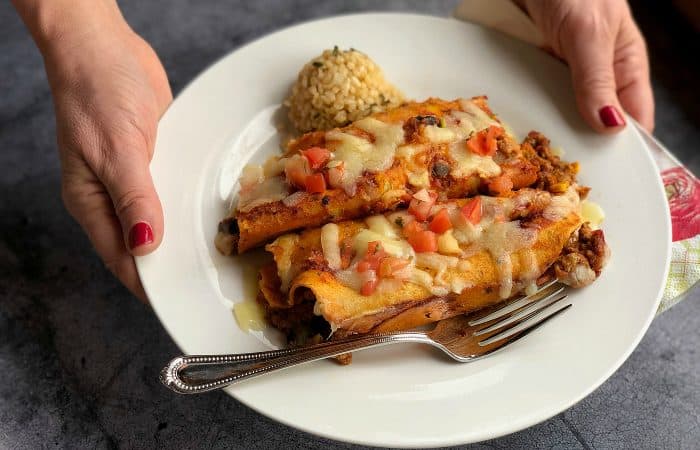 Last week we hosted 14 and had a blast.
I made three pans of my famous Trader Joe's Red Sauce Enchiladas, a recipe I'm sharing with you today.
Trader Joe's Red Sauce Enchiladas
Need a quick, delicious enchilada recipe? If you have a Trader Joe's, it's just one stop, grab the groceries, and then run home to assemble.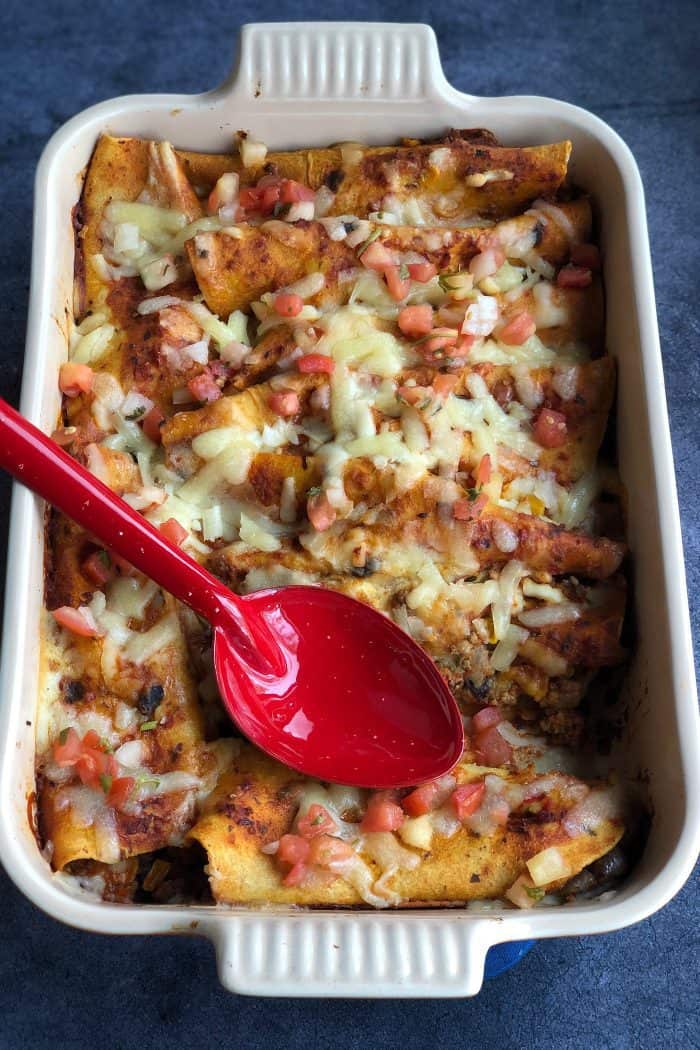 How do you make a quick red sauce?
Grab two bottles of Trader Joe's Enchilada Sauce
Two tubs Trader Joe's Homestyle Salsa Especial, mild (but you can buy their "hot" if you want them spicy!)
1 1/2 cups chicken stock
This makes the BEST sauce, guys!
Assemble and bake right before the guests arrive!
Hosting a Church Family Dinner
Now, it takes a little risk to say "I'll host," not knowing who your guests will be. But this is what I love about hospitality—it is risky sometimes, but oh, so worth it.
It always works out when your heart is in the right place.
We enjoyed every minute with our wonderful guests and everyone hung around the table for a long time!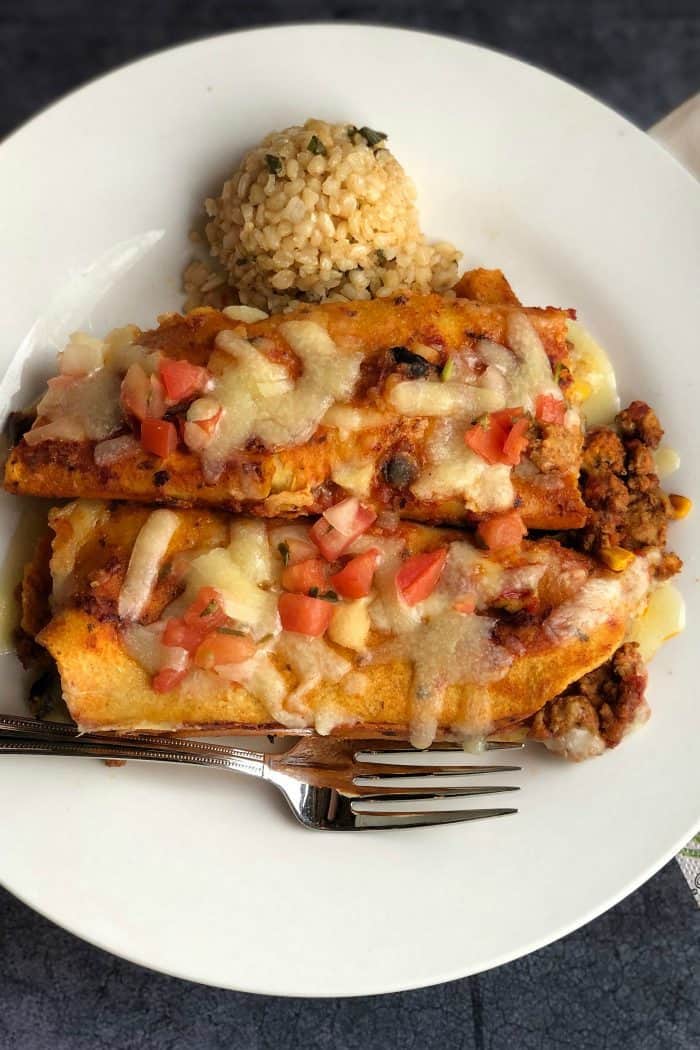 How to plan a church family dinner
This time I received the "guest list" of who was coming (remember people sign up through the church) a few days ahead of time.
I quickly emailed our guests and told them what to bring.
Honestly, I've been hosting for a long time now, and I always try to think of how to make a process more efficient.
A sign-up list would mean a lot of going back and forth, and I'm not into that.
I also don't ask about food allergies and diets anymore with a large group. I figure if people sign up to come to a "potluck, " they will take care of their own dietary needs. It's not up to the host to make a special menu for just one person.
I'd love to hear from readers on this issue, if you feel inclined.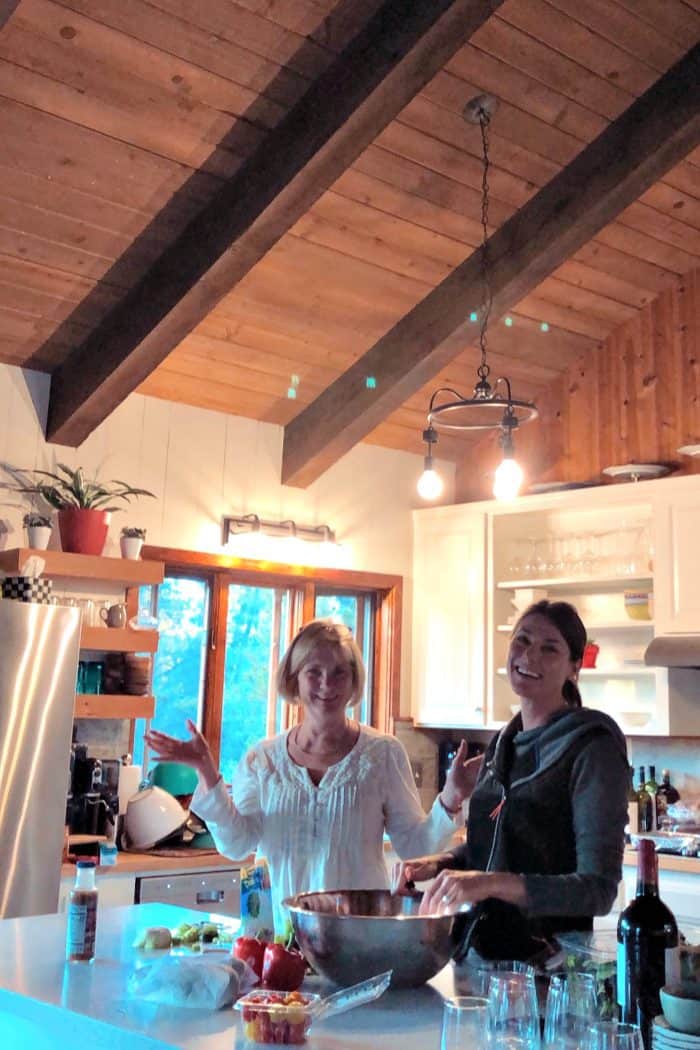 It all works out – every time. I've had every kind of diet in my home, believe me, and I'm always amazed by how mature and unassuming our guests are.
It's all about grace and taking care of ourselves, right?
Now, for a smaller party, I have told my guests ahead of time that I'm cooking salmon. Rarely does someone have an allergy to salmon, but it has happened. In that case, I changed the menu. No problem!
It's dicey.
Hospitality and menu planning. LOL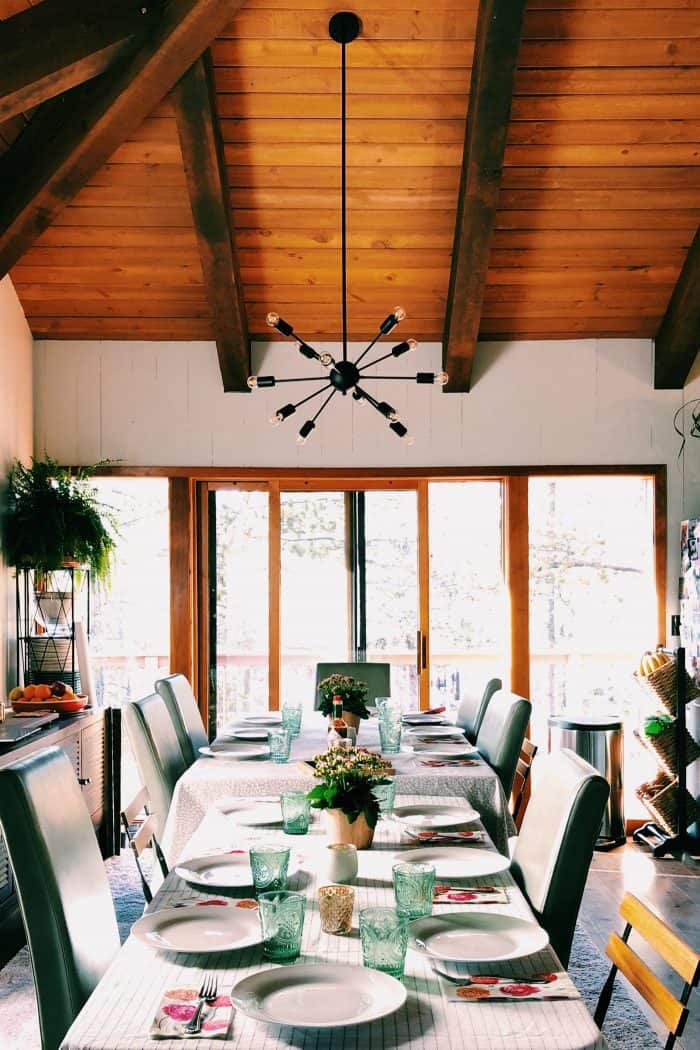 Set the table
I set the table for 14.
Made my usual "chips and salsa board" for the appetizer.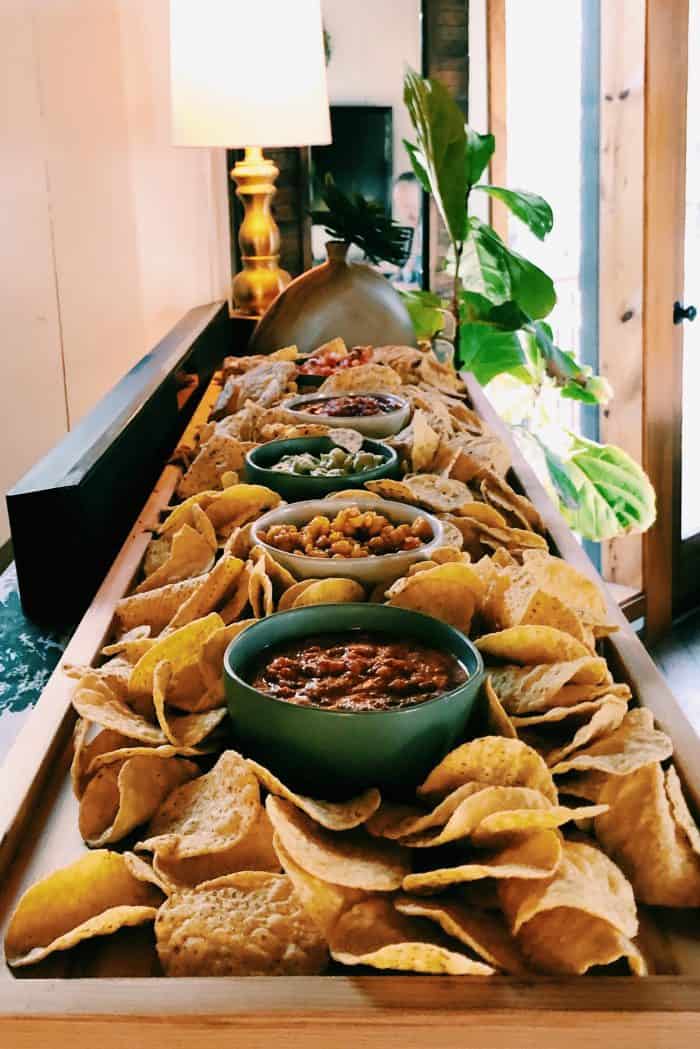 Guests brought salads, beans, and rice.
The bottom line as a host, friends, is to do your best. Things will not be perfect, but you learn to go with the flow with a joyful heart.
Oh, and two of our guests showed up at 4 pm, when the party started at 5 pm! Oops! It happens, we've all been there, on both sides. You are gracious, give your guests a job to do, or send them out on a walk.
Whatever works for you!
More enchilada recipes to try:
Change up enchiladas and try these recipes: Sweet Potato Collard Green Enchiladas with Adobe Beef, Vegetarian Sweet Potato Bean Enchiladas, Best Enchilada Sloppy Joe Recipe [Taste and Tell], and Instant Pot / Pressure Cooker Shredded Beef Enchiladas [Pressure Cooking Today].
Get the Recipe: Trader Joe's Red Sauce Enchiladas
Makes 3-4 9x13 pans (depending on whether you like to squish your enchiladas together or not). Easy to cut the recipe in half.
Ingredients
Olive oil
2 large white onions, diced
3 pounds ground turkey
2 Tbsp. chili powder
3 Tbsp. cumin
1 tsp. cinnamon
1 tsp. paprika
1/2 tsp. nutmeg
1 tsp. garlic powder
Salt and pepper to taste
4 packages Trader Joe's Corn & Wheat Tortillas, 36
2 12 oz bottles Trader Joe's Enchilada Sauce
2 12 oz tubs Trader Joe's Homestyle Salsa Especial, mild
1 1/2 cup chicken stock
2 15 oz can whole kernel corn, drained
2 15 oz can black beans, drained
6-8 cups white cheese, or Mexican cheese mixture, grated
Instructions
Preheat oven to 350 degrees.

Heat a large saute pan to medium heat; add olive oil and saute the onions for 5 minutes, until clear and cooked. Add the ground turkey and cook for another 5-7 minutes, until cooked through. Add the spices; season to taste with salt and pepper. Cook through and set aside.

In a medium saucepan add the enchilada sauce, salsa, and chicken stock. Stir and cook on medium heat until hot; turn off heat and set aside.

Drain the corn; drain and rinse the black beans.

In a very large bowl, add the meat mixture and the corn and beans. Gently stir.

Prepare 3-4 9x13 pans with cooking spray. Use 3 pans if you like to squish the enchiladas together, or 4 if you like them more spread out.

Place 3/4 cup of red sauce at the bottom of each pan.

Preheat 12 tortillas at a time (wrapped in a damp paper towel in the microwave) for about 45 seconds. This will make them hot and soft and easier to roll.

Dip each tortilla into the sauce, place a handful of cheese where?, then about 1/4 cup of taco meat mixture. Roll and place the enchiladas seam side down in the pan. Fill the pans with enchiladas. Pour the remaining sauce on top. Sprinkle with remaining cheese.

Cook the enchiladas for 25 minutes, until bubbly and hot. Remove from oven and allow to sit for about 5 minutes, or cover with foil until you are ready to serve.

Serve with sour cream, cilantro, extra salsa, and guacamole, if desired.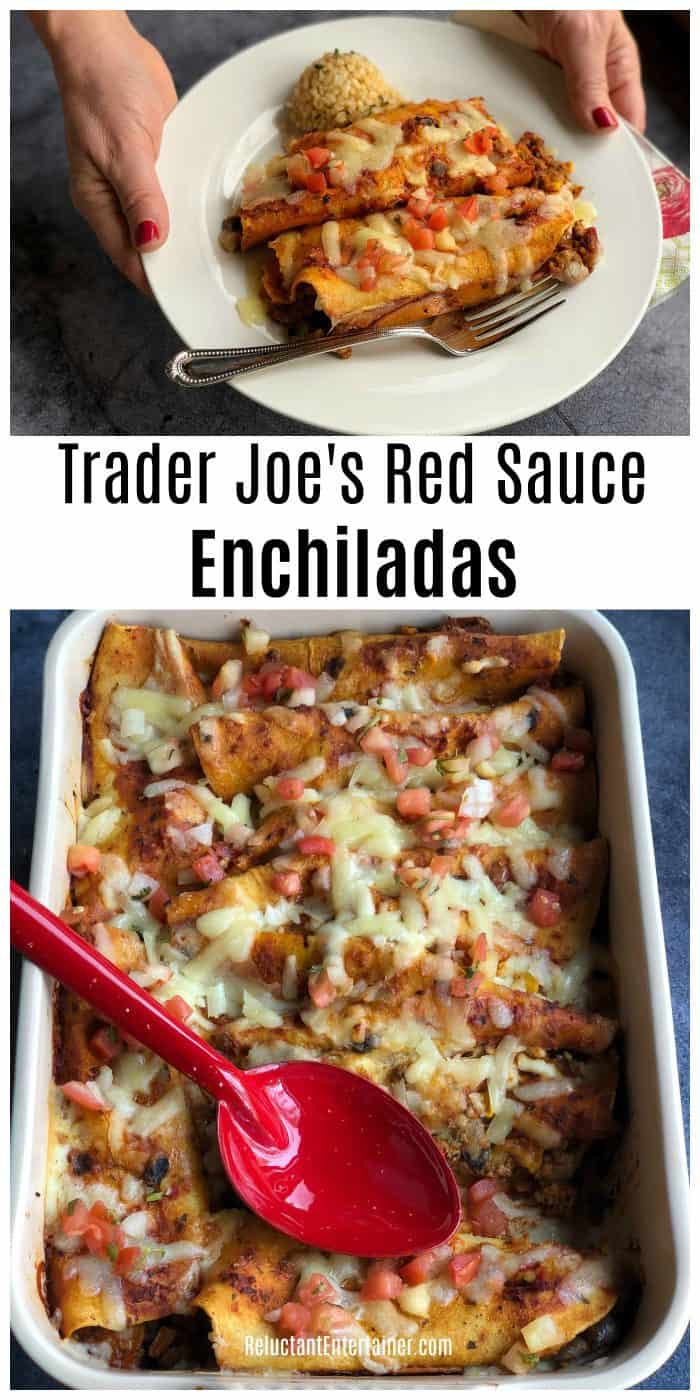 Hello and welcome to my home and table!
I'm Sandy—lover of food, family, cooking, THE BIG BOARD, travel, and bringing people together. Through great recipes and connection around the table, we become better, stronger, and more courageous people. Feasting on Life is real, and every time we do it, we grow a little more. Read more...