EPIC Chips and Salsa Board
Enjoy this EPIC Chips and Salsa Board for your next large potluck party! Serve as an appetizer or for Mexican food condiments. Watch the video!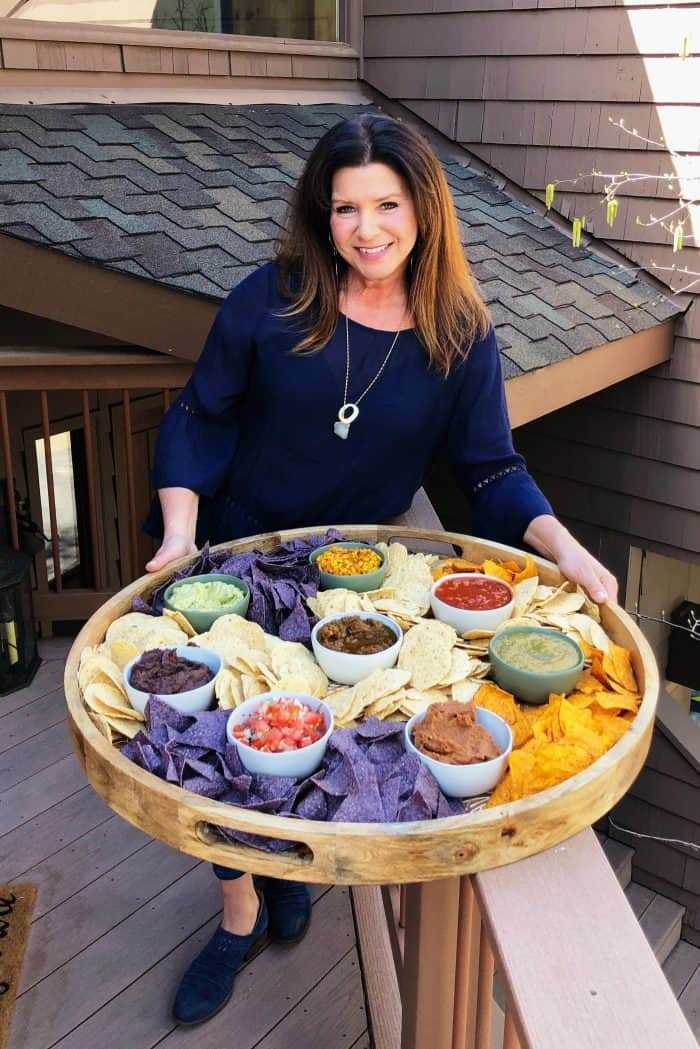 Friends, today I'm sharing the details for how to host a Bread & Wine Dinner, plus this EPIC Chips and Salsa Board, with all the easy details.
This is a great way to serve an appetizer for a large party, or for Mexican chips/salsa or condiments. You may have already snagged my great party idea to serve a Mexican Charcuterie Board (my fave).
28-inch Charcuterie Board
Friends, we love a board that has a lip. A "lip" is the secret to the best charcuterie or dinner board, because the food does not fall off. Unfortunatley the big 28-inch board is now sold out. But you can grab more board ideas, here: Best Charcuterie Boards to Buy. Or all the details for The Big Board are at the bottom of this post.
Epic Rectangular Chips and Salsa Board
My husband built me this Epic Rectangular Chips and Salsa Board (42 x 12), and it's another great way to display chips and salsa. We are now carrying a new epic size 12 x 36 inches (link at bottom).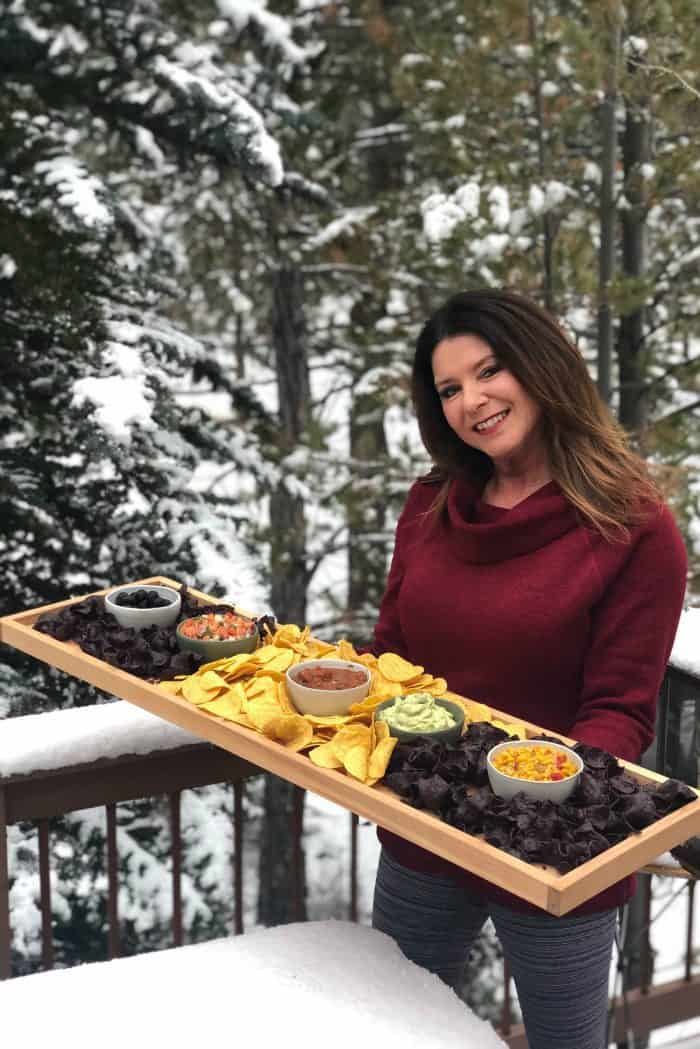 I love a chips and salsa board because you can serve it any time of year, and for almost any holiday!
The table really matters
In the last two years, living in a new town, I've found that many of the most sacred moments have taken place around our table. Young or old, new friends, lifelong friends, male or female, single or married, neighbors from all walks of life, it's become evident that our table really matters.
In fact, I look so forward to hosting … because every time we do, the night takes on a flavor of its own. Always different. Always meaningful.
Which is why I said "yes" when our church asked Paul and me to host a Bread and Wine Dinner.
Bread and Wine Dinner
Once a quarter, our church asks its members who would be interested in intentionally opening their homes and sharing their tables with others. These dinners are called "Bread and Wine." In offering our tables with folks we don't know, it's a great place to show hospitality and generosity, with new relationships!
When Paul and I said yes, little did we know we'd have such a fun, memorable night. Honestly, people came as strangers and left as friends.
Six brand new people came (of the eight) with a dish in hand and a bottle of wine, and we enjoyed appetizer outside, and then dinner inside.
What to serve
Friends, don't settle for a mediocre. Make it special and unique. That doesn't mean lavish or over-the-top. For our meal we chose to make "Mexican bowls," where everyone could dish up their own.
Potluck makes everyone feel at home.
We provided the appetizer, this EPIC Chips and Salsa Board, and drinks. Also provided was the meat and condiments.
And then we assigned the guests to bring fruit salad, beans, rice, and dessert.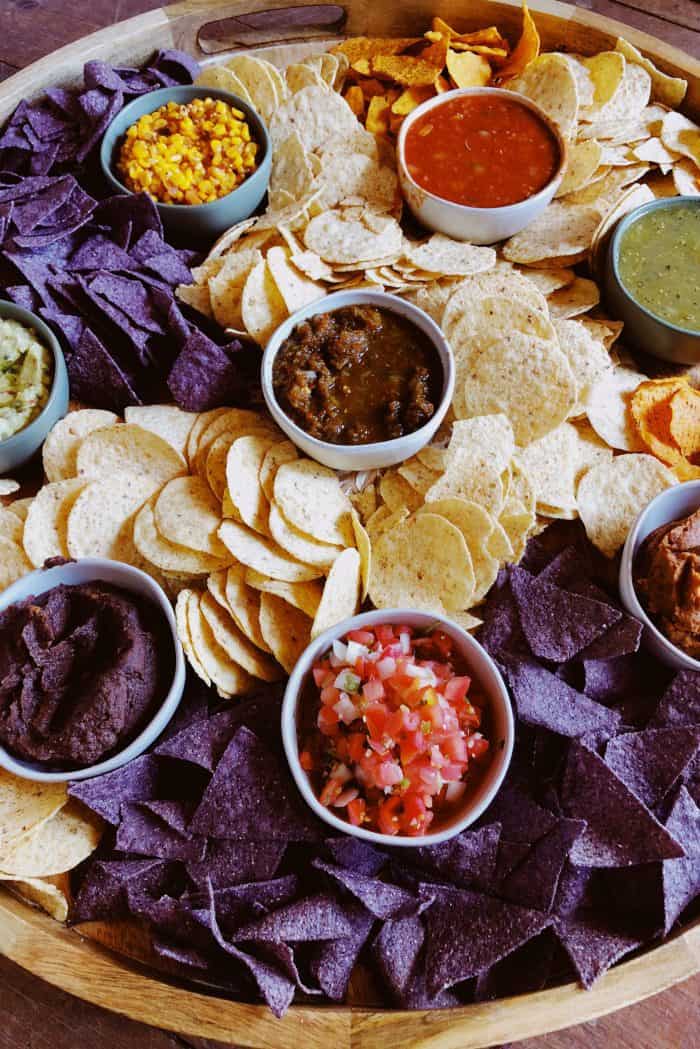 EPIC Chips and Salsa Board
My happy place to shop for good buys is Grocery Outlet. I'm not sure if you have one in your town, but I love the prices, the variety of foods, and they have a great gluten-free section, too.
In this case, I picked up various fresh salsas and chips. If you have time to make your own, you may enjoy this Easy Corn Pico de Gallo Salad or this Mexican Bean and Rice Dip or this very popular Texas Caviar Bean Dip recipe for Cinco de Mayo Day recipe.
Host a gathering
Ultimately we have to remember this: What really matters isn't the food or the table or the settings. What matters is that we opened our homes and lives to see and hear one another.
I want to challenge you to try something new. Maybe your church doesn't have a Bread and Wine Dinner option, but here are a couple ways that you can host a gathering:
1. Invite neighbors that you do not know.
2. Think of one couple and ask them to bring 5 or 6 new people.
3. Consider your hosting options. Dining room, yard, even your garage, and let people help with the food and drinks.
If you plan to host a Bread and Wine Dinner any time soon, you will be doing a great thing.
When I think about the isolated people in our neighborhoods or even churches, this Bread and Wine Dinner party is a beautiful way to open our homes and invite others in. There's power in the table.
Friends, The Big Board® is here! Yes, I've partnered with JK Adams, the premier woodmaking company in Vermont, with my own line of RE boards!
20-inch round, maple
26-inch round, maple
12 x 36-inch maple
12 x 24-inch maple – COMING SOON
23-inch Lazy Susan
26-inch ebonized BLACK, cherry
12 x 36-inch ebonized BLACK, cherry
A board with a lip (or raised edged) so the food doesn't fall off
FOOD SAFE
Made in the USA
Undercut handles (a unique design)
Thank you for your support, as we've sold out so many times already!
Order The Big Board® today!
More board ideas:
How to make an Asian Inspired Cheese Board [FoodieCrush]
Olive Meat Cheese Board Recipe [RE]
Whipped Ricotta Board [The Baker Mama]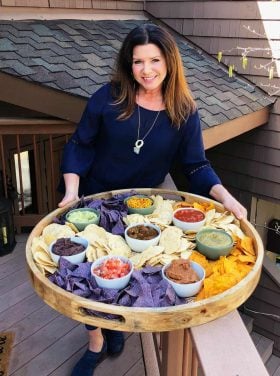 Get the Recipe: EPIC Chips and Salsa Board
Ingredients
1 Pico de Gallo
1 Bean Dip
1 Black Bean Dip
1 Guacamole
3 Salsas, medium and mild and hot
1 Corn Chili Salsa, we buy at Trader Joe's
Variety of blue corn chips, sweet potato and plain corn chips
Sour cream, optional
Instructions
Line a large platter or board (with side) with parchment paper. Or, if the board is "food safe" you can skip this step.

Fill small bowls with salsas and all liquid ingredients (salsa, guacamole, dips, sour cream). Place, spreading them out, on the board.

Fill in the open space with a variety of chips. Serve and enjoy!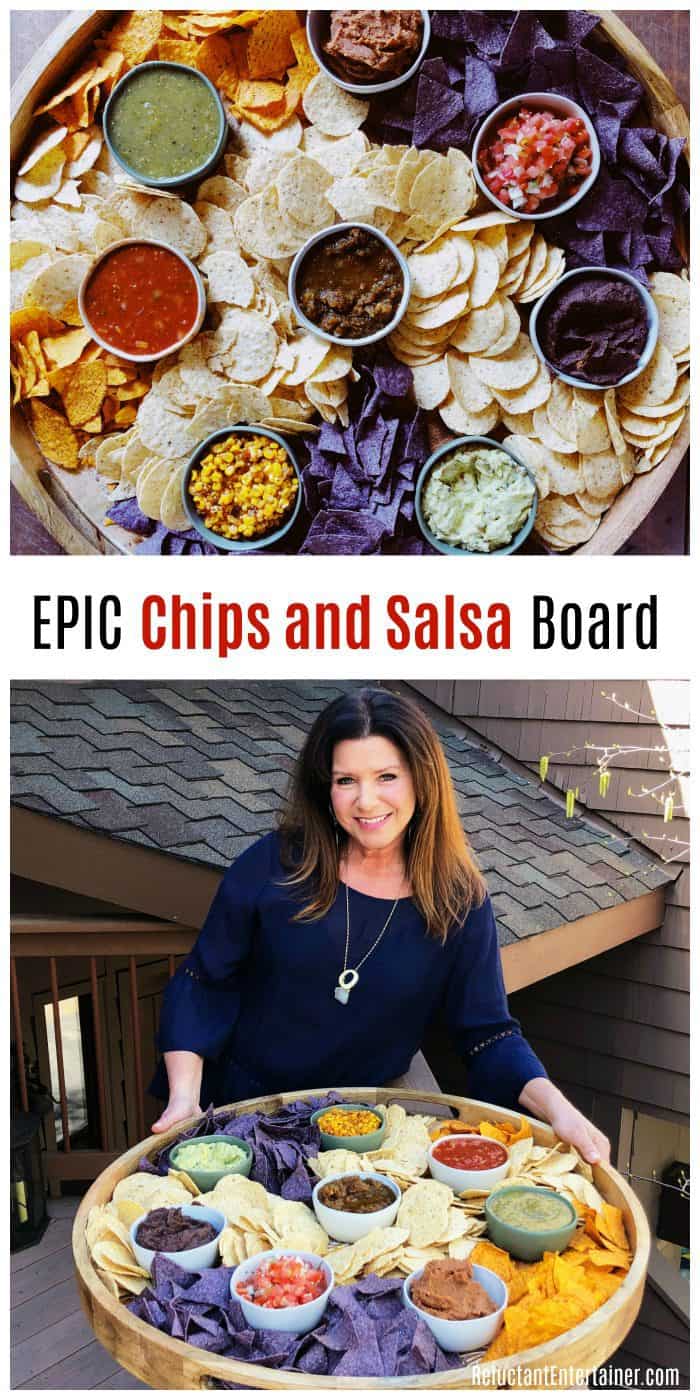 Hello and welcome to my home and table!
I'm Sandy—lover of food, family, cooking, THE BIG BOARD, travel, and bringing people together. Through great recipes and connection around the table, we become better, stronger, and more courageous people. Feasting on Life is real, and every time we do it, we grow a little more. Read more...