Easy Corn Pico de Gallo Salad
This Easy Corn Pico de Gallo Salad is delicious for any summer meal, served as a dip, side salad, or a salsa on top of fish, chicken, pork, or beef.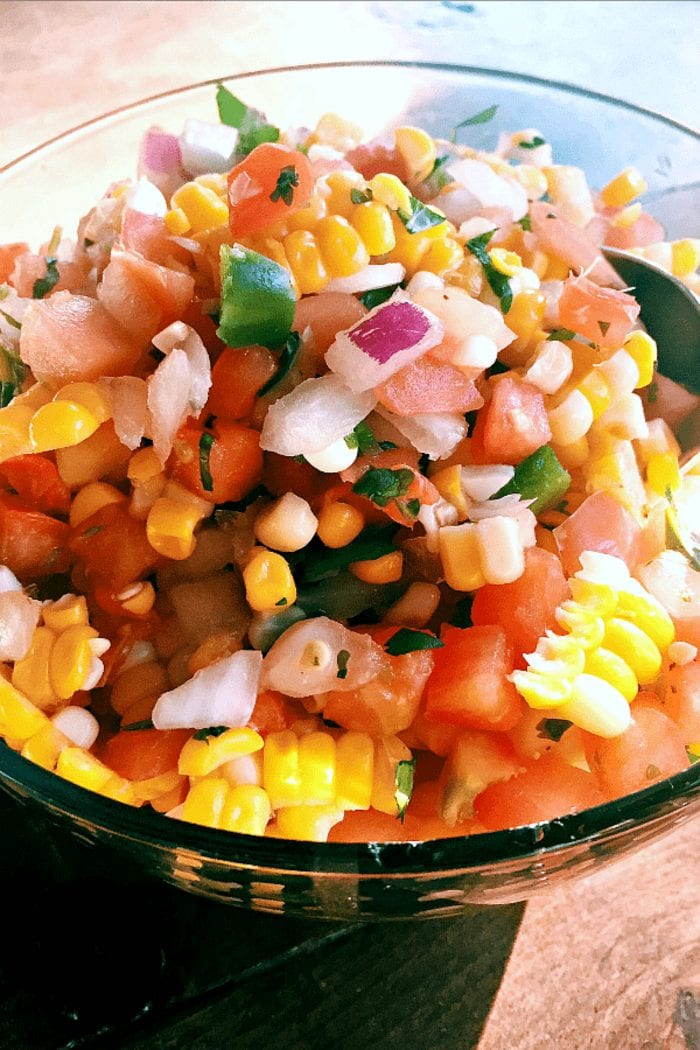 Last night we had company. I was very excited to have this young couple over, who live in our new town, and we lingered around the table for several hours. It was a precious time. On the table? This Easy Corn Pico de Gallo Salad! We love this recipe served on top of this Best Grilled Chicken Thighs recipe!
Easy Corn Pico de Gallo Salad
This recipe is so easy and summery, perfect for grilling.
The shortcut? Start with pre-made pico de gallo!
You can serve it as a dip or a side salad, or a salsa on top of fish, chicken, pork, or beef. For appetizers, serve it on an Epic Chips and Salsa Board!
First of all, I'm not afraid to ask for help. It seems more and more, since my family is older now, everyone pitches in before company arrives. We also have this great new kitchen, that we designed with lots of room. In our last house, we had a large kitchen, but the space on the cooking side was tight.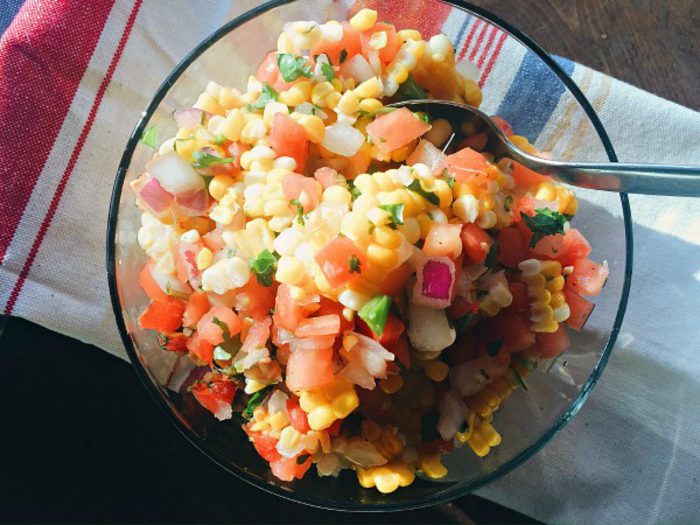 Ingredients for Corn Pico de Gallo Salad
Fresh pico de gallo
Fresh corn (you can also use canned corn)
Cilantro
Limes
Salt and pepper
Red chili flakes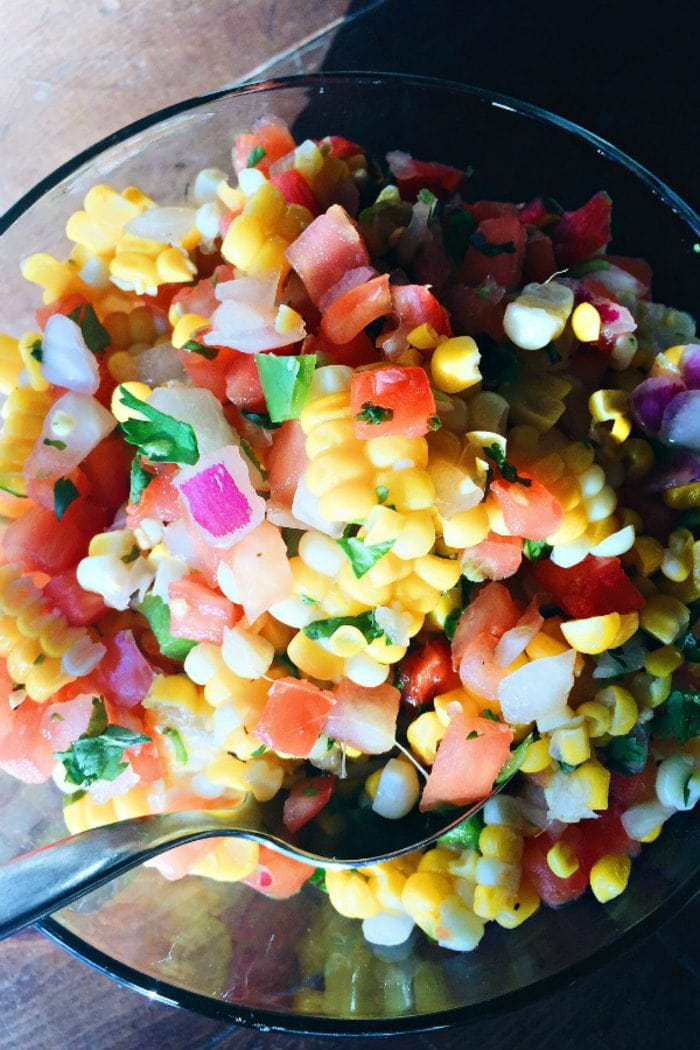 Summer hosting
As a hostess, I want to enjoy my time with the guests, too. So hard work getting organized on the back end of entertaining, makes it so worth it, allowing me to linger later and enjoy the company.
I also think my kids have learned the hard work that goes into a meal, and they appreciate it more. You know, not only the tasty dishes, but the love and time and energy that goes into cooking and hosting.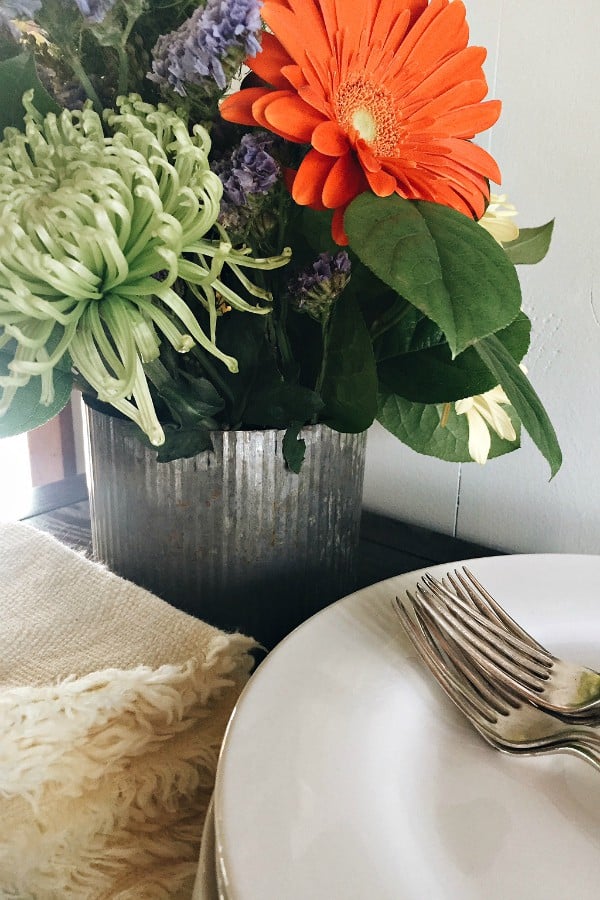 We ate outside, and then as it got dark and chilly, we moved inside, for homemade ice cream and fresh peaches.
The first table … getting to know our guests. Really fun!
The second table … a very real conversation. Actually, I'd say that it was more most? honest.
A beautiful reminder of why we gather at all.
What is Pico de Gallo
So for a QUICK salad or appetizer, serve this healthy, fresh summer dish!
Pico de gallo is made from chopped tomato, onion, coriander leaves, fresh serranos, salt, and lime juice.
What makes this salad so easy is that you can buy pico de gallo already made, in the grocery store (in the deli or refrigerated dip section), so you can make this salad in no time. Squeeze the fresh lime over the salt; salt and pepper to taste.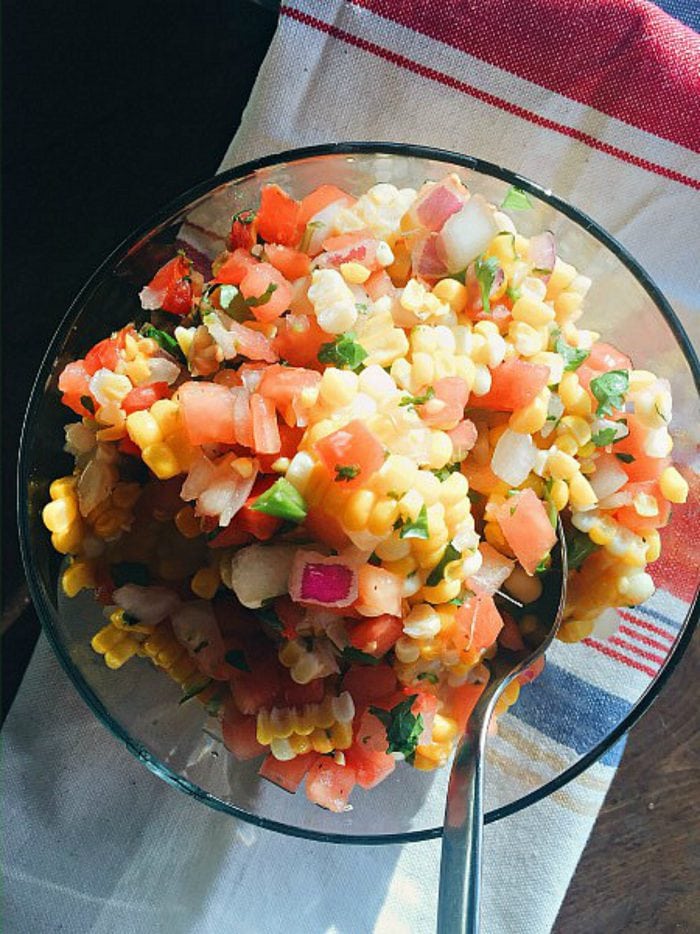 The perfect corn salad!
Again, it's yummy served with burgers, salmon, fish, on tacos, as a dip, or a side salad.
Happy hosting, Friends!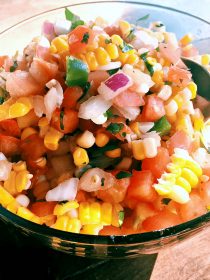 Get the Recipe: Easy Corn Pico de Gallo Salad
Use fresh corn! But optional to use canned corn (drained) if you're in a pinch!
Ingredients
1 lb. pico de gallo
6 ears corn, cooked and cut off the cob (or 1 can, drained)
Cilantro, chopped
2 limes
Salt and pepper
Red chili flakes, optional
Instructions
Boil water and cook the corn for 6 minutes. Cool; cut off the cob. (Or use 1 can of corn, drained.)

Place all ingredients in a bowl. Salt and pepper to taste.

Sprinkle with red chili flakes if you want to add a little heat to the salad.

Mix and serve!
Hello and welcome to my home and table!
I'm Sandy—lover of food, family, cooking, THE BIG BOARD, travel, and bringing people together. Through great recipes and connection around the table, we become better, stronger, and more courageous people. Feasting on Life is real, and every time we do it, we grow a little more. Read more...