Crock Pot Roast Beef Dinner
Get a head start on dinner with this fresh Crock Pot Roast Beef dinner, made with carrots and a wine broth. Cooked in a crock pot for hours, to perfection!
Happy Monday, Friends!
I especially like the idea of planning your meal earlier in the day, so at the end of the day, there's plenty of time to enjoy a leisurely meal, to slow down, make real connections with people, and just serve those around us in a simple way. On Mondays, I get excited for cooking!
A simple way for me to linger and savor, especially at the end of the day, is to use my crock pot earlier in the day for easy meals. Our crock pot has been put to use all summer long, for chicken, pork, tacos, soups, and more.
It's the best and easiest kind of cooking!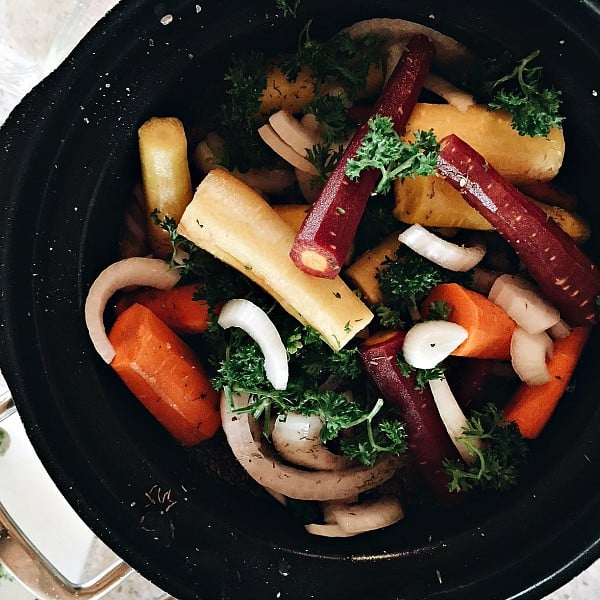 Crock Pot Roast Beef Dinner
It only takes a few minutes to prepare this meal today: I braised a roast beef, and added in veggies and a wine broth, added the lid on top, and walked away …
If you're stumped by kind of cut to buy, here are 3 cuts that I feel makes the best meal: Chuck, brisket, or round roast.
Hours later, the house was smelling so good.
Lingering
Lingering feels like something Americans aren't really allowed to do, because we so reward busyness. I hate scurrying to get dinner on the table. Sometimes there is no choice, but when I have the chance, I really like to prepare, think ahead, and enjoy the process …
It's humbling for me to be in this space and time right now, in our mountain home. I feel blessed beyond words, and I'm far less distracted. So I am still learning about the art of lingering, and leaving busyness behind. Personally, I feel that it is something that women particularly have to work at. And once you "get it," you're right back into the frying pan with so much to do.
Hand raised!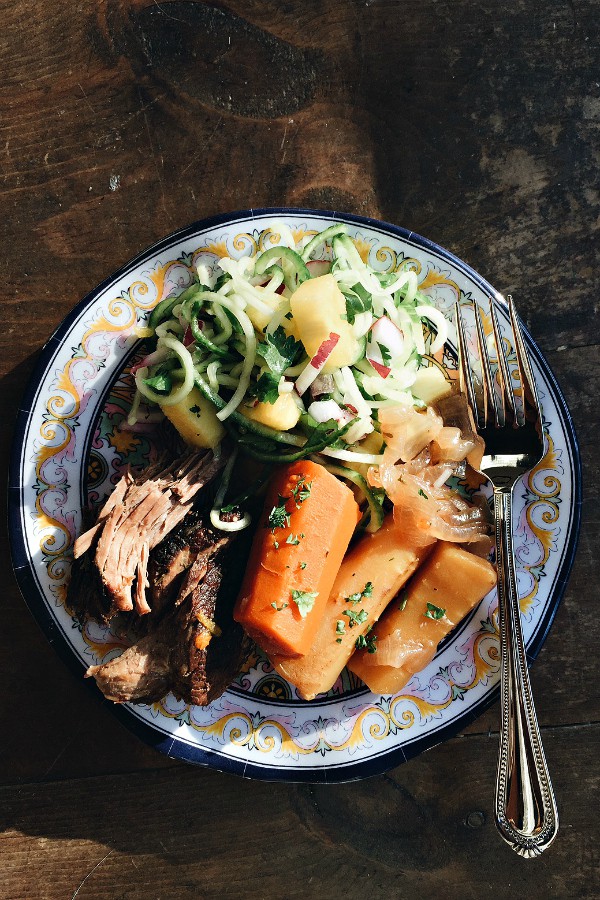 Last night, after our roast beef dinner, our tummies were full, and we headed to the local (free) concert, with our dog and oldest son.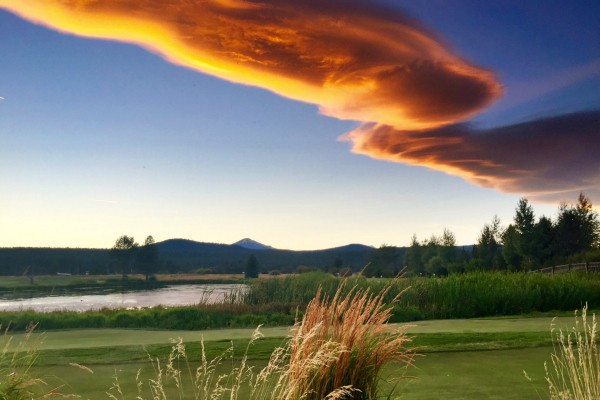 The night was magical. We were the last ones to leave, the air was so warm, the sky so beautiful, my husband and I cuddled together in the center of the grassy field, as the sun went down.
I want more of this in life! It doesn't just happen. You have to say no, set things aside, change plans, say yes, forget about your "to do" list, so you don't miss the moments like these.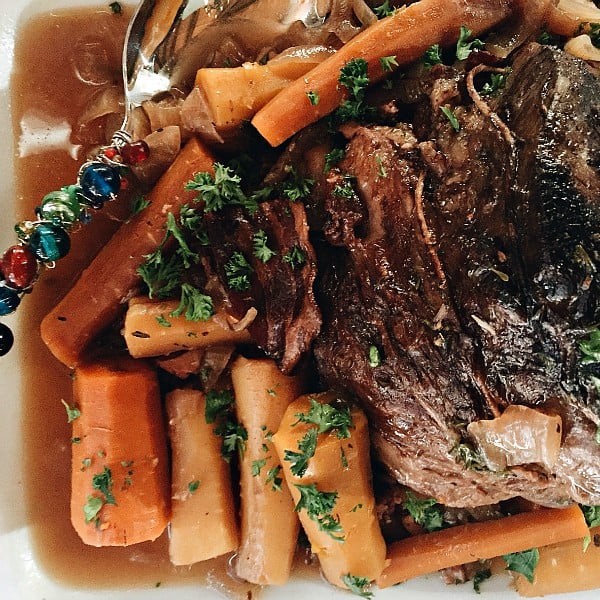 Get the Recipe: Crock Pot Roast Beef Dinner
Ingredients
4-5 pound beef chuck roast
Salt & pepper
1-2 Tbsp. olive oil
4 slices bacon, cut into small 1/2-inch pieces
2 large onions, sliced
3-4 large carrots, peeled and cut into large chunks
5-6 garlic cloves, minced
1 tsp. thyme
1/4 cup fresh parsley, leave a few sprinkles out for garnish
2 cups of beef stock
3/4 cup red wine
2 Tbsp. red wine vinegar
Instructions
Heat olive oil in a large frying pan and sear the roast on each side, for about 2 minutes per side, until nicely browned.

Place in a crock pot; heavily salt and pepper.

Place the bacon on top, add the onions and carrots.

Mix the garlic, thyme, beef stock, wine, and vinegar together. Pour over the top of the beef and vegetables. Salt and pepper again; sprinkle with chopped parsley.

Cover and cook on HIGH for 3-4 hours.
I absolutely love my Le Creuset skillet to quickly cook the roast. My KitchenAid multi-cooker and Instant Pot are also incredibly useful for these types of recipes!
Several readers have asked about the Q Squared Dishes above. It's the Bella Donna Collection, which we've used all summer, and will be really pretty for fall, too!
This post has affiliate links. Every purchase from these links supports RE at no extra cost to you. Thank you!
Hello and welcome to my home and table!
I'm Sandy—lover of food, family, cooking, THE BIG BOARD, travel, and bringing people together. Through great recipes and connection around the table, we become better, stronger, and more courageous people. Feasting on Life is real, and every time we do it, we grow a little more. Read more...