Olive, Meat, Cheese Board Recipe
For any special occasion or holiday, this Entertaining Olive, Meat, Cheese Board Recipe provides a tasty appetizer for all to enjoy! This post is sponsored by DeLallo Foods.
Friends, are you planning a Mother's Day get-together this year? Here are all my ideas for The Big Board (charcuterie and dinner boards).
It's the most wonderful time of the year, whether you're a mother or not, because spring is in the air, and it's a beautiful time to celebrate the women in your life!
Olive, Meat, Cheese Board Recipe
We absolutely love entertaining and having gatherings in our home quite often, and a simple appetizer idea that you can make ahead is to create an Olive, Meat, Cheese Board Recipe!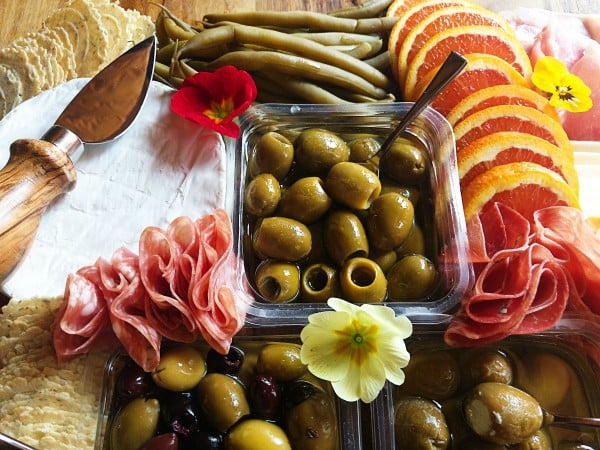 So many textures and layers for this beautiful Olive, Meat, Cheese Board Recipe, simply open up several flavors of DeLallo olives, adding your favorite veggies and crackers.
It's simply gorgeous!
Garnish with whatever flowers are in season. Right now? Pansies are all the rage right now for spring!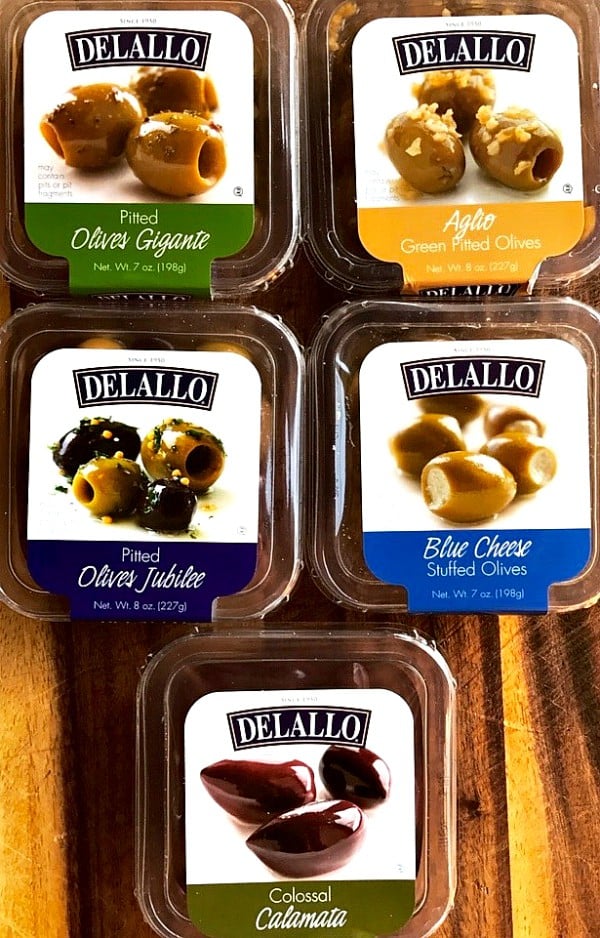 Meat & Cheese Board Recipe
It's never too pretty to eat. For this board we used: DeLallo Blue Cheese Stuffed Olives, Colossal Calamata Olives, Pitted Olives Jubilee, Pitted Olives Gigante, and Aglio Green Pitted Olives! If you want to learn more about DeLallo and their products, visit, here.
My heritage includes a long line of lovely holiday hostesses–my grandmas, many aunts, and my mom were all quintessential hostesses! All beautiful, talented ladies in my life, and I've picked up a few hostessing tips from them along the way.
The size of the party, and how many guests are coming, determine how big you want to make your board. Whether big or small, adding meats, cheeses, olives, crackers, fruits, and veggies are always a hit. If you want some more tips on how to put a board together, I've shared 7 tips how to get the job done!
A tip: I bought pre-sliced varieties of cheeses and meats, which made assemblying and preparing rather easy, and have always added crackers right before serving (you want your crackers to be fresh and crisp!)

Keep it simple: Set it out–it doesn't have to stay hot (which is nice) to be scrumptious. Then last-minute, add a few pansy flowers for an elegant touch!
Remember, what really makes an Olive, Meat and Cheese Entertaining Board special is the touch that you've made it!
I like to think about that when I'm cooking, or when I attend a party.
The love and time that a hostess puts into preparing the food and the ambience are nothing to take lightly! And Mother's Day is definitely the day to get a little fancy!
Get the Recipe: Olive, Meat, Cheese Board Recipe
Ingredients
1 7 oz DeLallo Blue Cheese Stuffed Olives
1 8 oz DeLallo Colossal Calamata Olives
1 8 oz DeLallo Pitted Olives Jubilee
1 7 oz DeLallo Pitted Olives Gigante
1 12 oz mixed cheese slices, Cheddar, Swiss, Colby Jack, Pepper Jack
1 small round Brie cheese
1 small triangle Gorganzola cheese
1 8 oz mozzarella balls, sprinkled with Red Pepper Flakes
Baked Crackers
34 Crisps Crackers
Mixed meats, Capocollo, Del Duca, Calabrese or Salami
1 12 oz jar spiced pickled green beans, drained
2 oranges, sliced
1 cup fresh strawberries
Several pansy flowers, garnish, optional
Appetizer platter ideas:
Smoked Salmon Appetizer Platter [RE], this easy nosh, Pickled Green Bean Salami Rolls [RE], Pimentio Cheese [Foodie with Family], Asparagus wrapped in Prosciutto [That Skinny Girl Can Bake].
This post is sponsored by DeLallo Foods. We love their product and have used it weekly in our kitchen for years. As always, all opinions are my own!
Hello and welcome to my home and table!
I'm Sandy—lover of food, family, cooking, THE BIG BOARD, travel, and bringing people together. Through great recipes and connection around the table, we become better, stronger, and more courageous people. Feasting on Life is real, and every time we do it, we grow a little more. Read more...