Epic Rectangular Charcuterie Board
Enjoy this Epic Rectangular Charcuterie Board for the holidays, a festive board of cheese, dried fruit, nuts, crackers, and cured meats! [42 in by 12 in]
Friends, my husband made me a new charcuterie board! I love the size, and recently made this Epic Rectangular Charcuterie Board, and it fits nicely on our kitchen counter.
Epic Rectangular Charcuterie Board
Recently for a holiday meal, we made another epic charcuterie board—full of everything festive, and lovely for winter. We actually took this board to a party this past weekend! If you want more inspiration, visit my charcuterie/cheeseboard page.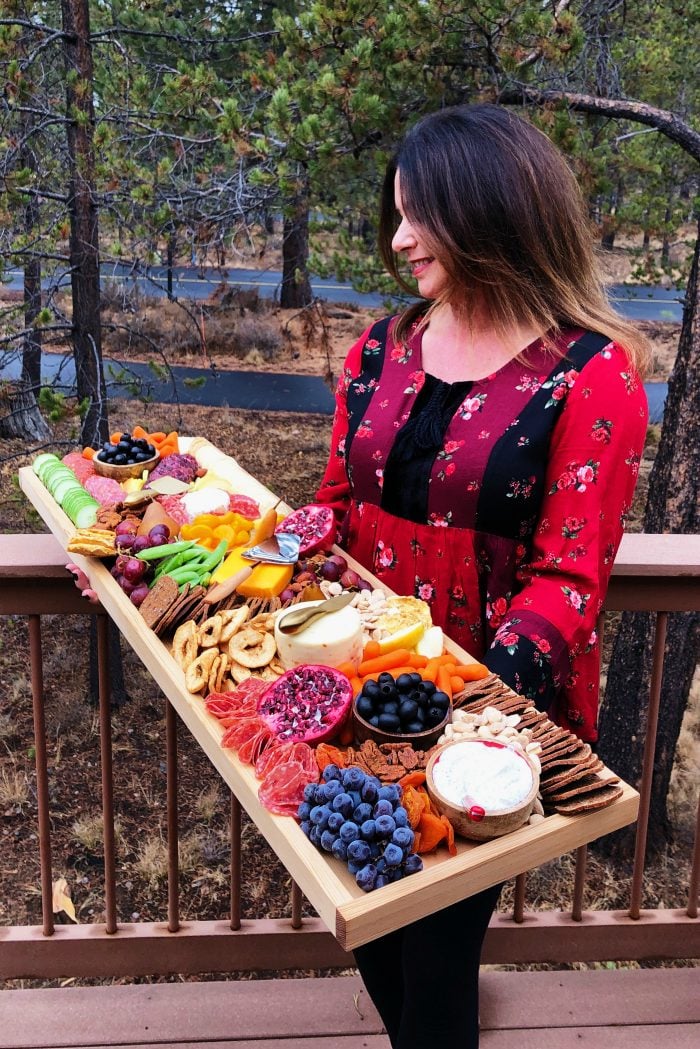 My favorite for the holiday season is the Party Ham Rolls Charcuterie Board (one my mom would have loved), and a smaller version, Winter Rustic Charcuterie Board. You can also set out the munchie snacks for the kids with this Holiday Kid-Friendly Charcuterie Board. My friend BakerMama has a Snowman Snack Board and a Christmas Tree Snack Board. So cute!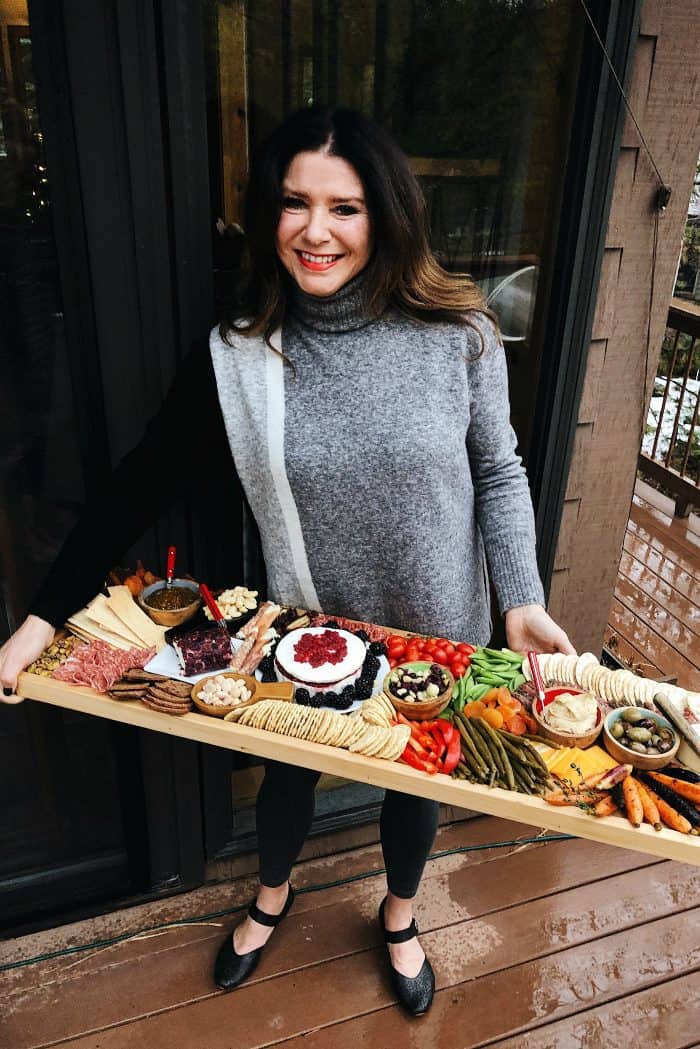 What is a charcuterie board?
Some of the ingredients were: Dried fruits, veggies, dips, crackers, olives, nuts, and several kinds of cheese, salami (cured meats), and crackers!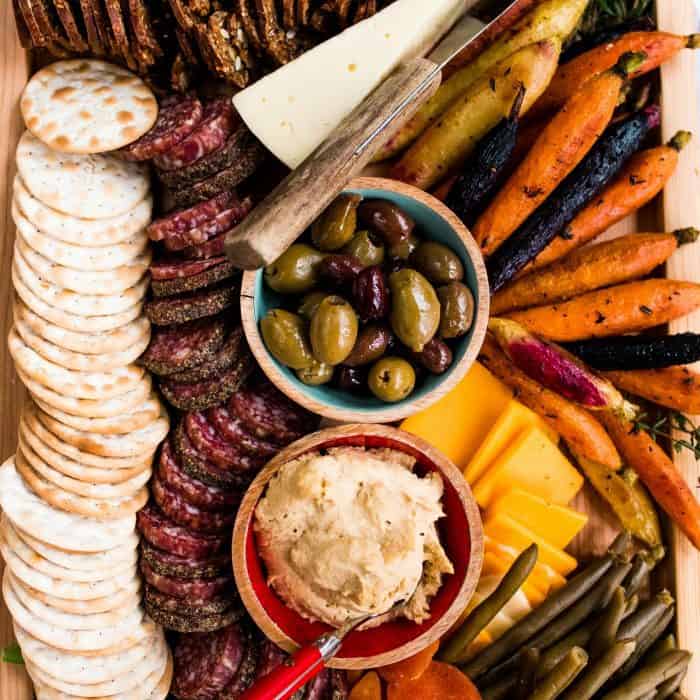 Oh, and don't forget the roasted carrots (a real treat) and we heated up the brie in the center when we got to our party. Check out my recipe, Roasted Carrots Easy Appetizer Recipe.
What is the size of my board?
My husband made me this board, and I shared it over on my Instagram account. I actually did a poll and 95% or my followers say YES, I should sell this board. I was surprised!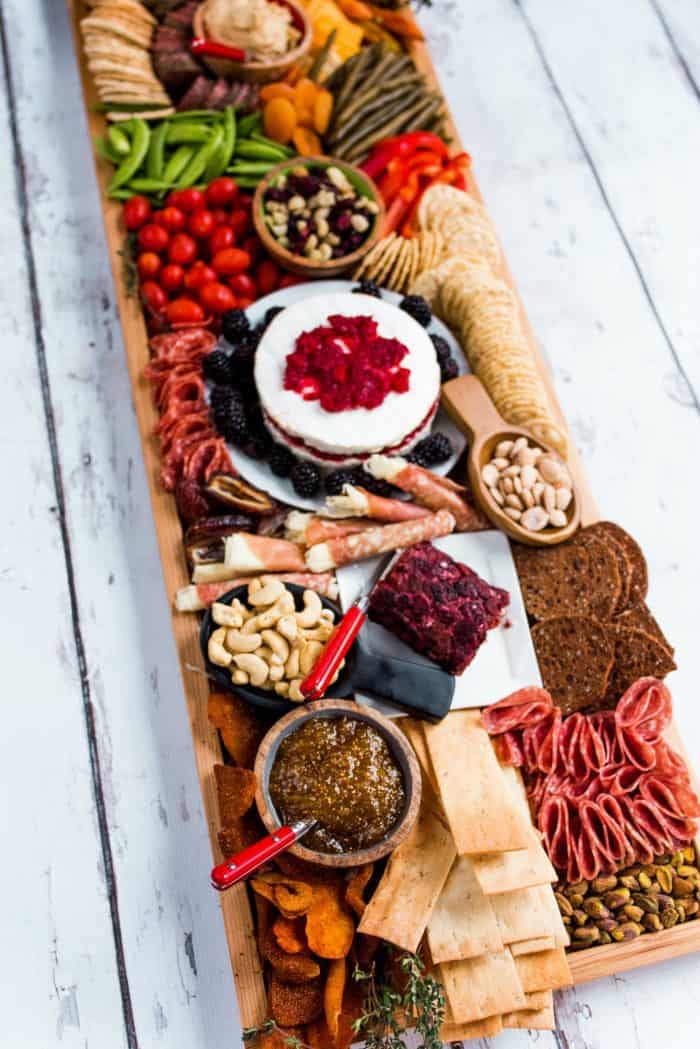 This board is 42 inches by 12 inches with a lip (very important). But folks, this is way to long to mail. So we are working on a smaller sice (with a lip, so the crackers and food don't fall off), so stay tuned for more info!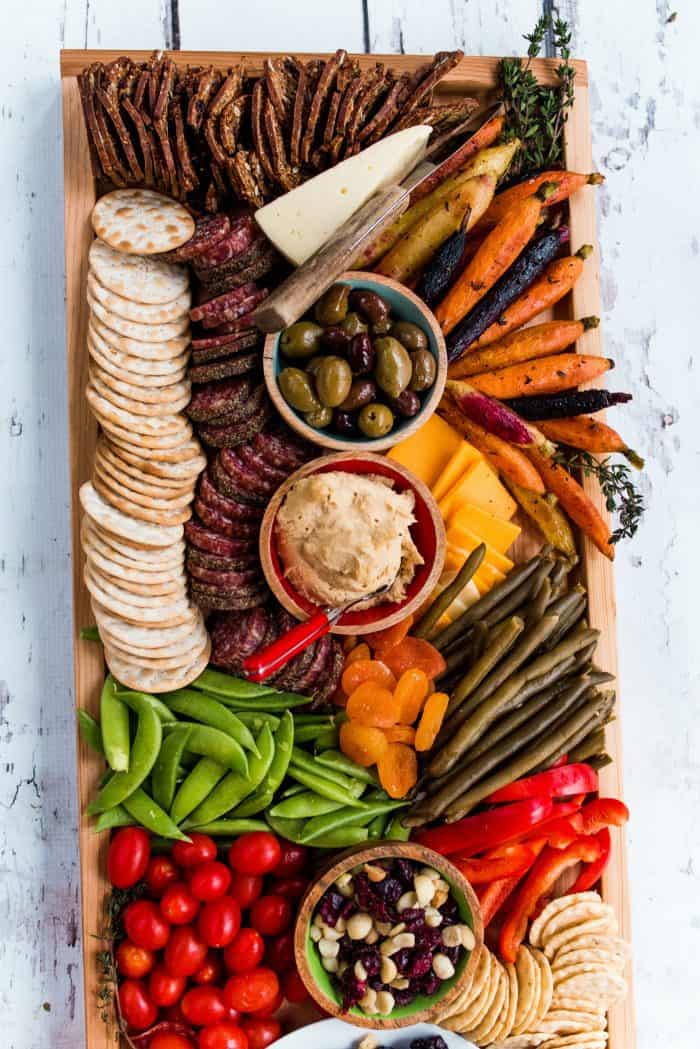 Gratitude this time of year
But first, I love to think about gratitude this time of year. There's something about the holidays that are so … serious, in a way. I think we have so many memories that well up inside our hearts, when we reminisce about simple moments together with family and friends.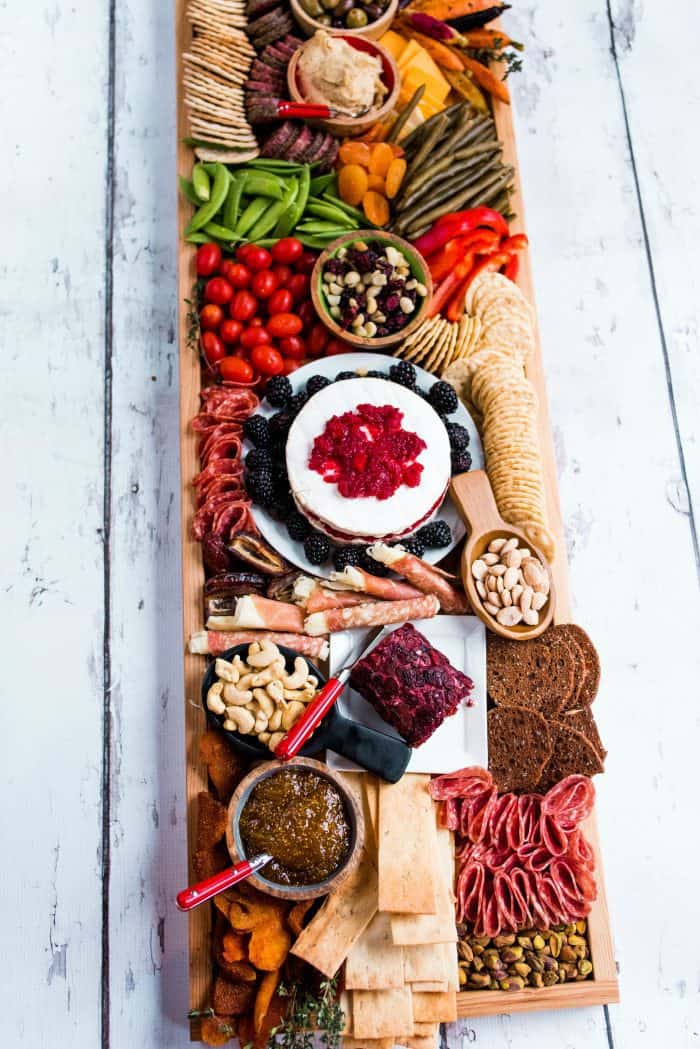 My mother at Christmas
I often think of my mother, who had such an impact on my young life. She'd sew bathrobes, quilts, doll clothes, up all night to get them finished and under the tree. She made the house smell so good with all of her amazing cooking. She filled our house with a lot of love, family, and friends. My Dad bought the tree and helped us girls decorate it. He always had beautiful Christmas music playing, and jumped in to help mom.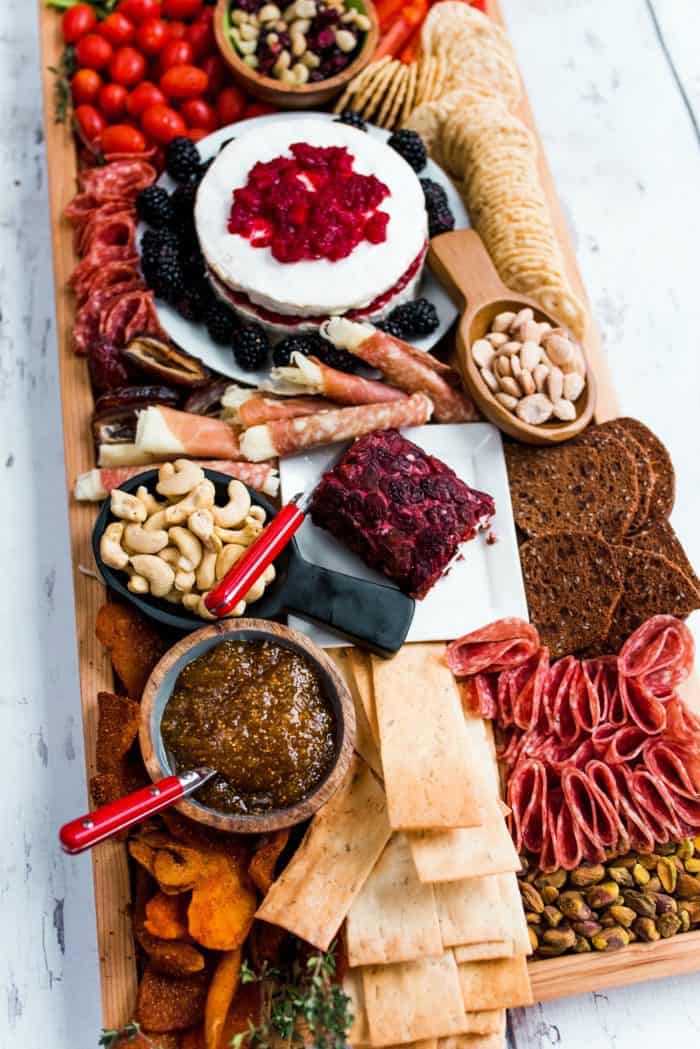 Basically, in my mind, my mom and dad were perfect when it came to hosting others. What a great example, and gift, to my sisters and me. One that we now pass down to our kids.
So the simple moments are meaningful and they make me really grateful.
"A grateful attitude becomes a grid through which you perceive life." – Sarah Young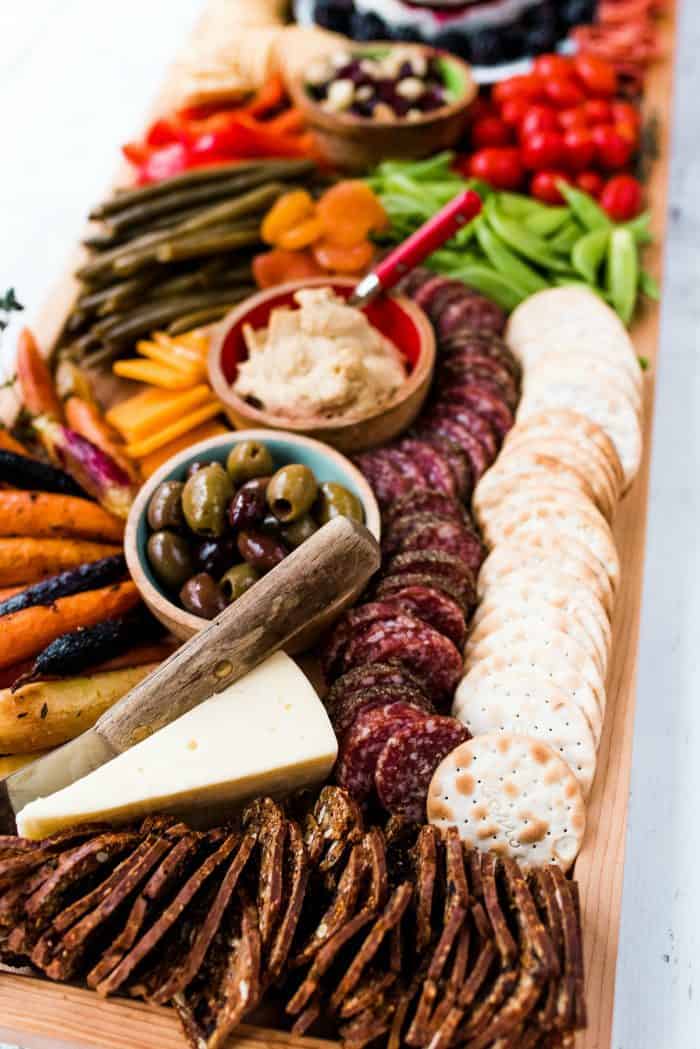 I wonder if you feel you have a grateful attitude toward life?
Our upbringings really do shape us, but that doesn't define us today.
I'm so thankful God's mercies are new every morning. We have a new chance each and every day to cultivate a thankful heart.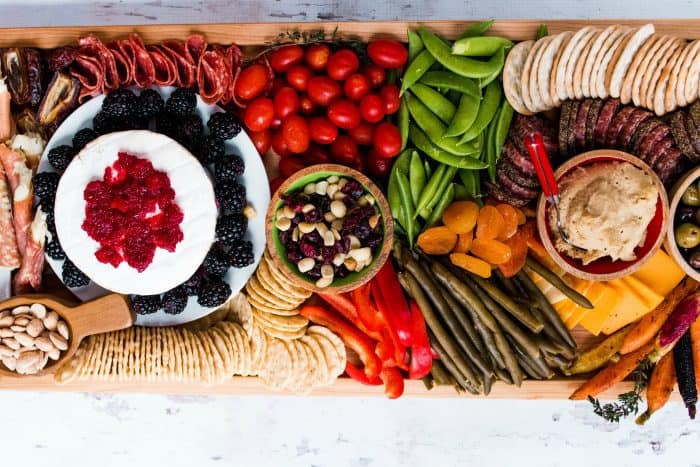 Preparing a charcuterie board
When I make these epic boards, I have so much joy in my heart.
Not only are they fun (you can be so creative), they feed a lot of people, and they actually make others happy.
Have you ever watched the faces when people walk through the door of your home and they see appetizers set out, or a big charcuterie board, or the table prepared for them? It might even be the smell of "dinner" … but most of the time people are just happy to gather over a large amount of food.
Ready to dig in!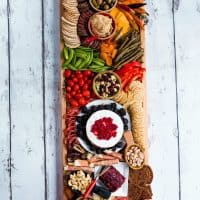 Print Recipe
Epic Rectangular Charcuterie Board
Ingredients
Brie cheese

Cranberry Chutney

Dilly green beans

Olives

Hard cheese

Cheese slices

Favorite crackers

Salami

several kinds

Hummus

Roasted Carrots

Snap peas

Red pepper slices

Cherry tomatoes

Goat cheese with cranberries

Fig jam

Cashews

Almonds

Pistachios

Dried apricots and spicy mangos and cranberries

Garnish with fresh thyme sprigs
Instructions
On a large try, place the small bowls (olives, hummus, fig jam, nuts, etc:) and the plate of brie (which you will heat up right before serving).

Arrange the rest of the food around these dishes. Place small spoons and forks on the tray, and let everyone dig in!