Party Ham Rolls Charcuterie Board
Party Ham Rolls Charcuterie Board is a favorite dinner board for a large gathering. Layer your favorite cheese, ham, salami, and pickles on a French roll.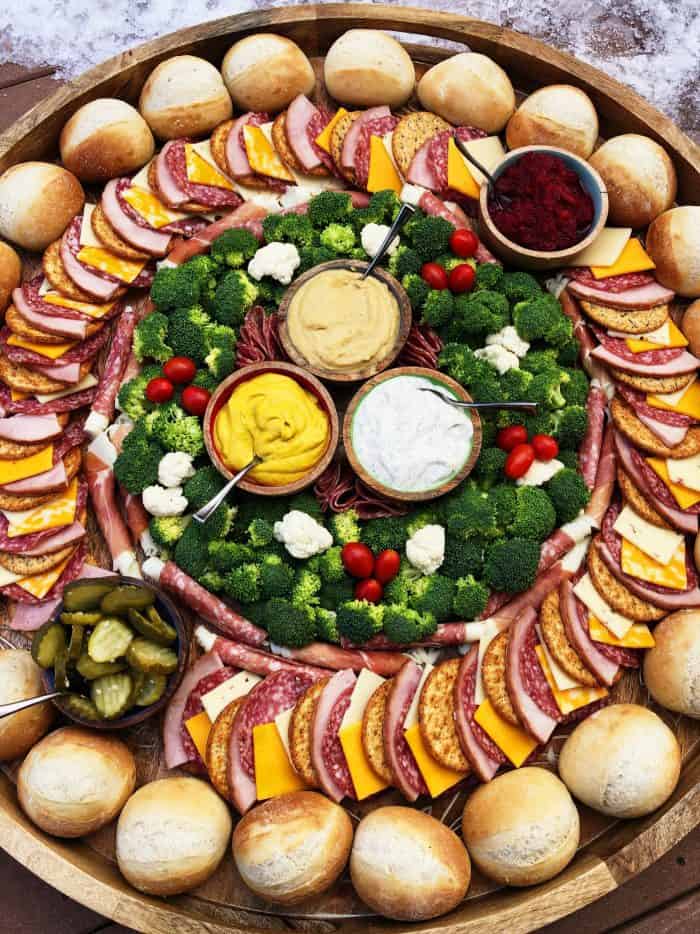 I sometimes still get a little intimated and overwhelmed when I'm hosting. I think it happens to most of us! Which is why I'm sharing a simple holiday hosting idea with you today, How to Make a Party Ham Rolls Charcuterie Board!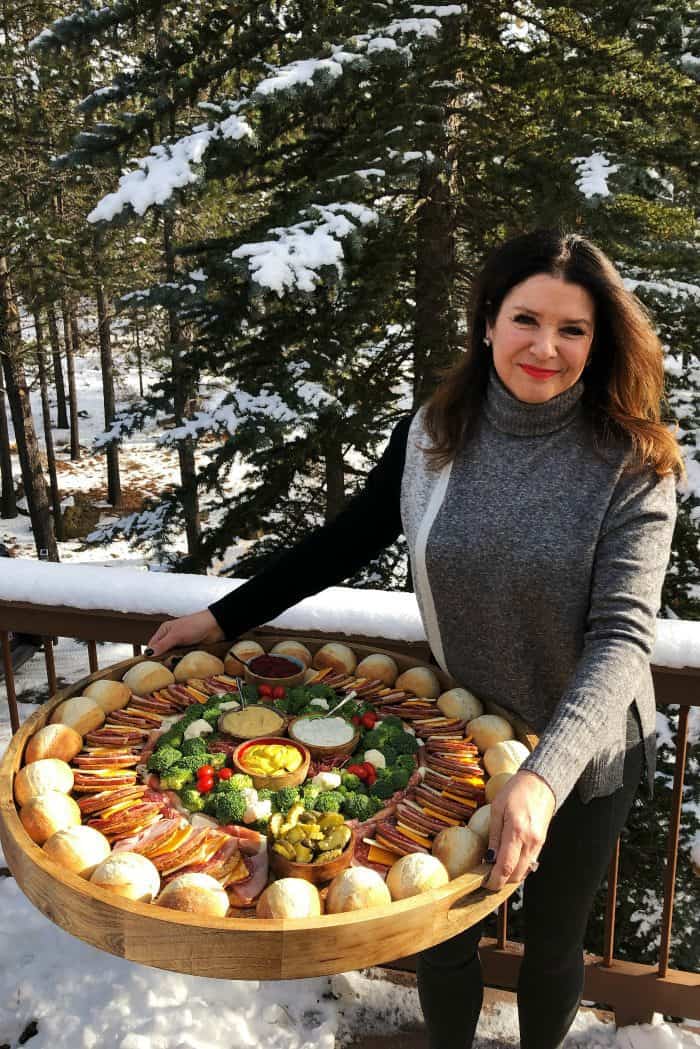 Friends, I'm pretty sure your guests or family will love this Party Ham Rolls Charcuterie Board for the holidays! Keep reading and I'll show you how easy it is. Some more fun party ideas are my Rolled Flatbread Cubano Sandwich Recipe or Easy Lobster Roll Recipe for the holidays!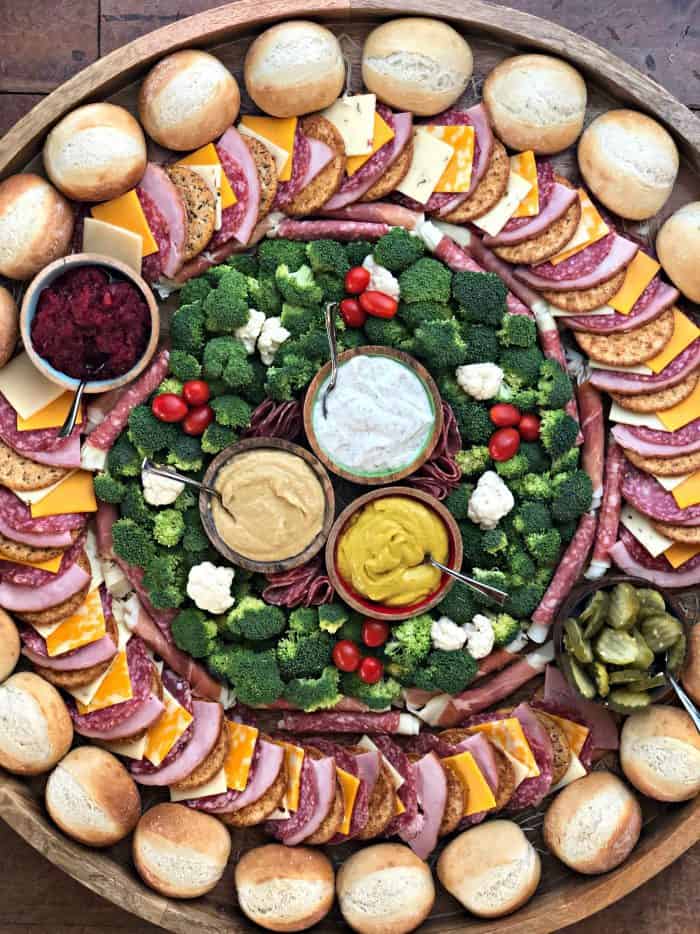 Party Ham Rolls Charcuterie Board
All it takes is a little planning to make a charcuterie board, but ultimately it's easy, and anything that involves dinner rolls, ham and cheese, is a big hit in our home!
My mom served Rhodes Rolls at every holiday dinner when I was a kid. There are so many varieties, Bake and Serve, Thaw and Rise, Buy and Store, but today on our epic charcuterie board, we are serving Rhodes Warm-N-Serv Artisan French Rolls, home-baked rolls heated in just minutes.
What are the best dinner rolls to buy
These Rhodes Warm-N-Serv Artisan French Rolls are crunchy crusted and soft, with a moist center, so good with ham and cheese. Don't forget the pickles.
The Artisan French Rolls are available in 6-count and 12-count bags, but today for this charcuterie board, we used two 12-count bags!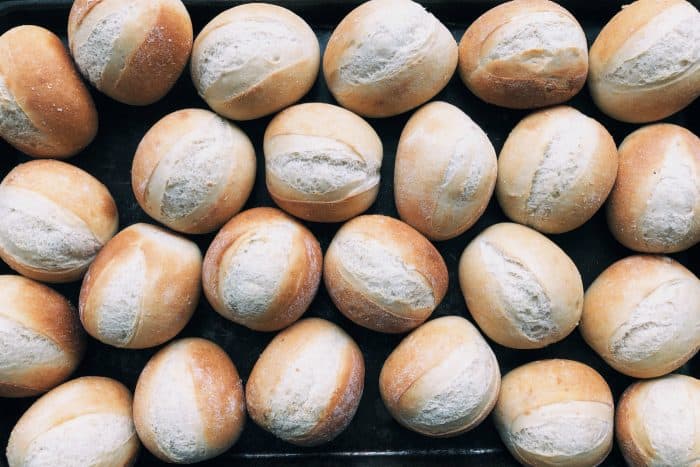 How to bake French Rolls
Rhodes Bake-N-Serv® Warm & Serve Rolls are already baked, then frozen, so this makes hosting super easy.
Just take the rolls from the freezer.
Place them on a pan and into your preheated oven and bake for 8 minutes, until golden brown.
There's always the microwave method too (for only a minute).
For one roll, microwave for 25-30 seconds.
No thawing or rising required!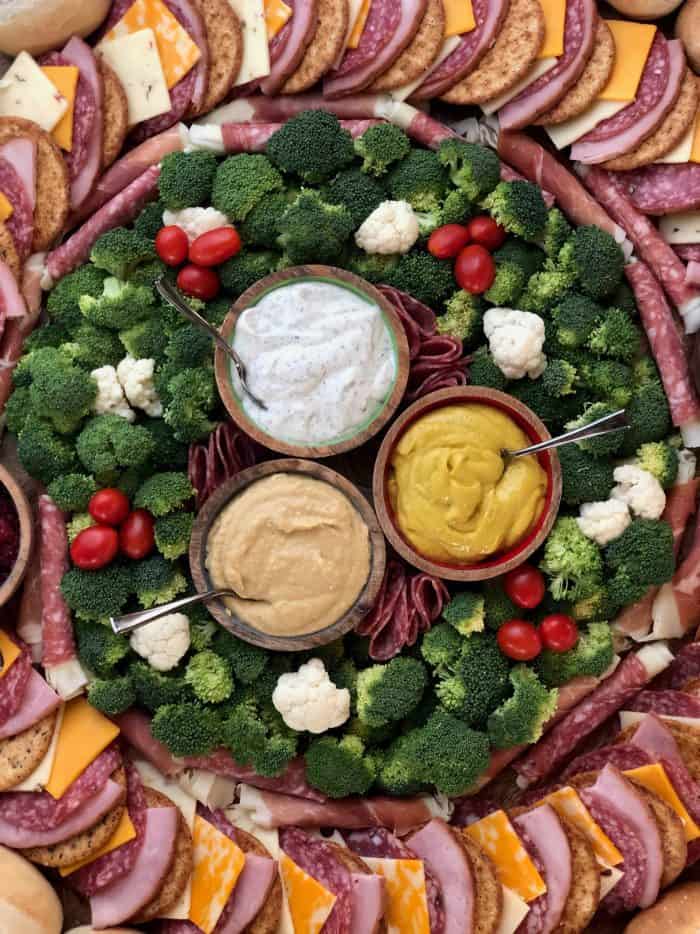 How to bake thawed dinner rolls
If rolls are thawed, bake for less time, about 3-4 minutes at 400˚F.
For Softer Crust: Brush with melted butter or margarine before baking.
Want a Crispy Crust: Brush with water before baking.
But wait, they are just as good served cold, so if you want to make this board up ahead of time, you're good!
Easy Charcuterie Boards
Do you ever feel like you're working so hard in the kitchen, that you miss your own dinner party?
This is why I love serving charcuterie/cheese boards for casual entertaining.
Prepare before the guests arrive, and when they walk in the door, you can relax and enjoy your people!
When I was in my thirties, I worked way too hard at my own dinner parties. I really did try to do everything myself.
I'd say in the last 20 years I've learned a better rhythm for serving my guests, after I realized that I was missing out.
I really want to enjoy my own parties, so this is how I changed my hostessing.
How to NOT miss your own dinner party:
1. Cook recipes that entail preparing food ahead of time. In other words, choose easy recipes that involve a very little last minute prep.
2. Ask for help when you need it, especially for last minute details (chopping, pouring water, gathering chairs, lighting the candles).
3. If others jump in to help, be gracious and give them a job.
4. Have a pre-dinner chat with your spouse or co-host about the serving roles. (I'll serve the salad, you cut the meat, etc.)
Avoid all the above and have an epic charcuterie waiting, where everyone just digs in. As the hostess, you don't even need to get up from the table, except to maybe pour more drinks.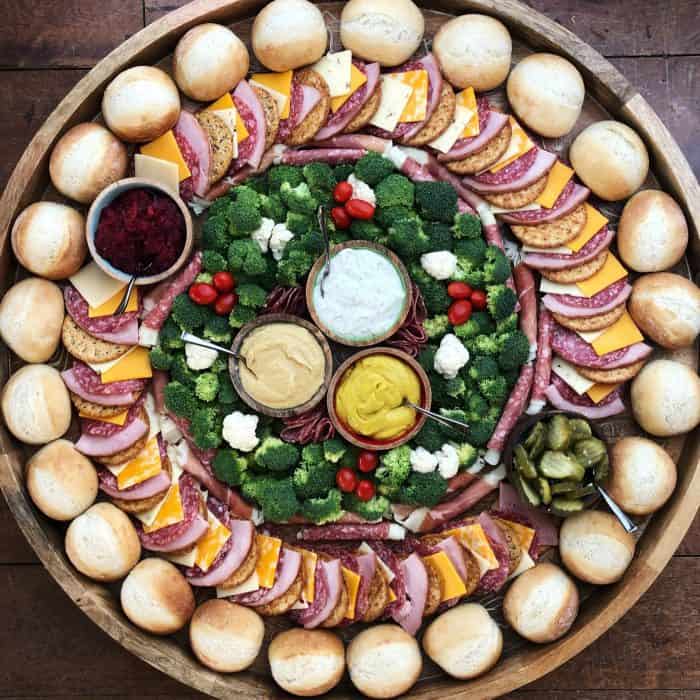 One of the things I figured out I was missing was sometimes the best conversation. If I was in the kitchen, and came back to the group, the best had come and gone … and I missed it.
Even though it's easy to catch up, or catch on, still, no one wants to be stuck in the kitchen, or even worse, miss their own dinner party!
So … now that I have hostessing somewhat figured out, it only takes minutes to prepare these rolls!(They're also yummy with French Dip Sandwiches. I think I sense another "board idea" coming my way!) I hope I've inspired YOU to make a fun holiday Party Ham Rolls Charcuterie Board this month!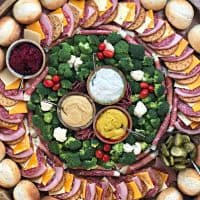 Print Recipe
Party Ham Rolls Charcuterie Board
Ingredients
2

packages Rhodes Warm-N-Serv Artisan French Rolls

12 count

Classic crackers

1

precooked Maple Bourbon Ham

1-2 pound

Sliced salami

Sliced jack cheese

Sliced pepper jack cheese

Sliced Swiss cheese

Procuitto/provolone mozzarella sticks

Broccoli

small pieces

Cauliflower

small pieces

Small cherry tomatoes

2

flavors favorite mustards

1

ranch dip

or Greek Yogurt Dill Dip

Cranberry sauce

Spicy pickles

or favorite kind of pickles for a sandwich
More sandwich ideas: Monte Cristo Sandwich [She Wears Many Hats], Steak Bomb Sandwich [A Family Feast], and Slow Cooker Chicken Alfredo Sandwiches [The Cookie Rookie].
This post is in partnership with Rhodes Bake-N-Serv® As always, we've enjoyed this product in our home, and all opinions are my own.