How to Roast Carrots for an Easy Appetizer
Our friends were coming for dinner. Quick – what could I put together for a healthy appetizer?
I saw this in Rachael Ray's recent magazine, and the inspiration led me to my fridge to grab a handful of carrots and to THINK QUICKLY.
Do you ever do that? Look through the fridge and see what you have, then put your thinking cap on? I get tired of the usual hummus, dips, goat cheese (although I love all of that), and have been trying to serve more veggies and fruit as appetizers.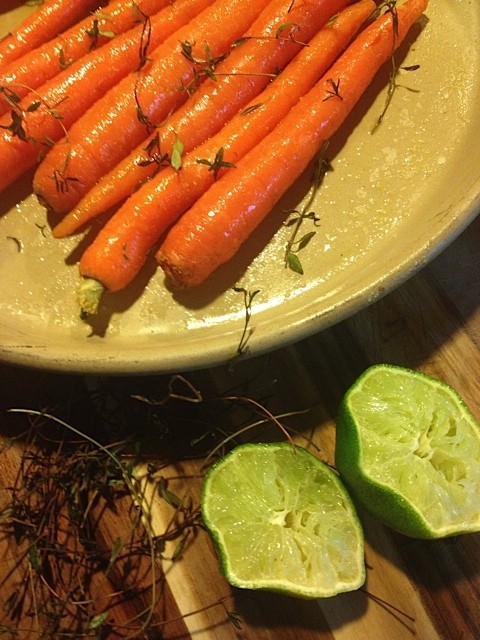 This time I went out to our herb trough garden and cut fresh thyme, grabbed a couple of fresh limes, and followed this process to a tasty, impressive appetizer that your guests will love!
The roasting really brings a lovely, sweet flavor to the carrots. As I tossed them with fresh thyme, olive oil, and sea salt, and tossed them together on a stone and placed them in the oven, I could hardly wait for the 10 minutes to be up. They are that good!
The key to this recipe is to find the long, skinny carrots. I know specialty stores will carry these, or if you buy in bulk, pull out the long skinny ones.
You can also add cumin, rosemary (very top photo – we love this flavor!), cilantro, and serve the carrots as a main dish, too … plain or with a dip.
Appetizers don't have to be fancy. I'm usually just looking for a little "nosh" to serve my guests.
Of course the conversation is always tastier than the actual appetizer, anyway. :)
What's your favorite flavor when roasting carrots? And do you serve them as appetizers or a side dish?
(Thanks for viewing my quick and easy iPhone pictures in this post today. Sometimes when I'm cooking and serving, it's hard to get the big camera out, especially when hungry people are waiting! Also, are you following me on Instagram? It's a fun behind-the-scenes way to see what's happening in the RE kitchen!)
How to Roast Carrots for an Easy Appetizer
Excellent appetizer to nosh on using different combination of spices and herbs.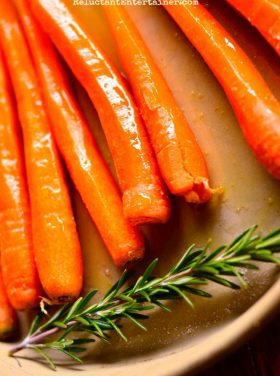 Ingredients:
1 pound long, skinny carrots
One lime
Fresh thyme (or rosemary)
Sea salt
Olive oil
Fresh ground pepper
Directions:
Preheat oven to 400.
Wash and peel the carrots and lay on a baking dish. Add the olive oil, thyme, salt, pepper and lime juice. Roll together until well combined.
Bake the carrots for 10 minutes (very skinny carrots) or up to 15 minutes for the thicker carrots. You want the carrots to be cooked on the outside, but still crunchy on the inside.
Wash and coarsely chop the thyme. Snip into small pieces and sprinkle over the baked carrots.
Cool for 5-10 minutes and serve either plain, or with a dip.
All images and text ©Sandy Coughlin for Reluctant Entertainer.