Cinco de Mayo Mexican Charcuterie Board
A Mexican Charcuterie Board is a cheese board filled with dips, salsa, chips, salami, olives and fresh vegetables! Perfect for Cindo de Mayo!
Happy almost-Cinco de Mayo, Friends! I know, it's a few weeks away, but it's fun to start planning now. Grab The Big Board link below!
Cinco de Mayo Mexican Charcuterie Board
This is always one of my favorite times of the year to entertain – I love the bright colors, the margaritas (or beer), and especially the food.
Mexican Charcuterie Board
This Cinco de Mayo Cheese Board is a twist on the standard favorite charcuterie board.
How to create a Mexican themed cheese board
I take a Mexican cheese (queso fresco or cotjia cheese) and place it right in the center of the board.
Then I build around it with all things snack-worthy that have to do with a Mexican theme. The texture of this cheese (creamy and soft) has a mild taste, so it fit great with the other stronger cheeses and toppings (if you choose to add in more cheese).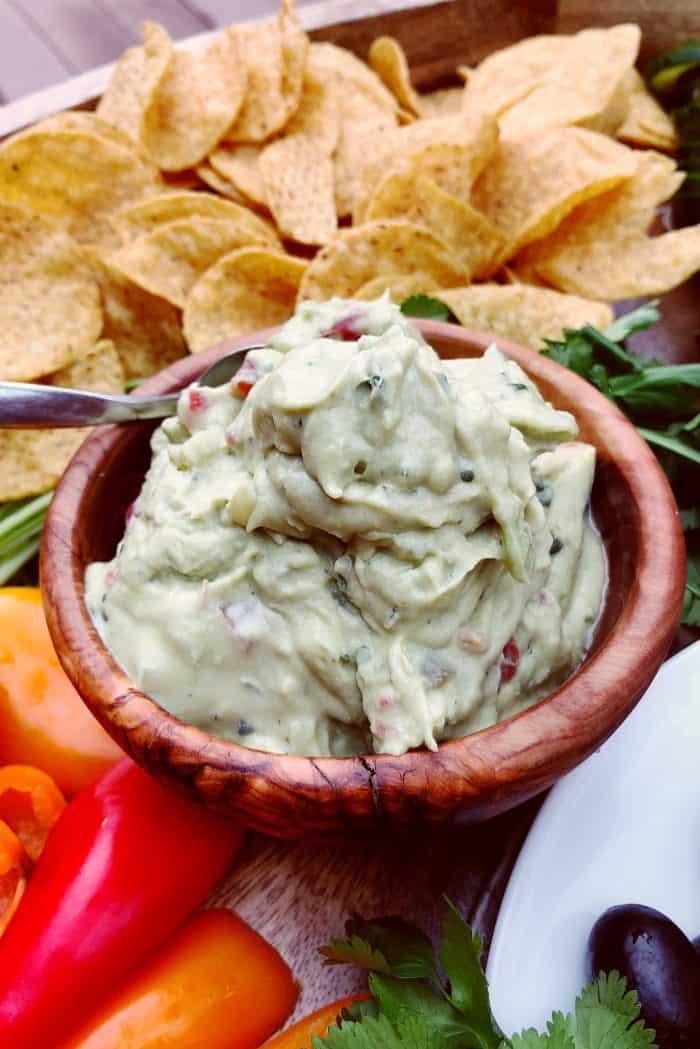 Remember to season your board with bees wax or mineral oil if the board is not "food safe."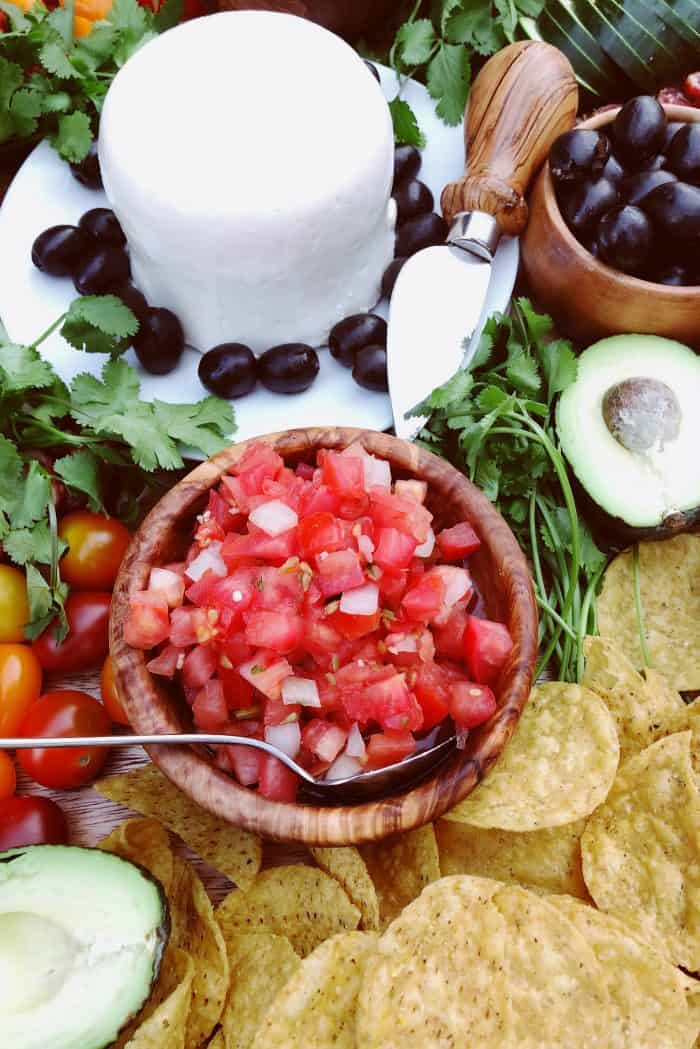 Salsas, fresh vegetables, plenty of guacamole.
To make it festive, you can garnish the board with fresh cilantro.
And remember that we now well 4 epic sizes of boards for all your entertaining needs.
Taco Pie
If you're looking for some other recipes to go with this wonderful appetizer board, how about taco pie? This family favorite starts by layering meat and beans, topped with cheese that is baked to an ooey gooey deliciousness.
Mom's traditional Pedro's Special Mexican Casserole (which is taco pie), is topped with corn chips (hand raised high, we love Fritos!), and is super easy to set out with your favorite toppings.
This Southwest Avocado Chicken Salad is loved by all, and of course Watermelon Salsa is always a big hit, especially this time of year.
Finally, bring out of the oven and serve hot (like an upside down cake) this MEXICAN FLAN CAKE (watch the video)!
Here's some more fun treats to put on a Mexican board:
Air Fryer Cheesy Jalapeno Peppers
Southwestern Saucers [Belly Full]
Happy hosting! I hope this post brings inspiration for the weeks ahead for Cinco de Mayo, or any Mexican-themed party!
Friends, The Big Board® is here! Yes, I've partnered with JK Adams, the premier woodmaking company in Vermont, with my own line of RE boards!
20-inch round, maple
26-inch round, maple
12 x 36-inch maple
NEW 12 x 24-inch maple
23-inch Lazy Susan
26-inch ebonized BLACK, cherry
12 x 36-inch ebonized BLACK, cherry
A board with a lip (or raised edged) so the food doesn't fall off
FOOD SAFE
Made in the USA
Undercut handles (a unique design)
Thank you for your support, as we've sold out so many times already!
Order The Big Board® today!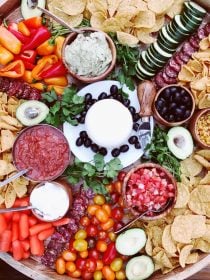 Get the Recipe: Mexican Charcuterie Board
A Mexican Charcuterie Board is a great way to kick off Cinco de Mayo! Or anytime of year, enjoy this cheese board filled with Mexican delights, such as dips, salsa, chips, your favorite salami (a charcuterie has to have cured meats), and don't forget the fresh vegetables!
Ingredients
Salsa
Olives
Corn salsa, Trader Joe's
Pico de gallo
Cucumbers, sliced
Mini sweet peppers, halved
Avocados, cut in half
Cilantro
Cherry tomatoes
Carrot sticks
Queso fresco or Cotjia cheese
Sour cream
Guacamole
Salami, sliced (we buy DeLallo brand)
Chips, taco chips and Fritos
Instructions
On a large platter, either lay down parchment paper or make sure the "board" is food safe. You can season with bees wax and mineral oil.

Set out small dishes and add the salsa, guacamole, sour cream, olives, and Pico de gallo.

Arrange the food items in rows around the small bowls.

Sprinkle in your favorite taco chips and serve!
Hello and welcome to my home and table!
I'm Sandy—lover of food, family, cooking, THE BIG BOARD, travel, and bringing people together. Through great recipes and connection around the table, we become better, stronger, and more courageous people. Feasting on Life is real, and every time we do it, we grow a little more. Read more...