Southwest Avocado Chicken Salad
A fresh Southwest Avocado Chicken Salad made with fresh corn, avocado, chicken and beans, and drizzled with a tangy dressing.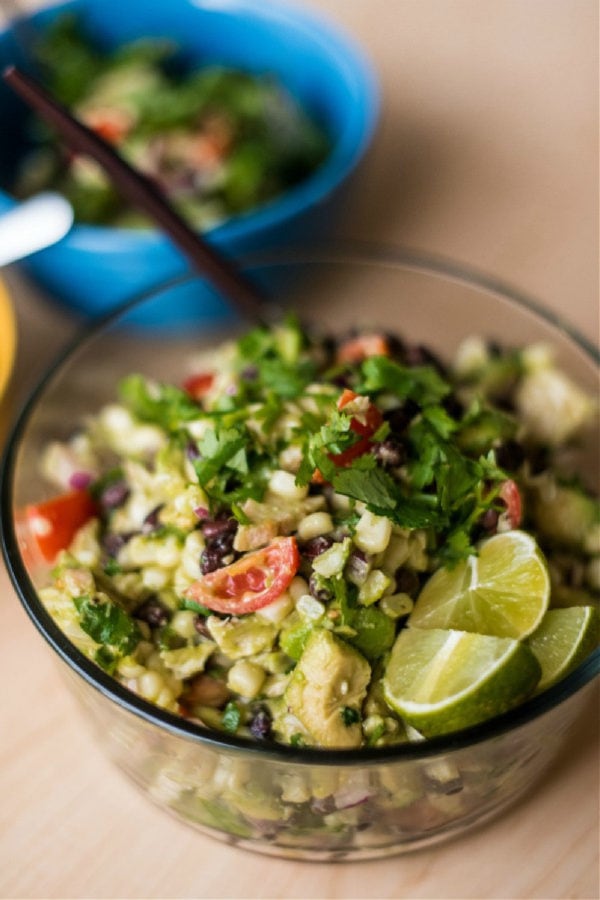 Friends, here's a savory, delicious, fresh Southwest Avocado Chicken Salad for lunch, brunch, or dinner! It's also a hit at any potluck or holiday party!
Southwest Avocado Chicken Salad
It's made with fresh corn, avocado, chicken and beans, and drizzled with a tangy dressing. The more cilantro the better, as this is the ultimate summer meal! Also for summer is this delicious grilled flank steak Avocado Strawberry Steak Salad!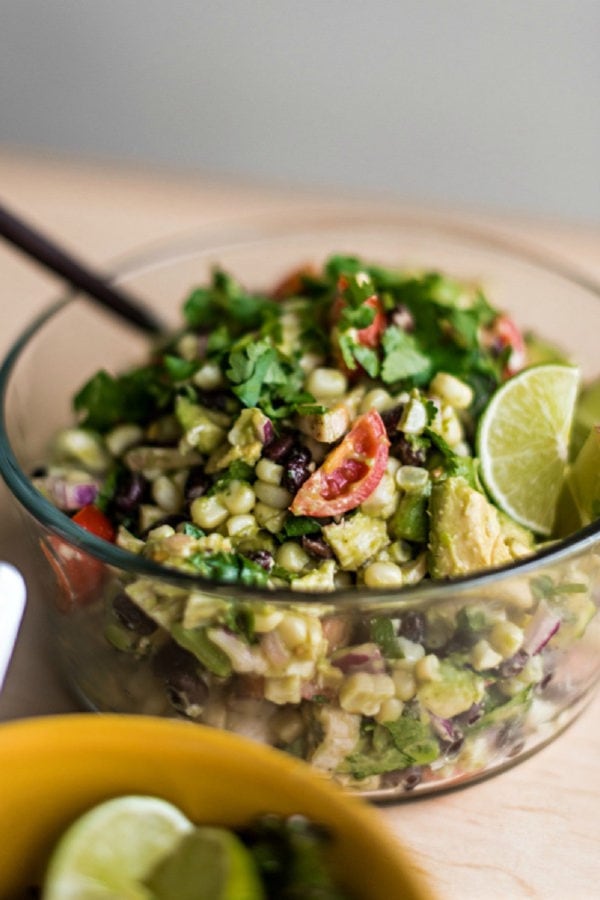 Avocado Chicken Salad ingredients
Here's the ingredients for this southwest salad:
Baked chicken breasts, or rotisserie chicken
Avocados
Lime
Cilantro
Fresh corn
Cherry tomatoes
Black beans
Red onion
Salt and pepper
White wine vinegar
Honey
Avocado oil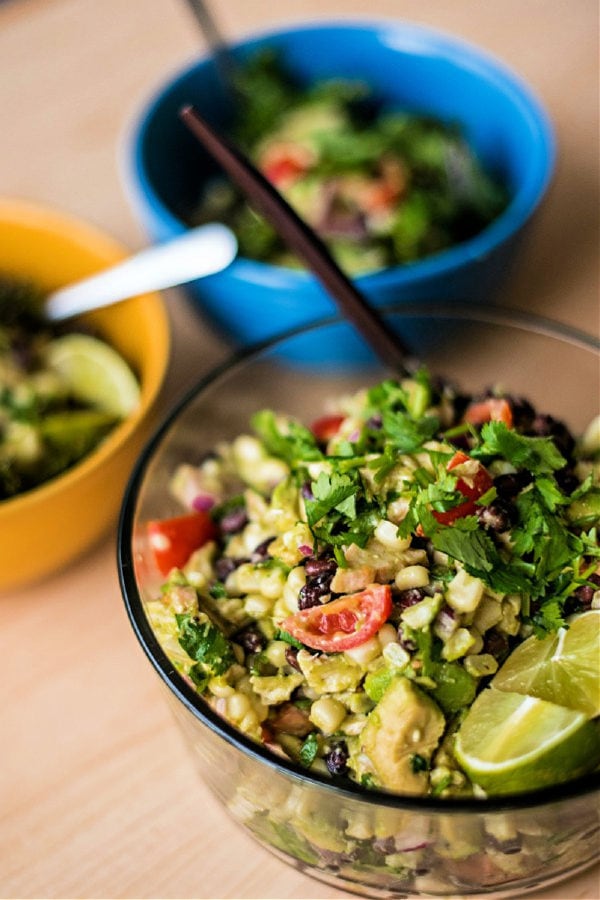 Fresh produce and avocados
This chicken salad recipe, one of my favorite meals, especially when it's fresh corn season! And also the using the perfect avocados.
The secret is in the dressing, and of course for this mama, the more cilantro, the better the salad flavors become! :)
Everything is right about this salad, which makes it so popular at potlucks and smmer parties!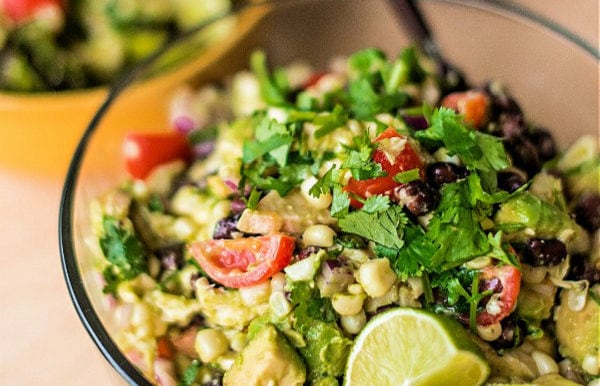 Prepping Avocado
You want to use ripe avocados! They're easy to prep and loaded with healthy fats. You may also want to make my EPIC Avocado Toast Board!
How to buy avocados: Choose avocados that are not mushy or too soft. I buy a couple days ahead of time when I have a recipe I want to use avocados in, so they have time to ripen. Once in a while you can luck out at the grocery store and find the perfect avocados!
How to cut and prep avocados: Cut avocados just before serving as they can brown quickly. You can cut them right in the peel and scoop out with a spoon. You can also cut and put in a bowl, and add a squeeze or two of lemon juice (to prevent browning).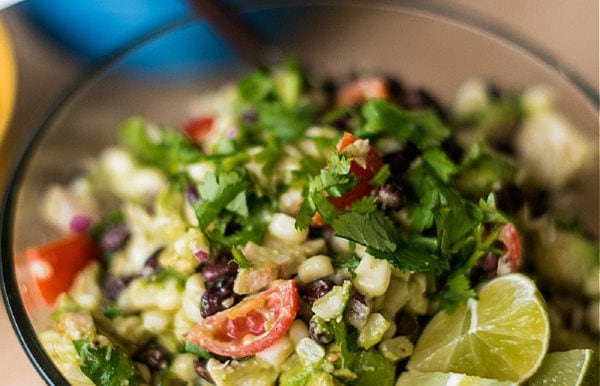 How to Make Avocado Salad
Made with the vibrant colors of summer–corn, tomatoes, avocados, cilantro–and savory black beans, with an amazing lime dressing! Rather than using rotisserie chicken, we love to grill or bake the chicken for a better flavor. But again, grabbing a rotisserie chicken at the market is easy!
You may also love this Grilled Corn Avocado Salad!
More avocado recipes to try:
Avocado Garlic Aioli Sauce Recipe (perfect for salmon cakes or burgers!)
My go-to salad that I love to make for company: Avocado Pine Nut Salad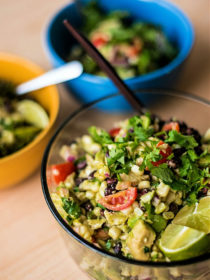 Get the Recipe: Southwest Avocado Chicken Salad
Ingredients
2 baked chicken breasts, thinly sliced or cubed (or 3 cups rotisserie chicken)
2 avocados, cubed
1 lime, juiced
1 cup chopped cilantro
3 ears fresh corn, boiled and cut off the cob, or 1 can of corn (drained)
1 cup cherry tomatoes, halved
1 15 oz. Bush's Black Beans, rinse and drained
½ medium red onion, diced
Salt and pepper for seasoning
Dressing:
1 Tbsp. white wine vinegar
2 Tbsp. lime juice
½ Tbsp. honey
2 Tbsp. avocado oil
1 tsp. salt
1 tsp. pepper
2 limes, for garnish
Instructions
Preheat oven to 375 degrees. On a greased baking sheet, lay down chicken breasts. Salt and pepper each side before putting them in the oven. Cook for 12-15 minutes, or until fully cooked and slightly tender. Remove when time is up and allow to cool.

Boil water with salt in a large pot. When water is boiling, add the corn. Allow to come to a boil before starting timer. Boil for 5-7 minutes, or until corn is tender. Remove, set aside, and allow to cool.

Combine vinegar, lime juice, honey, avocado oil, salt, and pepper. Set aside.

Peel and cube avocado, rinse and drain beans, dice the red onion, and halve the cherry tomatoes. Add these ingredients to a large bowl.

Carefully remove corn from the cob using a sharp knife. Next, slice chicken—I cut it into smaller slices, but large, cubed pieces work as well. Add to the bowl of ingredients.

Pour over dressing and add cilantro. Stir ingredients until fully combined.

Enjoy over a bed of greens or your favorite grain!
Hello and welcome to my home and table!
I'm Sandy—lover of food, family, cooking, THE BIG BOARD, travel, and bringing people together. Through great recipes and connection around the table, we become better, stronger, and more courageous people. Feasting on Life is real, and every time we do it, we grow a little more. Read more...