Best Watermelon Salsa Recipe
Looking for an easy salsa recipe for a Mexican feast? Mix your favorite salsa ingredients together with diced watermelon and mango, and you will have the best watermelon salsa recipe. Everyone knows that at a Cinco de Mayo party, homemade salsa is the best. Serve this Watermelon Salsa Recipe with your favorite chips! Watch the VIDEO below!
Happy Cinco de Mayo, Friends! Over the weekend we ate a lot of watermelon, in several fruit salads, and in a couple new delicious recipes! Our favorite? This Watermelon Salsa Recipe, so good with the perfect chip (or pita cracker)! You could even skip the main dish, and go right to the dessert with a Mexican Flan Cake! :)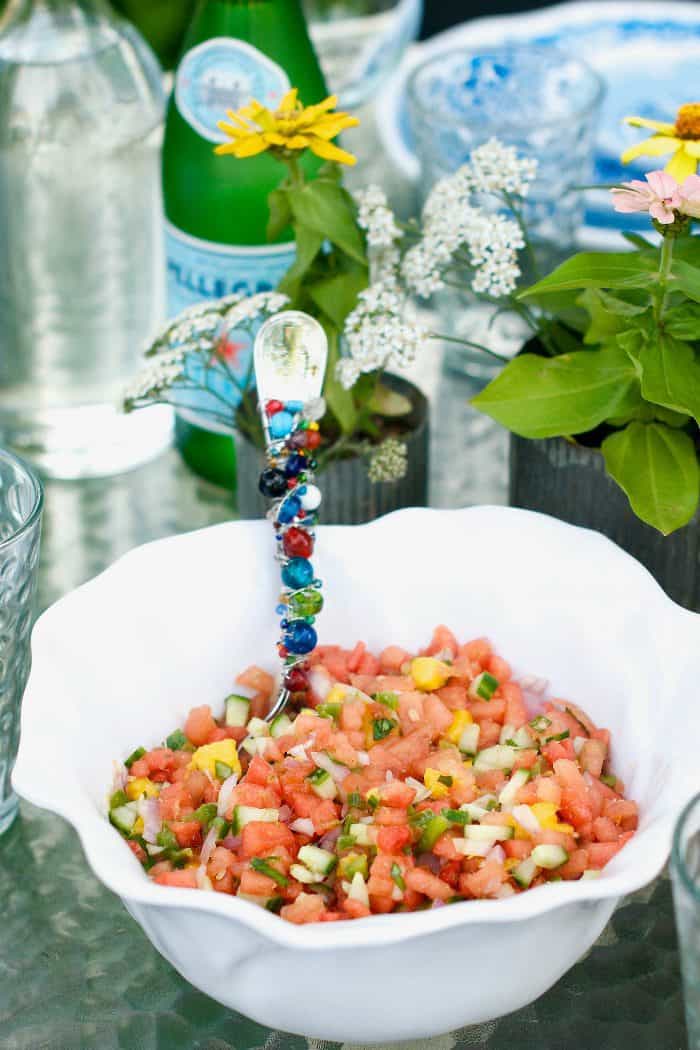 How do you make salsa?
Perfect for a any party or Cinco de Mayo celebration, how do you make salsa? Fresh salsa like this Watermelon Salsa Recipe consists of dicing and chopping your favorite ingredients.
For this recipe, think sweet and savory! The sweetness of mango and watermelon and cucumber, mixed together with your favorite salsa spices and ingredients–so good!
And a steak marinade for grilling? This Pepperoncini Steak is fantastic, with this salsa served on top! These are my favorite summer flavors!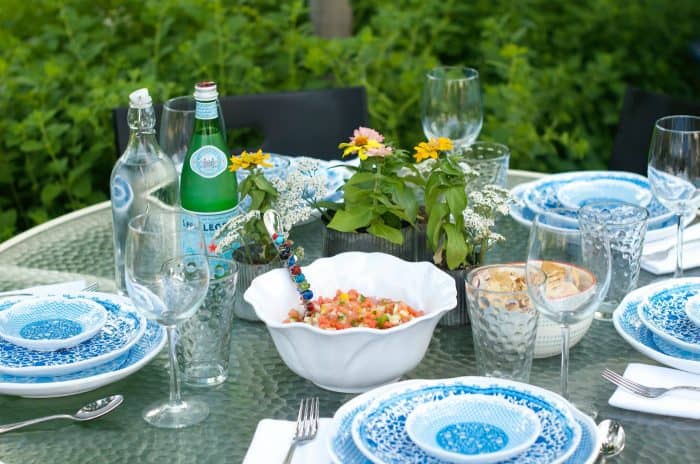 Last night it was just the 5 of us, all together for dinner in our backyard enjoying the summer landscape, pets brushing up against our legs in a curling fashion under the patio table.
Coming together to enjoy a meal with our kids, and engage in long conversations, is always special. I love it when they ask questions about Paul's and my early lives. I savor these days quite fondly as we're able to dine together.
The day is coming when we will be scattered. I hate that word, but I do anticipate this dreaded time. On the other hand, we've prayed for and encouraged our kids for years to follow their passions, and soar with their dreams!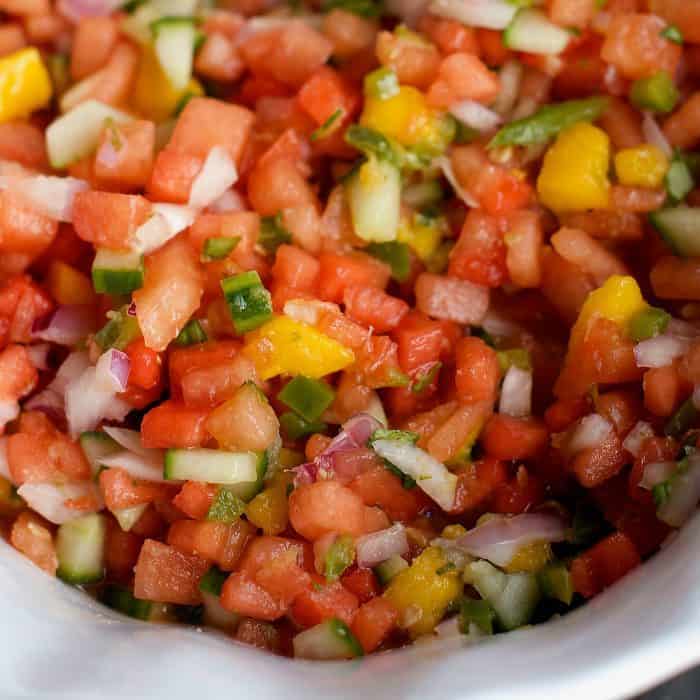 Watermelon Salsa Recipe
Back to juicy, sweet watermelon. Some salt their watermelon. Some eat it plain.
It's also delicious to eat a hunk on the rind. Or even salted!
Always delicious fresh in a fruit salad.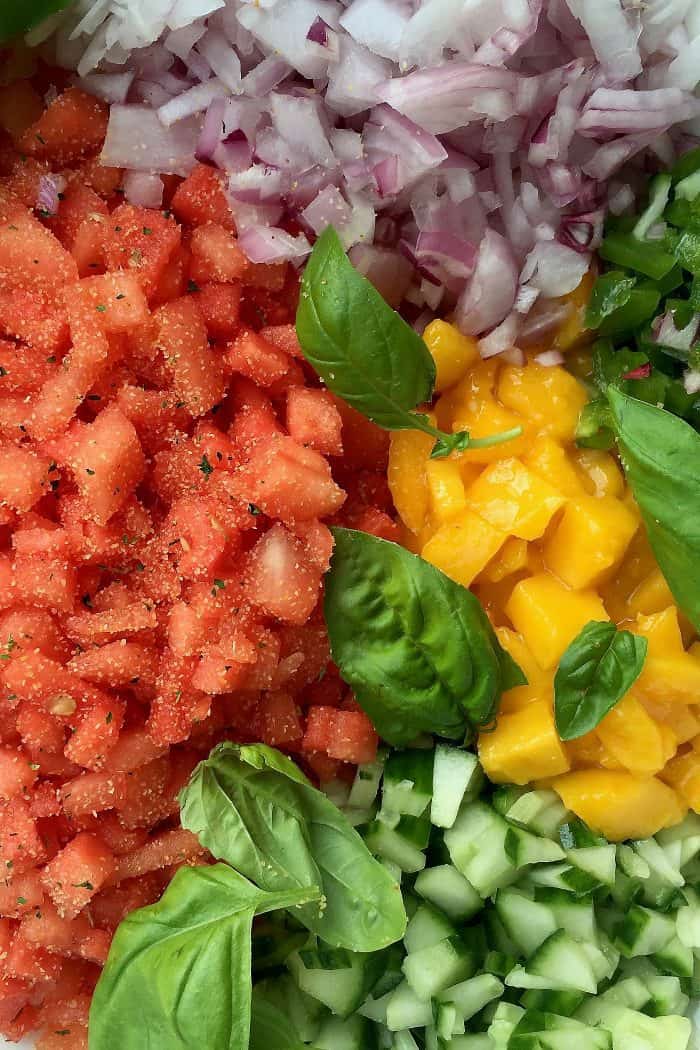 At this meal we enjoyed the salsa on our steak and also as an appetizer with pita chips! It's great on chicken and fish, too!
And perfect for Cinco de Mayo!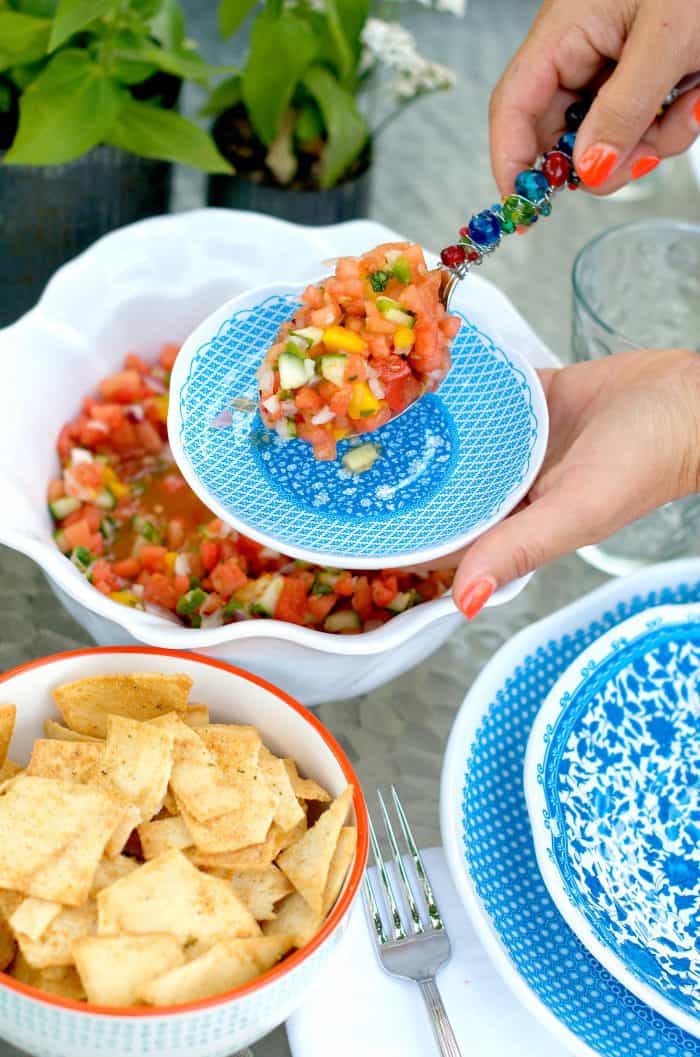 So summery – fresh! ENJOY!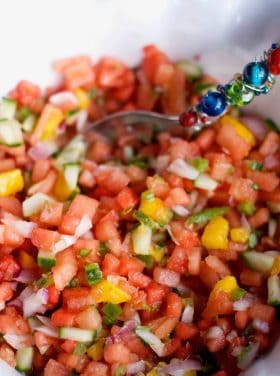 Print Recipe
Watermelon Salsa Recipe
Ingredients
1 1/2

teaspoons

lime zest

from about 1 lime

1/4

cup

fresh lime juice

from about 3 limes

1

tablespoon

sugar

or use honey

Freshly ground pepper

3

cups

seeded and finely chopped watermelon

1

cucumber

peeled, seeded and diced

1

mango

peeled and diced

1-2

jalapeno pepper

seeded and minced

1

small red onion

finely chopped

8

fresh basil leaves

finely chopped (optional: use cilantro)

1/2

teaspoon

garlic salt

Tortilla or pita chips

for serving
Instructions
Stir together the lime zest, lime juice, sugar (or honey); lightly salt and pepper.

Add the watermelon, cucumber, mango, jalapeno, onion and basil (or cilantro) and toss gently.

Chill the salsa until ready to serve.

Add the garlic salt just before serving. Serve with pita chips or corn chips, or serve on top of steak, chicken, pork, or fish.
More fresh salsa dishes: Fruit Salsa and Cinnamon Crisps [Spend with Pennies], Pineapple Cowboy Caviar Pineapple Dip [RE], Cherry Salsa [Well Plated].